The Attilan Royal Guard is a group of Inhumans tasked with maintaining peace and order in Attilan while simultaneously protecting the city from any external threats.
History
To be added
Members
Current Members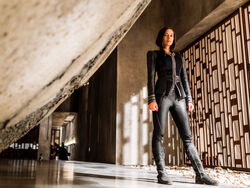 Former Members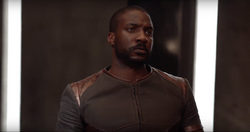 Name: Gorgon Petragon
Activity:
Description: Gorgon Petragon is an impetuous member of the Royal Family who loves life and lives in the moment for better or worse.
Deceased Members
Name: Pulsus
Activity:
Description: He was an Inhuman whose electrical abilities can take down other Inhumans. Pulsus was involved in Maximus coup where he assisted in subduing Medusa enough for Maximus to shave her hair. He was killed by Lucky during the Royal Guards' fight with Gorgon and the Makapu'u Surfers that befriended him.
Name: Locus
Activity:
Description: Locus was an Inhuman of Attilan with echolocation and a member of the Royal Guard. Following the escape of Gorgon on Oahu, she was recruited to join a task force ordered to apprehend her former trainer. She originally wanted to be a healer before her Terrigenesis caused her talents to be overused. Before dying from the fatal gun wound caused by one of the cannabis farmers, Locus advises Black Bolt to change the Attilan caste while also mentioning the Crystal is on Oahu.
Relationships
Allies
Enemies
Appearances
In chronological order:
Trivia
References
External Links
Community content is available under
CC-BY-SA
unless otherwise noted.