The Attack on Pryce Cheng was an attempt by Jessica Jones to intimidate rival private investigator Pryce Cheng.
Background
After going through a series of possible clients at Alias Investigations Office, Jessica Jones and Malcolm Ducasse were visited by Pryce Cheng. During his time, he requested to employ Jones and absorb Alias Investigations.[1]
Attack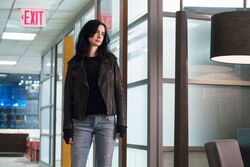 Jessica Jones
paid
Cheng Consulting Management
a visit, walking
Felipe
into
Pryce Cheng
's
office
. Excitingly, the client embraced his pet, questioning Jones' methods and Cheng's miscommunication. While Cheng confessed that he was unable to locate the dog due to his client's wife's boyfriend, Jones admitted that she cared less and managed to reclaim Felipe, to whom the client had custody, and presented him with a business card for
Alias Investigations
.
As Jones was prepared to leave, Cheng made advances in taunting her over her methods of investigation, going as far as to mention killing a man. Despite being tossed and bleeding from the assaults by Jones, he continued to upset her further to the point that she holds restraint from delivering a final punch. With co-workers phoning the police, Jones was cuffed and brought to the courthouse.[1]
Aftermath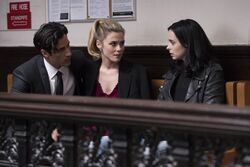 Trish Walker
,
Jones
spoke with her and
Griffin Sinclair
over her fear that learning more about
IGH
worsens her loss of control.
Meanwhile, Pryce Cheng sought Jeri Hogarth once more at her office, in which he expressed suing Jones and Alias Investigations for his injuries and damages.[1]
References
Community content is available under
CC-BY-SA
unless otherwise noted.