The Attack on John Pilgrim was a failed attack by Aryan Brotherhood on John Pilgrim.
Background
John Pilgrim joined the Aryan Brotherhood in his early life, becoming known by Kusack for his extreme white supremacy rhetorics. However, Pilgrim was rescued by Anderson and Eliza Schultz during his time in prison, choosing to turn his back on the Aryan Brotherhood and his criminal ways. After he found his newfound devotion to God, Pilgrim was ordered to do certain actions of murder from the Schultzes, as an act to protect their son, David Schultz.
Having been unable to complete his mission and obtain the photos of their son, Pilgrim met with Anderson in a discussion to contact with the Aryan Brotherhood again in order set a bounty on Frank Castle and Amy Bendix for a lot of money. Despite Pilgrim noting the risk of getting involved with the Aryans, Anderson convinced him enough to make his family the main motive once his mission was done.
Following the orders of Anderson, Pilgrim traveled around to New York City and put out a bounty for five million dollars to bring him his targets, at a nightclub that was owned by Danny. As Pilgrim handed Danny a phone to contact him on once Castle and Bendix were found, he contacted one of the members of the Aryan Brotherhood and talked about Pilgrim returning to the group.[2]
Attack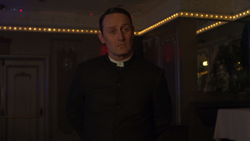 Returning to the nightclub, John Pilgrim met with Danny and questioned if he had news for him, to which Danny told Pilgrim that he was the news. Pilgrim realized that Kusack was there and waiting for him and was invited to join him at the table, referring to him by his original name. As Pilgrim and Kusack sat together on a table, Kusack questioned him what had happened to the man he had once known, noting Pilgrim had left there twelve years ago with his money in order to make a buy and had simply never returned.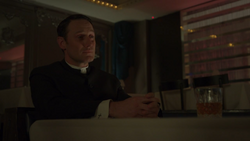 Answering Kusack his question, Pilgrim told a story about going to a bar where he killed a man with opposing political beliefs, noting how he had almost killed himself during the fight before he was arrested. Pilgrim explained how he then met Anderson and Eliza Schultz while he was awaiting his fate in his cell, which had resulted in Pilgrim turning his back on the Aryan Brotherhood and turning to Christianity. Despite Kusack telling Pilgrim was devoted to the Aryans, Pilgrim disagreed with Kusack, noting that he had been a sinner and now he had been born again.
As Kusack mocked Pilgrim as he got to his feet and removed his jacket, Pilgrim watched as Kusack rolled up his sleeves, ready for a fight while more Aryan thugs came out to back him up. Kusack told Pilgrim that he should knew what the price was for betraying the Aryan Brotherhood.[2] Pilgrim recited a prayer about the blessed merciful, while Kusack told him that he would not be getting any mercy, but Pilgrim admitted that it was for him instead. Before Pilgrim could react, one of Kusack's thugs then punched him hard across the face and took his gun, as Kusack ordered his kill Pilgrim.
As the thugs grabbed him, Pilgrim then began defending himself, as he avoided one man's punch and headbutted him in the face, resulting into the teeth sticking onto Pilgrim's skull. The other men soon began ganging up on Pilgrim, resulting Pilgrim being slashed across the stomach with his knife. However, Pilgrim had been soon able to take possession of the knife, using it to slash a man's throat open before embedding it in another man's stomach. Despite being repeatedly punched by a man wearing brass knuckles, Pilgrim still managed to gain control of the fight and kicked the man's head in.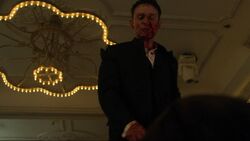 Before Pilgrim almost stealing the brass knuckles, Kusack put him into a tight headlock and furiously attempting to strangle him. However, Pilgrim was then able to grab onto Kusack's thumb, breaking it, kicked him down onto the floor before picking up the brass knuckles from the floor. As Kusack was unable to defend himself, Pilgrim had then proceeded to brutally punch him in his face repeatedly until Kusack was finally dead. Pilgrim then looked around the room as Danny tried to escape, only for Pilgrim to pick up a gun and calmly shoot Danny twice in the back.
Picking up his hat, Pilgrim then took up Kusack's drink, that being the entire bottle and even found some cocaine in a pocket of one of the dead men. Being exhausted from the fight, Pilgrim walked out of the nightclub and went back to his apartment.[1]
Aftermath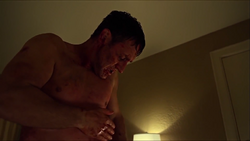 Making back into his hotel room, almost completely covered in the blood, John Pilgrim comforted himself by drinking from the bottle of whiskey and snorting the cocaine that he had taken. Having spent several hours alone in his room with just his drink and drugs, Pilgrim was called by Eliza Schultz, however, he chose to ignore the call.[1]
Having spent hours in a drunken and drug-fueled slump, Pilgrim attempted to call his wife, but Schultz pick up the phone, leading Pilgrim to question her. Schultz claimed Pilgrim's wife that she was resting, leading Pilgrim to curious. When Schultz managed to find Pilgrim in his hotel room, she told him that his wife was dead, leading Pilgrim to feel distraught for his loss. Despite feeling deep regret for his dead wife, Pilgrim was motivated by Schultz to continued on his mission to retrieve the photos of David and kill Frank Castle.[3]
References
Community content is available under
CC-BY-SA
unless otherwise noted.