The Arrest of Jessica Jones was an attempt by the NYPD to apprehend the alleged perpetrator of the death of Nick Spanos.
Background
To be added
Arrest
Arriving outside her apartment building, Jessica Jones asked that Trish Walker stayed with Inez Green while she investigated the reason for the police. As she left and walked into the scene, she was warned by Malcolm Ducasse to run and that they believe she committed the crime. Before Jones was able to ask questions, Eddy Costa pulled out his sidearm, commanding that she put her hands in the air and to kneel on the ground.
Soon, Walker, still experiencing a high from the Combat Enhancer Inhaler, left her vehicle, entering the scene and shoved Ruth Sunday in her attempts to rescue Jones. She, too, had been handcuffed by the officers. Jones warranted Ducasse to take care of Green. While Jones was on the ground, she repeated proclaimed that she did not kill the man.[2]
Aftermath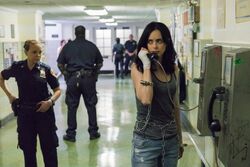 While Trish Walker had been bailed by her mother Dorothy Walker, Jessica Jones remained at the 15th Precinct Police Station, in which she was allowed a phone call; speaking to Malcolm Ducasse, she requested that he began to question Inez Green on any information on IGH she may have for the case. Left in the interrogation room with her lawyer Jeri Hogarth.[3]
Appearances
In chronological order:
References
Community content is available under
CC-BY-SA
unless otherwise noted.