Jurassic World: Dominion Dominates Fandom Wikis - The Loop
Play Sound
Ant-thony was a carpenter ant and the loyal steed of Ant-Man.
Biography
Spy
Named "#247" by Hank Pym, the ant who would later be named Ant-thony was mounted with a camera by Pym to spy on Scott Lang as he stole the Ant-Man Suit from the Pym Residence.[1]
Steed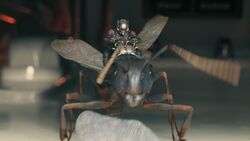 When Scott Lang broke back into Hank Pym's house to return the suit, he was arrested, but escaped from jail with help from a horde of ants under Pym's control, including Ant-thony. Pym and Hope van Dyne trained Scott to ride on and control Ant-thony. Ant-thony accompanied Lang in stealing a device from the Avengers Compound and assisted Lang in fighting and evading Falcon.[1]
Death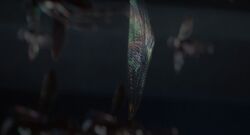 Scott Lang would again ride Ant-thony while infiltrating Cross Technologies. Flying alongside other carpenter ants, Lang and Ant-thony pursued Darren Cross up to the building's helipad as he made his escape. However, Cross fired upon the approaching swarm with a pistol, killing Ant-thony in the ensuing gunfire. This prompted Lang to swear revenge on Cross after landing on another carpenter ant below. Lang manages to defeat Darren Cross by infiltrating and damaging the Yellowjacket Suit's internal mechanics, avenging Ant-thony's death.[1]
Relationships
Allies
Enemies
Trivia
Behind the Scenes
References