Agents of S.H.I.E.L.D.: Double Agent is a five-part original web series designed as a behind-the-scenes feature for Agents of S.H.I.E.L.D.[1]
Plot
Infiltrating the Set
The double agent was given an assignment by Mastermind: infiltrate the production set of the television show, Agents of S.H.I.E.L.D., and get the latest info on its plot and surprises it might have for its viewers. Mastermind gave the double agent a fake identity as Alex Mind, a rookie production assistant just hired to the ABC studios.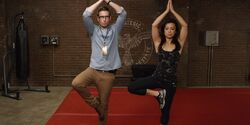 On his first day on the job, the double agent was issued a S.H.I.E.L.D. Lanyard, allowing him access to the production studio. Upon entering, he encountered Ming-Na Wen, who introduced herself. Wen decided that she needed help with her daily routine and invited Mind to help. She exercised, using Mind as a punching bag and having him stand in yoga positions with her. When her towel boy arrives to give Wen a fresh towel, Mind ran away.
Inside the set of the Playground, Mind found Jed Whedon writing on his laptop in the Director's office. Mind tells Whedon that he is wanted at rehearsal. Mind attempted to look over Whedon's shoulder to read his work, but Whedon saw him, closed his laptop, and left. Mind looked around; he found a file. Opening the file, he found a picture and story boards.
The security guard who had issued Mind his lanyard sought the new employee; however, Mind hid from him and sent photos of the file's contents to Mastermind.[2]
Handling the Props
Alex Mind took the elevator up to the writers' room but, before he could enter, he was caught by his supervisor; she handed him a bunch of schedules to distribute to the actors and crew for the next filming.
Mind traveled to the Wardrobe Department and put on the jacket normally worn by Lance Hunter. As he looks in the mirror and talks in a fake English accent, Adrianne Palicki entered the room. She and costume designer Ann Foley were discussing how Bobbi Morse had a fight scene and got blood on the costume. They asked Mind to leave and return the jacket.
Mind next entered the Prop Department; there he saw the Destroyer Armor Prototype Gun. As he aimed the gun, he stepped on a line; the Diviner appeared on a lit pedestal. Mind approached to lift it, but was advised against it. The Props Manager, holding the restraining mask of David Angar, said that all of the materials are carefully handled, so grabbing something is not wise. Mind felt embarrassed and ran.
Going to the Art Department, Mind found blueprints to the headquarters of Robert Gonzales. Mind took pictures to send to his boss Mastermind. When Mind grabbed a set of blueprints, the Security Guard arrived, wanting to know what he was doing. Mind pretended that he was lost and saw the blueprints to gain direction. The Guard escorted Mind from the room, but then mysteriously disappeared.[3]
Cast
Main Cast
Guest Appearances
Trivia
Episodes
Image
Title
Number
Airdate
Writers
Directors
Infiltrating the Set
1.01
March 4, 2015
George Kitson & Sharla Oliver
A Double Agent infiltrates the set of Marvel's Agents of S.H.I.E.L.D.. Working for a shadowy figure known only as the Mastermind, he encounters series regular Ming-Na Wen (Agent May) and show co-creator Jed Whedon as he works to stay ahead of Marvel Security and uncover secrets of the show.
Searching for Secrets
1.02
March 18, 2015
George Kitson & Sharla Oliver
The Double Agent visits various production departments. He uses the opportunity to secretly gather Intel for the Mastermind and in the process meets Adrianne Palicki (Agent Bobbi Morse), Costume Designer Ann Foley, and Prop Master Scott Bauer. But Marvel Security is always watching.
Security Alert
1.03
April 1, 2015
George Kitson & Sharla Oliver
The Mastermind gives the Double Agent his most dangerous mission yet. After a run-in with Brett Dalton (Grant Ward), the set is put on lockdown by Marvel Security. While in the midst of a desperate cat and mouse chase, our Double Agent has an unexpected interaction with Elizabeth Henstridge (Agent Simmons).
Post Heist
1.04
April 22, 2015
George Kitson & Sharla Oliver
The Double Agent is tasked with finding the Season 2 finale, but his mission does not go as planned. In the process of evading Marvel Security, he runs into Chloe Bennet (Agent Skye) and Post Producers Chris Cheramie and Robert Parigi.
The Mastermind is Revealed
1.05
May 6, 2015
George Kitson & Sharla Oliver
On the run with a stolen copy of the Marvel's Agents of S.H.I.E.L.D. finale, the Double Agent finds himself in a desperate car chase with Marvel Security. The Mastermind's true identity is revealed and our adventure culminates in a startling conclusion.
Awards
Gallery
References
External Links