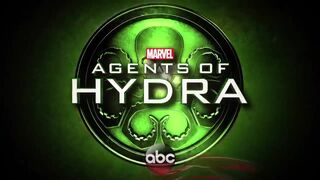 Agents of S.H.I.E.L.D.: Agents of HYDRA is an event that serves as the third and final pod of the fourth season of Agents of S.H.I.E.L.D.. It focuses on the alternative lives the main characters have inside the Framework.
Synopsis
On the heels of their encounter with Ghost Rider and battling the Watchdogs to their highest ranks, the Agents of S.H.I.E.L.D. find themselves in their most mind-bending mission yet. The heroes have been plugged into a virtual reality known as "The Framework," created by Dr. Radcliffe and Fitz. They awake to find themselves in an unrecognizable world – a world in which Hydra reigns supreme. What will become of the team as they make their way through this strange new landscape? What friends and foes will they face? And ultimately, will they ever escape and return to their real lives?
Episodes
Gallery
References
Community content is available under
CC-BY-SA
unless otherwise noted.