Wiki Targeted (Entertainment)
Play Sound
30 St Mary Axe previously known as the Swiss Re Building and informally know as the Gherkin is a commercial skyscraper located in London, England.
History
The Battle of Greenwich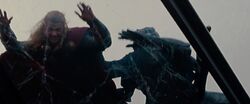 When Malekith obtained the Aether and launched his atttack against the Convergence, gravimetric anomalies started appearing around where the Convergence started which transport objects to another area. One of these anomalies opened in Svartalfheim, transporting both Thor and Malekith back to Earth where they landed on top of the 30 St Mary Axe bulding. Due to the buildings unique shape, Thor and Malekith slid down the side of the glass dome falling off. Thor then reached for his hammer Mjølnir to save him, but due to falling through another anomaly, the hammer was in space. When the hammer sensed Thor, it turned around heading back to Earth where it was on it's way to Thor. However, Thor was transported through another anomaly causing the hammer to return to space, shattering the glass on one side of the building on it's way back.[1]
References
External Links