"It's our policy not to comment on ongoing operations, but I can assure you that S.H.I.E.L.D. has the situation completely under control."
The specific order and/or accurate dates presented in this article has never been confirmed by Marvel Studios and/or Marvel Television, and therefore it can be inaccurate, incomplete, or partial.
"Do you see an Earth that can be saved? It's too late. It's already been quaked apart."
This is a timeline of events that occurred in the original 2091 before Glenn Talbot was killed by Quake, preventing this future from coming to pass.
2091
August
21st
74 years after being put in cryostasis, Leo Fitz is woken by Enoch. Enoch gives Fitz a helmet to disguise him as a Marauder upon their arrival at the Lighthouse, which Enoch says will be in a few days' time. He advises Fitz to prepare, as he will be facing some of the most ruthless and brutal monsters, mobsters, and mercenaries in the galaxy. Fitz insists that he has it in him to do so.[1][2]
23rd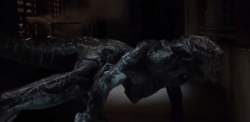 24th
25th
References
Community content is available under
CC-BY-SA
unless otherwise noted.