Boba Fett Returns - The Loop
Play Sound
"The world has been forever changed. A few months ago, billions of people reappeared after five years away, sending the world into turmoil. We need new heroes. Ones suited for the times we're in."
This is a timeline of events that occurred during 2024.
2024
February
24th
March
28th
31st
April
1st
4th
16th
19th
May
3rd
4th
5th
6th
7th
10th
19th
24th
June
20th
Attack on Ixtenco: Talos and Soren, disguised as Nick Fury and Maria Hill, arrive in Ixtenco, Mexico in response to recent reports of a cyclone with a face. Although Soren is at first skeptical, Quentin Beck arrives in a cloud of green smoke and demands to know who "Fury" and "Hill" are, as "Sandman" appears and attacks. Beck seemingly fights the creature off, in fact having orchestrated the event to come across as a superhero.[11][2]
23rd
26th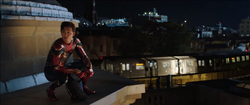 27th
Getting ready to pack for his school trip, Peter Parker ignores another phone call from "Nick Fury". May throws a banana at him, expecting him to react, but it hits him in the face since he has been struggling with his sixth sense, which May calls the "Peter Tingle". He considers packing his Iron Spider Armor, but decides against it.[12][2]
Peter Parker, Ned Leeds, and their class board the plane to Europe, and Flash Thompson makes fun of Parker. Michelle Jones responds by telling the flight attendant that since he "Blipped", he is too young to drink, and she confiscates the drink he has. Parker notices Jones laughing with Brad Davis and asks Leeds to help him sit next to her.[12][2]
Leeds approaches Jones, who is sitting next to Betty Brant, and tells them that a woman wearing perfume sat next to Parker, who has an allergy, asking Brant to switch seats with Parker. Roger Harrington overhears this and makes everybody change seats to try to help Parker, so that Davis and Jones end up next to each other, Leeds and Brant are next to each other, and Parker is left sitting next to Harrington.[12][2]
While Parker is forced to listen to Harrington's stories about his wife pretending to have "Blipped", Leeds fails to connect with Brant, and Jones and Davis share a dual headphone adapter to watch a movie together, as had been Parker's plan.[12][2]
A turbulence hits the flight, causing Leeds to grab Brant's hand, and the two start to connect and start a relationship.[12][2]
Parker goes to the bathroom, and sees Jones waiting to use it. He reenters the bathroom and cleans it, then making himself look nice. However, when he leaves the bathroom again, he sees that Jones had gone and Davis is now the one waiting for him.[12][2]
28th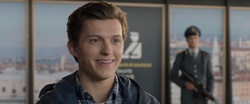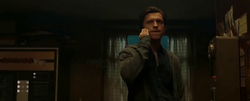 The class returns to their hotel and discuss Hydro-Man's nature. Peter Parker talks to May on the phone about the battle, and discovers that she is with Happy Hogan. May gives Peter advice about his plan to ask out Jones.[12][2]
The class watches the news report about the battle, in which the reporter refers to Beck as a mystery man in Italian, "l'uomo del misterio", so the group name him "Mysterio". Jones and Parker discuss the upcoming Paris trip and the Eiffel Tower, which Jones is excited for since she read a conspiracy theory about it.[12][2]
Leeds asks Parker how he is going to deal with Hydro-Man, and Parker says that he will not, since Beck appears to have it covered. Talos, disguised as Nick Fury, suddenly shoots Leeds with a tranquilizer from behind their door, and asks why Parker is avoiding his phone calls. "Fury" reveals that Hydro-Man is connected to the Attack on Ixtenco, as well as a similar incident in Morocco involving a cyclone creature. Roger Harrington checks on Parker, then "Fury" tries to continue explaining, only to be further by Brant and then Dell.[12][2]
Having left the hotel, "Fury" gives Parker a pair of sunglasses left for him by Tony Stark. "Fury" and Parker arrive at Nick Fury's Hideout, where Parker is formally introduced to Beck, who tells him that he is from another Earth which was consumed by Elementals. "Fury" and "Maria Hill" (Soren in disguise) ask Parker to join the fight against the Elementals, but Parker refuses since he needs to stay with the class trip and keep his identity secret. "Fury" says he understands and has Dimitri Smerdyakov escort Parker to his hotel.[12][2]
Nick Fury contacts with S.H.I.E.L.D. and asks them to make a special suit for Parker. S.H.I.E.L.D. sends the Seamstress to handle the suit to Peter Parker the following day.[16]
29th
Peter Parker finds out that his class field trip has been redirected from Paris to Prague, with Parker realizing "Fury" has interfered so that he can help fight the Elementals. Roger Harrington introduces himself to the bus driver, who Parker realizes is Smerdyakov, but Smerdyakov does not answer. They board the bus.[12][2]
On the journey, Parker looks at the pair of glasses that Stark left him, and discovers a note that comes with it, which says, "For the next Tony Stark, I trust you." He activates the glasses, which tell him they control the E.D.I.T.H. system, an acronym for "Even Dead, I'm The Hero". E.D.I.T.H. demonstrates her abilities, including showing him what his various classmates are doing on their phones.[12][2]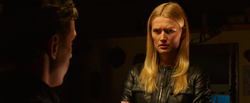 The class takes a rest stop, and Smerdyakov instructs Parker to visit a particular building where he meets with the Seamstress, who gives him a new, black stealth suit so that "Spider-Man" will not be seen in Europe and a correlation cannot be made, so his identity can remain secret. The Seamstress has Parker take off his clothes to try the suit on, but Brad Davis accidentally walks in. He takes a picture, thinking they were about to have sex. Davis tells Parker that he plans on showing Michelle Jones, so that she will date him instead of Parker.[12][2]
Parker uses E.D.I.T.H. and tells her that Davis is a target, thinking she will erase the photo from his phone. However, the AI misunderstands and initiates a drone strike against Davis instead. Flash Thompson steals the glasses and compliments Parker on them, but Parker accidentally knocks him out while getting them back. Parker tells E.D.I.T.H. to cancel the strike, but another student asks if Parker punched Thompson, so when E.D.I.T.H. asks for confirmation to cancel at the same time, Parker ends up saying, "No," causing the strike to continue. Parker uses a web on the steering wheel to swerve the bus out of the way, then distracts the bus as he jumps through the sky light to shoot webs at the drone, destroying it. Parker then has E.D.I.T.H. successfully delete the picture of him and the Seamstress, and watches as Davis looks for the missing photo on his phone, and Thompson wakes up.[12][2]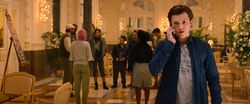 30th
Several hours after his arrival in Prague, Parker discusses the battle plan with Quentin Beck, "Hill", and "Fury". Beck decides to adopt the name Parker told him his friends called him, "Mysterio", in an attempt to endear himself to him so he can take E.D.I.T.H.. Parker expresses concern for his friends, but "Fury" yells at him about accidentally calling a drone strike on Brad Davis, feeling he is not ready.[12][2]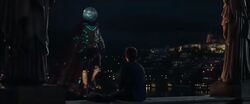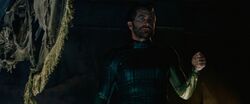 Beck toasts his crew of former, disillusioned Stark Industries employees, including William Ginter Riva who was yelled at by Obadiah Stane in 2009. They plan an even bigger Elemental attack to cement "Mysterio" as the greatest new superhero in the public eye, so they will no longer be ignored.[12][2]
Parker gets back to the hotel and finds out the trip has been cut off due to the incidents. With the class preparing to go home the next day, Parker talks to Michelle Jones about wanting to make the most of their final hours, so they agree to sneak out of the hotel.[12][2]
Parker and Jones talk on a bridge. Jones reveals that she has deduced that Parker is Spider-Man, which Parker denies, and has discovered a strange device in the battle site. Parker is disheartened when he believes Jones is only interested in home because she thinks he is Spider-Man. They accidentally activate the device, and it turns out to be a projector used by Beck, showing an Elemental vs. Mysterio hologram. Parker realizes that Beck must have orchestrated the attacks, and tells Jones that he is in fact Spider-Man, and has messed up. They rush back to the hotel together.[12][2]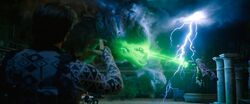 Beck rehearses the next Elemental attack with his crew, testing the drone holograms and damage as he wears a motion capture suit. He decides to increase the amount of damage, and Gutes Guterman points out the number of casualties it will cause, but Beck responds by saying it will result in increased coverage as an "Avengers level threat". An illusion of his suit glitches, and William Ginter Riva tells Beck that one of his projectors is missing, which angers Beck, worried it could become evidence. Beck uses E.D.I.T.H. to find out that Michelle Jones took it, and she and Parker have it. He yells at Riva, saying that it is Riva's fault instead of himself, he now has to kill Parker.[12][2]
Parker catches Jones up about his activities in Europe and changes into his Spider-Man stealth suit, when Ned Leeds walks in and learns that Jones knows his identity. Parker tells Leeds about Beck's villainy, and instructs Leeds to have his aunt tell Roger Harrington he is staying in Europe with his family. Jones gives him the projector, and Parker leaves for Berlin to tell "Fury" about Beck.[12][2]
July
1st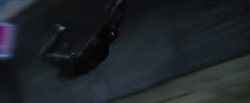 2nd
Peter Parker wakes up in a Dutch holding facility, where the prisoners greet him and welcome him to the Netherlands. He uses his strength to break the lock and finds that the guard had stolen his stealth suit. The guard asks the other prisoners if everything is okay, and the others say yes and close the door back on their cell.[12][2]
Parker's high school class arrives in London and prepares for a tour, and Brad Davis asks the class to consider Parker's recent absences and the incident he photographed involving Parker and the European woman. Michelle Jones distracts the class from listening to Davis by asking why he took a picture of Parker while he was undressed, and Roger Harrington decides to ignore the situation and move on. Julius Dell, trying to be the cool teacher, tells Davis not to take pictures in the bathroom, while the class boards a bus, driven by Gutes Guterman.[12][2]
Michelle Jones and Peter Parker reunite, and Jones shows Parker the necklace Hogan passed on, broken. While Parker tries to explain his Paris plan, Jones kisses him, and they confess their feelings for each other, with Jones having been interested in him beyond Spider-Man all along. They kiss again, and awkwardly leave each other.[12][2]
3rd
Peter Parker's class returns home from their trip, arriving in Newark. Parker and Jones hold hands, before parting ways, agreeing on a date. Parker learns that Ned Leeds and Betty Brant have split up, while Flash Thompson gets picked up by his butler, since his mother could not make it.[12][2]
Peter Parker is picked up by May Parker, who expresses excitement that he is safe. They drive home together.[12][2]
4th
Talos and Soren revert to their normal forms, and discuss having to tell Nick Fury about Quentin Beck's troublemaking. Talos finally gives in and calls Fury, telling him about the problems and asking Fury to return to Earth from the Skrull ship he is on.[17][2]
10th
Spider-Man swings through New York City, taking pictures and texting Jones on his way to the date.[18][2]
Parker takes Michelle Jones for a web swing, as she wanted to see how it felt. She becomes scared mid-swing.[18][2]
Parker puts Jones down by Madison Square Garden, where she says she never wants to experience it again. A news report suddenly airs, which Parker watches in the street. It broadcasts footage, unknown to the press to be doctored, where Quentin Beck alleges that Spider-Man attacked him, and Parker saying "Execute them all" is used to look like he ordered the London deaths. Anchor Pat Kiernan says it came from The Daily Bugle, showing the site's host J. Jonah Jameson, who uses the opportunity to report on Spider-Man's criminal activity and call Mysterio "the greatest superhero of all time". Jameson then plays the second part of the video, in which Mysterio tells everybody that Spider-Man's real name is Peter Parker, to Parker's horror.[18][2]
17th
November
December
19th
Clint Barton takes his children to watch Rogers: The Musical. The family ends up leaving halfway through, with Barton then taking them to dinner and the Rockefeller Center.[21]
Kate Bishop visits her mother Eleanor, who is very dissatisfied at Kate for having destroyed Stane Tower by shooting at its bell on a dare. She meets Eleanor's new boyfriend Jack Duquesne, and all leave for a socialite gala.[21]
After witnessing Eleanor discussing with Jack's uncle Armand Duquesne III, Kate decided to stealthily followed him into the hotel's cellar, where she watched as Armand and Jack attended a black market auction, whose items included the Ronin suit and sword which had been obtained from the ruins of the Avengers Compound.[21]
Once the Bartons return to their hotel, Clint watches a news report of the incident, recognizing his old suit.[21]
After Bishop drops the dog at her apartment, with only leftover pizza for him to eat, she discovers Armand's address and leaves to investigate on him.[21]
At the advice of her idol to hide from the criminals, Bishop goes with him to her apartment.[23]
After buying supplies in a drugstore, Barton asks Bishop to find refuge, and she takes them to the apartment of her aunt Moira Brandon.[23]
Barton returns to Bishop's building, disguises himself as a firefighter to enter the apartment, but does not find his suit. While leaving, he notices a sticker of the New York City LARP on a firetruck. After returning to Brandon's apartment and tending to Bishop's injuries, he researches about the NYC LARPers, finding that Grills already made a social media post showing off the Ronin suit.[23]
20th
Barton asks for a van to drive his children to the airport before leaving to reunite with Bishop.[23]
Bishop insists that going to her job in her mother's company, Bishop Security, is the safest thing to do, and Barton walks her to the company headquarters, giving her his phone number in case of an emergency before leaving.[23]
Barton is forced to join the LARP session at Central Park to talk to Grills, who recognizes him as Hawkeye and easily agrees to return the suit in exchange for letting Grills beat Barton in a LARP swordfight.[23]
21st
22nd
23rd
24th
25th
Barton brings Bishop and the dog, now named Lucky, to spend Christmas at his farm. He also returns the watch to its owner, Laura Barton.[22]
After Barton burns the Ronin suit in his barbecue grill, Bishop starts thinking about her heroine codename.[22]
References
↑ Jon Watts confirmed Fury switched with Talos some time after Tony Stark's funeral in Avengers: Endgame. With the funeral on October 29, 2023 (see 2023 references), this makes the switch between then and June 20, 2024 (the beginning of Spider-Man: Far From Home, see other references). So, it may be approximated to the midpoint of this span, February 24, 2024.
↑ 2.00 2.01 2.02 2.03 2.04 2.05 2.06 2.07 2.08 2.09 2.10 2.11 2.12 2.13 2.14 2.15 2.16 2.17 2.18 2.19 2.20 2.21 2.22 2.23 2.24 2.25 2.26 2.27 2.28 2.29 2.30 2.31 2.32 2.33 2.34 2.35 2.36 2.37 2.38 2.39 2.40 2.41 2.42 2.43 2.44 2.45 2.46 2.47 2.48 2.49 2.50 2.51 2.52 2.53 2.54 2.55 2.56 2.57 2.58 2.59 2.60 2.61 2.62 2.63 2.64 2.65 2.66 2.67 2.68 2.69 2.70 2.71 2.72 2.73 2.74 2.75 2.76 2.77 2.78 2.79 2.80 2.81 2.82 2.83 2.84 2.85 2.86 2.87 2.88 2.89 2.90 2.91 2.92 2.93 2.94 2.95 2.96 2.97 2.98 2.99 Spider-Man: Far From Home
↑ In Spider-Man: Far From Home, the film Heart of Iron: The Tony Stark Story is shown to exist by June 27, 2024 (see other references). This would be made after the events of October 17, 2023 (see 2023 references). It would take at least half a year to have been released, meaning it was released between April 18, 2024 and June 27, 2024. So, its release may be approximated to the midpoint of May 23, 2024. With most films releasing on a Friday, it may be approximated to the nearest Friday: May 24, 2024.
↑ 11.0 11.1 In Spider-Man: Far From Home, on Friday, June 28, 2024 (see other references), "Fury" says the event in Ixtenco was "a week ago". This would specifically suggest it was around June 21, 2024, but could more generally mean "the week of June 23-29, 2024 - 1 week = week of June 16-22, 2024", so approximately June 19, 2024. Overall, it can be approximated to June 20, 2024.
He describes the Morocco incident as "3 days later", making it June 23, 2024.
↑ 12.00 12.01 12.02 12.03 12.04 12.05 12.06 12.07 12.08 12.09 12.10 12.11 12.12 12.13 12.14 12.15 12.16 12.17 12.18 12.19 12.20 12.21 12.22 12.23 12.24 12.25 12.26 12.27 12.28 12.29 12.30 12.31 12.32 12.33 12.34 12.35 12.36 12.37 12.38 12.39 12.40 12.41 12.42 12.43 12.44 12.45 12.46 12.47 12.48 12.49 12.50 12.51 12.52 12.53 12.54 12.55 12.56 12.57 12.58 12.59 12.60 12.61 12.62 12.63 12.64 12.65 12.66 12.67 12.68 12.69 12.70 12.71 12.72 12.73 12.74 12.75 12.76 12.77 12.78 12.79 12.80 12.81 12.82 12.83 12.84 12.85 12.86 12.87 12.88 12.89 12.90 12.91 12.92 12.93 12.94 12.95 12.96 In Avengers: Endgame, events begin in mid-2018, then the film jumps to "five years later", making it 2023. This is supported later when, in 2014, Ebony Maw says that Nebula has come from "9 years in the future", 2023. In Spider-Man: Far From Home, Betty Brant says on the last day of school, in late June, that the snapped people were brought back "8 months" ago. This would place Hulk's snap in October, so October 2023. Therefore, 8 months later, this is June 2024.
In June 2019, which has the same days of the week as June 2024, New York high schools finished on June 26th (1, 2, 3), so the most likely date for the last day of school in the 2023-2024 academic year is June 26, 2024. This scene is preceded by Mysterio arriving in Ixtenco, Mexico. Peter's To-Do List reveals that it is the day after the end of term that Peter Parker and his classmates go on summer vacation (on the last day of term, Ned Leeds asks Peter Parker what he will do with his "last day in New York"), beginning in Venice.
In the first trailer and in an official social media post, Peter Parker's passport is shown to be issued on "JUL 19" and "19 JULY" respectively, and on the first poster and background art, the passport stamps for Berlin and London are both for "24 JUL". However, by the end of school dates, the trip would be June 27th-July 3rd. Since the passport scene is not in the film and the passport stamps on the poster/background art are already erroneous, saying the year is "19" when it is 2024, these can be discarded in favor of what the film says. This makes Venice June 28th, Prague June 30th, Berlin July 1st, and London July 2nd.
↑ 17.0 17.1 In the post-credits scene of Spider-Man: Far From Home, which appears to be not long after the events in London, Talos says they gave Parker Tony Stark's glasses "about a week ago". With that event dated to Friday, June 28, 2024 (see other references), this would specifically suggest it is around July 5, 2024, but could more generally mean "the week of June 23-29, 2024 + 1 week = week of June 30-July 6, 2024", so approximately July 3, 2024. Overall, it can be approximated to July 4, 2024.
↑ 18.0 18.1 18.2 18.3 In the mid-credits scene of Spider-Man: Far From Home, Pat Kiernan says the Battle of London were "last week". With that event dated to Tuesday, July 2, 2024 (see other references), this would make it the week of July 7-July 13, 2024, so approximately July 10, 2024.
↑ The The Daily Bugle article reporting on the reopening of Coney Island states that the revelation of Spider-Man's identity was "last week". With that event dated to Wednesday, July 10, 2024 (see other references), this would make it the week of July 14-July 20, 2024, so approximately July 17, 2024.
↑ 21.00 21.01 21.02 21.03 21.04 21.05 21.06 21.07 21.08 21.09 21.10 21.11 21.12 21.13 21.14 Hawkeye: 1.01: Never Meet Your Heroes
↑ 23.00 23.01 23.02 23.03 23.04 23.05 23.06 23.07 23.08 23.09 23.10 23.11 Hawkeye: 1.02: Hide and Seek