Wiki Targeted (Entertainment)
Play Sound
This is a timeline of events that occurred during 2023.
2023
June
26th
July
3rd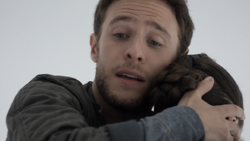 October
3rd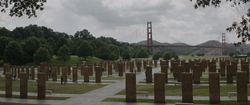 Lang finds the Wall of the Vanished, a monument in San Francisco listing the local victims of the Snap 5 years earlier. Fearful for his daughter, he scans the monument for the Lang surname, only to instead find his own name, presumed dead due to his disappearance the same day as the event.[4][5]
Visiting his ex-wife's house, Scott Lang desperately rings the doorbell. Cassie, now 16 years old, comes to the door. Scott is stunned by her age, and Cassie is overwhelmed to find out her father is actually alive. They embrace.[4][5]
6th
7th
At the New Avengers Facility, Natasha Romanoff conducts a meeting via hologram with Nebula, Rocket Raccoon, Okoye, Captain Marvel, and War Machine, getting updates about the status of the galaxy and Wakanda and its surrounding area. Okoye explains the tremors were just tremors, and there is nothing to be done about them. Danvers then explains that the kind of trouble Earth is going through is also occurring across many planets, so she is having to cover a lot of territory and may not be around for a while.[4][5]
The group all shut down their holograms save for Rhodes, who tells Romanoff that he is in Mexico that there has been a cartel massacre, and that the perpetrator was definitely Clint Barton - the latest in a series of attacks by him over the preceding few years. She sadly asks him to still keep looking for where he might be heading next.[4][5]
Steve Rogers arrives at the facility to check in on his friend. He admits that while he tells people they should move on, he cannot himself, and that he knows Romanoff cannot either. Romanoff tells her friend that the Avengers gave her a job and family that she did not have beforehand, and she was better for it, still trying now even though the group is gone to be better. Rogers notes they should probably both "get a life", but Romanoff sadly smiles, joking, "You first." They are interrupted by a call at the front gate, and when Romanoff answers, they find Scott Lang, announcing himself and saying he really needs to talk to them.[4][5]
Once Lang has been welcomed inside, he tells the duo that while he was gone for 5 years, he only experienced 5 hours in the Quantum Realm. He explains to them that the realm operates on its own, unpredictable rules of time, suggesting that if there were a way to navigate it temporally, it could potentially be exploited to effectively time travel to before Thanos' attack, opening a possibility of finding a way to reverse the Snap. Romanoff is willing to entertain the idea, and Lang asks who they need to talk to.[4][5]
8th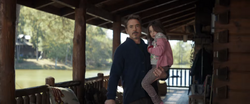 Tony Stark goes to get his 4-year-old daughter, Morgan, from her tent outside his and Pepper Potts' home. He discovers Morgan has gone into the garage and taken a helmet from something he had made for her mother, and picks her up to take her inside for lunch. As he heads back, Steve Rogers, Scott Lang, and Natasha Romanoff arrive at the house.[4][5]
The group explain their proposal to Stark, but he explains that time travel is not navigable. Rogers points out the Infinity Stones are still around in the past, so they could get them, with Romanoff saying they could click their fingers themselves to bring the lost people back, Lang nicknaming the plan a "Time Heist". Stark worries they could just make things even worse, but when Rogers suggests they might not, Stark points out that there is still no logical, tangible way to safely execute the Time Heist. Lang thinks he can convince him so long as they follow the "rules of time travel", but Stark points out his idea is naively based on Back to the Future, which is not how quantum physics works. Lang angrily points out that many people, himself included, lost people who they care about, but Stark simply states that he cannot agree to help. Morgan comes back out and Tony tells the team that she already is his second chance.[4][5]
9th
Rogers, Lang, and Romanoff visit Hulk, meeting with him in a diner. Some children come over and take a photo with him, and Lang is disappointed when they are not interested in a photo with Ant-Man. When Rogers brings up the time travel possibility, Hulk is initially skeptical, but with Romanoff's encouragement, agrees to help them experiment with the idea.[4][5]
Tony Stark is washing dishes when he accidentally sprays a photo on his shelf. Wiping it clean, he finds it's a picture of himself with Peter Parker. The photo reminds him of what he lost, and he decides to give time travel theory a try.[4][5]
Tony Stark uses F.R.I.D.A.Y. to run different configurations for navigating time. He is shocked when one, revolving around an inverted Möbius strip, turns out to be feasible. Morgan interrupts him, and he takes her up to bed.[4][5]
10th
Hulk, Romanoff, and Rogers set up their first time travel test, using the Quantum Tunnel in Luis' van. Hulk tries to send Scott Lang back in time, but instead pushes backwards time through Lang, ageing him backwards to a 12-year-old. In trying to fix it, he instead ages him to a 93-year-old, then back to a baby, before finally managing to return him to normal.[4][5]
Tony Stark returns to the New Avengers Facility, coming across Steve Rogers. He explains that he anticipated what happened to Lang, being the EPR paradox. He says that he wants to help now, but they must also keep what they have found for themselves in the years since the Snap. Tony takes the Captain America shield from his car boot, hand it back to Rogers the way his father once had, reminding him that Howard made it for him, and as a sign of their reconciliation. Rogers graciously accepts it, and says they are working on assembling the team.[4][5]
11th
Scott Lang attempts to eat a taco, but is disrupted when Rocket Raccoon and Nebula arrive at the New Avengers Facility on the Benatar, followed by War Machine.[4][5]
Hulk and Rocket fly the Benatar to Tønsberg, Norway, where they visit the "New Asgard" establishment the remainder of the Asgardians have set up to build their new lives. On arrival, Valkyrie greets them, but warns Thor will not be welcoming to them and only leaves his hut to get more beer for himself.[4][5]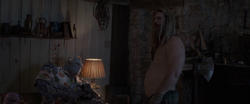 The duo go to recruit Thor, finding him an obese, unkempt alcoholic, reduced in his depression to simply playing video games with Korg and Miek. They tell him they are working to fix what happened with Thanos, but the reminder upsets Thor, after having failed in 2018. Hulk reminds him that he helped him out of a bad place before and says they need him, eventually convincing him to come with them.[4][5]
Massacre in Tokyo:

Ronin has found a Japanese Yakuza leader, Akihiko, and has tracked him down to his stronghold in Tokyo. On arrival, the now merciless Barton kills every member of the Yakuza present.[4][5]
Barton comes face-to-face with Akihiko and engages him in a sword duel. He slices his gut, then his throat. As Akihiko kneels and begs for his life, Barton runs him through.[4][5]

Barton realizes Natasha Romanoff is behind him and turns to see his friend for the first time in 5 years. She informs him that the Avengers have a plan, and while he is reluctant to let himself have any hope, she takes his hand and convinces him to return with them.[4][5]
12th
13th
14th
Steve Rogers and Tony Stark lead a meeting of the Avengers to discuss planning when and where to time travel to so as to retrieve the six Infinity Stones from history. They point out that the Infinity Stones are entwined with their history, so there are not many convenient places. They ask Thor for help regarding information on the Aether, but he has fallen asleep.[4][5]
Thor, now awake, starts to explain the Aether, but gets sidetracked, talking about how Jane Foster ended up picking up the liquid and taking her to Asgard, where she met Frigga. He becomes upset thinking about Frigga's death and breaking up with Foster, before Stark stops him.[4][5]
Rocket Raccoon tells the group about Peter Quill having found the Power Stone on Morag.[4][5]
15th
Steve Rogers announces to the Avengers that they now have a plan for their Time Heist, with three teams: New York for the Space, Mind, and Time Stones, Asgard for the Reality Stone, and Morag/Vormir for Power and Soul Stones. The team all take a look at the final plan.[4][5]
Tony Stark records a message for his family ahead of the Time Heist, in case something goes wrong.[5] He also prepares a note for Peter Parker, gifting him his E.D.I.T.H. artificial intelligence if he dies.[4][6]
16th
Tony Stark, Clint Barton, Steve Rogers, Thor, and Hulk grieve Romanoff on a float just outside of the New Avengers Facility, as they come to terms with her death. Thor wants to use the Infinity Stones to bring Romanoff back, but Barton explains the everlasting nature the guardian of the stone told them about.[4][5]
17th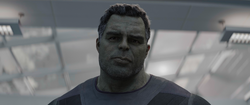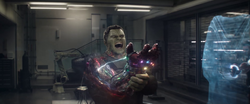 Blip:

Despite significant damage to his right arm, Hulk manages to snap his fingers for the return of all life lost in the Snap in 2018. Stark cools his burned and wizened arm. Meanwhile, Scott Lang walks outside and notices the birds tweeting once again outside, just as Clint Barton's phone rings. Clint is overwhelmed when he finds out that the caller is his wife, and he takes the call from her, overjoyed to hear she is indeed alive once again. Lang tells the others he thinks it really worked.[4][5]
At Midtown School of Science and Technology, the students turned to dust by the Snap in 2018 return, causing a disturbance as they are caught in the middle of an ongoing basketball game.[4][6]
In Louisiana, Monica Rambeau returns in a hospital room, asking for her mother. A doctor informs her she died three years prior. She also informs Rambeau of her disappearance in the Snap.[4][7]
18th
27th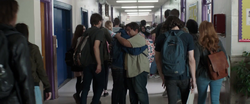 28th
29th
Before Tony Stark's funeral, Happy Hogan, Pepper Potts, Morgan, and James Rhodes watch a hologram message left by Tony from the day before the Time Heist, recorded in the event that something might go wrong. In it, Tony talks about his hope that the world can be restored to some sense of normality. He ruminates on the incredible expanse of the universe he has come to discover over the years, and says that he feels things will work out as they are supposed to, finishing by reminding Morgan, "I love you 3000."[4][5]
The funeral is held for Tony Stark at his home, where he is mourned by his family, friends and fellow heroes. Potts and Morgan put a wreath out onto the lake, with Stark's first arc reactor, still adorned by Potts' gift engraving of "Proof that Tony Stark has a heart". Potts, Morgan, Hogan, Rhodes, Steve Rogers, Peter and May Parker, Thor, Hulk, Doctor Strange, Wong, Scott Lang, Hope and Janet van Dyne, Hank Pym, Rocket Raccoon, Groot, Mantis, Nebula, Peter Quill, Drax, Okoye, T'Challa, Shuri, Clint, Laura, Cooper, Lila, and Nathaniel Barton, Wanda Maximoff, Bucky Barnes, Sam Wilson, Harley Keener, Maria Hill, Thaddeus Ross, Carol Danvers, and Nick Fury all mourn the fallen hero together.[4][5]
After people begin to disband, Clint Barton stands with Wanda Maximoff by the lake. He tells her he wishes he could let Natasha Romanoff know that they won. Maximoff says she is certain that both Romanoff and her beloved Vision know, wherever they are. The friends embrace to support each other.[4][5]
30th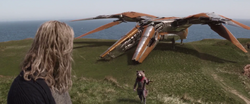 Barnes and Wilson notice an old man sitting ahead by the lake. Encouraged by Barnes, Wilson approaches him, realizing that he is an elderly Steve Rogers, now biologically 112[8], having lived a full life. Rogers says his life was beautiful, and Wilson says he is happy, but will miss Captain America. Rogers reveals a now intact shield, removing it from its casing and passing it to Wilson. When Wilson notes that it feels like someone else's, Rogers says that it is not. Honored, Wilson thanks his friend and assures him he will do his best, which Rogers tells him is why he chose him. When Wilson notices Rogers has a wedding ring, he enquires about Rogers' wife, but Rogers decides to keep the special life he lived private.[4][5]
31st
Wanda Maximoff visits S.W.O.R.D. Headquarters to retrieve Vision's corpse with the intent of giving him a proper burial. She sees one of the receptionists in the facility and tells him that she wants to see Vision since he was gone when she was brought back. With the approval from Tyler Hayward himself, Maximoff proceeds forward and meets the Director in his office. Hayward presents her Vision, who is being broken down and torn apart by engineers, saying that it is S.W.O.R.D.'s legal obligation to do so and that Vision did not belong to her. Enraged, Maximoff destroys the observatory glass and goes to examine Vision's corpse itself, but says that she cannot feel him anymore. She leaves the headquarters, alone and depressed. Hayward would later use the security footage to falsely claim that Wanda stole Vision's body and resurrected him in order to keep the restoration of Vision's body a secret.[9][10]
November
5th
Wanda Maximoff goes to Westview, New Jersey, observing the citizens of the town as she drives by. She reaches her and Vision's planned estate, which had been demolished. Looking at her property deed, written "to grow old in", Maximoff breaks down and releases her Chaos Magic, restoring her estate and affecting Westview entirely, transforming the town into a 1950s TV show aesthetic. Maximoff then fully creates her own version of Vision, who greets her and shares a chaste kiss with her.[4][9]
Immediately after Maximoff creates the Hex, Agatha Harkness senses the afterglow of multiple spells in play all at once. This fascinates her so she decides to go undercover to try to find out Wanda's true self.[4][9][11]
A man placed in Witness Protection at Westview suddenly goes missing as people forget the town exists. FBI agent Jimmy Woo is tasked with investigating the case. Woo tries contacting known associates and relatives, but to his surprise, none of them have even heard of this person. So Woo takes the first flight out of Oakland to try to interface with local law enforcement until he encounters a new wrinkle.[4][7]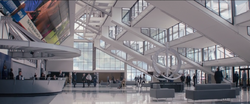 Monica Rambeau returns to work at S.W.O.R.D. around 3 weeks after being resurrected in the Blip to meet with Tyler Hayward. She tries to use her outdated employee ID card to enter a door, but it fails her. When a security guard begins to question her, he is interrupted by Hayward himself who Monica refers to as "Director Hayward", but he corrects her as he is technically the Acting Director for now.[4][7]
Hayward subsequently catches Rambeau up on everything she's missed in the past five years and Monica asks about the "Astronaut Training Program" to which Hayward explains that they've mostly moved to unmanned missions and shows Rambeau an arsenal of robotics, nanotech and other types of "Sentient Weapons". Nevertheless, Rambeau passively objects, pointing out that the O and R in S.W.O.R.D. stand for observation and response, not creation. Hayward explains that space is now full of "unexpected threats" to which Rambeau assures him that it "always was full of threats and allies".[4][7]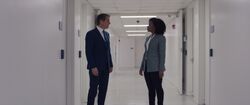 As they arrive at Hayward's office, Hayward points out how Rambeau's mother helped build S.W.O.R.D. from the ground up and that she should have been here to name Maria's replacement after she died. Rambeau tells Hayward he was the obvious choice and they move on to getting Rambeau her next assignment. Rambeau is then tasked to help the FBI with a missing persons case at Westview and to chaperone a S.W.O.R.D. Drone. Rambeau objects, letting Hayward know she's ready to get back to work. Hayward admits she's being "grounded" and limited to terrestrial missions per her mother's protocols. Reluctantly, Rambeau accepts the mission.[4][7]
Upon arriving at Westview, Rambeau meets Woo, who explains the peculiar circumstance of this case and that the past associates of the missing person in the witness protection program have no memory of him existing. Not only that, but no one remembers that the town even exists. He also introduces Rambeau to the local sheriff, who claims the town of Westview doesn't actually exist. Woo explains to Rambeau that he's tried contacting all of the residents of Westview but has had no luck. He says they are no longer dealing with a case of a missing person, but rather a missing town. When she asks why he has not gone into town to investigate, he explains that the town doesn't want to be investigated.[4][7]
Rambeau takes out the drone from her truck and starts flying it toward the town as she questions Woo as to why they appear to be aware of Westview while anyone with a personal connection to it is not. She then notices some interference on the feed from the drone and looks up to see that it has disappeared. As she gets closer to investigate, she notices an energy field around the town. She reaches out to touch it and gets pulled into the town, disappearing in front of Woo's eyes.[4][7]
6th
24 hours after Rambeau's disappearance, Darcy Lewis, along with other scientists, arrives at the response base with the realization that S.W.O.R.D. clearly has no idea what kind of threat they're dealing with. The agents, upon arrival, lead Lewis to a lab as she watches a drone get sent into the town and disappears. She asks agent Monti what kind of data were they getting but is told that is highly classified. After pointing out that she saw the Army, the FBI, and others while looking forward to the commemorative T-shirt, Lewis asks if she can get a cup of coffee.[4][7]
Inside the Hex, Wanda and Vision puzzle over the significance of a mysterious heart on their kitchen calendar. Neither of them can remember the occasion, so they decide they are celebrating something special together. As Vision leaves the house for work, Maximoff points out he has forgotten to transform himself into his human appearance, which he does before heading out. Not long after, Maximoff meets next-door neighbor "Agnes" and gets caught off guard when she cannot answer how long she and Vision have been together or where their wedding rings are. She then proclaims she and Vision are celebrating their anniversary, to which Agnes promptly offers to help plan the special night.[12][4][11]
Lewis quickly finds a colossal amount of Cosmic Microwave Background Radiation readings, as well as some other findings. She plugs her equipment into an old Physio-Scope and gets an image from inside Westview. This prompts her to request an old television set.[4][7]
At Computational Services Inc. Headquarters, Vision's coworker Norm marvels at how fast he works and jokes that he is like a walking computer, which Vision denies. His inability to understand the significance of what today is resolved when he remembers that he is hosting his boss, Mr. Hart, and his wife, Mrs. Hart for dinner. Mr. Hart, who is looking forward to the evening, explains the importance of the dinner, pointing to former employee Phil Jones, who is leaving because the dinner he hosted was not to Mr. Hart's liking. Vision then calls Maximoff, and the two talk about their plans for the night without ever specifying the occasion they think they are celebrating.[4][12]
Later, Maximoff sneaks up behind Mr. Hart, mistaking him for Vision, and gives him the old "guess who." Vision scrambles to explain that Maximoff is from Sokovia and lies that this is the customary Sokovia way of greeting guests. The Harts without much hassle accept the explanation. Vision and Wanda retreat into the kitchen to talk about what was going on. Vision explains that the heart on the calendar represents his boss' visit. Wanda snaps herself into a new dress and begins going to work on cooking a home-cooked meal.[4][12]
In the evening, Hayward sends agent Franklin, who is already in a hazmat suit, into the sewers to find anything on Rambeau and explains to him that the sewer system will lead him into the town. Hayward then tells the other agents, who are in charge of the tether tied around him, to keep him posted if anything happens to him. Woo tells Hayward he's not confident in this mission.[4][7]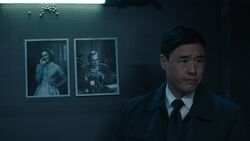 Later, Woo sets up a board for all the information they can gather on the citizens inside Westview. He points out that they have identified Wanda Maximoff and Vision and puts their photos on the board. Woo mentions in his writing on the white board questions the recurring presence of hexagons in the sitcom, along with asking other questions added by him later, which include: "Why sitcoms?" and "Is Vision alive?"[4][7]
Later on, as they continue analyzing the footage, Lewis notices Rambeau sitting on a bench during a scene within the sitcom and is surprised by this. She asks Woo if Rambeau seemed 'okay' to him, which he replies she doesn't appear to be harmed in any way and that she wasn't the boss lady he met yesterday. Lewis assumes that Rambeau has to play along with the sitcom while Woo asks if the sitcom was an alternate reality, if it was involved with time travel, or if it was "some cockamamie social experiment". Lewis reminds him that it's a 1950s sitcom to which he replies with "But why?" Lewis tells Woo that she has an idea.[4][7]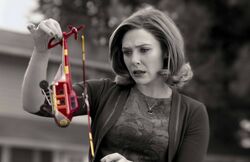 In a 1960s setting, Vision can be seen practicing a magic routine for a talent show fundraiser and Wanda Maximoff serves as his assistant. As Vision worries about their routine, Maximoff explains that she just wants this to serve as a way to fit in with their neighbors at Westview and that she is heading to a planning committee meeting while Vision is off to a meeting of the town watch. However, Maximoff doesn't make it far because she hears a crash in her front yard and goes to investigate. She finds a toy helicopter that has crashed into one of her bushes, but unlike the rest of the world, the toy is bright red and yellow when its surroundings are in black and white. Soon after, she is distracted by "Agnes".[4][13]
Outside, Lewis explains to Woo that she might be able to shoot a signal to the radio on Wanda's kitchen counter and speak with her, considering that this only happens once per episode. Shortly After, an agent brings Woo an image of the now transformed drone, which is a red toy helicopter that had landed in Maximoff's bush from the episode that aired "two minutes ago". Lewis and Woo question why the design was changed and why did the agent colorized it, to which the agent says she didn't. Lewis decides to move on with her theory.[7]
Lewis and Woo begin trying to reach Maximoff on the radio when Lewis notices Rambeau is talking to Maximoff. During the scene, Lewis tells Woo that Maximoff is at "some sort of swim club" and that they've never been there before. She then sees a radio at Dottie's meeting and tells Woo to start talking.[4][7]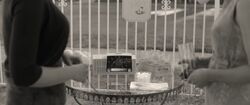 As Maximoff cleans up after the meeting for Jones, she tries to get on the good side of the head of the committee. Jones explains that she has heard some things about Maximoff and Vision. But before she can explain anything, a garbled voice comes over the radio. As Woo keeps trying to ask Maximoff who was doing this to her, the radio short circuits and a glass in Jones' hand shatters, cutting her hand which becomes covered in red blood. Jones is seemingly not phased by the incident and makes a joke about getting blood stains out of white linen before heading away.[4][13]
As Woo tries to continue to reach out to Maximoff, the broadcast suddenly jump-cuts ahead, which confuses Lewis. Lewis tells Woo that it didn't work and that this was a mission failure. Woo says it was worth a try and tells her it was good effort. As Lewis tells Woo to come back inside, Woo looks at the Hex barrier one more time before going in.[4][7]
7th
In the sewers, agent Franklin successfully crosses through the barrier and into Westview. However, his hazmat suit transforms into a beekeeper's outfit and the tether he was attached to breaks and turns into a jump rope. The agents in charge of carefully guiding Franklin through the sewers, pull back the tether that was once attached to him. Agent Monti holds the jump-rope in confusion.[4][7]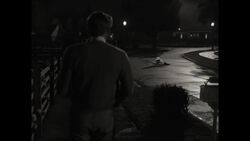 Back home, Wanda and Vision celebrates their performance and their day of fitting in. As Maximoff starts to head to the kitchen, Vision calls her back. As she turns around, it is revealed that she is pregnant. Maximoff asks if this is really happening and they are quickly interrupted by a sound outside. They head out to find Franklin climbing out of the sewers. As Vision says Wanda's name, Franklin turns his head towards them, startled.[4][13][7]
As Franklin faces them, Maximoff simply utters "no," and things begin to rewind, bringing things back to the point of Maximoff asking if her pregnancy is really happening. This time, instead of hearing the sound, Vision assures her it's really happening and the two kiss. Maximoff notices Vision's face is now in color, and marvels as she and the environment around her becomes colorized.[4][13][7]
In a 1970s setting inside of the Hex, Wanda and Vision are inside their home with Dr. Stan Nielson, the town's obstetrician, paying the couple a visit. A panicked Vision asks questions about the pregnancy, which confuses Dr. Nielson a bit. Maximoff continuously covers for him as Dr. Nielson points out that she looks to be about four months pregnant, despite the fact that in reality it's only been "twelve hours". As Vision walks Dr. Nielson out, he asks him to keep Maximoff's pregnancy a secret. Dr. Nielson agrees and takes his leave, while Vision greets his neighbor Herb. Vision looks back at his neighbor perplexed as Herb is using a hedge trimmer to cut into the cinderblock wall lining their driveway. As Vision points out his mistake, Herb thanks him but in spite of this, continues to cut into the wall with a smile.[4][14]
Vision heads back inside to inform Maximoff of the strange occurrence but quickly becomes distracted when he notices that Maximoff's pregnant stomach is even bigger now. Later that day, Maximoff is preparing the baby's nursery with Vision by her side. She begins to feel kicking, which causes her to inadvertently use her powers to bring some paper butterflies to life. Surprised, she even goes as far to explain that she didn't do any of this on purpose. During their conversation, Vision proposes the name Billy for a boy. Maximoff counters that suggestion with Tommy and the two playfully and briefly argue over what to name their future child. Maximoff then uses her powers to paint a stork on the wall while Vision does the math to figure out that at this rate. Vision then tells Maximoff that their baby should be due in just three days time.[4][14]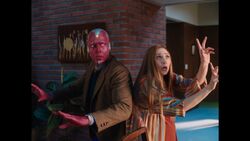 Wanda and Vision continue to prepare for the arrival of their child; with Vision practicing changing a doll's diaper while Maximoff times him. Their preparations are subsequently interrupted when Maximoff experiences false labor. Unfortunately, the experience causes her to lose control of her powers again as all of the appliances start to go crazy. Eventually, they lose power altogether and Vision learns that the same has happened on the whole block. Maximoff points out that if this is what happens during false labor, she is afraid to know what will happen during the real thing. She shares her worry of her neighbors discovering their secret and Vision begins to point out that something is very wrong. However, Wanda alters reality again. This time, all Vision simply does is comfort his wife.[4][14]
As they begin to relax, Maximoff is once again overcome with labor pains, only this time it is the real thing. The couple try out some breathing exercises to calm her but it more accurately helps Vision to calm down. Everything is fine for a second before water begins to rain from their ceiling and Maximoff tells her husband that her water just broke. Due to the indoor downpour, Maximoff and Vision hide under the table from the indoor rain. After a few seconds, it stops and Maximoff uses her powers to blow dry their home. She once again feels the labor pains and Vision runs off to find Dr. Nielson using his super speed.[4][14]
Lewis and Woo continues to observe the sitcom and both begin questioning why each episode is jumping to another decade. Lewis states that it can't be purely for her enjoyment and Woo can't believe that Wanda and Vision are having a baby. Lewis asks if he wants any (referring to the potato chip bag in her hands) and Woo misinterprets the question and says he has thought about having a child at one point. He eventually accepts Lewis' chip offer.[4][7]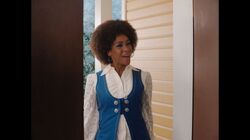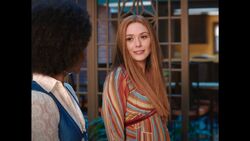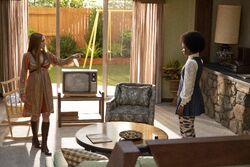 As Maximoff continues to ask Geraldine who she is, the neighbor in question becomes visibly flustered and can not answer any of Maximoff's questions. "Geraldine" continues to say that she's just her neighbor but Maximoff refutes by asking her about how she knows about Ultron. Maximoff comes to the conclusion that "Geraldine" was not her neighbor and definitely not her friend. She then tells her that she is trespassing and that she wants her to leave. Maximoff uses her powers to launch her through several walls of her house and out of Westview.[4][7]
Vision then tries to get more information from his neighbors and Herb begins to explain why Geraldine came to their town but Agnes cuts off Herb, telling him to stop while looking scared. The mood suddenly changes as Agnes runs off with a smile, leaving Herb to say goodbye to Vision, without answering his question.[4][14]
Outside the Hex, an alarm alerts the entire base of a breach. Lewis, Woo, and a bunch of other agents hurried outside to see what had happened. A bunch of S.W.O.R.D. vehicles surround Rambeau and a bunch of agents jumped out of the vehicle to see if she's okay. As Lewis and Woo arrive at the scene, Woo asks Rambeau if she was okay. Rambeau replies that the entire Hex, and everything happening inside it, is all because of Maximoff.[4][14][7]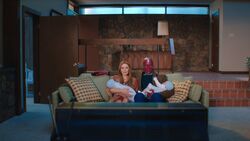 Afterwards, Wanda subsequently uses her powers to simply fix the walls and returns to her newborn babies with a sad look on her face just as Vision heads back inside. He asks where Geraldine is and an eerily stoic Maximoff explains that she had to rush home. Wanda picks up one of the twins and asks Vision what should they watch. Vision carries the other twin as they both sit down on the couch and Vision turns on the TV.[4][7][14]
9th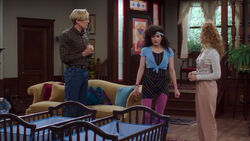 Now in a 1980s setting, Maximoff and Vision struggle to get their twin boys to sleep. Maximoff even tries to use magic on them, but they appear to be immune to her abilities. Both Maximoff and Vision try to placate their crying babies, but see the pacifiers shot back up into their faces after the babies reject them. Right as Maximoff says they need some help with the babies, the doorbell rings and Agnes enters, nearly catching Vision in his true form. She explains that she heard the twins were on a sleep strike and came to help. Vision becomes suspicious of their neighbor, and asks who told her that and she jokingly explains that she could hear them crying from outside. Vision then laughs it off but still appears to remain suspicious.[4][10]
Agnes then offers to help but Vision declines her offers, which visibly confuses her. Agnes turns to Maximoff and asks if she wants her to "take that from the top again." Vision and Maximoff share a look of confusion and Agnes asks again if they should take it from the top, as if they are actors on a television show. Maximoff quickly puts a stop to the break in character and encourages her to help with the babies. Vision is disturbed by what he saw and tries to question Maximoff about it, but she assures him that everything is fine. The crying then stops and the couple goes to check on their babies, who are now missing from their cribs. As Maximoff and Vision question what is happening, a child's voice calls out from behind them and they turn to see the twins, now five years old. Agnes simply remarks that children grow up fast.[4][10]
Rambeau is questioned about her experience inside the Maximoff Anomaly. She goes on to describe it as "pain" and how she felt Wanda's voice in her head. She continues by saying that there was a hopeless feeling keeping her down, which she later described as "grief". Woo and Lewis enters the room where Rambeau is undergoing some sort of brain scan. They tell Rambeau that there is a briefing in ten minutes before the doctor tells them they need to run another scan. Lewis points out that the scans are blank. When the doctor says they need to draw more blood, Rambeau tells her they are done here and begins to get dressed for the briefing.[4][10]
Hayward leads a briefing for the entire base, updating them on the investigation's progress and now classifying Maximoff as the "principal victimizer." Woo then provides history on Maximoff and defends her when Hayward, on multiple occasions, decides to only point out her destructive tendencies. He also notably asks if Wanda has an alias, but the agents present say does not have one. Rambeau defends Maximoff after Hayward refers to her as a terrorist. He counters her by saying how Rambeau described her experience inside Westview as both "excruciating" and "terrifying." Monica explains that she only survived her experience because Maximoff protected her.[4][10]
In order to further convince his team of Maximoff's dangerous intentions, he shares previously classified footage of Maximoff infiltrating a S.W.O.R.D. facility where Vision's corpse was stored in. He explains that, nine days prior to the briefing, Maximoff had stormed the facility, "stole" Vision's body and resurrected him. Woo points out that her actions violate the Sokovia Accords and Hayward further adds that it also violates Vision's living will. Woo points out that Vision "didn't want to be anybody's weapon". Hayward adds that in her grief, Maximoff disregarded Vision's wishes. Woo then asks how she managed to bring Vision back to life and Lewis wonders what would happen when Vision learns the truth regarding Westview.[4][10][9]
Inside the Vision Residence, the twins are hiding something in the kitchen sink. Maximoff discovers that the boys have found a dog before asking their mom to keep him. Vision enters their home shortly thereafter in his human form. When Maximoff asks him about his disguise, he explains he had a hunch that someone might pop over. Right on queue, Agnes comes in the back door with a dog house, which Vision finds rather odd. Agnes then asks the boys if they have named the dog yet and, after the dog somehow short circuits an outlet, she suggests they go with Sparky. Maximoff then uses her powers, while Agnes is still in the room, to create a collar and name tag for the dog. Vision freaks out and points out that she made no effort to conceal her abilities. Maximoff explains that she is tired of hiding and tells him he does not have to either. That prompts Vision to question Maximoff regarding what she might be keeping from him. They are interrupted by Billy, who asks again if they can keep Sparky. The couple tells their children they will not be ready for a dog until they are at least ten years old. The boys look at each other and then age themselves up to the age of 10, despite objections from their parents.[4][10]
Back in the base, Rambeau, Woo and Lewis try to come up with solutions on how to re-enter Westview. Rambeau then claims to know an "aerospace engineer" who she also claims would be excited to help them on their mission, before sending a message on her phone. Lewis tells Rambeau that she refers to the sitcom world as "The Hex," due to the recurring presence of hexagons that they previously made note of on the whiteboard. Woo then questions if they have identified the twins but Rambeau then tells him the twins are Wanda's children and that everything that's been happening inside the Hex is real. Lewis and Woo point out that Maximoff usually makes people see illusions and that creating real matter would be a far greater power they have yet to see from her. Rambeau points out though that Maximoff showed some great power when she almost took out Thanos on her own. Woo responds that Captain Marvel almost did the same, which causes Rambeau to pause for a few seconds. Lewis then asks Rambeau if Captain Marvel had received her powers from an Infinity Stone. Rambeau dismisses the conversation, saying that they weren't talking about her.[4][10]
Rambeau notices an image of the drone they sent into the Hex earlier and asks to be shown to the lab. Once there, she finds her 70's-style wardrobe she wore inside the Hex. Lewis and Woo question if they are being mind controlled to see the clothing and Rambeau assures them it is real. She grabs Woo's gun and shoots the outfit. The bullets bounce off the clothes, leaving them unscathed. Rambeau concludes that the clothes are 87% Kevlar because she was wearing a bulletproof vest when she entered the Hex. That leads her to the conclusion that Maximoff is not creating an illusion, but instead, she is rewriting reality. She then questions what would happen if they sent something into the Hex that did not require any change to fit with the current theme inside.[4][10]
At CSI HQ, Vision tries to teach Norm how to use the internet when the entire office receives an email from S.W.O.R.D. and begins reading it out loud while everyone else reads in unison. Vision, once again suspicious of what is going on, uses his power to turn off the computer and turns to Norm. He uses his power to awaken the real Westview resident, who immediately begins to panic. The person playing Norm pleads for help and tells Vision he has to stop "her." As he yells for Vision to make "her" stop, Vision uses his power again to return Norm back to his normal sitcom self.[4][10]
Maximoff and the boys play with Sparky in their house and the boys begin to question Wanda about where their father is. When she tells them he is now at work, they tell her they thought it was Saturday. The three of them then begin to debate over what day it is. Maximoff subsequently abandons her initial explanation that it is Monday and instead explains that there was an emergency at the office, also stating that Vision needed to take a break. The boys ask if that means that Vision needed to take a break from them. Maximoff comforts them, assuring them that that is not the case. Subsequently, the boys ask her if she has a brother. With a distant look, she explains that she does but that he's "far away from here" and that that makes her sad sometimes.[4][10]
Attack on Wanda Maximoff: Their discussion is interrupted when Sparky begins to bark at the door. Wanda goes outside to investigate, letting Sparky run outside. A 90's era drone is seen flying over Westview and Hayward and his team gets a visual of Maximoff. Woo points out that the drone is out of frame on the broadcast and Lewis explains that Maximoff is controlling the shot. Rambeau attempts to communicate with Maximoff, but instead triggers her anger. Rambeau then says her controls are not working and Hayward orders another agent to fire a missile towards Wanda. The drone feed is lost and Rambeau stands up to question Hayward.[4][10]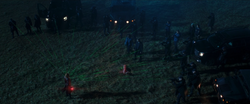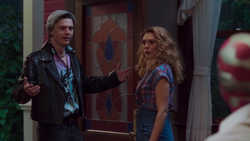 10th
Hayward attempts another attack on Wanda but Monica, Lewis, and Woo rebel and illegally break into Hayward's computer, realizing that Monica DNA have changed as a result of going into the Hex. [4][15]
Rescue of Vision: Lewis is arrested but during the Expansion of the Hex, Lewis and multiple S.W.O.R.D. agents get pulled into the Hex.[4][15]
Due to expanding the Hex perimeter, Wanda begins to lose control of her reality, as various objects and decor in her house begins to shift through the different time periods exhibited in the WandaVision sitcom.[4][11]
Vision re-awakens in a Westview carnival, where he reunites with Darcy Lewis. While riding home in a food truck they hijacked at the carnival, Vision would learn about his previous life from Darcy, from his creation as J.A.R.V.I.S. to his death at the hands of Thanos.[4][11]
After barely escaping the Hex expansion, Hayward assembles another S.W.O.R.D. base eight miles outside of Westview.[4][11]
Monica Rambeau and Jimmy Woo retrieve Darcy's email regarding Project Cataract: a plan to bring the deceased Vision back online. They meet up with Major Aly Goodner, who had delivered a heavily-armored S.W.O.R.D. rover to the Westview outskirts as a means to penetrate the barrier without issue.[4][11]
Infiltration into Westview: The S.W.O.R.D. rover fails to penetrate through the barrier and, in a final attempt to reach Wanda again, Monica uses her own body to breach into Westview. The third wave of exposure to radiation ends up giving Rambeau an altered physique, allowing her to detect energy on a level no other human can see.[4][11]
Monica arrives at Wanda's house to warn her about Hayward's agenda, but quickly finds herself unwelcome at the mention of Hayward's name. Their confrontation spills into the streets, as an angry Maximoff accuses the S.W.O.R.D. agent of lying about the armed drones and "Pietro". Agnes intervenes and carries Wanda away to her house.[4][11]
In search of her children over at Agnes' house, Wanda is referred to the basement, where she discovers a gothic lair. "Agnes" walks in and introduces herself as Agatha Harkness, before infiltrating Wanda's consciousness to reveal her meddling during their time in Westview.[4][11]
Agatha taunts Wanda for being so easily deceived by the presence of fake Pietro, while she reveals her fascination with the magic involved in the Westview Anomaly. Determined to know where it came from, she subjects her to multiple flashback scenes showcasing key moments in her life: the Novi Grad Bombings, HYDRA's experimentation on her, the sprouting of her relationship with Vision at the New Avengers Facility, and concluding with her visit to S.W.O.R.D. Headquarters and the beginning of the Westview Anomaly.[4][9]
Kidnapping of Billy and Tommy Maximoff: Agatha holds Wanda's children hostage, finally deducing the truth behind such power: they originate from chaos magic, leading Harkness to identify Maximoff as the mythical "Scarlet Witch", and kickstarts her desire to absorb her chaos power.[4][9]
Following attempts to murder Maximoff, Vision is reactivated by Hayward and is sent into Westview.[4][9]
At the S.W.O.R.D. Retreat, Jimmy Woo is captured and brought to Hayward in handcuffs. Hayward boasts that without video evidence from inside the Anomaly proving the existence of two Visions, he will be able to maintain his narrative of Wanda Maximoff and cover-up her murder. While stealthily grabbing a phone from a table, Jimmy threatens FBI intervention, which Hayward calls a bluff. Woo is thrown out, but manages to free himself from the handcuffs and call his FBI allies at Quantico.[4][16]
Battle of Westview:

Wanda Maximoff attacks Agatha Harkness to free her children, before ordering them inside the house to shield themselves. Wanda then uses a car to attack Agatha.[4][16]

White Vision arrives into Westview, whom Wanda mistakes for her lover. The sentient weapon attempts to crush Wanda's skull, but is stopped by Wanda's Vision, who throws him into an RV that explodes. Wanda apologizes to her Vision about her lack of transparency regarding the Anomaly, but he forgives her, knowing the reason why she crafted the reality in the first place. White Vision emerges from the fire, prompting Wanda's Vision to duel with him in the skies. Wanda flies away to confront Agatha.[4][16]
At the town square, Agatha approaches Wanda with the Darkhold, explaining to her the myth of the Scarlet Witch: she is forged into existence, possessing magic that trumps the power of the Sorcerer Supreme, is not bound to a coven or incantation, and is destined to destroy the world. Wanda attempts to reject any correlation to legend.[4][16]
To emotionally manipulate Wanda, Agatha frees the residents of Westview from Wanda's influence. They immediately bombard her with pleas and questions about their loved ones. Overwhelmed with guilt, Wanda bursts into anguish, accidentally releasing a wave of energy that forms magic bands around their necks, causing them to suffocate. She quickly reverses the effect. Billy senses his mother's outburst, prompting him and Tommy to rush over.[4][16]
Beginning to realize the damage she has inflicted upon Westview due to her influence, Wanda begins to destroy the Anomaly. As the barrier separates, Tyler Hayward leads S.W.O.R.D. into town to confront Maximoff. In the skies, the Visions' duel is interrupted when Wanda's Vision begins to disintegrate, causing him to fall to the ground. Wanda sees him and her children collapsing into particles, leading her to stop the process and reseal the barrier.[4][16]
While the Maximoff family reunites, Agatha, White Vision, and Hayward descend into the town square, the family separates to fight their enemies.[4][16]
Billy and Tommy disarm and neutralize S.W.O.R.D., prompting Hayward to emerge from his vehicle and shoot at the kids. Monica Rambeau rushes in and blocks the bullets with her body; she fails to stop one, but Billy's telekinesis stops it. Hayward boards a humvee and attempts to ram the three over, but is stopped by a food truck piloted by Darcy Lewis.[4][16]
Wanda's Vision resumes his duel with White Vision, which leads them into the public library. They halt fighting when Wanda's Vision brings up the Ship of Theseus thought experiment to the Spectral; using the experiment, the two synthezoids are able to understand their existence. White Vision allows Wanda's Vision into his systems to eradicate S.W.O.R.D.'s programming and restore his memories. Reaffirming himself as Vision, White Vision flies away from Westview.[4][16]
Wanda ambushes Agatha and subjects her to a hallucination, bringing them back to her 1693 trial and attempted execution. The bodies of the deceased witches begin to reanimate, and recognize Wanda as the Scarlet Witch, Harbringer of Chaos. Wanda herself is tied to the stake in place of Agatha, who attempts to strike a bargain with her: give up the chaos magic, and her false reality can persist.[4][16]
As Wanda's Vision reunites with his boys, Wanda begins to transfer her chaos energy and life force to Agatha, seemingly accepting the bargain. In actuality, the action was merely a distraction for Wanda to cast protection runes on the walls of the Hex, nullifying Agatha's magic. Wanda proceeds to absorb the magical essence out of Harkness, the surge of energy morphs her into the Scarlet Witch as depicted in legend.[4][16]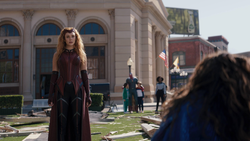 In the aftermath of the Battle of Westview, Wanda places a spell on Harkness, reverting her to the character "Agnes" and trapping her inside Westview. Wanda and Vision come to accept that their dream home is no longer for them and, as the family returns home, the Hex begins to retract. Across town, its reality overwrites were reversed as Westview slowly returns to normal.[4][16]
Knowing that her newfound family will not be able to exist in the real world, Wanda bids farewell to Billy and Tommy as they are tucked into bed, thanking them for choosing her to be their mother. Anticipating his deletion, Vision approaches Wanda about his mere existence, learning that he is bound to her as the Mind Stone that resides within her. As normality approaches their house, both tearfully embrace each other and confess their undying love, vowing to see each other again someday.[4][16]
The Westview Anomaly fully dissipates, causing Vision, Billy and Tommy Maximoff to cease to exist. Wanda returns to the town square where amidst the scowls of her former thralls, she finds Monica Rambeau, who does not share the sentiment. Instead, she expresses empathy toward Maximoff and admits that if given the power, she would've resurrected her mother. Wanda apologizes for her actions and admits that there is still a lot for her to learn about her power.[4][16]
As the FBI and local police arrive, Wanda bids farewell to Monica before flying away from Westview. She takes one final look at the welcome sign before departing. Jimmy Woo emerges and reunites with Monica, now in charge of the Westview Investigation as Tyler Hayward is escorted away in handcuffs. Monica is summoned into the local theatre by an FBI agent, who reveals herself to be a Skrull sent by an old friend of her mother in regards to an intergalactic mission.[4][16]
References