"It's our policy not to comment on ongoing operations."
The specific order and/or accurate dates presented in this article has never been confirmed by Marvel Studios and/or Marvel Television.

They have been inferred by fans and therefore they can be inaccurate, incomplete, or biased.
"People fantasize about doing something heroic in times like these. But, I'd save your own skin."
This is a timeline of events that occurred during 2019.
2019
April
25th
June
26th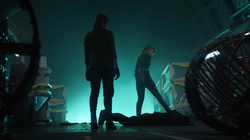 Simmons and Johnson hang Trok upside down as Simmons explains he will either develop a brain hemorrhage or have his lungs collapse soon. They demand to know Fitz's ship's location, but Trok denies knowledge. They press further, and Trok mentions having bought the "broken half" of Fitz and Enoch's ship.[3][4]
May and Yo-Yo Rodriguez train together, and May tells Rodriguez that she knows that Rodriguez and Keller are romantically interested in each other. May encourages her to pursue a relationship, given it has been a year since she and Mackenzie broke up.[3][4]
Alphonso Mackenzie drinks in a bar and is approached by Melinda May. She has brought Marcus Benson, a friend of Andrew Garner's, to the bar and asks Mackenzie to convince him to become the department head for her proposal. Benson talks about his past with drinking and the loss of his husband. Mackenzie describes Coulson's legacy to them and asks him to help reestablish S.H.I.E.L.D. Academy. However, Mackenzie tells him they would also need help with supernatural questions, causing him to walk away, saying he is too old. When Mackenzie mentions colleagues in deep space, however, Benson's curiosity is piqued.[3][4]
Daisy Johnson, Jemma Simmons, Piper, and Davis continue to fly, and Johnson and Piper discuss Simmons' emotional state. Simmons, meanwhile, lies down in Fitz's cryogenic chamber while Johnson and the others plan to return to Earth in order to regroup [3][4]
27th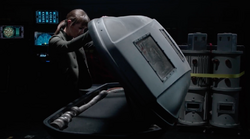 Robbery of Bob's Market: Sarge notices sunglasses in Bob's Market and puts them in his bag, along with several other items. Snowflake and Jaco follow suit, while Pax holds the store clerk at gunpoint. Sarge wonders about the currency on the planet, and Pax explains it is paper, which Sarge finds disappointing. The clerk eyes a gun, but Sarge warns him not to try. He shoots the gun in the store, observing that Earth still uses combustion-based weapons. The crew leave the store and drive off in Sarge's truck, which they turn invisible.[3][5]
Director Alphonso Mackenzie delivers a speech to the S.H.I.E.L.D. agents about Fox's death and orders the group to continue looking for the crew. He tells Melinda May that he wants to keep the leader's resemblance to Phil Coulson a secret until they know what he is and why he looks like their deceased friend.[3][5]
Sarge's Squad park their truck in a shipping yard, and Snowflake realizes that they have run out of PEGs, which Tinker had kept in his pocket. Pax wants to blame the rest of the squad for Tinker's death, but Sarge puts him in his place. The group plan to rob a jewelry store to steal more PEGs in order to power the Shrike Detector.[3][5]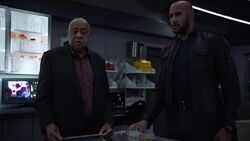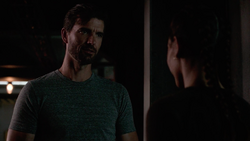 Viro tells Fitz and Enoch that he plans on jettisoning the rest of the crew, given Fitz and Enoch are working for free, and Fitz asserted them to be more helpful than the others. Fitz offers to train them instead in a bid to save their lives, but Viro instead tells him to be grateful.[3][5]
Benson approaches Mackenzie, asking about Phil Coulson and his relationship to May. Mackenzie explains her pain.[3][5]
Robbery of Charmont Jewelers: Sarge enters Charmont Jewelers and approaches the manager, Dana, asking for something special. Meanwhile, Snowflake walks around and observes a pair of earrings. Dana offers Sarge a necklace, and Pax walks in as Sarge asks for the reserved pieces of jewelry. Dana offers to pull items from the vault, and Sarge proceeds to tell her that they are about to rob the store. Snowflake kills the security guard and Dana presses the silent alarm, but Sarge notices. He leaves her be, however, instructing her to take them to the vault.[3][5]
Melinda May and Yo-Yo Rodriguez investigate the lot where Sarge's truck is being kept, and May warns Rodriguez to be careful with her relationship with Keller. Mackenzie calls and tells them about the robbery nearby.[3][5]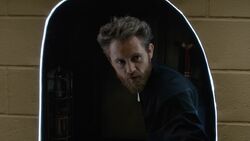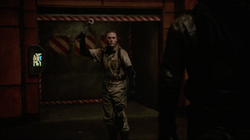 Rescue of Sivian Engineers: Fitz switches the airlock controls. He holds a wrench and threatens Viro not to kill the Sivians, claiming he can make him a lot more money. When that does not work, Fitz walks into the airlock with the crew, saying he will die with them. Viro locks the airlock nonetheless and prepares to launch them out. Fitz tries to tell him not to, as Enoch watches from outside, knowing Fitz's plan. Viro goes to launch the engineers and Fitz off of the Lazy Comet, but the switched controls launch himself off instead, as Enoch holds on before closing the lock again. The crew thank Fitz for saving them.[3][5]
Sarge leaves his truck to test a weapon, just before May knocks on the door. Thinking she is Sarge, Pax opens the door, leading to a fight. Jaco hears Pax call for help and challenges May, leading to a fight. Dana calls for help from the other side of the portal, as the other agents continue to drill into the vault.[3][5]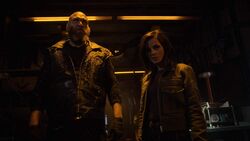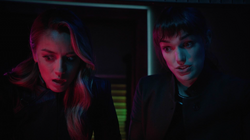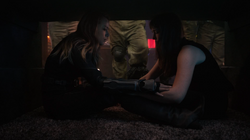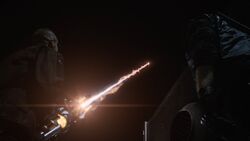 28th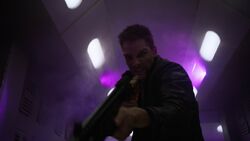 In the game, a sexualized version of Daisy Johnson arrives and slaps Shaw for taking too long to rescue her. Shaw is going to kiss her, when Sequoia wakes Shaw, talking about the date they had planned.[3][7]
The three leave the game room and enter the main area of Shaw's company. Sequoia films for social media as Shaw talks about his plans for the future, wanting to create mushroom pellets for food. Kaya asks Shaw to look at a new invention, and updates him on their progress.[3][7]
Sequoia posts the video of Shaw's speech about the pellets, including a poll about whether Shaw is "dreamy". 182,015 users vote "Yes", with only 164 voting "No". The video is edited to freeze and focus on his face.[3][7]
Agent Diaz tells Alphonso Mackenzie that no progress has been made in finding Sarge's Squad. He walks into his office and finds Damon Keller, who tries to tell him about his relationship with Elena Rodriguez, but Mackenzie stops him and convinces him not to, saying he would have to enforce the policy against relationships between agents. Rodriguez enters and tells Mackenzie that a pattern in the sky might suggest Sarge has been making a map, but that they do not know what the map points to.[3][7]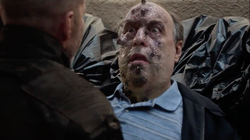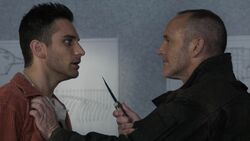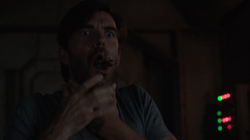 Agents Diaz, Rodriguez, and Keller walk the corridors of the Lighthouse, looking for the missing creature. They hear it fly through the vent and continue walking. Keller helps Rodriguez look into the vent, but the Shrike flies behind him and into his throat, infecting Keller. Rodriguez and Diaz take him to Benson.[3][7]
S.H.I.E.L.D. infiltrates Shaw's company office and Pax attacks them. May goes after Snowflake.[3][7]
Meanwhile, Shaw receives a phone call from Sequoia, who has returned with boba and entered the office building through the back door. Shaw warns Sequoia that the office has been attacked, and reluctantly leaves to rescue her.[3][7]
Benson tells Rodriguez that he knows no way to save Keller. He sedates Keller, who starts convulsing and flatlines. Keller suddenly attacks Benson, but Rodriguez straps him to his chair, and tells Benson to perform surgery in order to save him.[3][7]
Sequoia films herself from the office bathroom for her social media story, talking about how scared she is while fixing her hair. She says that this makes her contemplate things in her life.[3][7]
Pax comes across an IT worker, who has headphones on and has not realized that the office is under attack. He spares the man.[3][7]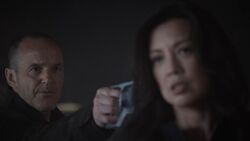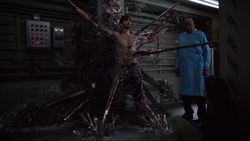 29th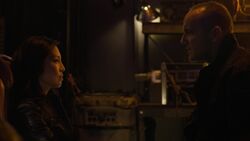 Sarge talks to May about his experiences on other worlds, saying that Earth is the first time somebody recognized him, and that May clearly hates him most of all. He holds a knife in front of her.[3][8]
Johnson, Simmons, Piper, Davis, and Enoch prepare for battle, but Enoch realizes that the ships are not owned by the Confederacy, but rather the Chronicoms. He opens the door and allows Atarah, a Chronicom leader, to enter. Atarah declares that Enoch is being put on trial.[3][8]
The Chronicoms arrest Piper and Davis, while Atarah explains that the Chronicoms took over the ship after their home planet was destroyed. Enoch realizes that Atarah wants to time travel to save the planet, but Simmons tells her that she does not know how that would be achieved. Atarah reveals that they have Leo Fitz and threatens to hurt Fitz if they do not cooperate.[3][8]
Sarge asks May about her relationship with Phil Coulson and how he died, but May simply threatens him. Sarge demands to know how he has Coulson's face, but May calls Sarge an impostor, demanding to know who Sarge is. Snowflake calls Sarge and tells him that another Shrike host had been kidnapped, and Sarge puts a bag over May's head, leaving with her.[3][8]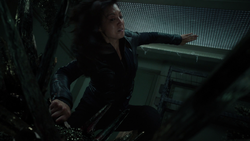 Sarge takes the bag off of May's head, showing her the Shrike host they kidnapped. Sarge tells May that she will kill him, and gives her the knife necessary. He shoots the man in the head and leaves with Snowflake, and the man stands up and attacks May, moving as if he were not human. The two fight, and May incapacitates the man. As he shrieks, sharp crystals start to grow from his body, prompting May to use the knife to kill the man and stop the crystals. Sarge and Snowflake welcome May as part of their crew.[3][8]
Marcus Benson experiments on the crystals from Damon Keller's corpse, as Alphonso Mackenzie walks in. Benson asks for the night off, and Mackenzie tells Benson that agents are worried about his drinking habits. Benson tells Mackenzie that he has found the special dagger can kill the parasitic creature and gets back to work.[3][8]
Enoch tells Atarah that keeping Fitz prisoner is a bad idea, and Atarah comments that Earth changed Enoch. Atarah orders Malachi to kill Fitz, so Jemma Simmons tells Atarah what they know about the White Monolith. Atarah threatens to kill Johnson and Simmons, but Enoch suggests to Atarah that Fitz might have been behind the monolith time machine in the other timeline. Simmons says it is possible, but that it is unlikely he could do it here without the time and dire situation that would have motivated him. Atarah asks Enoch how to motivate Fitz to create time travel, and Enoch tells Atarah to threaten Simmons. Realizing that Atarah needing Fitz alive negates Atarah's previous threatening of Fitz, Johnson attacks Atarah before the Chronicoms can execute her. She and Simmons flee, leaving Enoch behind.[3][8]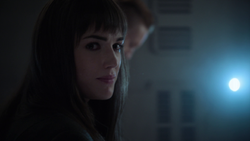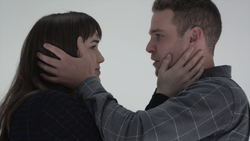 Leo Fitz and Jemma Simmons wake up in the Cerebral Fusion Machine, set up by Enoch and Atarah, where they reunite. Atarah appears in the machine and tells Fitz about Chronyca-2's destruction. Fitz says that it is impossible to go back in time, but Atarah tells Fitz that Simmons has. Atarah explains that they can share memories and create tools in their prison.[3][9]
After Atarah leaves, Fitz talks to Simmons about their love and proposes to Simmons, who says yes. They kiss, and use the machine to create a couch. The couple talk about their experiences looking for each other, and the planets they went to. Fitz asks about Simmons' time in the future, causing Simmons to get anxious, turning her mental projection into a 7-year-old version of herself.[3][9]
Simmons runs through a hole in the mental space, and Fitz follows her into Simmons' childhood bedroom, where 7-year-old Simmons lies in bed, afraid of Fitz. Fitz realizes that their minds are in fact the prison they are being kept in.[3][9]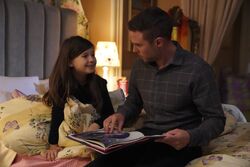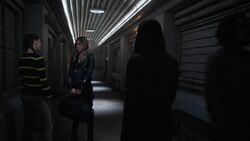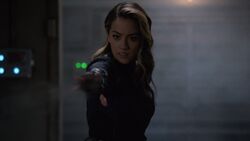 30th
July
2nd
3rd
4th
5th
References
↑ In Blindsided, Michael Kemp states that, since Foggy and Matt got his prison sentence reduced by 16 years, he would be getting out of prison in "18 months." He says this on October 25, 2019, so Kemp's release would be 18 months after that, April 25, 2019.
↑ 3.000 3.001 3.002 3.003 3.004 3.005 3.006 3.007 3.008 3.009 3.010 3.011 3.012 3.013 3.014 3.015 3.016 3.017 3.018 3.019 3.020 3.021 3.022 3.023 3.024 3.025 3.026 3.027 3.028 3.029 3.030 3.031 3.032 3.033 3.034 3.035 3.036 3.037 3.038 3.039 3.040 3.041 3.042 3.043 3.044 3.045 3.046 3.047 3.048 3.049 3.050 3.051 3.052 3.053 3.054 3.055 3.056 3.057 3.058 3.059 3.060 3.061 3.062 3.063 3.064 3.065 3.066 3.067 3.068 3.069 3.070 3.071 3.072 3.073 3.074 3.075 3.076 3.077 3.078 3.079 3.080 3.081 3.082 3.083 3.084 3.085 3.086 3.087 3.088 3.089 3.090 3.091 3.092 3.093 3.094 3.095 3.096 3.097 3.098 3.099 3.100 3.101 3.102 3.103 3.104 3.105 3.106 3.107 3.108 3.109 3.110 3.111 3.112 3.113 3.114 3.115 3.116 3.117 3.118 3.119 3.120 3.121 3.122 3.123 3.124 3.125 3.126 3.127 3.128 3.129 3.130 3.131 3.132 3.133 3.134 3.135 3.136 3.137 3.138 3.139 3.140 3.141 3.142 3.143 3.144 3.145 3.146 3.147 3.148 3.149 3.150 3.151 3.152 3.153 3.154 3.155 3.156 3.157 3.158 3.159 3.160 3.161 3.162 3.163 3.164 3.165 3.166 3.167 3.168 3.169 3.170 3.171 3.172 3.173 3.174 3.175 In Agents of S.H.I.E.L.D.: Season 6 it is repeatedly said that events shortly after Season 5 were 1 year ago. In Missing Pieces, Alphonso Mackenzie says to Melinda May, "I don't have to remind you what the date is tomorrow [...] hard to believe it's been a year. I'm glad you got a little time together." May replies "We got more than we thought we would." It is the 1-year anniversary of Phil Coulson's death tomorrow (the day of the later events of Missing Pieces and the events of Window of Opportunity and Fear and Loathing on the Planet of Kitson).
In The End, Daisy Johnson asks Coulson on May 31, 2018, "How long did Simmons say you have?" Coulson replies, "Days. Weeks, if I'm lucky." With May saying in Missing Pieces, "We got more [time] than we thought we would," Coulson likely got "weeks", the "lucky" period of time, before he died. Coulson therefore died around June 26, 2018, making this now June 2019. This matches with the fact that Fitz is said in Fear and Loathing on the Planet of Kitson to have died "over a year ago", when Fitz died the same day Johnson and Coulson had that conversation.
While producers have claimed that this season is set prior to Thanos' Snap in Avengers: Infinity War, this is impossible. Not only does the timeline evidence (see 2018 references) make both the later part of Agents of S.H.I.E.L.D.: Season 5 and Avengers: Infinity War immovably the first half of 2018 (and therefore, with this now being over a year later, a long time after Avengers: Infinity War), but Option Two, The One Who Will Save Us All, The Force of Gravity, and The End are explicitly set simultaneously to the events of Avengers: Infinity War, finishing within hours if not minutes before Thanos' snap. Therefore with this being over a year after The End, this is also over a year after Avengers: Infinity War, and there is no other possibility.
↑ 4.00 4.01 4.02 4.03 4.04 4.05 4.06 4.07 4.08 4.09 4.10 4.11 4.12 4.13 4.14 4.15 4.16 4.17 4.18 4.19 4.20 4.21 4.22 Agents of S.H.I.E.L.D.: 6.01: Missing Pieces
↑ 5.00 5.01 5.02 5.03 5.04 5.05 5.06 5.07 5.08 5.09 5.10 5.11 5.12 5.13 5.14 5.15 5.16 5.17 5.18 5.19 5.20 5.21 5.22 5.23 5.24 5.25 5.26 5.27 5.28 Agents of S.H.I.E.L.D.: 6.02: Window of Opportunity
↑ 6.00 6.01 6.02 6.03 6.04 6.05 6.06 6.07 6.08 6.09 6.10 6.11 6.12 6.13 6.14 6.15 6.16 6.17 6.18 6.19 6.20 6.21 6.22 6.23 6.24 6.25 6.26 6.27 6.28 6.29 6.30 Agents of S.H.I.E.L.D.: 6.03: Fear and Loathing on the Planet of Kitson
↑ 7.00 7.01 7.02 7.03 7.04 7.05 7.06 7.07 7.08 7.09 7.10 7.11 7.12 7.13 7.14 7.15 7.16 7.17 7.18 7.19 7.20 7.21 7.22 7.23 7.24 7.25 7.26 7.27 7.28 7.29 7.30 7.31 7.32 7.33 7.34 7.35 7.36 7.37 7.38 7.39 7.40 Agents of S.H.I.E.L.D. 6.04: Code Yellow
↑ 8.00 8.01 8.02 8.03 8.04 8.05 8.06 8.07 8.08 8.09 8.10 8.11 8.12 8.13 8.14 8.15 8.16 8.17 8.18 8.19 Agents of S.H.I.E.L.D.: 6.05: The Other Thing
↑ 9.00 9.01 9.02 9.03 9.04 9.05 9.06 9.07 9.08 9.09 9.10 9.11 9.12 9.13 9.14 9.15 9.16 9.17 9.18 9.19 9.20 9.21 9.22 9.23 9.24 Agents of S.H.I.E.L.D.: 6.06: Inescapable
Community content is available under
CC-BY-SA
unless otherwise noted.