Wiki Targeted (Entertainment)
Play Sound
"World governments are in pieces. The parts that are still working are trying to take a census. And it looks like he did... he did exactly what he said he was gonna do. Thanos wiped out fifty percent of all living creatures."
This is a timeline of events that occurred during 2018.
2018
January
8th
Chase of Mike:

At the homeless camp where the Runaways are staying, the group are woken when the young man who stole the Fistigons, nicknamed Mike on a Bike, causing problems as he tries using them.[1][2]

The Runaways proceed to chase him out of the camp and to a nearby hill in order to retrieve the gloves. They manage to scare him with the help of Old Lace to make him leave the Fistigons, but Karolina Dean falls into a hole in the hill.[1][2]
9th
Jonah meets with his daughter, Karolina Dean, who had been the one to text him, in secret. Dean wants to learn who she is, but before they can start talking, an earthquake occurs, and Jonah tells her that "it's starting".[1][2]
The Runaways are woken by the earthquake. Nico Minoru notices Karolina Dean is missing.[1][3]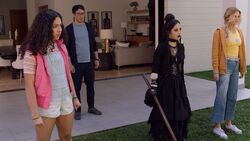 A fight breaks out between Tina Minoru and Nico, Dean, and Hernandez. Tina throws Hernandez into their swimming pool and freezes it, leaving her to drown under the ice. Dean tries to help but is knocked down. Nico tells her mother that what she is doing is the reason Amy died, because she is a monster obsessed with power and does not love her family.[1][3]
Tina Minoru frees Hernandez and approaches her daughter, deciding to give her the Staff of One as she needs it more than her, stating her offence that her daughter thinks she does not love her. However, Tina threatens Nico, telling her that if she takes the staff, the next time they see each other their relationship will no longer be as mother and daughter. Nico takes the staff nonetheless, and the trio of friends leave.[1][3]
Some electricians approach the Hostel in order to sort the nearby facility power cut. Yorkes enters the Hostel and instructs Old Lace to scare the workers, which works. The situation gives Stein enough distraction to steal some batteries from the workers' truck and restore the energy. He then kisses Yorkes.[1][3]
Nico Minoru, Karolina Dean, and Molly Hernandez arrive back at the Hostel. Nico tells them that tomorrow they will start training to learn how to use their powers better and work as a team.[1][3]
Nico Minoru apologizes to Karolina Dean for lashing out at her for not controlling her powers in the fight with her mother. They go to bed together.[1][3]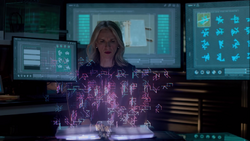 10th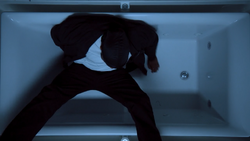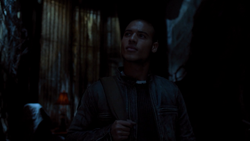 Hernandez returns to the Hostel, where she is confronted by Gert Yorkes for sneaking out. The rest of the Runaways approach the girls, but are interrupted when a young man enters, having followed Hernandez. He introduces himself as Topher, and claims that he means no harm.[1][4]
Topher talks to the Runaways and tries to convince them that he does not want any problems. Nico Minoru uses the Staff of One to lock him in a bubble in which he cannot be heard, while the team decides what to do with him. As they talk, Minoru notices Topher pouring a powder on his wrist and using his powers, the same as Molly Hernandez, to free himself. The team decides to let him stay and sleep, guarded by Old Lace.[1][5]
11th
Gert Yorkes gets anxious and wakes Chase Stein. He talks to her and relaxes her, before returning to sleep. Yorkes goes to see Old Lace, but when she tries to talk to Topher, she realizes he has gone.[1][5]
Geoffrey and Catherine Wilder arrive at PRIDE Headquarters. Geoffrey confronts his wife for killing Darius Davis, hurt that she killed his close friend behind his back. While Geoffrey is grateful that Davis had protected Alex, Catherine dismisses this, saying he did it just for money. They are interrupted by Robert and Tina Minoru, who congratulate them on the fact their children are not longer fugitives.[1][5]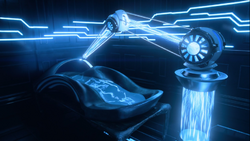 Jonah goes to check on Victor Stein's work on the Dematerialization Box. He starts coughing blood, however, becoming increasingly sick.[1][5]
The PRIDE members discuss the recent events they have been keeping from one to another, with the Wilders trying to get Alex on their own and the Minorus giving Nico the Staff of One. The Yorkeses comment that they have created a serum capable of killing Jonah, but need to test it on a being like Jonah first, deciding to use it on the living beings that in the bottom of the hole in PRIDE Construction Site. Stacey Yorkes explains that once they can use it on Jonah, they need never see each other again. The Yorkeses leave, and the other PRIDE members discover that their children attended one of the PRIDE indigent food centers. Leslie Dean suggests they ask the PRIDE Foundation members for what they might know.[1][5]
Topher and Molly Hernandez have collected food for the rest of the Runaways. Before the others arrive, Topher and Hernandez discuss their powers and how they might have obtained them, and the possibility that they are related. Even though Topher is kind to the Runaways, when the others arrive they are still skeptical about trusting in him, to Hernandez's annoyance. Topher tries to make them trust in him, and tells them that people who live on the streets give and take, and they are novices, so he can help them by teaching them survival techniques.[1][5]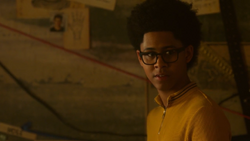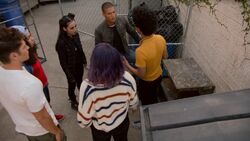 The Runaways go to Atlas Academy with Topher. On their way to the academy, Topher talks to Minoru about her Wicca magic, and she feigns becoming more trusting of him.[1][5]
Topher enters Atlas Academy and then proceeds to follow the Runaways' instructions to get the computer.[1][5]
At the PRIDE Construction Site, the Yorkeses uses the samples that obtained from the living being and uses the serum on it. They discover that the organic tissues start to die, a signal of necrosis and that it should work on Jonah. However, another earthquake starts.[1][5]
Infiltration into Atlas Academy:

The Runaways feel the earthquake, which sets off the school's alarms and all the students are made to file outside. Alex Wilder and Chase Stein decide to go by themselves to get the computer, but the group notice that Gert Yorkes is gone.[1][5]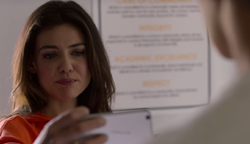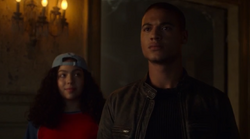 Topher privately asks Molly Hernandez where the rocks were obtained from, and Hernandez shows him a map of the PRIDE Construction Site. He asks to learn more about it.[1][6]
Jonah and Karolina Dean reach the bottom of the hole in the PRIDE Construction Site. Jonah tells his daughter to put her hand in a crevice, and, by doing so, she activates Jonah's spaceship. Jonah reveals that they fell to earth long ago, before historical records. Dean realizes that she is an alien, which Jonah confirms, then commenting that the beings within the spaceship are aliens too. He reveals that he escaped from the ship before the impact, and Dean comes to understand that Jonah is trying to rescue them. Jonah then introduces to her to one of the beings that are trapped inside the ship, which he explains is her "brother".[1][6]
12th
Karolina Dean, aware of the Runaways' plan to destroy the construction site, tries to sabotage Wilder's progress with the new computer. She is unable to, however, when she is interrupted by Nico Minoru and Wilder wakes. Dean claims she was just wandering because she was restless.[1][6]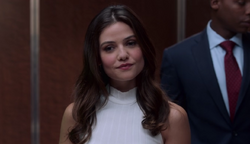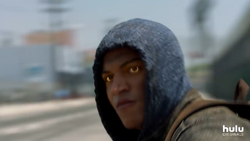 Gert Yorkes approaches her adoptive sister to tell her that she feels proud of her for her heart and humanity in wanting to protect Topher. Hernandez confesses that she wanted a family and wanted Topher to be like a brother. Yorkes hugs Hernandez, telling her she is there for her. Then, Yorkes goes to see Old Lace and assures her she loves her.[1][6]
A street artist sets up equipment by a wall in Los Angeles.[1][6]
Jonah goes to the PRIDE members carrying Robert Minoru, who is still unconscious. He angrily drops Robert on the floor, and Tina rushes to her husband.[1][6]
Gert Yorkes sits in a hospital bed, having submitted herself for help. She is informed that her parents will be coming soon to pick her up.[1][6]
Jonah tells the Yorkeses, Wilders, and Tina Minoru that in 2 more days his ship will be ready and he will leave the planet, as well as leaving them, but he needs their help for a few more things. When Minoru asks what happens if they refuse, Jonah tells them that he would kill their children. When Stacey Yorkes brings up the Hernandezes' discovery that it could cause an earthquake, Jonah explains that his ship would not do so. In return for their services, Jonah agrees to give them his book, the Abstract, containing all the knowledge of his race, and to reveal to them where their children are.[1][7]
Leslie and Karolina Dean discuss recent events and Karolina's true heritage. Leslie tries to explain that she was only part of the sacrifices to help her, and reveals that Jonah was the one who killed Amy Minoru, to Karolina's shock.[1][7]
Gert Yorkes contacts Old Lace telepathically and apologizes for having left her, telling her that she left because she was worried being unstable could get their friends killed. The doctor enters the ward and calls her "Chase", as she is using a fake name to be admitted in the hospital. Janet Stein arrives, pretending to be her mother, come to visit her.[1][7]
Robert Minoru wakes and tells the other PRIDE members what he remembers. Stacey Yorkes proposes they trust Jonah, get the book, and start doing some good to show their children their intentions. Geoffrey Wilder reveals that Janet is working with the Abstract, and Catherine Wilder is annoyed at her husband for keeping secrets from her. The Wilders leave, with Jonah having said their role was done.[1][7]
13th
While Alex Wilder works on the computer, he is approached by Nico Minoru. They talk about being the Runaways' leaders, and how they have both made decisions that were unpopular. Nico then asks Wilder for advice on apologizing to Molly Hernandez, but Wilder tells her that she is asking the wrong person, being himself unable to apologize to her after their fight regarding Amy's death. Nico goes to try again with Hernandez.[1][7]
Hernandez does not want to talk to Minoru, calling her judgmental, but tells her that Chase Stein and Gert Yorkes have left the Hostel.[1][7]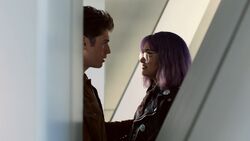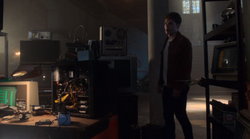 Karolina Dean gets advice from Alex Wilder on how to treat Nico Minoru, following her last talk with her. Dean asks him why he kept a secret related to Amy, and if it would have been better to reveal it to her right at the moment, and Wilder tells her that for Nico, Amy is a serious matter. They are interrupted by Stein, who tells them that they need to gather the group for a meeting about Jonah.[1][7]
In the Church of Gibborim, the Deans talk to Jonah about Karolina. Jonah starts insulting Frank, calling him weak, but Frank dismisses the offence and stands with Leslie. Jonah approaches his former lover and asks her if she is willing to let him die, but Leslie replies that she has already made a lot of sacrifices in his name and tells him he will have to do the next sacrifice by himself.[1][7]
The Runaways discuss the information they have learned about the next sacrifice, and everyone is disappointed in Yorkes' decision. When Hernandez questions if Stein and Yorkes had a fight, Stein expresses his wish to stop sharing room with her, and Yorkes leaves. The group] prepare to fight back and stop Jonah, and Dean says that Jonah's room is at the Church of Gibborim Executive Office, so the team decides to set up and go there. Minoru approaches Dean and asks her if she is okay with losing Jonah, but she insists she is. They briefly discuss their relationship, and Minoru suggests to her that they, too, live in separate rooms.[1][7]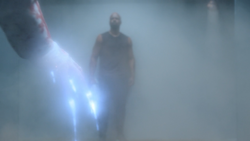 14th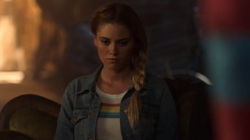 Alex Wilder lets the Runaways know his father's information. When Chase Stein is doubtful, Karolina Dean reveals that she knows it is true because she has been meeting with Jonah, to everyone's anger. Dean explains that he still trusts him when he says that the only thing he wants is to leave for his home planet. Nico Minoru wonders if he is going to take Dean with him, but Dean dismisses the idea. However, Minoru and Wilder agree that it is best to leave Dean behind on the mission to destroy the construction site hole.[1][8]
After doing extensive research, Malcolm Ducasse visits a mugger who is suing Trish Walker. Having learned that the mugger is not the father of the child he raised, Ducasse demands a lower settlement in the lawsuit under threat of telling the child. The mugger assumes that Ducasse is bluffing, so Ducasse calls the child's cell phone and asks if his father ever taught him what a "bastard" was. The mugger pleads with Ducasse, so Ducasse stops and enters negotiations.[9][10]
Jonah goes to see the PRIDE members, minus the Wilders, at the PRIDE Headquarters. Catherine Wilder arrives and asks Jonah about Geoffrey's whereabouts, and he reveals that he wanted to kill him through the sacrifice, but that the Runaways saved him. He tries to convince PRIDE that he will leave that night without causing harm. When Leslie Dean asks if he will leave alone, Jonah smiles and leaves the room, saying that he expects to see them later.[1][8]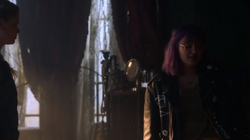 15th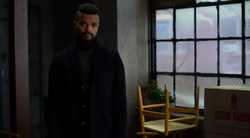 Malcolm Ducasse arrives at Walker's apartment to get a check from her to pay off the cellphone thief. When Walker realizes the settlement is much lower than expected, Ducasse tells her what he did to get the man to back down. Ducasse says that he would have told the child everything if the mugger had not agreed to his demands, horrifying Walker. She gives him the check, but before leaving, he advises her to get her life together because people will eventually begin asking questions and looking into her.[9][10]
17th
The PRIDE members gather at the PRIDE Headquarters. They make a toast for their triumph over Jonah, and are grateful that Nico Minoru killed him. The parents agree to seek out their children individually, with PRIDE disbanded.[1][11]
Molly Hernandez goes to see her adoptive sister Gert Yorkes. Hernandez finds that Yorkes has an application letter for a university in Massachusetts and Yorkes explains she thinks she needs to try. She also comments that Chase Stein has not forgiven her for bringing his mother to see him. Nico Minoru enters the room and asks if she can use the mirror, as the other one is in Karolina Dean's room and she would rather not to talk to her currently. However, things become awkward when Yorkes accidentally brings up Jonah's death. Minoru tells them not to worry, and that Yorkes' application for university is a good idea.[1][11]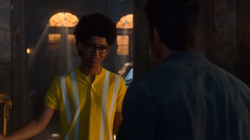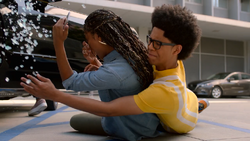 Attack on Livvie: Tamar leaves the hospital with her newborn son Xerxes Davis. Alex Wilder arrives and tells Livvie that she is right, Davis has been framed by PRIDE, to Tamar's surprise. Before they can talk further, Anthony Wall starts a shooting from nearby. Tamar protects Xerxes while Wilder protects Livvie, just about staying safe.[1][11]
Frank Dean approaches his wife and tells her what happened with Oscar Gonzalez. He is shocked to hear that neither PRIDE nor Jonah can help him when Leslie explains about what has been happening, and Leslie informs him that she will also be closing the Church of Gibborim to move on with their lives. Frank becomes desperate because as he is panicked about having killed someone, but Leslie calms him down and tells she will call PRIDE's police contact one more time - but that he will be on his own afterwards.[1][11]
Livvie is interrogated by a policeman at the hospital, and tells the man that the guy who shot at them was a gang member she recognized called "AWOL". However, Tamar tells the policeman to go and question other people, then telling Livvie that AWOL is a policeman now, so the police will not investigate him, and that this attack was a warning, so they need to stop or else next time, they will be dead. Livvie goes to speak to Wilder and tells him to tell her everything he knows, and Wilder says that it is time she meets his friends.[1][11]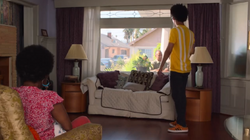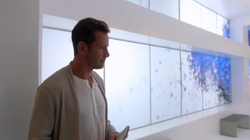 18th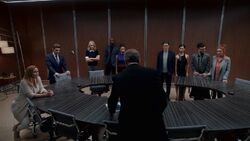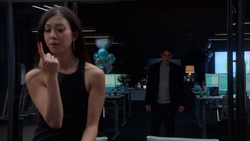 Tina Minoru is briefly overcome by the possession of one of the Beings of Light from the construction site. She is acting differently when she approached by Robert. Once he mentions that Nico was the one who killed Jonah, Tina returns to normal.[1][12]
Geoffrey Wilder attacks Flores and asks why he had not let them know when AWOL's squad found the Runaways. Flores explains that he did not get the call either and that AWOL is dangerous as he tends to act on his own.[1][12]
Alex Wilder and Livvie enter Tamar's home, only to run into AWOL, and Tamar insists he only wants to talk. Wilder agrees to talk with him in private.[1][12]
Dale Yorkes visits his wife, Stacey, who is doing research. Stacey is rude to him and claims that she is doing a solo project and should be left alone. When he goes upstairs, Stacey returns to normal, having also been possessed.[1][12]
AWOL tells Wilder that Flores has a lot of evidence against the PRIDE members as his insurance. Wilder offers AWOL to help him put Flores and PRIDE behind bars in return for the video of him shooting at the hospital never being released. They make a deal as Livvie enters, angry at Wilder for letting AWOL get away with his crimes. Wilder says that it is the only way to beat his parents and PRIDE, but Livvie disagrees with the plan and tells him that he is behaving just like his parents, making him leave the house.[1][12]
20th
21st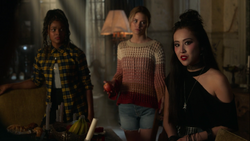 Livvie visits the Hostel and informs the Runaways of Wilder's plan. Wilder wakes and walks in on their discussion, and the team express their complete disapproval. They tell him he should not be making such decisions and plans alone, but Wilder calls them hypocrites for their accusations when they have done such things themselves.[1][12]
Anthony Wall visits PRIDE and informs them about the file Flores had on them. AWOL offers to get rid of Flores and become the new chief at the LAPD office, then work for them and bring their children in. PRIDE agrees.[1][12]
Assassination of Flores: Flores goes looking for AWOL at the Simply Blossom and heads to the back freezer room. AWOL reveals he is hiding there with a gun, then shoots the pipes to freeze Flores to death.[1][12]
Alex Wilder calls AWOL, who tells him that the plans have changed and he will not meet with him.[1][12]
Karolina Dean hears a voice calling to her. When she goes to find out who is calling, she runs into Nico Minoru, and they finally end up talking, but Dean avoids a proper reconciliation.[1][12]
The Alienist airs its first episode.[14][10]
22nd
23rd
Gert Yorkes and Old Lace become very sick at the same time. Yorkes collapses and Stein worries that they are both dying.[1][12]
Kidnapping of Livvie: Following PRIDE's orders, AWOL breaks into Tamar's house and kidnaps Livvie so he can get her information on the Runaways' location.[1][12]
24th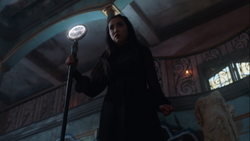 Siege of the Hostel: Nico Minoru puts up a protective spell to shield the Hostel from being seen. AWOL threatens to kill Livvie if Alex Wilder does not come out with his friends and bring the video tape of him shooting at the hospital. When Wilder attempts to leave and give in, Hernandez uses her powers to knock him to the ground.[1][15]
Janet Stein talks to Victor about her concern that PRIDE has agreed to make dangerous weapons in order to get their children back, but Victor says that it is the only way to bring them in. Janet eventually agrees, then accidentally breaks something. Surprisingly to her, her husband is understanding and talks with her calmly, saying that he needs her as she is very useful. They start kissing and end up having sex in the lab.[1][15]
The Runaways try to negotiate with AWOL, telling him that the footage will be given to him if he frees Livvie. He agrees to take it only if Minoru is the one that gives him the footage, which the team realize is to make sure the shield goes down. When they refuse, AWOL starts shocking Livvie with a taser to torture her. Wilder tells the team a new plan he has come up with to get themselves a hostage. The first step: to get Gert Yorkes and Old Lace out of danger. Hernandez takes Old Lace, while Stein takes Yorkes.[1][15]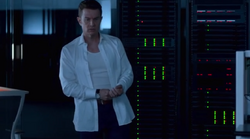 Victor Stein reenters his lab and sees everything has been made a mess. He asks Janet what happened and she answers that they made love an hour ago, which Victor does not believe, claiming he would always want a clean lab. Janet asks Victor what he remembers and he says that he only remembers waking and then seeing the lab in a mess. When Victor realizes that he is not feeling like himself, he decides to get some sleep.[1][15]
Aura and Frances visit Leslie Dean. When she brings up the subject of closing the Church of Gibborim, the women become angry and try to remind Dean that the church is a family and is not just about its leadership. Vaughn Kaye overhears.[1][15]
Chase Stein manages to drive Gert Yorkes and Old Lace away from the Hostel. Alex Wilder draws AWOL's attention as Minoru removes the shield on the Hostel. Wilder lures AWOL through the ceiling, and when he gets into the Hostel, Nico Minoru uses the Staff of One to create a fortress around them, cutting his rope and making AWOL their hostage.[1][15]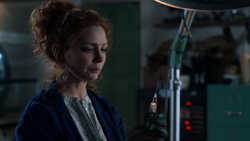 As Chase Stein stands by, having delivered Gert Yorkes and Old Lace to Gert's parents for help, Stacey reveals that she was the one who sent a drone with a toxin for Old Lace, but she was not aware that Gert would get sick too. Dale is angry at his wife for her actions. When Stacey goes to administer the cure to Yorkes, Stein stops her and comments that Old Lace is the one who needs curing, with she and Gert sharing more than just a telepathic connection. Dale takes the antidote from Stacey and uses it on Old Lace. Stacey then faces Stein and says that he does not know anything about biology or her daughter.[1][15]
Wilder orders Minoru to shut down the shield, which she does. The plan is to use the Staff of One and disarm AWOL's men of their guns. However, when the men are let inside, Minoru fails to do her part as she collapses from the effort of the shield spell. Wilder and Dean are forced to protect Minoru and fight back AWOL's men while Hernandez goes to get Livvie.[1][15]
25th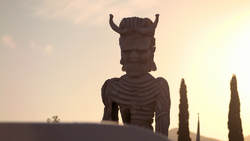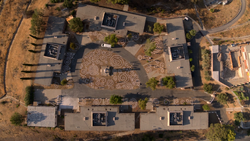 Leslie Dean is taken to the Crater, a place where the Church of Gibborim try to reindoctrinate their people. There, she is taken to a nameless woman. Dean claims that she does not believe in their faith. The woman tries to give her a nameless label moniker, but Dean insists that her name is Leslie Ellerh Dean. She asks for a glass of water as she has not slept or eaten overnight, but then faints.[1][16]
The Yorkeses inject Chase Stein with a serum that makes it difficult to lie. They try to make him reveal where the Runaways where hiding, but are interrupted when Tina Minoru arrives, sent by PRIDE.[1][16]
Xavin arrives at the Church of Gibborim Executive Office and asks Vaughn Kaye about Karolina Dean's whereabouts. They asks him to show them something that Dean has touched so they can track find her, but Kaye finds this strange. When he turns his back on her, Xavin disappears.[1][16]
At the Crater, Leslie Dean wakes and talks with the woman who met earlier. Dean says that if her father was still alive and discovered what Jonah was, he would have wanted to destroy the Church too. The woman, whose alias is S4E2R, tells Dean that she would need an army to destroy the church, and that it would be too much stress for her baby. Dean is shocked to find out someone knows she is pregnant, having not revealed it to anyone.[1][16]
The Yorkeses try to interrogate Stein, but he gets sidetracked and does not give them any information. When Tina Minoru says that this is not useful and goes to call the other PRIDE members, Stacey holds a gun to her and tells her to go to the basement, saying she will not ruin their opportunity to get her girls back home. Stacey takes Minoru downstairs.[1][16]
Janet Stein visits her husband as he leaves the clinic. Victor claims that what Jonah did to him really helped as he no longer has brain cancer, nor any trace of the gunshot he received. Janet is still skeptical about the only way to bring back the kids being by force, but Victor says that it necessary.[1][16]
Wilder, Dean, and Hernandez arrive at the Yorkeses' mansion. They decide to enter and rescue the others by force.[1][16]
Stein wakes and sees Yorkes, who is worried about him. Tina Minoru, possessed with a Gibborim, starts to talk to them, and reveals that PRIDE is making a new arsenal to fight against them and neutralize their abilities.[1][16]
Rescue of Gert Yorkes and Chase Stein:

Hernandez, Dean, and Wilder surprise the Yorkeses and force them to surrender. Stacey Yorkes, who is glad to see Hernandez, wishes her a happy birthday, which Hernandez confirms to Dean was the day before. Dean and Hernandez go to the basement to rescue Yorkes, Stein, and Old Lace while Wilder stays to keep the Yorkeses under control with the Fistigons.[1][16]

Hernandez and Dean break into the basement and explain that AWOL and his team were defeated. The Runaways gather the three PRIDE members in the basement and force them to stay down while they leave. Once Hernandez has freed Old Lace, the team leaves, but Old Lace stays and threatens the Yorkeses. Dale Yorkes manages to tranquilize her as Minoru runs away.[1][16]

The Runaways decide they have to leave Old Lace behind so they can escape, which saddens Yorkes.[1][16]
Nico Minoru prepares her room at the Hostel for a Wiccan ritual to no longer suffer, be hurt, or cause hurt. She decides to hide the Staff of One, the cause of all her recent pains, inside a wall.[1][16]
Leslie Dean sneaks into the Church of Gibborim's Crater office and searches the files for the woman who has been treating her. She discovers that the woman is her estranged mother.[1][16]
Leslie Dean approaches her mother, whom she had been told was forced to leave the church, and tells her that she never told anyone about her pregnancy because she was scared of it, not wanting to fail as a mother again, and says she imagines she feels the same. Her mother, who is meditating, does not answer. Leslie calls her by her name, Susan, and Susan Ellerh finally reacts, becoming angry at her for saying her name, as it goes against the person who she is now. Ellerh starts calling for the guards.[1][16]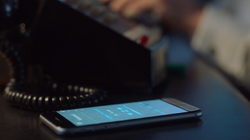 Victor Stein ignores a call from the clinic, having in fact never attended his appointment. He tells his wife, Janet, that he is planning on using the telephone lines to make multiple calls, then through voice recognition start detecting Chase's line. Janet is amazed at Victor's intelligence and compliments him. He kisses her.[1][16]
In the Hostel, Hernandez asks her friends why they are not feeling awful or are willing to cry because of everything that has happened recently. While Karolina Dean says that they are being strong for her, Chase Stein claims that is also because they do not want to accept the truth. Wilder agrees and tells them that they need to relax, suggesting they throw Hernandez a quinceañera. Minoru agrees and says that they have enough money thanks to AWOL's squad. Hernandez says that they cannot have a party without Old Lace, but Yorkes reminds her that they can do another one once she comes back. Hernandez is delighted.[1][16]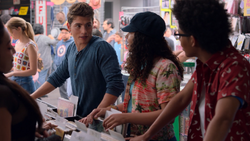 The Runaways go to a local market and start to buy clothes, ornaments, lights, and food for the event that night. Hernandez asks Stein to be her chambelan for her party, and Stein accepts, not knowing what it actually is. Xavin arrives and approaches Dean, touching her forearm and saying that they were looking for her. Dean asks if she knows them, but when Yorkes calls Dean to help them choose the music, Xavin disappears. Dean recognizes Xavin's voice as the mysterious one that she has been hearing at the Hostel and tries to look out for them, but fails.[1][16]
Back at the Hostel, Alex Wilder and Chase Stein talk briefly about how the Yorkeses behaved, and Stein says that he understands that their parents love them in their own way, and is unsure if he wants to keep fighting because they are people they cannot beat or outrun. Wilder replies that he is still willing to do anything he can to put his parents behind bars due to the awful things they have done.[1][16]
Victor Stein enacts his plan and starts listening to every call made in the area close to where the children are supposed to be. The signal catches one of the Hostel's phones and Chase answers, triggering the voice recognition. Victor picks up the phone and talks to his son, telling him that he is very sick but his mother does not know it yet, and that he wants to see him one last time before time runs out. Wilder interrupts and asks Stein if everything is okay, and Stein keeps the call a secret. When he tries to go back to the call, it has shut off.[1][16]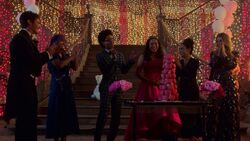 The Runaways hold Molly Hernandez's quinceañera. Together, they have a shared rare beautiful moment, but Stein sneaks off to pack.[1][16]
The Yorkeses decide to set Old Lace free in order to help track down the Runaways, and agree that afterwards they will kill the dinosaur.[1][16]
Yorkes goes to see Stein and thanks him for making Hernandez happy, but she notices that he is packing, and he admits he is about to leave. Yorkes calms herself and forces Stein to tell everyone in the group first.[1][16]
Chase Stein says goodbye to his friends and tells that he has to leave because he does not feel that he belongs with them anymore. Everyone is left heartbroken, especially Hernandez and Yorkes.[1][16]
29th
Leslie Dean wakes from a nightmare about her mother being taken away, and her own struggles with motherhood.[1][17]
31st
Alex Wilder backs up the data on his computer. His religious pattern of doing so comes to an end as the Magistrate's Son possessing his body gains more control over him.[18][19]
February
1st
The Runaways eat and discuss how to proceed after Chase Stein's departure, watched by Xavin without their knowledge. They decide that they doubt Stein would at least willfully reveal their location. Dean approaches them and asks for help rescuing her mother from the Crater. While the others consider helping, Wilder refuses.[1][17]
6th
"Who buys this stuff?"
"I don't know, it's the same idiots who send cars into space for fun."
Elon Musk sends his Tesla Roadster into outer space.[14][20]
Bucky Barnes and Ayo sit near a fire in Wakanda, preparing to test whether the brainwashing is fully completed. Barnes is nervous, although Ayo assures him that she will not allow him to hurt anyone. Ayo says Barnes' trigger words, forcing Barnes to reflect on his past as the Winter Soldier. However, Barnes does not turn into the Winter Soldier, causing him to get emotional. Ayo happily tells Barnes that he is free from his programming.[21][22]
7th
8th
Chase Stein, back in his old home, comes to breakfast and is greeted by his mother, Janet, who assures him that he did the right thing by returning home. However, when she mentions the possibility of revealing his friends' location, he refuses. Victor arrives and offers his son a chance to intern at PRIDE, as he means to show that without Jonah, they can be the benefit organization they always wanted to be. Wanting to spend more time with his father, Chase agrees.[1][17]
Taking Chase Stein outside, Victor explains about his sickness. Not realizing that he is being possessed, he confesses that he is seemingly blacking out and doing things he never decided to do, and shows Chase that his skin is slowly dying. Victor claims that he only wants to spend more time with his family.[1][17]
Chase arrives at the PRIDE Headquarters, where he overhears Megan and Mary, who are massively confused after having the weapons tested on them.[1][17]
PRIDE discusses what to do with Chase Stein now that he has returned. While the Yorkeses want to test the truth serum on him again, Victor has other plans in min, which he begins to share with the rest of the PRIDE members.[1][17]
Kaye and the Runaways trio arrive at the Crater. Karolina Dean decides to confront Frank, believing she knows how to manipulate him.[1][17]
Karolina Dean visits her father in his office, and starts saying things she knows Frank will be wanting to hear. Frank is happy to see his daughter back and says that now they can guide the church together. When Karolina asks about her mother's role, Frank answers that she has lost her way. Karolina asks to see her but Frank refuses. Karolina says that if he keeps her away and forces her to stay in a place where she does not want to be, she will be dragged into darkness, and insists that she is the only one who can rescue her mother and bring her to the light. Frank claims to finally accept to take her to where her mother is.[1][17]
Frank Dean takes his daughter to a room, but outsmarts her and locks her away, telling her that her powers will not be helpful as there is nothing electronic around. Karolina tells Frank that this is not who he was, but he replies that he is now the person who she and her mother have forced him to become.[1][17]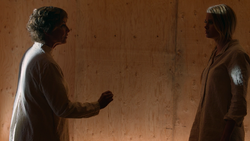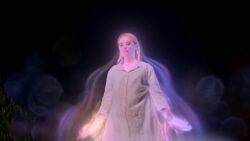 Rescue of Leslie Dean:

Susan Ellerh manages to escort her daughter and granddaughter to the edge of the facility, but they are stopped by Frank Dean. Karolina uses her powers to convince the believers from the Church of Gibborim that she is one of the angels that their founder, David Ellerh, wrote about in his books. All the believers are bewildered but delighted, treating her as the One. They let Karolina and Leslie go, but Susan chooses to stay to purge the church of Frank's corruption, saddening Leslie, who wanted her to stay with them.[1][17]

The Runaways take Leslie Dean to the Hostel, which angers Alex Wilder, since it had not been agreed upon. Minoru decides that Dean has to stay, given her pregnancy and that she knows the Hostel's location, and Wilder leaves the room, frustrated. Dean thanks the Runaways for rescuing her, and Hernandez gives her a new room in the Hostel.[1][17]
Nico Minoru and Karolina Dean talk about the amazing thing Dean did back at the compound. Minoru confesses that she is scared of the Staff of One and of what she might be able to do with it. Dean tries to comfort her and says that may be the darkness that she channels by using the staff comes from within her, and that she might have to embrace who she really is. She kisses her as they reconcile.[1][17]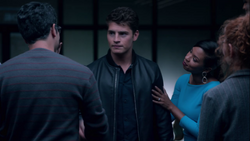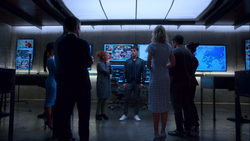 At the PRIDE Headquarters, the PRIDE members try to get Chase Stein to convince the Runaways to return to them. Chase claims that they will not return without a fight, and will not listen to him because he left them. Robert Minoru insists that there is no reason for them to keep hiding, as Jonah is gone, and the parents only want a second chance. Chase replies that for the others, it does not change the fact that they are killers, to Catherine Wilder's annoyance considering they have also done bad things. Victor tells his son that he has to give it a try, because one way or another they are going to bring them back. Chase points out that he promised his friends would not get hurt, but Janet says that no one will get hurt if he succeeds. Minoru agrees with the idea, reminding him that PRIDE has the weapons to take on them by force if necessary. Dale Yorkes adds that this is their last act of diplomacy, which is supported by every member of PRIDE, including Stacey, who claims that otherwise their only choice will be war.[1][23]
13th
15th
The Runaways discuss about letting their new guests stay in the Hostel. Alex Wilder gets a call from Chase Stein, who tries to convince them to agree to a meeting, as he says that PRIDE is preparing to attack them and he wants to avoid that from happening. Despite everyone else's disapproval, Wilder agrees to decide a meeting point.[1][23]
After Wilder hangs up the phone, Chase Stein is approached by his father, Victor, who realizes that the weapons that PRIDE has decided to use on their children have been updated and are now more dangerous. Victor wonders who could have done that, fearing his illness is worsening, losing bursts of memory and forgetting most of the things he supposedly does. Chase tries to comfort his father and begs him to change the specifications back, but his father says that the weapons have already been made.[1][23]
Karolina Dean approaches her mother, Leslie, and tells her that she has to leave and be a better mother to her upcoming baby. Leslie asks if she will ever forgive her, and Karolina says that forgiveness is earned through actions, not words. Leslie comments that the Church of Gibborim will try to search her after her display of her powers, which seemed to confirm every teaching of the Book of Gibborim, and that she is the new head of the church. Karolina says that she is not ready to fit into that role, and Leslie offers to help, but not if she pushes her away. They are interrupted by Xavin and Nico Minoru, who are arguing since Xavin wants to go with the Runaways to meet with Chase Stein, but Minoru refuses. Xavin insists that they haves to protect their betrothed, but Minoru says that Karolina needs no protection, and having her is enough. Karolina convinces Xavin to stay at the Hostel and take care of it and her mother. Xavin says is an honor, and Karolina also asks them to stop calling her their "betrothed".[1][23]
The Runaways meet with Chase Stein. Stein notes that Wilder is wearing the Fistigons, which Wilder comments is a precaution. Stein reveals PRIDE's plans to take them by force, and also comments that they are willing to leave the organization to them, so they can start to use PRIDE's resources to help others, as PRIDE should have done from the beginning. The Runaways refuse, leaving Stein disappointed, knowing what willo happen next.[1][23]
Chase Stein is called by Tina Minoru, who asks if the Runaways accepted their offer, which he reluctantly denies. Stein says that he wants to try talking individually to Wilder, but Minoru replies that it is too late and calls the other PRIDE members to act and engage in the fight with their children. Minoru engages the drones.[1][23]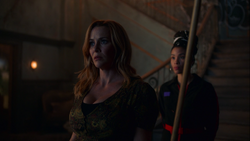 At the Hostel, Xavin transforms themselves into Karolina Dean, trying to make Leslie Dean feel comfortable, but Leslie says that it is not the way to do it. Xavin asks why Karolina has not responded yet to their attempts to make her fall in love with them, and Leslie claims that human relationships are not that simple, and that they have had bad experience with aliens and Karolina is too young for that kind of commitment. When Leslie suggests Xavin start their own life and then return to then see what happens, Xavin says that Leslie will need their help when the Magistrate and the others return for her baby, who has a Gibborim royal lineage. Leslie realizes that the Magistrate is Jonah, which Xavin confirms, commenting that he and his family survived the ship's explosion and now they are in possession of new hosts. Xavin says that they are a Xartan, and that the Magistrates's Gibborim family are problematic. Leslie asks if the Runaways' meeting is one Jonah's ways to bring Karolina back to him, and Xavin says that it is very possible.[1][23]
Victor Stein, who is possessed by Jonah, arrives at Karolina Dean's hiding place.[1][23]
At the Stein Mansion, Janet Stein approaches her son and asks how he is feeling. He feels bad that his friends hate him and soon will not remember him. When Janet says that sometimes is better to keep in a secret in order to avoid further problems, Chase gets angry and claims that way of thinking was what caused all their problems to begin with. He says that they have to stop keeping secrets, and decides to tell his mother that his father is sick, and that his skin is flaking and turning white. Janet starts to think that Jonah's healing algorithm and Victor's injection of Jonah's DNA could be turning Victor into an alien like Jonah. Chase asserts that they have to stop it, and tells his mother to follow him as Victor may have already invented the cure.[1][23]
Victor Stein approaches Karolina Dean, trying to convince her to come with him and make things easier. Dean blasts him with her powers.[1][23]
Mike on a Bike tries to steal Victor Stein's car, but is surprised when he turns and sees Xavin, taking his form.[1][23]
Victor Stein uses weapons to create a field that neutralizes Karolina Dean's powers. He is distracted when Mike on a Bike appears to walk in and break the field. Xavin returns to their usual form and says that is their duty to save their betrothed. Jonah, who is possessing Stein, expresses his frustration, having thought that they died in the explosion. Jonah uses his powers to knock Xavin down, and Dean realizes that Stein's body is possessed by her father and approaches him. Jonah confirms her suspicious, and reminds her that he decided to take everything, saying it includes her as he uses his powers to knock her out. Jonah then realizes that Xavin has escaped.[1][23]
The Yorkes parents find their daughters in a store. Hernandez and Gert decide to go in different directions, as Dale Yorkes goes after Hernandez and Stacey after Gert. Hernandez manages to avoid Dale by telling people he is a pedophile, causing them to stop him, allowing her to escape. However, Gert is caught by her mother, who is again controlled by one of the Gibborim. She knocks Gert out and Dale rejoins her.[1][23]
The Wilder parents pursue their son on foot, through the streets of a Chinese market. He manages to avoid them, and as they look for him, Alex takes Darius Davis' gun and aims at them from above.[1][23]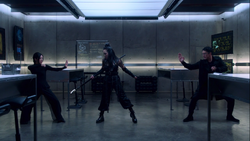 Nico Minoru arrives at the PRIDE Headquarters to confront her parents and destroy the devices they are using to chase her friends. Tina, however, uses a subsonic wave generator to again scramble Nico's brain and stop her from using the staff. Knowing that she is not capable of casting a spell, Nico fights her mother. Robert arrives and gets into the fight as well, imploring his daughter to return. As Nico decides to fight nonetheless, her parents decide they have no option but to beat their daughter down.[1][23]
The Minoru parents defeat Nico. However, Nico manages to channel power from the Dark Dimension, turning the skin around her eyes dark purple, silver, and cracked. Robert asks Tina what has she done to their daughter, but Tina claims that she has done nothing, but has seen it happening before. Nico uses her powers to cause a blast in the facility, shattering windows and knocking her parents down, then escapes. Tina tells Robert that she did not tell him everything about the nature of the Staff of One. When she notices that he has been seriously hurt by a glass shard, she goes to call emergency services.[1][23]
Jonah, using Victor Stein's body, arrives at the Stein Mansion. Janet and Chase realize that he has Karolina Dean, unconscious. Chase tries to use a prototype he found of the device "Victor" used on Dean on his father, but he reveals that the suit he is wearing protects him from the device. Janet works out that it is Jonah in Victor's body, and Jonah then uses his powers to knock the Steins out.[1][23]
Jonah places Dean and the Steins into the Healing Algorithm. They each live out a fantasy world: Chase Stein single-handedly saves the Runaways from PRIDE, Janet is successful in a happy marriage with Victor, and Dean marries Nico Minoru.[1][26]
With his wife acting erratic and not like herself, Dale Yorkes drives the kidnapped Gert and Old Lace out of the city without her.[1][23]
Jonah reunites with his wife and daughter, who are possessing Stacey Yorkes and Tina Minoru respectively. When the Magistrate's daughter questions where her brother is, Jonah and his wife realize that he is likely in possession of one of the Runaways.[1][23]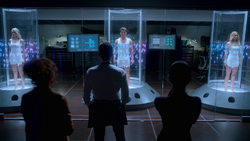 At the Steins' laboratory, Jonah tells his wife and daughter that their hosts' bodies are fragile and they need to use humans' energy to stay strong. He comments that humans refrigerate their food before eating, so is using healing chambers for the same purpose. Jonah asks his family which human in the chambers looks "tastiest": Janet Stein, Chase Stein, or Karolina Dean.[1][23]
17th
18th
19th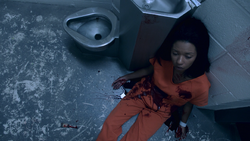 19th-22nd
Dark Dimension
Alex Wilder, Tina Minoru, Stacey Yorkes, and Victor Stein appear in the Hostel, separated from their Gibborim, where they talk to Quinton the Great. Against his advice, the group goes outside and ends up transported into their worst memories; Minoru goes to the day her daughter died, Yorkes to the day her daughter discovered her experiments with a dinosaur, Stein to a day when his father was beating him, and Wilder to an alternate world where he is in prison.[28][32][19]
Nico Minoru and Karolina Dean wake up to old-fashioned music playing in the Hostel. They reunite with Chase Stein, Molly Hernandez, and Gert Yorkes in the main area, where they witness a party full of people dressed like the 1920s. They speculate as to what is happening.[28][32][19]
23rd-28th
Dark Dimension
March
1st-4th
Dark Dimension
4th
4th-6th
Dark Dimension
9th-10th
Dark Dimension
10th-12th
Dark Dimension
13th-19th
Dark Dimension
19th-20th
Dark Dimension
Nico Minoru talks to her relatives about the Staff of One. They do not trust her with it, and they discuss the staff's new ability to emerge from her chest. They want to cut her open, but "Amy Minoru" appears and stops them. "She" volunteers to help Nico find her mother, and "Amy" uses a shadow spell to transport away.[28][32][19]
20th
Having taken Malcolm Ducasse's advice, Trish Walker works on a show called Style by Trish. She recommends a cardigan with her colleague, Grace, for the unusually cold spring weather, and gives life advice for a caller to start afresh for the spring season.[9][10]
After finishing, Trish Walker continues her investigation into Andrew Brandt, who has walked free after the sculpture he seemingly gave hired thugs to beat up his half-sister was not found. Dorothy then approaches to remind Trish to focus on her show. Dorothy asks if Trish is happy doing the show, and Trish responds saying that people needs to see what she is up to.[9][10]
20th-29th
Dark Dimension
The Minorus want to cut Nico open, but "Amy Minoru" appears and stops them. "She" volunteers to help Nico find her mother, and "Amy" uses a shadow spell to transport away.[28][32][19]
29th-31st
Dark Dimension
The Hernandezes serve fruit punch at the church, and they find potential sacrifice victims for Jonah.[28][32][19]
Nico Minoru and "Amy" appear in the Minoru Mansion, where Nico finds Tina standing over Amy's corpse. An illusion of Nico walks out of Amy's room, and is comforted by an illusion of Robert Minoru. The real Nico enters the room.[28][32][19]
April
1st-8th
Dark Dimension
Molly Hernandez confronts her parents about the sacrifices. They tell her that they are honored and proud to work for Jonah. All of the teenagers in the room die from poisoned punch, and Gene and Alice menacingly offer her the punch. She runs out of the church and looks back in through the glass, finding the room now empty.[28][32][19]
Tina Minoru tries to resurrect Amy, but cannot remember the spell. She hands Nico the Staff of One, but Nico uses it to stab the Amy illusion, causing her to disappear. She convinces Tina that they are not in the real world, and Tina resolves to leave with Nico. They try to find the "Amy" Nico arrived with, but "she" has disappeared.[28][32][19]
8th
Trish Walker continues her investigation into Andrew Brandt at home. She then starts typing an email, which she intends to send to Jessica Jones, starting apologetic and with a softer tone. However, she then deletes her progress, instead proceeding to write a significantly harsher message.[9][10]
8th-9th
Dark Dimension
9th
Attack on the Chronicom Vessel:

Enoch watches Leo Fitz as he lies, frozen in his cryogenic chamber. The ship gets attacked by the Confederacy, as Enoch apologizes to the unconscious Fitz, having planned to protect him for 73 years and 261 days more. Enoch calculates Fitz's best chances go survival, just as their attackers cut their ship in half.[33][34]
10th
13th
14th
15th
Search for Orson Randall: In a bar in Hokkaido, Japan, at 4AM local time Ward Meachum asks a man about his employer selling on the black market. The man denies this, but Meachum continues to inquire, asking about Hancock Transport and the body inside, saying he wants to talk to the man who sent it, Orson Randall, whom he knows is the man's boss. The man denies knowledge of Randall, but Meachum says they have had a rough time tracking him through Hong Kong, Kuala Lumpur, and a mess in Jakarta, which causes the man to realize Meachum was involved in the stealing of their missing shipment from Jakarta. As a thug working for the man stands to threaten Meachum, Meachum turns to Danny Rand, sitting nearby. The man tells Rand that Randall wants his property back, and Rand reveals he has it: two special pistols at his side. The man shoots at Rand, but Rand lights up both his fists, his chi restored and now in both hands, and the energy channeled through both weapons, and fires two chi-charged bullets, converging on the man's bullet and knocking it out of the air. He facetiously remarks that the man should not try that again.[38][39]
22nd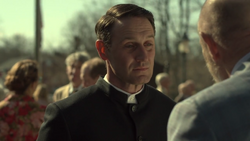 Anderson Schultz approaches John Pilgrim after church and tells him that their doctor is optimistic about the new treatment being used on Rebecca working. He tells John that he has become aware of a situation threatening everything they hold dear, and he will need to perform a task for them. John agrees, and Eliza assures him is sons will be looked after while he is gone.[40][41]
25th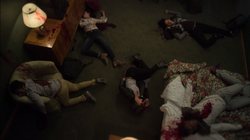 26th
Rescue of Cassie Yasdan: In response to an Amber Alert, Jessica Jones tracks down the missing Cassie Yasdan, who had been taken illegally by her father, Mitch, after he lost custody of her to Cassie's mother. Jones intends to return Cassie home, and when Mitch threatens to get physical, she tosses him several feet in the air. The incident, unbeknownst to Jones, is captured on camera and uploaded to the Internet.[43][44]
27th
The New York Bulletin prints the cover story "Bona Fide Hero" about Jessica Jones.[43][45]
Trish Walker begins stalking Andrew Brandt. She starts by breaking into his apartment while he is gone, disabling the alarm and looking through his place for the missing sculpture. She finds a locked safe, which she is certain the sculpture is being kept in. While she cannot get to the sculpture for the time being, she notices the hotel across the road from his apartment building, where she can stay in order to watch him.[9][10]
Walker moves into the Nouvet Hotel. From her room, she had the perfect view of Brandt's home.[9][10]
Jessica Jones returns to New York City with Cassie Yasdan and delivers her to her mother, despite Cassie's complaints. Mrs. Yasdan tells Jones that she plans on restricting her x-husband's limitation rights and punishing him. Jones advises her to back off for Cassie's sake, prompting anger from Mrs. Yasdan, until she becomes scared of Jones and runs inside.[43][44]

Jones returns to the Alias Investigations Office to learn from Vido Arocho that her altercation with Mitch Yasdan had since gone viral. She enters her apartment, where she and Gillian, her assistant, discuss furniture arrangements and clients.[43][44]
At night, Jones leaves for the bar. In the hallway, she runs into Malcolm Ducasse, who has upgraded apartments and moved into Mrs. Chin's old apartment after quitting his job at Alias Investigations a year prior. After introducing Jones to Zaya Okonjo, his new girlfriend, the two part ways again.[43][44]
Walker waits for Brandt to return home, ignoring several of her mother's calls and messages while doing so, as she misses filming for an episode of her show. When Brandt arrives at his apartment, she watches from her room, though eventually falls asleep.[9][10]
While at the bar, Jones is approached by Eddy Costa, who congratulates her on bringing Cassie Yasdan home, having been the one who mentioned the case to Jones. He suggests that Jones should end her private investigator endeavors and leave it to the professionals, but adds that his reason for being there is simply to remind Jones of their agreement, that he would throw her the occasional case and she would not break the law.[43][44]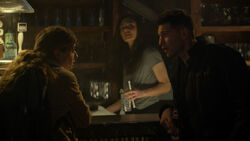 Shooter Jennings performs in Lola's Roadhouse, and Frank Castle watches, buying a beer from bartender Beth Quinn. A girl comes and orders a drink, with owner Ringo judging her as acceptable to serve despite looking potentially underage. Castle surveys her, and she is defensive, telling him to look away and calling him "Rough Road". When he asks if she is okay, she unconvincingly claims she is before walking away.[46][24]
A man named Johnny starts harassing Quinn behind the bar, and when she refuses his advances, he grabs her arm. Castle tells him to let her go, and when he insults her, Castle chides his behavior. Johnny tries to pick a fight, but Castle breaks his finger. Ringo tries to have them both kicked out, but Quinn sticks up for Castle. He introduces himself to her as "Pete".[46][24]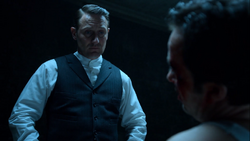 Assassination of Sergei Konchevsky:

The girl in Lola's Roadhouse, Amy Bendix, calls Sergei Konchevsky from a payphone. Konchevsky is being held captive by John Pilgrim, and is forced to take the call but not give his situation away. Bendix explains she is someone who worked for Fiona, and the reason they did not deliver him the photographs he was expecting the day before was because the whole crew except her, pointing out someone must know about them. Konchevsky, pressured by Pilgrim, asks for her to still deliver the pictures, but she asks him to meet her the next day at Lola's Roadhouse, unknowingly giving her location to Pilgrim.[46][24]
28th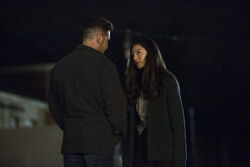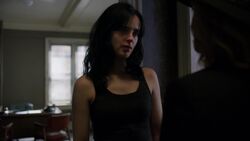 29th
Bendix tries to get away, but he bundles her back in the van and has her find the nearest hospital on her phone so he can drive Beth Quinn to get help.[46][24]
They arrive at Ecorse Hope Hospital and Beth Quinn is taken into the building, asking that Castle make sure Rex is okay.[46][24]
John Pilgrim arrives at Lola's Roadhouse. He finds the bodies from the fight and Frank Castle's ring, with an inscription including his forename. He tells the local, corrupt police lieutenant, Lt. Ferrara, to find the girl they are after and whoever she is with, and keep his police away. Marlena Olin shows Pilgrim that they have found the girl's bag, with her laptop inside.[46][24]
Pilgrim and Olin survey the security footage of Castle's fight. Pilgrim says it will not be hard to find him.[46][24]
Dinah Madani stands over the hospital bed of Billy Russo, who is asleep with a decorated mask over his face. She drinks and insults him, before leaving. After she exits, Russo wakes.[46][24]
Castle continues to drive Bendix away. Bendix asks if there will be more people coming, and he says that he hopes so.[46][24]
Tired and bleeding, Frank Castle struggles somewhat with driving. Amy Bendix suggests taking over driving or stopping somewhere, but he refuses. However, he eventually decides to turn off to Larkville, Ohio.[46][37]
Arriving at the Tides Motel in Larkville as the sun comes up, Castle reluctantly gives Bendix money to rent them a room.[46][37]
Bendix approaches the worker at the desk, Debbie, who forces her to pay for the morning as well as the upcoming evening, to her annoyance.[46][37]
Castle and Bendix go to their room, and Castle tells her to call him "Pete", with her telling him she is "Rachel". He takes her to the bathroom and tries to tweeze out the bullet in his side, but cannot, asking her to do it for him. Once she has, he then has her stitch the wound. She insists again that she does not know why she is being hunted.[46][37]
Bendix tries to escape the room, but Castle catches her, then uses cable ties to tie her to her bed so as to ensure she cannot run. She starts complaining, so he puts tape over her mouth, telling her to sleep.[46][37]
Billy Russo is tormented by nightmares. When he wakes, Dinah Madani is standing over his bed again. He claims not to know her. Russo's doctor, Krista Dumont, enters, and Madani says that she is certain Russo is faking his situation, but Dumont explains that he cannot be. She tells Madani about working with Russo, with Russo mentioning the metaphorical "jigsaw" of his memories they are putting together. Madani leaves, saying she will return that night, and Russo tells Dumont that he is aware he must have done something to her, but becomes angry and frustrated when he cannot remember what. Dumont goes to get him headache relief medicine, but when Russo first asks what he did to Madani, she truthfully tells him he shot her in the head.[46][37]
As planned, Jessica Jones and Dorothy Walker arrive at Trish's new apartment. Jones begins looking through Trish's work and discovers that she has been educating herself on various topics. She realizes that it is being used as more of a hideout than apartment. She accuses Trish's laptop to see what she could find. Dorothy admits that she used to be jealous of Jones' relationship with Trish, commenting that Jones was her protector and Trish was Jones' conscious. Dorothy suggests that Jones must miss Trish, leading to Jones kicking her out.[43][44]
Jones proceeds to search Trish's laptop. She starts by looking through Walker's ride history with LYFT, taking note of each address Walker was either taken to or picked up from. Also in Walker's inbox, Jones discovers email drafts, one for Jones herself, one for Dorothy, and one for Grace. Jones clicks on the draft addressed to her. She reads the message, in which Walker explains why she feels that she had to kill Jones' mother. This angers Jones, who knocks the laptop to the ground in a fit of rage.[43][44]
John Pilgrim visits Beth Quinn in her hospital ward. He notices several cards from people who care about her, and threatens them if she does not tell him the name of the man seen at Lola's Roadhouse. She claims not to know, but eventually pretends to give him up, saying he simply told her he was called "Pete". Pilgrim pushes for more, aware she is covering for him, so she reluctantly gives his surname "Castiglione", and Pilgrim leaves, with her managing to have withheld the name "Frank".[46][37]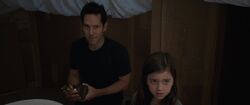 Scott Lang plays a game with his daughter Cassie, using cardboard boxes to pretend they are crawling through tunnels on a heist. They reach the "treasure", which Cassie had chosen to be a trophy she bought Scott for his birthday, and says she wants to take it into school for show and tell. At the same time, Luis, who is visiting, talks to Scott about a pitch X-Con Security Consultants are preparing for providing security to a company called Karapetyan. Scott and Cassie complete the course, sliding out of the house as their "escape", but when they reach the bottom, Scott's leg goes the fence and his house arrest ankle bracelet sets off an alarm.[48][49][47]
The FBI, led by Scott Lang's parole officer Jimmy Woo (a former ally of Melinda May's[50]), arrive at the house. When Cassie asks why they have to visit, Woo explains to her how Scott broke the Sokovia Accords in Germany and had to make a plea deal to return to the United States of America that required him to spent 2 years under house arrest, showing little understanding of how to talk to children. Cassie's mother, Maggie, then arrives with her boyfriend Jim Paxton to pick her up.[48][47]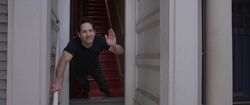 Cassie Lang tells Scott she had a good weekend, and he tells her to look forward to next weekend, by which time he will be free, having just 3 days remaining of his sentence.[48][47]
Frank Castle cuts Bendix free from the bed and asks her again to tell him the truth about why people are after her. When she refuses, he grabs a container from her pocket, finding undeveloped photos. She criticizes his approach of killing all their attackers and says that he is too constantly angry, and says it seems to her that he seemed happy for the excuse to kill again. He ties her to the bed again before stepping outside.[46][37]
Jones follows Walker's ride history to a hotel. She enters, and after roughing up the clerk, learns that Walker has been staying there. Jones enters Walker's room and goes through her bags, discovering that Walker was stalking out the apartment building next door.[43][44]

Dr. Krista Dumont meets with Billy Russo again. He tells her once again about a nightmare of a skull on a black background, and blood and breaking glass. He complains about having to tell her the same thing over and over, but she points out that one day, his responses will be different. He says that, despite being told his face should not be hurting, it does. Dumont asks what the last thing he remembers is, and he states that it is spending time with Frank Castle in the barracks, a man he thinks of as his brother.[46][37]
John Pilgrim investigates the Good Rest Motel, and his assistant says that DMV has let him know Pete Castiglione has no record of criminal activity or service. Pilgrim says that there is definitely something more to Castiglione, however, and objects to his assistant's love of technology and casual use of profanity.[46][37]
Sal Blaskowski watches as Erik Gelden nearly drowns in her swimming pool, asking Dwayne Blaskowski for a hot dog. Sal throws the hot dog at Gelden and yells at him for not paying her back on time. She gives him exactly 1 week to pay his debt, and Gelden promised to return it on time. Sal watches with pride as her grandson imitates her torturing of Gelden with a doll.[43][51]
Frank Castle rents the room next to his and Bendix's from Debbie.[46][37]
Castle returns to the room and cuts Bendix free from the bed again. He starts hammering a hole in one of the walls, to her confusion.[46][37]
Malcolm Ducasse meets with Jeri Hogarth to give her the nondisclosure agreement from Cody Willamet, though Ducasse is uncomfortable with his role in allowing Willamet, an entitled drunk, back on the road. Ducasse reminds Hogarth that he is an investigator, not a fixer, though Hogarth says that she required both. She reminds Ducasse that he will be able to launch his own PI firm after working with her. Once Ducasse is gone, Hogarth continues to read a Zoey Lyonne Arts Scholarship Benefit Concert email she had received. She instructs Char to make a platinum-level donation and put the address in her calendar.[43][44]
Rafael Hernandez has Dinah Madani meet him to talk over dinner. Hernandez tells her that he is receiving complaints about her visiting Billy Russo so often, and tells her that she needs to remember she cannot change the fact that he fooled her. Madani continues to insist that Russo is lying about his memory-loss. Hernandez says he wishes Castle had killed Russo, but Madani says she is glad Russo did not die thinking he had killed her, and leaves the restaurant.[46][37]
Gelden sends anonymous notes to Todd White, Reyna Pincer, and Gregory Sallinger, demanding money in exchange for his secrecy about what they did, having detected with his abilities that they are bad people, not actually knowing what they have done.[43][51]
Skirmish at Andrew Brandt's Apartment:

Jones remains in Walker's hotel room into the night. She uses the binoculars she found in Walker's bag to scope the neighboring apartment building, to see who Walker was stalking. Jones spots Walker on the street and watches from the hotel room as she follows the man into his home.[44] Walker, meanwhile, tucks her hair in and pulls a mask over her face.[43][10]
Jones witnesses Walker break into the man's apartment and begin to attack him. Just as he gains the upper hand and goes for a gun, Jones goes to save her, crashing through the man's window as he pulls out a gun and begins firing.[10] Jones disarms the man, Andrew Brandt, and retreats into the bedroom with Walker, who exhibits impressive reflexes and agility to get free of Jones before returning to the main room, only to discover that the man, and the sculpture that she was after, is gone.[43][44]

Walker jumps out of the window, landing safely, to Jones' surprise. She returns to her hotel room, with Jones not far behind.[43][44]
Jones confronts Walker, referring to her as a cat burglar, but Walker says that she is simply trying to get justice. Jones realizes that Walker's new abilities mean that Karl Malus' procedure worked. Walker explains Brandt's past and why she is pursuing him. Walker claims she is trying to be the hero she always wanted to be, and Jones mocks her for it. Walker, however, says that she has freed Jones from her responsibilities of helping people, because she could do that now. Before leaving, Jones tells Walker that her mother was looking for her.[43][44][10]
Malcolm Ducasse watches from his car as Cody Willamet exits a restaurant, drunk. Willamet's girlfriend says that he is too drunk to drive, though Willamet is far too belligerent to adhere to her warnings. Willamet then drives off in his car, but Ducasse tails him.[43][44]
Willamet pulls up to a stop sign, not only drunk, but also texting while driving. As he drives forward, he is hit from the side by Ducasse, who exits his car and leaves the scene.[43][44]
Jones gets a drink at the bar, where Walker's talk show, Style by Trish, is on, but Jones requests it be turned off. A man, Erik Gelden, sits down beside her.[43][44]
Jeri Hogarth attends the Zoey Lyonne Arts Scholarship Benefit Concert in order to see her ex-girlfriend, Kith Lyonne, who thanks all the supporters for attending.[43][44]
After the concert, Hogarth and Kith Lyonne discuss their past. Hogarth points out the fact that she donated to the benefit concert every year. Kith introduces her husband, Peter, to Hogarth. He says that he has been following Hogarth's defense of super powered vigilantes, as he was a lawyer, though is now a professor of criminal law. Before leaving, Hogarth gives Kith her card as they arrange a meeting to catch up.[43][44]
At the bar, Erik Gelden introduces himself to Jones with a bet, which she loses. Gelden shares his view of the world with Jones: how everything is terrible and optimism is a lie. Jones then receives a burger she ordered, but Gelden will not allow her to eat it, claiming it is a bad burger. He offers to make her a burger of his own, that he bets $50 she would enjoy. Jones decides to take him up on the offer.[43][44]
Ambush at the Tides Motel:

Frank Castle hands Amy Bendix a gun to protect herself, seeing a vehicle outside that he knows will be people come to kill her.[46][37]
Marlena Olin sits with more of her crew in the SUV outside the Tides Motel. She tells them that they will not contact Pilgrim until they have delivered on the job, not wanting his interference.[46][37]
Bendix wants to leave the motel and holds her gun to Castle, threatening him if he does not let her. He recognizes, however, that she does not have it in her, and she gives up.[46][37]

Olin and her crew see silhouettes moving and head into the room, but find no one visible there. They start shooting potential hiding places, but Castle suddenly ambushes them by coming through the hole he has knocked into the room next door. A firefight begins.[46][37]
Bendix sits, scared in the next room. When the shooting stops, she cautiously gets up, but Olin arrives at the door, holding a gun to her. Castle arrives, however, and knocks her out, then picks up Olin's unconscious boy and takes Bendix outside with him to leave.[46][37]
Castle puts Olin in the back of his van, but she wakes as he does so and attacks them again. Castle manages to shoot her in the leg and holds a gun to her. Bendix, however, sees an opportunity to get away. She jumps in the van and starts driving as Castle tells Olin to talk, before realizing what Bendix has done. However, Bendix is stopped by the arrival of the police, who take all three to the local station.[46][37]

At the Larkville County Sheriff Station, Marlena Olin has her wound tended to, but refuses to tell the police what happened.[46][37]
Castle refuses to be taken for hospital treatment, and also decides not to tell the police what has happened.[46][37]
At the Good Rest Motel, John Pilgrim's assistant finds out about the police putting the fingerprints of Olin and "Castiglione" into the system in Ohio, and lets Pilgrim know.[46][37]
Dinah Madani is having a nightmare about Russo when she is woken by a call from Castle. He explains that she is his one call from the station and needs her help getting out, but she refuses, saying him being let off was a one-time thing, and that he is no longer part of her life.[46][37]
The sheriff tells Castle that he is looking at four counts of murder, which carries the death penalty locally. Castle warns that they need to let them go, because people will be coming to the station to attack, but the sheriff refuses.[46][37]
30th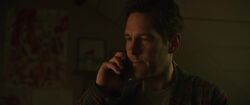 Intrigued by his vision and thinking it could be important, Lang takes a secret burner phone from its hiding place and calls Hope van Dyne and Hank Pym about the vision. They do not pick up, but he leaves a voicemail. Realizing that he probably sounds stupid as he speaks, he decides to hang up and break the phone.[48][47]
With Lang having called them 5 minutes after they activated the tunnel, Pym and van Dyne consider that the timing is not coincidence and the opening of the Quantum Realm might have activated a message in Lang's head.[48][47]
May
1st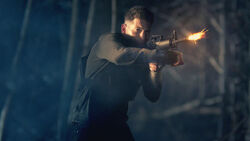 Pilgrim puts down one of his injured men and keeps running as Castle makes his way around looking for any remaining soldiers. Pilgrim finds Castle and nearly gets a shot on him, but is suddenly dazzled by a bright light from a helicopter above, missing his shot. Dinah Madani's voice calls down from the vehicle, saying Homeland Security have arrived and to stay where they are, but Pilgrim gets away.[46][41]
Ken Ogden is given medical attention. Bendix thanks him for his bravery and returns him his money as he is taken away.[46][41]

Madani tells Sheriff Hardin that "Castiglione" is part of a sensitive investigation, and should be officially considered to have never been there. Hardin thanks Castle for saving their lives and says that he will do what Madani has asked.[46][41]
Castle and Bendix prepare to board Madani's helicopter, with Castle insisting that she has to come. Hardin returns Castle his bag, and Castle and Bendix say they want to go to New York.[46][41]
Hope van Dyne breaks into Scott Lang's house, shrunken down. Flying up to Lang in the Wasp suit, she tranquilizes him and puts his ankle bracelet on a human-sized ant, who is instructed through Hank Pym's electromagnetic wave control system to repeat Lang's daily routine, so the FBI's suspicions are not aroused when tracking him.[48][47]
Trish Walker arrives at Andrew Brandt's apartment and starts searching it, but struggles to find anything.[43][52]

Jessica Jones investigates Brandt's apartment, where she steals a soft drink and notices a jammed printer. She fixes the jam and finds the next document being printed: a list of lots, prices, and how they are being sold. Walker appears and says that she should be the one to find Brandt, but Jones disagrees. They argue about their friendship and Walker's new actions as a vigilante. Walker confronts Jones about her plans for Brandt, saying that she is not a hero, causing Jones to leave.[43][52]
A rude man called Rick boards a bus and comes across Billy Russo, mocking him for his scars. Russo follows Rick off the bus and into an alley. When Rick threatens him with a knife, Russo attacks him.[46][42]
Russo walks out of the alley now wearing Rick's clothes, having beaten and stripped his attacker.[46][42]
Scott Lang wakes in van Dyne's car, which he comes to realize has been shrunken down to drive without being noticed. Van Dyne explains about the ant replicating his routine, and Lang attempts to apologize for his actions in Germany making them fugitives. Van Dyne dismisses this, saying they just want to bring him in because of what he has said was in his head.[48][47]
2nd
After regrowing the lab in the forest, in the early hours of the day, Scott Lang and Hope van Dyne talk. Scott assures Hope that when they find Janet, she will not have forgotten about her, explaining that when he was in prison, Cassie was all he thought about. Luis calls him, saying that they made a mistake on the security plans for Karapetyan and need his help before the pitch in the morning, but Lang explains his situation, and why he cannot leave to visit him Luis person. He reluctantly gives Luis their location in the woods so he can come to them.[48][47]

Amy Bendix wakes and finds her room locked. She panics and Frank Castle lets her out. Still undergoing a panic attack, she shouts that he should never lock her in again.[46][42]
Luis heads out to to visit Scott Lang, when Sonny Burch breaks into the X-Con Security Consultants office with his men, told by an inside agent in the FBI that he is a known associate of Lang, and asking Luis to tell him where Lang is. Burch says that he will administer a serum to make Luis more susceptible to slipping up and giving honest information, but when the X-Con trio say that this sounds like truth serum, Uzman, the man with the serum, becomes defensive and insists that it is not.[48][47]
Arthur Walsh goes to his kitchen, only to find Billy Russo. He thinks he is a robber, but Russo reminds him of who he is, and that he attended the Ray of Hope home.[46][42]

Bendix tells Castle about how she is struggling with flashbacks to the massacre she encountered, and he attempts to help calm her down. She starts explaining what happened, and tells Castle about Fiona and being part of her crew. Bendix says that she had to hide under the bed among the bodies of her friends in Chicago as a man in a vest came back in, and tells him that the job they had been given was taking photographs at a wedding and delivering them. Bendix recommends getting out of the city with the help of a girl she knows called Shantel, but Castle says that this would just get Shantel killed by the man coming after them. He recommends that they take the fight to their attackers instead.[46][42]

Walsh pours Russo a drink, and Russo says that he saw the home had been demolished, then come to Walsh since there was nobody else to go to. Walsh asks what happened to his face, showing no remorse for his behavior in the 1990s as he says it is a shame, since Russo had been a pretty child.[46][42]
Dinah Madani comes home and Castle tells her about Walsh, and that he thinks Russo might have gone after him. They are interrupted by a knock at the door. Castle and Bendix hide as Madani answers the door and finds Brett Mahoney, who says they know Russo's journal has gone missing, and he suspects her of taking it. He tells a story of how he had once become obsessive over an ex-girlfriend, explaining that she needs to stop involving herself with Russo so obsessively. He notices the two breakfast bowls on her table, but assumes she just has a man around, and she turns him away without him finding out about Castle's presence.[46][42]

Bill Foster sadly informs Ava Starr that she has only roughly 2 weeks to live. Starr suggests that they use Cassie Lang to bait Scott and get back the lab, but Foster refuses to get the innocent girl involved. Starr reluctantly decides to accept to use a different option.[48][47]
Arthur Walsh insists to Billy Russo that he was good to the children at Ray of Hope, and it was unfair that he was imprisoned. He says that he loved the children, and becomes angry at Russo for not loving him back, saying that he wonders if Russo has come back to him purely because he does not feel loved anymore with his scarred face.[46][42]
Assassination of Arthur Walsh: Furious, Russo kills Walsh with a chair leg.[46][42]

Burch injects Luis with Uzman's serum, and Luis begins to speak honestly. When Burch interrogates him on where Lang is, Luis tells a fast story about how Lang came to be where he is currently at from an emotional standpoint. Frustrated, Burch specifies that he needs to know where Lang is literally, and Luis gives the location in the woods. Ghost, who had been phasing herself invisible, reveals herself and gets him to give the specifics of the location, then leaves, slashing Burch's tire to slow him down.[48][47]
Burch calls his FBI agent, Stoltz, to let him know Pym and van Dyne's location and that Scott Lang is with them. He passes on the lead to Jimmy Woo.[48][47]
Amy Bendix uses a computer in a shop under the premise of trialing it, and uses it to look up Castle. She finds pictures and videos of his activities since 2015, and a worker in the store recognizes the pictures as the "Punisher", a name she had not heard before. He tells her about how he killed criminals and escaped prison.[46][42]

As dawn arrives in San Francisco, Hank Pym and Hope van Dyne activate the finally completed Quantum Tunnel, but it only works briefly before shutting down. However, with the brief exposure to the Quantum Realm, Janet van Dyne gets a better connection with Scott Lang and takes control of him for a few minutes. She proves it is her to Hope and Pym as she uses the time to help stabilize the tunnel and enter the coordinates to locate her, but she warns them that they only have 2 hours to get her before the Quantum Realm becomes so unstable they will not be able to reach her for another century. Janet gives Hope and Pym a temporary goodbye before leaving Lang's body, awkwardly noticing his new positioning.[48][47]

Luis calls Lang to warn him about Ghost, Burch, and the FBI knowing Pym and van Dyne's location and hearing that he has left house arrest. Lang passes on the information to Pym and van Dyne to warn them, apologizing for jeopardizing their rescue. He tells them that the FBI will be checking in on his house arrest and that he needs to rush back home, and he leaves to get back in time.[48][47]
Jim Paxton and Maggie and Cassie Lang come to Scott's house to pick up Cassie's soccer shoes. Cassie finds the giant ant in Scott's bath. Jimmy Woo then leads the FBI as they break into the house and demand to see Scott, but Cassie tries to cover for her father, claiming he has been vomiting and they cannot go near him. Woo eventually insists and pushes past her, only to find Scott, who got back just in time and slipped in through the window, shrunken in the Ant-Man suit.[48][47]

Arrest of Hank Pym and Hope van Dyne: Hank Pym and Hope van Dyne hurriedly leave the lab and shrink it down, only to find that the FBI have already surrounded them. Stoltz tells them they are under arrest.[48][47]
While at Lang's house, Jimmy Woo is informed of Pym and van Dyne's arrest. He is pleased and leaves the house, telling Lang he will be back later for the official end of his house arrest sentence.[48][47]
Dinah Madani goes to Arthur Walsh's home in case Russo is there, but arrives only to find Walsh's dead body, with a chair leg lodged in his chest. She hears someone and immediately turns and shoots, assuming it is Russo, only to find it is Brett Mahoney, hitting him only in his bulletproof vest. He asks what she is doing at the location, but she refuses to explain before leaving the murder case to him.[46][42]

Cassie Lang sits down with her father, and he thanks her for covering for him. He says that he messes up trying to help people every time, and she suggests that he might need a partner. Scott assumes she is talking about Hope van Dyne, but Cassie explains that she means herself. He assures her that she would be great, but explains that he cannot put her in danger. She tells him that she is sure he can do whatever it is he needs to.[48][47]
Hope van Dyne slips a hairpin she had hidden in her mouth out into her hand and picks the lock on her and Hank Pym's handcuffs. They start to plan a risky escape, but Scott Lang arrives and, controlling trained ants, breaks Pym and van Dyne from FBI custody.[48][47]
Uzman witnesses the escape and reports back to Sonny Burch that Pym and van Dyne.[48][47]
Pym explains that he put a tracker on the lab after Ghost stole it, and the trio use the controlled ants to guide the way to find it.[48][47]

Meanwhile, Ghost and Bill Foster prepare to enter the Quantum Realm. Foster advises caution, but Starr explains that she is desperate and cannot wait, having only days left to live.[48][47]
Amy Bendix returns to Dinah Madani's apartment and tells Frank Castle that she has found out about the murder of his family and him killing the people behind their deaths. She asks if it made him feel better, and he says that it only does sometimes. Bendix admits she is not called Rachel, but Amy, and promises not to keep trying to run away anymore.[46][42]
With time running out to save Janet van Dyne, Pym says that he will enter the lab and dive into the Quantum Realm, asking that Hope and Lang protect the lab while he does so. Luis arrives, having been asked by Lang to follow in case they need his help.[48][47]
Scott Lang stands ready to help Pym get to the Quantum Tunnel. Luis talks to Hope van Dyne as they wait, but she takes little interest.[48][47]

Ghost and Foster get the Quantum Tunnel started, but it then fails. They realize that there are ants in the lab pulling wires out from sockets to break it, and, knowing that this means Hank Pym must be nearby, Ghost leaves to find and stop him. She follows a trail of ants leaving the building.[48][47]
With Ghost led away, Hank Pym enters the lab and confronts Bill Foster. He controls giant ants to corner Foster and force him to back away. Pym retrieves a specialized Quantum Realm suit. Foster apologizes for causing problems, explaining he simply wanted to help Starr, but Pym promises he will help find a cure once he has rescued his wife. Foster wishes him luck.[48][47]