"It's our policy not to comment on ongoing operations, but I can assure you that S.H.I.E.L.D. has the situation completely under control."
The specific order and/or accurate dates presented in this article has never been confirmed by Marvel Studios and/or Marvel Television, and therefore it can be inaccurate, incomplete, or partial.
"Dread it. Run from it. Destiny arrives all the same... and now, it's here. Or should I say... I am."
This is a timeline of events that occurred during 2018.
2018
April
26th
27th
28th
29th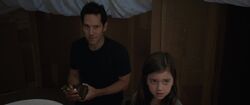 Scott Lang plays a game with his daughter Cassie, using cardboard boxes to pretend they are crawling through tunnels on a heist. They reach the "treasure", which Cassie had chosen to be a trophy she bought Scott for his birthday, and says she wants to take it into school for show and tell. At the same time, Luis, who is visiting, talks to Scott about a pitch X-Con Security Consultants are preparing for providing security to a company called Karapetyan. Scott and Cassie complete the course, sliding out of the house as their "escape", but when they reach the bottom, Scott's leg goes the fence and his house arrest ankle bracelet sets off an alarm.[3][2]
The FBI, led by Scott Lang's parole officer Jimmy Woo (a former ally of Melinda May's[4]), arrive at the house. When Cassie asks why they have to visit, Woo explains to her how Scott broke the Sokovia Accords in Germany and had to make a plea deal to return to the United States of America that required him to spent 2 years under house arrest, showing little understanding of how to talk to children. Cassie's mother, Maggie, then arrives with her boyfriend Jim Paxton to pick her up.[3][2]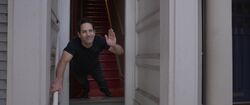 30th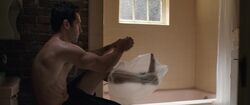 After 2 days trying to keep himself busy, Scott Lang falls asleep in the bathtub and has a vivid memory-like dream where he sees a young Hope van Dyne from the perspective of her mother Janet.[3][2]
Intrigued by his vision and thinking it could be important, Lang takes a secret burner phone from its hiding place and calls Hope van Dyne and Hank Pym about the vision. They do not pick up, but he leaves a voicemail. Realizing that he probably sounds stupid as he speaks, he decides to hang up and break the phone.[3][2]
Considering Lang called them 5 minutes after they activated the tunnel, Pym and van Dyne consider that the timing is not coincidence and the opening of the Quantum Realm might have activated a message in Lang's head.[3][2]
Hope van Dyne breaks into Scott Lang's house, shrunken down. Flying up to Lang in the Wasp suit, she tranquilizes him and puts his ankle bracelet on a human-sized ant, who is instructed through Hank Pym's electromagnetic wave control system to repeat Lang's daily routine, so the FBI's suspicions are not aroused when tracking him.[3][2]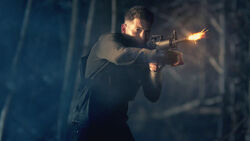 May
1st
Scott Lang wakes in van Dyne's car, which he comes to realize has been shrunken down to drive without being noticed. Van Dyne explains about the ant replicating his routine, and Lang attempts to apologize for his actions in Germany making them fugitives. Van Dyne dismisses this, saying they just want to bring him in because of what he has said was in his head.[3][2]
Hope van Dyne takes Lang to the research laboratory where she and Hank Pym have been developing a tunnel for the Quantum Realm in the hopes of bringing Janet back. After Lang describes his dream in full detail, Hope and Pym deduce that he and Janet have a quantum entanglement because of the time he spent in the Quantum Realm.[3][2]
The trio leave the laboratory, and Pym shrinks the building down to a suitcase size to bring it along in their van. They drive to the restaurant Oui, where Hope van Dyne has arranged a meeting with gangster Sonny Burch to pick up a necessary component for the tunnel.[3][2]
Battle at the Oui:

Van Dyne meets with Burch, under the pseudonym of "Susan". However, Burch reveals that he knows who she really is and has arranged a potential purchase of Pym's laboratory for $1,000,000,000. Van Dyne turns down his offer, but Burch then refuses to give over the component.[3][2]
Van Dyne pretends to leave, before donning the Wasp suit and returning to attack. Due to being a tiny target, they are unable to hit her when they start shooting.[3][2]
Wasp follows Burch's men into the restaurant kitchen and swipes a salt shaker at, Uzman, the man carrying the component, enlarging it in front of him to knock him out.[3][2]
Burch's remaining men struggle with Van Dyne's repeated change of size, and she takes them all down, before picking up the component.[3][2]
Van Dyne heads out of the restaurant, but before she can leave, she is attacked by a mysterious figure in a white suit. The figure phases in and out of tangibility, causing Wasp trouble as she tries to fight back. The figure, known as Ghost, manages to take the component for herself.[3][2]
Hank Pym gives Scott Lang and updated Ant-Man suit, allowing him to join Wasp and help her.[3][2]

Lang brings Pym and van Dyne to hide at the X-Con Security Consultants office. There, they develop a plan to get the laboratory back, and Pym realizes that they need a quantum spectrometer to track its radiation. He reluctantly informs them that they will have to get one from his estranged ex-work partner, Bill Foster.[3][2]
Ghost returns to her hideout and gets herself into a Quantum Energy Chamber so as to stabilize her molecular disequilibrium.[3][2]
Scott Lang, Hank Pym, and Hope van Dyne go to meet Professor Bill Foster at Berkeley University, finding him giving a lecture.[3][2]
The trio sit down with Foster, who discusses how he used to work with Pym on Project G.O.L.I.A.T.H., where he grew up to 21 feet tall - a precursor to Lang's ability now to grow as tall as 65 feet. Their meeting is interrupted when Lang realizes Jimmy Woo and the FBI are outside. They make their way to leave, but not before Foster tells them that they can locate the lab by modifying a defractor from one of the suit's regulators.[3][2]
Pym explains to Lang and van Dyne that he removed the defractor from the new suits, but Lang ashamedly admits that he mailed himself his Ant-Man suit before turning himself in, rather than destroying it, angering Pym due to his actions putting it at risk of being stolen.[3][2]
Scott Lang calls Luis, saying he needs Cassie's trophy, as that is where he has hidden the suit. Luis tells him, however, that it is not there, and Scott realizes Cassie has taken it into school for show and tell.[3][2]
Scott Lang and Hope van Dyne go to Cassie's school, Brookemont Elementary, to retrieve the suit. During the infiltration, Scott discovers that his new suit, a work-in-progress, is experiencing problems with the regulator. It enlarges him within a closet, but when van Dyne takes a look at it, it then shrinks him to the size of a small child.[3][2]
Lang dons a child's hoodie from the lost and found, which can fit on his shrunken body, and sneaks through the school until he finds Cassie's classroom. The duo retrieve the suit and get away.[3][2]
2nd
Hank Pym tells Hope van Dyne he loves her, in case he does not return from the Quantum Realm.[3][2]
As soon as Pym has gone, van Dyne has Lang control an ant to remotely shrink the lab. Lang explains to Ghost that they intentionally led her away from the building and shrinks to escape as she angrily watches van Dyne leave with the building.[3][2]
Lang mounts a flying ant to meet van Dyne and Luis, but as van Dyne begins to drive, she is stopped by Sonny Burch and his men in a convoy of cars. She maneuvers the van to slip past them and begins to drive away as fast as she can, with Burch's convoy in chase. When the first car tries to crash into Luis and van Dyne, van Dyne shrinks the van so the car swerves off the road.[3][2]
When one of Burch's cars catches them, Hope van Dyne shrinks the van again so it can drive under the chasing car. Van Dyne then grows the van again from underneath the vehicle, pushing it up and flipping it to the side.[3][2]
Van Dyne keeps driving, luring the cars to Lombard Street, and uses its winding design to cause a chasing car to crash as they are unable to turn fast enough when she shrinks the van. The car behind then crashes into it and flips over onto the street, sending bricks flying, which cause Luis to panic as, while shrunken, they seem huge.[3][2]
Hank Pym loses signal due to the chaos of the lab's movements. He gets stuck in a tardigrade field and as his ship recalibrates, he observes the beauty of the Quantum Realm. However, the tardigrades, relatively giant to the size of the ship, begin to close in. The ship restarts just before they can cause problems, and he continues traveling through the realm.[3][2]
Hank Pym reaches the quantum void and engages thrusters to reach Janet van Dyne's coordinates. He breaks through into a colorful section of the Quantum Realm and lands on a surface he finds.[3][2]
Luis realizes he has the remote to grow the lab and that he needs to get it to Ant-Man and Wasp so Hank Pym can safely return. He lets them know, and they tell him that since the van is ruined, he needs to open the Hot Wheels case to grow one of the cars and drive the remote to them.[3][2]
Luis gets away in the car, and Sonny Burch realizes he has the remote, chasing him. When they start to chase him, Luis shrinks the car to avoid the bullets, before regrowing. He asks for help and Wasp goes to take out the men after him as Ant-Man goes to retrieve the lab.[3][2]
Wasp breaks into a car chasing Luis and repeatedly shrinks and regrows to cause the men inside's punches to miss her and hit each other. The driver loses control and veers off the road, and Wasp flies out, joining Luis in his car.[3][2]
Ant-Man, still giant, catches up with Sonny Burch and kicks his van off-road. Burch gets out, carrying the lab, and hurries into an alley, where Ant-Man is unable to follow him as he cannot fit and finds himself unable to shrink due to the faulty regulator.[3][2]
Ant-Man runs around the buildings to find Burch and discovers that he has boarded a ferry, still carrying the lab. He eventually manages to shrink back to ant size and summons nearby flying ants, but they are repeatedly eaten by seagulls who swoop in. He eventually boards one, whom he names Ant-tonio Banderas, and flies out over the harbor, but Ant-tonio is eaten by another gull and he falls into the water.[3][2]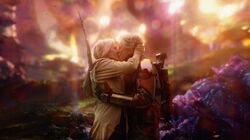 Ant-Man, giant-sized and dubbed "Giant-Man" by the news, wades back to the harbor pier with the lab, but becomes fatigued by the time spent enlarged.[3][2]
Jimmy Woo sees Giant-Man on the news and, believing Scott Lang must have left house arrest, leaves to apprehend him.[3][2]
Jim Paxton and Maggie and Cassie Lang watch the news, and Cassie smiles at her father's success.[3][2]
Giant-Man puts the lab back on land but, just as Hope van Dyne and Luis arrive at the harbor, he falls asleep in the water and sinks to the seabed. Van Dyne sends Luis to pick up the lab as she dives into the water to save Lang.[3][2]
Luis runs to the lab, remote in-hand, but Ghost arrives and kicks him out of the way. She takes the remote and grows the lab on the harbor.[3][2]
Notified that the lab has been regrown and thinking it is safe to return, Hank Pym and Janet van Dyne launch the ship and begin their ascent out of the Quantum Realm.[3][2]
Hope van Dyne is unable to wake Scott Lang, so amends his regulator, allowing him to shrink to ant size. She picks him up in her hand and swims him to the surface.[3][2]
Sonny Burch's men catch Luis and prepare to shoot him. However, before they can, Kurt and Dave electrocute them with Tazers.[3][2]
Bill Foster catches up with the lab and enters to try to dissuade Ava Starr from going after van Dyne. He tells her what Pym told him: that van Dyne will be able to help cure her, but Starr refuses to take the risk, desperate to rid herself of her pain. She enters a Quantum Energy Chamber and, using the coordinates locked onto van Dyne, begins to siphon quantum energy from her.[3][2]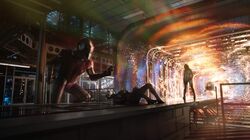 3rd
5th
8th
11th
9th/13th
Hank Pym takes Janet van Dyne to a beach. He reveals to her that he shrunk their house down and has taken it with them, regrowing it on the sand for a relaxing and comfortable time together.[9][2]
13th
15th
16th
3rd/17th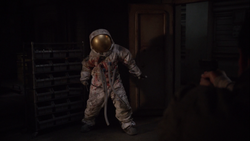 Leo Fitz is busy working, desperate to find a way to compress gravitonium so as to close the Fear Dimension for good. He and Jemma Simmons discuss what their wishes would be if the dimension were for wishes instead, and Simmons mentions potentially having a honeymoon. The astronaut manifestation suddenly attacks and kills an agent helping them, before Simmons shoots it and it reduces to wisps of smoke.[3][18]
Yo-Yo Rodriguez tests the new robotic arms that Alphonso Mackenzie and Leo Fitz have worked on for her. She is desperate to get fighting again, but Mackenzie tells her that it will take time, but in the meantime, the team will protect her.[3][18]
Fitz tries to ask Deke Shaw about gravitonium but he is distant, thinking about Fitz and Simmons being his grandparents. When they get his attention, he explains that he does not now much about the material. Fitz and Simmons leave to look for Franklin Hall's notes for further insight, and Daisy Johnson gets a location on General Hale's phone, believing her to have slipped up.[3][18]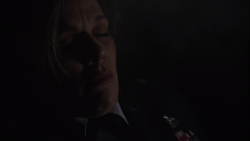 Capture of Hale: Hale is driving when suddenly her car hits an invisible ramp. The car drives unwittingly into a cloaked Zephyr One, and the agents throw a gas canister into the vehicle to render her unconscious. Phil Coulson thanks Piper for her help in giving them Hale's phone number, saying it can be the first step for her redemption.[3][18]
Deke Shaw finds Fitz and tries to help him, but is suddenly knocked out by the man, who is not Fitz as they know him, but the Doctor from the Framework.[3][18]
Fitz returns to the control room having not found any physical notes from Dr. Hall. He asks Johnson if she found any digital copies, but she has not, and he becomes anxious, frustrated, and stressed. The monitor then shows two cameras suddenly go out downstairs and Johnson leaves to check the floor herself.[3][18]
Fitz desperately tries to work out what to do, but is interrupted by the Doctor. Fitz is terrified to see him, believing him to be a manifestation from the Fear Dimension.[3][18]
Yo-Yo Rodriguez tells Alphonso Mackenzie that she wants to help, but Mackenzie insists on just moving her hospital bed to a safer floor. Before they can act, what appears to be one of Hale's Sleeper Mechs enters with a gun.[3][18]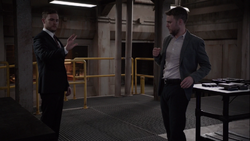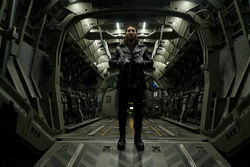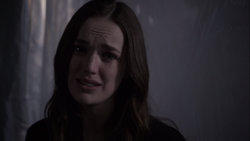 The Doctor tells Fitz he is removing Johnson's inhibitor, and Fitz is horrified. The two Fitzes argue, and Daisy Johnson becomes confused. Simmons enters and suddenly Fitz stops seeing the Doctor, and does not understand, but Simmons explains to him what she has worked out: the Doctor was never there. He was not an anomaly from the Fear Dimension, but a result of a psychic split Fitz is experiencing following his time in the Framework, with the Doctor personality taking control over the day and having got Fitz to separate Johnson from the others.[3][18]
Upset, Fitz begins to slip back into his dangerous Doctor mindset, and says that this personality simply has the will to do what Fitz does not: to risk Johnson's paralysis and the destruction of the Earth in order to restore Johnson's powers so she can compress the gravitonium and they can close the rift that endangers the planet. He refuses to deactivate the Sleeper Mechs that arrive and hold Simmons, as well as the now-arriving Deke Shaw, at bay, and removes the inhibitor. Johnson mutters that she will never forgive him.[3][18]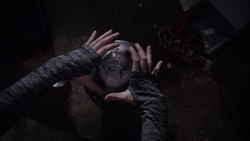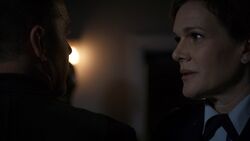 4th/18th
Coulson wakes in the academy and, as with Glenn Talbot 6 months prior, finds cereal and is approached by Ruby Hale, only for her to ignore him. Unlike Talbot, however, he is unfazed.[3][19]
Just like with Talbot, Hale takes Coulson to see the Phase Harmonic Teleportation Device. She sets the longitude, latitude, and altitude destination and forces him to touch it as they are teleported to see Qovas.[3][19]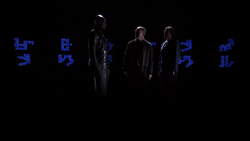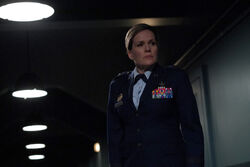 Ruby Hale visits Coulson in his room and asks how, if the "Destroyer of Worlds" caused the planet to fall apart, she fails in the future. Coulson explains to her that she, in fact, was not the Destroyer of Worlds, and Hale surmises that it is in fact Daisy Johnson. She asks where Johnson is, wanting to take her out, but Coulson says he will not talk. Hale shows him what happened to the last person who said that - bringing out Glenn Talbot, who is haggard and exhausted, broken by Hale's six months of torture.[3][19]
5th/19th
Daisy Johnson and Melinda May realize through General Hale's connections that she works for HYDRA. May realizes that with Leo Fitz still struggling with his HYDRA persona, they can ask him how Hale might think.[3][19]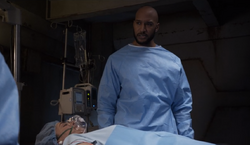 Alphonso Mackenzie and Jemma Simmons operate on Yo-Yo Rodriguez to affix her new robotic arms. He tries to comfort Simmons, saying that he knows through having been changed by the Framework himself that at Fitz's heart is his good self. The arms begin to work, and Mackenzie informs Simmons of Rodriguez's assertion that she cannot be killed, which interests Simmons.[3][19]
Fitz tells May that he believes Hale is building a weapon, but that to work out why she needs Coulson, he will need resources and access outside of his cell. Johnson bursts in and says that this is not an option as he cannot be trusted. May tells Johnson to remember that he is on their side, but Johnson says not to defend him. Fitz states that he cannot apologize because in doing what he did, he saved the lives of the town of River's End, as well as potentially many more if the rift had continued to grow. She says that they do not turn on each other, but Fitz points out that she has done it herself. Johnson storms out, saying that they will find another way.[3][19]
Johnson tells May that she is flying to take Robin Hinton out of hiding so she can ask the girl what she knows.[3][19]
Jemma Simmons enters Leo Fitz's cell and hands him his multipurpose tool, as well as an almost identical, but older-looking one. She explains that the older one is from Deke Shaw, who got it from his grandfather: Fitz. Fitz is not pleased to find out that Shaw, whom he finds irritating, is his grandson, but Simmons reminds him that this means they have to live into the future, and are thus invincible.[3][19]
6th/20th
Phil Coulson sits in isolation without food or a bed to sleep in. Hale hopes it will make him more ready to give them information.[3][20]
Having obtained gravitonium, Hale offers Carl Creel the chance to experience the new material. Ruby Hale suggests that they offer Coulson something in exchange for help learning about how gravitonium works, but her mother says that they tried already and now they just need to torture him.[3][20]
Creel touches the gravitonium, but is suddenly yanked in by it and thrust into the air. He tells Hale that he believes the material is in some way alive.[3][20]
Alphonso Mackenzie visits Yo-Yo Rodriguez, who is testing out her new robotic arms on a punching bag. He advises that she take care with the new arms and in general, considering her gung-ho attitude.[3][20]
Leo Fitz takes another look at Deke Shaw now that he knows he is his grandson, and is vocal in how he is disappointed that of all the people in 2091, Shaw had to be his descendant. Shaw admits that Fitz's actions with closing the rift made him respect him more, as it reminded him of the tough decisions he and others had to make in 2091 to survive.[3][20]
Jemma Simmons asks Shaw how much he knows about her and Fitz's lives, and he tells her that he knows they survive to live in the Lighthouse. Now knowing that, like Rodriguez, she and Fitz cannot be killed, she asks him to not say any more about her future.[3][20]
Simmons tries to convince Daisy Johnson to let Fitz help because his aid can be much more clear and immediate, but she refuses. She says that Zephyr One is leaving to pick up Robin Hinton and that Mackenzie is under orders to keep Fitz locked up. Simmons leaves and Johnson tells Melinda May that once they find Phil Coulson, she will relinquish her new leadership position.[3][20]
Simmons questions Yo-Yo Rodriguez about her feeling that she cannot die. Rodriguez worries Simmons is doubting her but Simmons explains that she agrees with her and informs her about Shaw being her and Fitz's grandson and thus the proof that they also survive. With Johnson not listening, she decides that they must get Fitz out themselves to start acting, saying that while Alphonso Mackenzie is the only person with control over Fitz's cell door, she knows how to get around him.[3][20]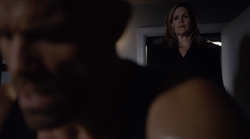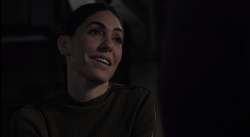 Yo-Yo Rodriguez asks Alphonso Mackenzie to release Fitz, but he refuses, saying to ask Coulson when he gets back, but Rodriguez says this is too late. When she continues to suggest that she is happy to act recklessly, Mackenzie becomes frustrated with her, and asks if she has perhaps considered that the only reason she survives is because he is advising caution right now.[3][20]
Carl Creel hears the voices in his head talking about Coulson, and decides to leave to find him.[3][20]
Creel attacks Coulson, saying that the voices in his head want him dead, but Coulson informs him of what Hale has done to Glenn Talbot. Creel is not sure who to believe, but when Coulson's Sleeper Mech guard returns, he is forced to make a decision, and snaps its head off, telling Coulson that he will trust him for now, but kill him if he is lying.[3][20]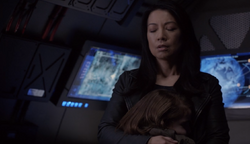 Polly Hinton gives Daisy Johnson Robin's last drawing - one of her own death - and wonders what it could mean. Johnson lies and says she is not sure. Robin, meanwhile, gets up and walks over to Melinda May, calling her "mom". She hugs her and proudly says that she told her Flint would get her back home. Polly is left hurt by her daughter ignoring her.[3][20]
Creel and Coulson find Glenn Talbot, who is still muttering to himself and slightly mad. They convince him to come with them, and Coulson asks him to quieten down.[3][20]
Liberation of Leo Fitz:

Jemma Simmons tells him that of the four beakers, three contain water while one contains a phosphoric acid compound, and that she will drink a random three to prove her invincibility, as despite the odds, all three will be water because she cannot be killed. Simmons drinks the first and second beakers, both water. Mackenzie threatens to shoot Simmons non-fatally to stop her from drinking more, but Simmons calls his bluff and drinks a third beaker. However, when she does, she collapses and starts writhing on the floor.[3][20]

Desperate to save his wife, Fitz begs to be released so he can help, and Mackenzie relents. However, as soon as Fitz is out, Rodriguez uses her super speed to push Mackenzie into the cell and lock it, and Simmons reveals that she was faking, having drank water again. Fitz is relieved, having not been warned about the stunt, but Simmons reveals that she was not entirely lying, having genuinely filled one beaker with acid.[3][20]
Rodriguez apologizes to Mackenzie and turns to pick up his gun. However, not in full control of her new arms, she accidentally pulls the trigger and fires a bullet. The group realize none of them have been hit and, believing that the hypothesis that they cannot be killed has been proved between the beaker test and the luck with the bullet, the trio prepare to set off.[3][20]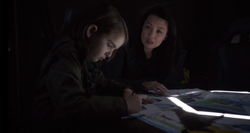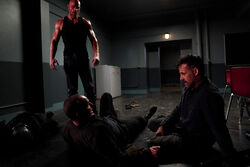 As the alarm sounds throughout the academy, Coulson, Creel, and Talbot are attacked by Sleeper Mechs. When Coulson is punched in the chest, his weakened heart stops. Creel touches one of the deactivated Sleeper Mechs, turning himself to metal and conducting its electricity to jumpstart Coulson's heart, reviving him.[3][20]
Ruby Hale arrives with more Sleeper Mechs and they pursue the trio as they run to make an escape.[3][20]
Melinda May and Polly Hinton talk about Robin. Polly admits that she has noticed she is not in Robin's drawings of the future, so knows she will likely die soon, but May assures her that will not happen. Robin spots calls to her mother to come and sit with her, and Polly is pleased that her daughter still wants to call her "mommy" despite ignoring her earlier.[3][20]
Escape from the HYDRA Preparatory Academy:

Coulson, Talbot, and Creel believe they are trapped, but Coulson has an idea. He takes Talbot with him as Creel stays behind to fight and buy them time.[3][20]
Phil Coulson shows Glenn Talbot the Phase Harmonic Teleportation Device, and sets a random location on Earth. They teleport away to safety.[3][20]

Creel is met by Ruby Hale and fights her. She throws a ring blade at him and he uses the stick he is carrying to turn his chest to wood, allowing it to lodge in the material rather than kill him. Her mother enters and sends Ruby after Coulson and Talbot.[3][20]

Coulson and Talbot arrive at the random location: a snowy environment in the South Jasper Ranges - the same mountains Robin Hinton drew for Melinda May.[3][20]
Leo Fitz, Jemma Simmons, and Yo-Yo Rodriguez arrive in Herefordshire, England - the first of three potential locations for Hale's weapon, and the most likely according to Fitz due to hints from Gideon Malick. The trio skydive to the ground, leaving the autopilot to park the Quinjet nearby and cloak it.[3][21]
Glenn Talbot tells Phil Coulson that he feels like he let people down, as they walk through the snow to find somewhere warm.[3][21]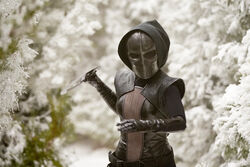 Ruby Hale finds the Phase Harmonic Teleportation Device and activates it, teleporting herself to the two men's location. She starts to follow their footprints left in the snow.[3][21]
The team on Zephyr One, led by Daisy Johnson, decide to land near the location of Robin Hinton's drawing so they can search for Coulson.[3][21]
Ruby Hale catches up with the men and throws a ring blade, missing, but having it return to her immediately. Before she can attack further, Agent Johnson arrives and quakes Hale aside. Coulson is concerned about her having her powers back, but relieved for the rescue, and Melinda May helps him and Talbot back to the plane.[3][21]
Ruby Hale expresses her excitement to be meeting Quake, but says that while she has a fascination with Johnson, she does not want to be her, she wants to beat her. They engage in a fight and Deke Shaw, despite being told to leave, lingers in case Johnson needs help. Ruby manages to cut Johnson, but she quakes the young girl away again. However, General Hale arrives on the scene and opens fire, and Shaw is shot.[3][21]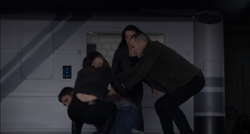 The trio in England move in on the base. Fitz reads an encrypted radio signal and realizes there are vehicles incoming. They hide as trucks arrive with Sleeper Mechs, and notice that they are led by Anton Ivanov.[3][21]
Piper and Mackenzie work to save Shaw. Coulson and Talbot watch on, and Coulson tells him what his team encountered in the future, as well as the fact that he will die soon. Talbot is disappointed that Coulson does not have good news, so Coulson reassures him that they are trying their best to cause a better future.[3][21]
Melinda May takes Phil Coulson aside and angrily asks why he handed himself over so readily, saying that he is giving up too easily. Coulson objects, but May says that he is not the only person affected by his death, as the people who love him also should be involved in his decision-making. She admits that she is one of them - that she loves him, which leaves him speechless, then leaves.[3][21]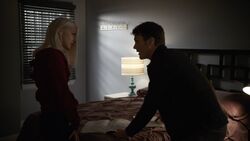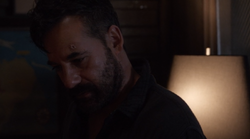 Daisy Johnson visits Glenn Talbot, who is momentarily alarmed, remembering how he was shot by someone who looked like her. He comes to his senses, recalling that it was not actually her, and she asks him if he wants anything. Talbot says he wants to contact his wife and son, but Johnson believes this too risky. He becomes upset and frustrated, saying that he abandoned his family and is desperate to talk to them, and Johnson says that she might be able to find a secure channel. She asks him to tell her everything he remembers about Hale.[3][21]
Leo Fitz and Jemma Simmons look at the technology in the laboratory. Yo-Yo Rodriguez reveals what she learned from her 2091 self: that trying to save Coulson is what leads to the end of the world, and they need to let him die. Before they can discuss it further, the door begins to rattle as the Sleeper Mechs return. They make a plan to open the door momentarily as Rodriguez uses her super speed to take the androids out, but when they try, Rodriguez finds herself incapable of action and screams in pain.[3][21]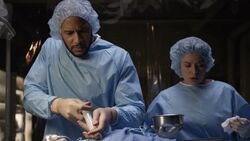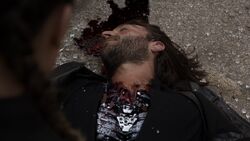 Ivanov attacks Rodriguez and insists that he no longer feels pain. However, Rodriguez manages to push him through a window, killing him.[3][21]
Simultaneously, inside the building, the Sleeper Mechs deactivate.[3][21]
Rodriguez realizes that Ivanov was controlling all the androids, so in killing him, she took them all out.[3][21]
Deke Shaw wakes, delirious from painkillers. With no self-control, he blabs about how he fancies Daisy Johnson and wants to kiss her. Mackenzie puts him back to sleep just as Johnson enters and lets them know that they have found a signal from Hale's androids.[3][21]
Leo Fitz concludes that they are safe, since whatever caused the mechs to fail, they are now deactivated. However, Ruby Hale and Werner von Strucker then enter, threatening them with a gun. Von Strucker realizes that they have destroyed a component for the chamber and need it repaired, so Hale threatens to slice Jemma Simmons' throat with her ring blade unless they fix it. Fitz reluctantly agrees.[3][21]
Daisy Johnson informs Talbot that she has found a way to get him a line to talk to his family very briefly. He calls and his wife, Carla, picks up. However, unbeknown to him, Candice Lee has found her and forces her to read the set of conditioning words from a card to her husband. Due to Hale having conditioned him during the 6 months she had him in prison, the words trigger him to comply to HYDRA's will.[3][21]
With his HYDRA conditioning activated, Glenn Talbot mutters to himself confusedly that he has to complete his programmed mission.[3][22]
Talbot goes to disable security feeds, thus allowing him to roam the Lighthouse without hindrance. Alphonso Mackenzie catches him and questions what he is doing, but Talbot explains that he is simply confused from his 6 months imprisoned by Hale, and Mackenzie shows him sympathy, letting him go.[3][22]
Ruby Hale continues to threaten Jemma Simmons' life to motivate Leo Fitz, having spent several hours working on fixing the Particle Infusion Chamber, but not yet sorted the problem. Fitz is stressed, worried for Simmons and yet wanting to stall the chamber's completion. He requests that Hale let Simmons go, stating that he needs her help. Releasing Simmons, Hale admires their relationship, and Fitz responds to remind her that everyone she loves will die if they go ahead with making her the Destroyer of Worlds. Hale shows little care for this, remarking that there are not many people left who she cares about. Werner von Strucker returns to the room, having found Anton Ivanov's dead body, which gives Fitz and Simmons some hope that Yo-Yo Rodriguez escaped. They tell Hale that the remainder of the process will take some time, but Hale simply threatens that if they do not hurry, she will begin to dismember them, like she did to Rodriguez.[3][22]
13th/20th
Scott Lang spends another weekend with his daughter, Cassie. Hope van Dyne joins them and the trio get into one of Hank Pym's shrinking cars, shrinking it so they can use a laptop as if, relative to them, it were the size of a cinema screen. They watch Them!, and Cassie tells van Dyne she wants to be her father's partner, but explains that he wanted to work with her instead, which makes van Dyne smile. A moth flies onto the laptop screen and Scott turns on the car headlights to scare it away, but instead accidentally attracts it to the vehicle, causing the moth to bother them as they laugh together.[9][2]
7th/21st
8th/22nd
General Hale uses the Phase Harmonic Teleportation Device to visit Qovas. She tells him that S.H.I.E.L.D. still have the gravitonium he wants, but that she can tell him where they are hiding. He asks if she wants them to be killed, and, mourning for Ruby, she says that she now has no reason to stop him.[3][22]
9th/23rd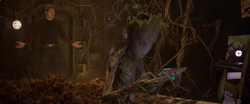 16th/30th
The Bifrost continues to transport Hulk to Earth, heading specifically to New York City in the United States of America.[3][26]

Just as Doctor Strange and Wong are about to leave the New York Sanctum, Bruce Banner crashes through the ceiling. Worried that they might be under attack, Strange and Wong run to where Banner has landed, only to find him shocked and in fear. Banner simply warns them, "Thanos is coming."[3][26]
Pepper Potts and Tony Stark are out running in New York City and discuss their upcoming wedding. Stark tells Potts that he had a dream in which they had a child called Morgan, and wondered if it might be a sign that she is pregnant, but she denies this. They are suddenly interrupted when Doctor Strange opens a portal next to them and steps out to tell Stark that they need his help, and the universe is at stake. Stark is not sure whether to trust Strange until Bruce Banner steps out from behind the sorcerer, reuniting with his friend after 3 years in space. Stark is stunned, but agrees to go through the portal with them to the Sanctum.[3][26]
Stark is brought up-to-date as Wong, Strange, and Banner explain about the Infinity Stones and Thanos. The group realize they need to contact Vision, who has the Mind Stone embedded in his head, but Stark explains that he has been off-the-radar for a fortnight, and that the only way to find him might well be calling Steve Rogers. When Banner is confused by why this might be a problem, Stark explains what happened in 2016, when the Avengers were broken by the conflict between him and Rogers. However, Banner still insists that Stark should put the grudge aside considering the stakes at play, and Stark reluctantly gets out the burner flip-phone Rogers had left him.[3][26]

Aboard the Benatar, the Guardians of the Galaxy travel across space to answer the distress call sent by the Asgardian ship. However, on arrival, they are shocked to find the Statesman in ruins and debris floating in all directions. As they look at the wreckage, an unconscious Thor floats in front of them and hits their windscreen.[3][26]
After bringing him inside, Mantis uses her powers to wake Thor so the Guardians can question him. Thor jolts awake and is surprised by his surroundings, but proceeds to explain what has transpired, telling them of the attack on Xandar, the destruction of his ship, the deaths of his best friend, his brother, and half his people, and Thanos' acquisition of two Infinity Stones. He tells the Guardians that he needs to leave and travel to Nidavellir in an escape pod, hoping to forge a new Uru weapon capable of killing Thanos, and warns them that they should check the Reality Stone is still safely in the possession of the Collector on Knowhere. Interested in the weaponry, Rocket Raccoon decides to go with Thor to the Dwarven forge, and brings Groot along.[3][26]
In the Lighthouse, Glenn Talbot is trying to sleep. However, he finds his rest disturbed by a set of coordinates repeating in his head that he does not understand.[3][28]
After several days spent apart, with Deke letting his arm heal, Fitz, Mackenzie, and Simmons working on giving the Quinjet space capabilities with gravitonium, May and Johnson working on saving Coulson, and Johnson and Coulson preparing to deal with the remaining gravitonium, Coulson's team finally come together for the first time since Yo-Yo Rodriguez killed Ruby Hale. They convene to discuss the finalized plan to slingshot the remaining gravitonium into the Sun, but when General Hale is mentioned, Mackenzie asks for someone to explain how they lost her in Herefordshire. This sparks an argument about the morality of Rodriguez's decision, with her standing by her decision to kill Ruby Hale as necessary for saving the world and Leo Fitz and Jemma Simmons backing her up, but the others believing it was not justified. Coulson dismisses them to pursue their own individual tasks, thus breaking up the argument.[3][28]
Knowing that Coulson would object to their actions, May takes Daisy Johnson aside to talk in secret about their pursuit of a cure for his affliction. She tells Johnson that Tony Caine says he has found something to help, and that when she delivers Polly and Robin Hinton to him, she should ask him for what he has found.[3][28]
Deke Shaw talks to his future grandparents, Fitz and Simmons, about the possibility that if they change the future, he will stop existing. Shaw, however, suggests once again that the multiverse theory may be true, and he is from an alternate universe - that this would make him safe if, indeed, the future of this universe is different.[3][28]
Glenn Talbot continues to mutter coordinates, but comes to a realization of what they mean. He calls for Phil Coulson.[3][28]
Coulson visits Talbot, and Talbot tells him about the coordinates. He says that he has realized why his HYDRA programming had led him to the hangar - he was broadcasting the location of the Lighthouse to Hale. Coulson is shocked as he realizes this means they could be under attack by Qovas and the Remorath.[3][28]
Sure enough, Qovas' ship materializes over the Lighthouse in New York, preparing to attack.[3][28]
Coulson's team realize that the Remorath above have cut off all their communication signals to the outside world. In reaction to the threat, the Lighthouse programming automatically triggers "Project: Reclamation" - the project for which it was built, giving options for extra protection against a threat or catastrophic event. Another video of Rick Stoner begins, walking them through the options for defense. As Stoner lists the options, Coulson decides that the one most befitting their situation is "nuclear attack", prematurely selecting it before Stoner then states that there was, in fact, another option specifically for alien invasion. The nuclear attack selection locks the building down, with Stoner informing them that they are locked in for 15 years. Coulson tries to stay calm despite his mistake. He takes the tannoy to hesitantly inform the other agents of the situation they are in, adding that all being well, there should be a way out of their predicament.[3][28]
Qovas contacts Coulson with a live feed from his ship. Coulson tries to stay defiant and despite Qovas' threats, he insists that him and his agents are safe, and that as soon as the government find out about the ship, they are likely to shoot it down.[3][28]
Talking properly for the first time in days, Yo-Yo Rodriguez tries to explain her actions to Alphonso Mackenzie, knowing that he is angry at what she did. He tells her that he, too, has had violent urges, but that as part of S.H.I.E.L.D., they should know better than to lose control and act on them.[3][28]
Rodriguez comes across Melinda May, who guesses what Mackenzie told her. Understanding Rodriguez's position after having had to kill Katya Belyakov 10 years prior, she says that it will change people's perception of her, but that all she can do is to learn to live with her actions.[3][28]
The two agents get back to the control room, and Phil Coulson says he is worried as to why Daisy Johnson has not yet returned. May confesses the truth to him, that she had ordered Johnson to go dark while she performed their secret side-mission that might help save him. On hearing this, Rodriguez begins to panic, saying that she thinks she killed Ruby Hale for nothing.[3][28]
As the sun sets, Qovas' Ship looms over the Lighthouse. His Remorath marauders gather inside, and he nods to send them on their way.[3][28]
Rodriguez tells Coulson about what her future self said in 2091, warning that they need to let him die. May argues that since Robin Hinton said Coulson will "put the pieces back together", they need to save him. However, the argument is interrupted when Coulson realizes that through the Phase Harmonic Teleportation Device, the alien attackers are able to go wherever they want, and could arrive any moment.[3][28]
The Remorath marauders use the Phase Harmonic Teleportation Device to teleport into the building.[3][28]
The marauders materialize in the Lighthouse and the lights in the corridors go out. They begin to stab agents they find, and Deke Shaw dives into a ventilation shaft to hide.[3][28]
Energy fluctuations occur throughout the Lighthouse as a result of the Remorath's presence. Shaw gets back to the control room through the ventilation shafts.[3][28]
Shaw explains that he knows the Remorath from 2091, warning the agents about their tendency to successfully hunt down everyone they target. Phil Coulson sends Yo-Yo Rodriguez to get Glenn Talbot to safety, and via video call, Leo Fitz lets the agents know that there is an analogue override in the building that will be able to get to get them out of the Project Reclamation lock-down. Shaw asks why Daisy Johnson cannot help them, then realizes that she never returned. When he asks why, Coulson bitterly tells him to ask May.[3][28]
Johnson talks to Tony Caine after he has finished getting the Hintons settled in safely. He mentions that Robin drew him a picture of a blue alien lady, and remarks how strange it is dealing with aliens, asking her if she has seen the weird alien events happening in New York, to which she replies that she is unable to watch the news these days as it bothers her. He moves on to telling her what he has found for Coulson, explaining that his research took him back to John Garrett's work, and that he has found what kept Garrett alive during the Deathlok programme: Centipede Serum, which he has the last remaining unit of. He hands her the unit but explains that the serum is missing a healing component designed and developed by the Nazis, and that the only clue he has to its source, a name, could not be found on any map. When Johnson looks at the name, however, she sees that it is "Jiaying", and realizes that HYDRA used her mother's healing ability to complete the serum.[3][28]
Knowing she needs her mother's DNA to acquire the necessary healing component of the Centipede Serum, Daisy Johnson visits Jiaying's grave and begins to dig up the body.[3][28]
Glenn Talbot continues to lift Phil Coulson up higher and higher into the sky, taking him to Qovas' ship in order to end the alien situation.[3][29]
Arriving at Qovas' docking station, Talbot and Coulson are met by Remorath who declare them prisoners. Coulson asks Talbot what his plan is, and he says that they are going to show the aliens his position of authority over them to force them to leave, again saying he will "fix" things, which concerns Coulson.[3][29]
The team at the Lighthouse discuss their concern about Talbot. Simmons informs them that Talbot took in all of the gravitonium, and mentions the fact that it has catastrophic consequences, having driven Ruby Hale insane with just 8%, highlighting that with Talbot's brain injury this could cause him a major psychotic break. Melinda May declares that they need to find him and Coulson, but Leo Fitz points out that the building has only just come back online and it could be hours before the systems are fully functional. Rodriguez asks where Alphonso Mackenzie is, and Piper explains he has gone to check for any remaining Remorath.[3][29]
Mackenzie scouts the hallways and finds one remaining marauder. The alien ingests the same odium liquid the team encountered in 2091, giving him a burst of adrenaline and making rabid and super resilient. Mackenzie shoots at him, but the bullets are once again ineffective, and he has to engage the alien hand-to-hand. He manages to outsmart the alien and beat him down with his Shotgun-Axe, but before he can kill him, May arrives and tells him to stop, as they need the marauder alive to attempt to acquire any information they can about what Coulson and Talbot are facing. Mackenzie knocks him out instead.[3][29]
Talbot and Coulson are taken before Qovas, and Talbot claims the ship for himself. Qovas dismisses his claim, but Talbot uses his new powers to crush one of the Remorath the same way he had in the Lighthouse. Realizing that Talbot has the power to end their lives in an instant, Qovas and his marauders reluctantly kneel before him as he demands.[3][29]
Yo-Yo Rodriguez finds Mackenzie and asks if he is okay. However, when she tries to further the conversation to talk again about forgiving her, he explains that May and Simmons are waiting for him and walks away.[3][29]
May, Mackenzie, and Simmons interrogate the marauder they found, keeping him chained to the floor and ceiling. He rants about the liquid he consumed, telling them it is called the odium, and exclaiming that it gives them the powers of the gods. He grows increasingly rabid, shaking and straining in his chains until one chain breaks, but as he does so, the odium finishes taking effect and his heart stops, dying with odium dripping out of his mouth. Simmons explains that to understand the odium better, she would have to dissect him, and the other two encourage her to do so.[3][29]
Glenn Talbot expresses his pride in his work, but Phil Coulson warns him that they need to plan more thoroughly and not make rash decisions. Talbot says he is saving the world, but Qovas calmly tells him that he is being ignorant, as the Confederacy will not stand for his actions, noting that HYDRA were never so foolish. This prompts Coulson to realize that Hale must be how Qovas found out their location, and requests to be taken to see her.[3][29]
Coulson visits Hale, and finds her repentant, having spent time alone wallowing in her grief. She explains that she has always been too angry, and never stopped to consider her love for Ruby until it was too late - that she blindly carried out HYDRA's agenda to the point where it got her daughter killed, and that makes it her fault. Coulson expresses his condolences, but asks for her help, telling her of Talbot undergoing Project Destroyer of Worlds.[3][29]
Coulson takes Hale back to Talbot and Qovas, and she tells them what she knows of the Confederacy. He is reluctant to trust his captor, but she apologizes for her treatment of him, and Coulson tells him they need her knowledge. Hale tells Talbot that now he is laced with the gravitonium, he is the only one who can save them all, and he decides to listen. She reveals that HYDRA's deal with the Confederacy was for them to protect the Earth from attack in return for Inhumans and gravitonium, the latter of which Qovas adds is a very valuable substance due to its exceptional powers that can be used to bend space and build and destroy empires. The humans decide they have to meet with the Confederacy to make a new arrangement, which Qovas argues is against Confederacy protocol, noting they would also have nothing to bargain with. Coulson, however, argues that Talbot himself is their bargaining chip due to the gravitonium in his body.[3][29]
In the Lighthouse, Leo Fitz worries that it could take hours to get the power working again, but it suddenly switches back on, as Deke Shaw steps out from behind the monitors and explains that he fixed it, as it was what he was good at in the future. The team receive a transmission from Daisy Johnson, who explains that she has been trying to contact for 30 minutes to let them know she is arriving. Shaw tells her why they were unable to pick up, explaining about the attack they underwent.[3][29]
Yo-Yo Rodriguez goes to meet Johnson when she arrives, wanting to confront her for keeping her mission secret and, in her opinion, abandoning them.[3][29]
Johnson enters and Rodriguez demands to know what is in the bag she is carrying. When Johnson refuses, she uses her super-speed to grab the bag for herself and finds the skeleton within. She asks Johnson what is wrong with her, and Johnson hits her, starting a fight. Rodriguez uses her super-speed to repeatedly punch Johnson, but Johnson takes advantage of the moment in which Rodriguez returns to her starting point, hitting her with a quake before she can run again. Melinda May arrives and breaks up the fight, informing them that they have picked up a signal of a spaceship outside of the atmosphere, believing it to be Qovas' ship, and that once the artificial gravity is installed on Zephyr One, they will be flying up to board it. She tells Rodriguez that they will continue working to help Coulson, and she can either help or leave.[3][29]
Glenn Talbot, having trimmed his shaggy hair and beard, dons robes to prepare for the visit to the Confederacy. Coulson reminds him to be careful, but he insists he knows what he is doing. Qovas takes him to the Phase Harmonic Teleportation Device, and they teleport to the Confederacy meeting.[3][29]
The Confederacy are surprised by Talbot's presence, and Qovas explains that he is there to renegotiate the terms of Earth's protection. The aliens are reluctant to listen, but Talbot confidently claims he is much more than the amateurs they have dealt with in the past, calling himself "Earth's mightiest hero".[3][29]
Deke Shaw goes to see Daisy Johnson. She comments on the lemons she found in her bed, believing it to be a prank, and Shaw, embarrassed that his attempt at showing affection went wrong, deflects it by saying it was probably Fitz. He says he has been meaning to tell her something since they became closer, and she tells him not to get close to her, as people close to her die, mentioning her mother and Lincoln Campbell. Shaw asks who Campbell is, and she explains his sacrifice and how much she loved him, saying she sometimes wonders if she still does. She asks what he was going to say, and he tells her of their discovery: that Leo Fitz and Jemma Simmons are his grandparents.[3][29]
Talbot asks to be added to the Confederacy, but is told that there can never be more than six members. He uses his powers to engulf Confederacy member Crixon with the gravitonium from his body, proving his might, and arrogantly proclaims that he has just freed a space for himself in the group.[3][29]
Alphonso Mackenzie works on Zephyr One, and Leo Fitz arrives to insert the gravitonium into the ship's system to use for artificial gravity once they head to space. Fitz tries to apologize to Mackenzie for complying with locking him up before, but Mackenzie refuses to accept his support of Yo-Yo Rodriguez killing Ruby Hale, telling him that the things he was saying about the predetermined future led Rodriguez down the wrong path. Fitz stands up for himself, saying that sometimes it is necessary to sacrifice a life for the sake of many, and that Hale was just too dangerous, but Mackenzie tells him he needs to take a look at his actions and think about what kind of person he wants to be, because lately he has been morally questionable.[3][29]
Wanda Maximoff and Vision are staying in a bedroom in Edinburgh together, with Vision having mastered his phasing abilities to make himself appear human. Vision feels a pain from the Mind Stone in his forehead. He has Maximoff use her powers, which stem from the stone, to connect with the stone and see if she can feel anything, but she tells him that all she feels is him. They share a kiss.[3][26]
Jemma Simmons is dissecting the Remorath marauder's heart when Daisy Johnson enters, showing her the Centipede Serum she has acquired and delivering the bag with Jiaying's skeleton. Simmons is reluctant to help, saying that the morality of what they are doing needs to be considered, but Johnson tells her that if she wants Phil Coulson to survive, which she affirms that she obviously does, this has to be her top priority.[3][29]
Melinda May and Davis sit in the cockpit and launch Zephyr One for its flight into space.[3][29]
Three Confederacy members leave via the Phase Harmonic Teleportation Device, so that Qovas, Glenn Talbot, and the Kree representative, who announces himself to be Taryan of the house Kasius - the father of the Kree noblemen the agents of S.H.I.E.L.D. had to face in 2091. He reveals that the Confederacy never intended to honor their agreement of protection, nor did they have the ability to, as is being exemplified as they speak; Taryan explains that an alien far beyond the Confederacy's might, known as Thanos, is currently leading his forces in an assault on the planet. Talbot insists that he must face Thanos, but Taryan says he is nowhere near capable enough, but that there might be a way to strengthen him so he can face the Titan.[3][29]
Wanda Maximoff and Sam Wilson help Vision to his feet and carry him to Rogers' Quinjet.[3][26]
General Hale and Phil Coulson look out at space from Qovas' ship, when Talbot and Qovas return through the Phase Harmonic Teleportation Device. Talbot passes on Taryan's news of "Thanos" and says that the only option they have left is for him to make himself "invincible", which he will do by tapping into an untapped deposit of gravitonium under the Earth's surface. Coulson tries to talk him down, warning of how dangerous the gravitonium is and that it could cause him to lose control, but Talbot accuses him of always doubting him and says he trusts the Confederacy member who told him about the deposit, revealing him to have been called "Kasius". Coulson pleads with Talbot to stop, explaining that the Kree ruling the remnants of humanity in the future was a Kasius, and that Talbot is being played, but Talbot tells him he is in charge now and is Earth's last hope, forcing Coulson to kneel before him under threat of crushing him just like the Remorath he killed.[3][29]
Zephyr One reaches the outer atmosphere and engages its newly installed artificial gravity, then twisting to fly vertically, using thrusters to escape the atmosphere and reach outer space. Piper and Alphonso Mackenzie help them through communication devices from the control room of the Lighthouse, and the agents get through to space, turning on cloaking as they turn in the direction of Qovas' ship.[3][29]
Sam Wilson pilots the Quinjet as the group take off from Edinburgh with Maximoff and Vision in tow. Romanoff scolds the couple for taking the risk of dropping out of contact just to appreciate more alone time, and Maximoff apologizes. When Wilson asks Rogers where they should fly to, Rogers replies, "Home," the New Avengers Facility in New York.[3][26]
Jemma Simmons congratulates Leo Fitz on the success of his work on Zephyr One allowing the team to reach space, but he shows no happiness, still bothered by Mackenzie's words. He addresses the Centipede Serum with her, asking if she really thinks it could work as he is concerned. She simply replies that the less they think about it the better.[3][29]
Taryan has Agent Johnson delivered to him, remarking that he looks forward to taking her back home with him.[3][29]
Johnson wakes in a dark unfamiliar room, and meets Taryan. He introduces himself, mentioning that he is master of the House Kasius, worrying her. Taryan explains that he believes Inhumans deserve "something better" than the way humans treat them, but Johnson suspects she knows his true motives, having seen Kasius' Inhuman trade in 2091. She asks where her friends are, but he says not to worry, as they are her past, and he is now her "future".[3][30]
Qovas tells Coulson and May they will be kept as prisoners, but they insist that they will be taking him down soon enough. He considers their threat meaningless given their imprisonment, but warns them nonetheless that if they try anything, he will release ionizer missiles on the Lighthouse. He leaves and reunites with Glenn Talbot, who says that he knows someone who may be able to help them acquire gravitonium.[3][30]
Leo Fitz and Jemma Simmons review the Centipede Serum and its potential to save Coulson. Fitz suggests that the 2091 Rodriguez's comment about the Earth's destruction came about from trying to save Coulson could be reframed with the assertion that if they do not just "try", but actually succeed, then perhaps that breaks the chain of events. Simmons is glad to hear this optimistic view, pointing out that Fitz has always believed time cannot be changed, but Fitz suggests it is time to take bold risks.[3][30]
Deke Shaw and Agents Davis and Kim talk as they run maintenance on Zephyr One, with Shaw being amazed as Davis tells him how he survived Aida's attack. Glenn Talbot then suddenly enters through the floor, boarding the plane, and on seeing Kim, he uses his powers to kill him without a second thought. Shaw and Davis hide for safety as Talbot, along with two Remorath marauders, heads for the Quinjet.[3][30]
Alphonso Mackenzie watches WHiH World News in the Lighthouse as it reports on the attack on Greenwich Village. Shaw calls him and lets him know of Kim's death, and of Talbot's state of mind.[3][30]
Talbot gets to the Quinjet, using his powers to fly it himself instead of using the jet's power. He detaches it from Zephyr One and heads back to Earth.[3][30]
Mackenzie wonders why the Quinjet's tracker is not showing up, but Yo-Yo Rodriguez realizes that if Talbot is not using the jet's power, then the tracker would not be activated. Mackenzie decides to try and force the tracker to work by remote.[3][30]
Phil Coulson and Melinda May discuss Talbot in their cell. Coulson says he feels responsible, with Talbot having entered the machine for their sake. May points out the absurdity that they have now come to care for Talbot, having detested him when they first met 4 years prior, but Coulson states that this is an example of how people do change, and that they still need to try to help. He begins to scan their cell wall with his prosthetic hand.[3][30]
Having returned to Earth, Talbot visits his old bodyguard Carl Creel in hospital. He tells Creel that he has come into contact with gravitonium and has learned how to silence the voices it inflicts, saying he can silence them for him as well.[3][30]
Daisy Johnson talks with Taryan in the dark room. He says he sympathizes with the fact that "lesser" humans hunted her, but she tells him that despite having experienced some discrimination, humans should not be generalized by this. When he replies that she will come with him willingly or not, she tries to attack him but is surprised to find herself incapable of using her powers. Taryan reveals that she is not in fact conscious, and is currently being taken by Remorath to be delivered to him, with a device planted on her forehead to allow her unconscious self to converse with him ahead of them meeting physically.[3][30]
Alphonso Mackenzie goes to Leo Fitz and Jemma Simmons, and they tell him that they might have found a way to revive Coulson's necrotic tissue. He is pleased, but informs them that Glenn Talbot is killing people, asking if they can find a way to reverse the process he underwent.[3][30]
Coulson continues to scan the wall and begins to construct a plan for an attempted escape. However, before he can take any action, the door opens and he and May find Deke Shaw at the entrance, knocking out the guard and letting them out. The agents are grateful, but tell him that they need to find Johnson next.[3][30]
Talbot offers to help Creel, extending his hand and asking for Creel to "join" him. Creel is cautious, but eventually does so, and the gravitonium in Talbot extends from his fingers to envelop him. Creel happily says that he has found peace, but Talbot then proceeds to use the gravitonium to absorb him entirely, effectively killing his old bodyguard.[3][30]
17th/31st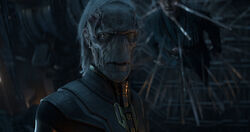 Yo-Yo Rodriguez dejectedly tells Alphonso Mackenzie that he is going to die due to their inability to make the tough choice and let Coulson die. Mackenzie speaks of his faith, saying simply that he will answer for his choices in life in heaven and receive the deserving judgment, but Rodriguez says it is not God she fears.[3][31]
Having been reluctantly informed by Robin Hinton that the gravitonium well was in Chicago, Talbot descends on the city in a piece of Qovas' ship, recklessly crashing into buildings.[3][31]
Yo-Yo Rodriguez visits Phil Coulson and tells him that she wants him to know she never was arguing for him to die, but simply for the saving of the world. He is understanding, telling her he would have taken her side as well.[3][31]
Daisy Johnson comes across Deke Shaw and thanks him for helping out. He reveals that he will be heading off to travel soon, hoping to see some of the world before it cracks or he blinks out of existence, and tells Johnson that he has never seen so much love, care, and loyalty among a group as he has with the agents. Piper then arrives and informs Johnson that they have found out Talbot is in Chicago.[3][31]
The team take off in Zephyr One for Chicago.[3][31]
Phil Coulson reminds Jemma Simmons of his carving into walls after resurrection and John Garrett's insanity after taking the Centipede Serum, saying that they should have learned to let nature take its course. May enters and tries to convince him to take the serum, leaving it next to him to self-administer before leaving.[3][31]
Original Timeline

New Timeline

Phil Coulson resolves not to take the Centipede Serum, slipping the serum instead into the Quake Gauntlets without her knowing, hoping to force Johnson to let him die and instead use it against Talbot. Unknown to him, in doing this he fulfils Robin Hinton's prophecy that he can "put the pieces back together", through his self-sacrifice causing a subtle divergence in the timeline.[3][31]
Mackenzie gets Hinton free, but before they can leave they are confronted in the corridor by two Remorath marauders.[3][32]
Destruction of Earth:

Quake runs at Talbot and thrusts herself at him with her powers, tackling him to the ground. She tells him that whether he realizes or not, he is himself becoming the "enemy" he is so bent on taking down.[3][32]

Mackenzie gets Hinton free, but before they can leave they are confronted in the corridor by two Remorath marauders.[3][31]
Battle of Chicago:

Quake runs at Talbot and thrusts herself at him with her powers, tackling him to the ground. She tells him that whether he realizes or not, he is himself becoming the "enemy" he is so bent on taking down.[3][31]
Mackenzie and Hinton find themselves cornered by the Remorath, but Melinda May and Leo Fitz arrive, hoping to prevent the prophesied deaths. They ambush the aliens from behind and kill them, saving their friends.[3][31]
Agent Davis docks the Quinjet back on Zephyr One. He realizes Coulson has collapsed again in the back and rushes to help him.[3][32]
Quake tells Glenn Talbot that he is already the hero he wants to be, as anyone who signs up to help protect the world despite the potential great loss it can entail already is one. Talbot rejects this, however, saying that this is also what General Hale and Phil Coulson said to him. He grabs hold of her and begins to fly into the air.[3][32]

Agent Davis docks the Quinjet back on Zephyr One. He realizes Coulson has collapsed again in the back and rushes to help him.[3][31]
Quake tells Glenn Talbot that he is already the hero he wants to be, as anyone who signs up to help protect the world despite the potential great loss it can entail already is one. Talbot rejects this, however, saying that this is also what General Hale and Phil Coulson said to him. He grabs hold of her and begins to fly into the air.[3][31]
May, Mackenzie, and Fitz emerge from Talbot's ship with Polly Hinton, stepping back into the building. Robin is delighted to see her mother safe and runs to hug her.[3][31]
Davis rushes Coulson to Jemma Simmons and Yo-Yo Rodriguez, explaining that Coulson did not take the serum and has stopped breathing.[3][32]
After flying high into the air, Talbot then descends fast towards the ground with Quake in his arms, building momentum and crashing her into the ground.[3][32]

Davis rushes Coulson to Jemma Simmons and Yo-Yo Rodriguez, explaining that Coulson did not take the serum and has stopped breathing.[3][31]
After flying high into the air, Talbot then descends fast towards the ground with Quake in his arms, building momentum and crashing her into the ground.[3][31]
Zephyr One is shaken by the impact. Rodriguez begins to desperately administer chest compressions on Coulson to try to revive him.[3][32]
In the crater in the ground formed by their impact, Talbot grabs hold of the winded Quake again and begins to use his powers to attempt to absorb her, saying that it will be easier to get through to the gravitonium in the ground once he can use her absorbed powers to quake the ground apart.[3][32]
Simmons runs to find the Centipede Serum to administer it to Coulson and save his life, retrieving it from its container.[3][32]
Quake tries to escape Talbot's hold, but is incapable. However, at that moment she spots the Centipede Serum syringe slotted into her Quake Gauntlets - the difference in the timeline that Hinton had sensed.[3][31]
Jemma Simmons runs back to help try to resuscitate Coulson, while Yo-Yo Rodriguez starts to use super-speed for her chest compressions.[3][31]
Alphonso Mackenzie and Melinda May desperately remove some of rocks that have buried Leo Fitz.[3][31]
| | |
| --- | --- |
| | Johnson takes a moment to consider what to do, knowing that if she uses the serum on herself, she can stop Talbot from absorbing her and cracking the world apart, but that this would mean it cannot be used to save Coulson. In the urgency of the situation, she comes to realize that the world has to be considered more important, and that Coulson has forced her hand since the serum will likely go to waste anyway, absorbed by Talbot if she does not use it. She steels herself and slips it from her gauntlet, injecting it into her neck.[3][31] |
Glenn Talbot uses his gravitonium to absorb Quake, killing her and taking on her powers in the process.[3][32]

With the additional power from the Centipede Serum, Quake breaks free of Glenn Talbot. When he runs back at her to attack again, she slides onto her back, and the moment he is directly over her, she fires a quake boosted massively by the serum directly upwards. Talbot is sent flying by the massive blast, faster than the speed of sound up into the sky and through the atmosphere.[3][31]
Phil Coulson is finally resuscitated from Rodriguez's efforts, to her and Simmons' great relief.[3][31]
Talbot prepares to use the combination of his gravitonium and newly-acquired quake powers to break through the ground and tap into the gravitonium well deep under the surface of the Earth.[3][31]
Glenn Talbot uses his powers to break through the ground, but unintentionally causes a massive seismic event of Richter scale 12.8 that causes Planet Earth to begin to crack into pieces.[3][32]
As Chicago cracks, the epicentre of the world's destruction, Leo Fitz and Melinda May rush back to Zephyr One with Robin Hinton. Fire erupts across the city and Zephyr One prepares to take off, but lingers to save the trio. S.H.I.E.L.D. agents reach from the plane to grab their friends, and Yo-Yo Rodriguez reaches for Alphonso Mackenzie through the flames, only to find no one there.[3][32][33]

May and Mackenzie lift the last of the rock off Leo Fitz, but see that his side has been punctured by a sheet of metal and he is rapidly losing blood. Fitz explains that he cannot feel his legs anymore, leading them to realize his spinal cord has been damaged. He starts to become delirious from the blood loss, shaking and not fully aware of his situation. Mackenzie crouches by his side and tries to talk to him to keep him conscious, scared that Fitz is dying. Fitz starts to repeat himself, losing all awareness as he succumbs to the blood loss. Mackenzie holds his hand as Fitz passes away on the floor, devastating him and May.[3][31]
Thor surprises Rocket Raccoon when he understands Groot's language, having learned it on Asgard. He sits down and Rocket realizes he is mourning his brother, walking to the back of their ship to speak to him. He tries to reassure Thor, but Thor ends up lamenting his numerous recent losses: Loki, Hela, Odin, Frigga, and Heimdall. He tries to steel himself and turn his mourning into motivation for the task at hand, killing Thanos, and insists he is capable, but when Rocket asks what would happen if Thor is wrong, he momentarily chokes on his words, overcome with grief as he asks what more he could possibly lose, before getting up to prepare for their arrival in Nidavellir. Rocket hands Thor a cybernetic eye he stole from a man on Contraxia, wanting to help him for the coming challenges by giving him his full vision back. Thor places it in his empty eye socket and regains full vision as they arrive at Nidavellir. However, Thor is concerned to see that Nidavellir is not lifeless and colorful, but dark and seemingly empty.[3][32]
Thor, Rocket, and Groot land on Nidavellir and look around the apparently abandoned forges. They come across a mold for the Infinity Gauntlet and become concerned, but before they can do anything they are ambushed by Eitri, the king of the dwarves. When he sees it is Thor who has come, he exclaims that Asgard was supposed to protect Nidavellir, but never came. Thor explains that Asgard is gone, and Eitri sadly tells Thor that Thanos came to Nidavellir and threatened the lives of all 300 dwarves if they did not forge him the Infinity Gauntlet to harness the power of the Infinity Stones, yet when they did, he still slaughtered all the other dwarves except him, melting metal around his hands so he can never forge something for anyone else. Thor tries to encourage him, saying there are still ways he can help and asking to work with them so he can kill Thanos.[3][32]

Thor surprises Rocket Raccoon when he understands Groot's language, having learned it on Asgard. He sits down and Rocket realizes he is mourning his brother, walking to the back of their ship to speak to him. He tries to reassure Thor, but Thor ends up lamenting his numerous recent losses: Loki, Hela, Odin, Frigga, and Heimdall. He tries to steel himself and turn his mourning into motivation for the task at hand, killing Thanos, and insists he is capable, but when Rocket asks what would happen if Thor is wrong, he momentarily chokes on his words, overcome with grief as he asks what more he could possibly lose, before getting up to prepare for their arrival in Nidavellir. Rocket hands Thor a cybernetic eye he stole from a man on Contraxia, wanting to help him for the coming challenges by giving him his full vision back. Thor places it in his empty eye socket and regains full vision as they arrive at Nidavellir. However, Thor is concerned to see that Nidavellir is not lifeless and colorful, but dark and seemingly empty.[3][26]
Thor, Rocket, and Groot land on Nidavellir and look around the apparently abandoned forges. They come across a mold for the Infinity Gauntlet and become concerned, but before they can do anything they are ambushed by Eitri, the king of the dwarves. When he sees it is Thor who has come, he exclaims that Asgard was supposed to protect Nidavellir, but never came. Thor explains that Asgard is gone, and Eitri sadly tells Thor that Thanos came to Nidavellir and threatened the lives of all 300 dwarves if they did not forge him the Infinity Gauntlet to harness the power of the Infinity Stones, yet when they did, he still slaughtered all the other dwarves except him, melting metal around his hands so he can never forge something for anyone else. Thor tries to encourage him, saying there are still ways he can help and asking to work with them so he can kill Thanos.[3][26]
Jemma Simmons is tending to Phil Coulson when Alphonso Mackenzie returns to Zephyr One and comes to the medical ward to deliver the tragic news of Fitz's death. She smiles at seeing her friend alive, but her face falls as she comes to realize what he has come to say.[3][31]
A Chitauri guard pieces Nebula back together following her torture at Thanos' hands. However, she intentionally pops a piece of her head out to lure him in front of her. The moment he does, she grabs him and snaps his neck. She limps to a transmitter and send a message to Mantis on the Benatar, saying to get the Guardians of the Galaxy to come and meet her on Titan.[3][32]
On Zephyr One, Jemma Simmons lets the agents know that two more cities have gone dark as the world continues to fall apart. Robin Hinton wanders through the plane as Melinda May flies it back to the Lighthouse, and an agent asks where her mother is, but Simmons sadly explains that Polly did not make it. Robin walks up to May, who asks her to go downstairs, but Robin mutters that it will be okay, they survive "the crash" May is confused, but suddenly Zephyr One hits a gravity storm and crashes to the surface of the planet. While the agents make it to the Lighthouse, the plane remains on the surface of the broken planet for the following decades.[3][33]
| | |
| --- | --- |
| For the continuation of the original timeline, see here. | |
New Timeline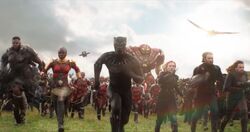 A number of Outriders begin to run around the outskirts of the dome to get to the back of the city. Banner reminds the heroes that if they get through the dome at the back of the city, they will have direct access to Vision, so T'Challa makes the reluctant decision to open a sliver of the barrier so that the aliens will take the easy route in and not go around the back. He shouts "Wakanda forever" to rally his forces and begins a charge, leading with Rogers as they take on the aliens. Battle breaks out, and T'Challa uses Kimoyo Beads to check in with Shuri. She explains that she has barely begun her work, and he urges her to work quicker.[3][26]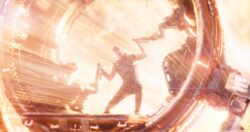 May/June
May 18th/June 1st
Stark and Nebula fix the damage to the Benatar to ensure the ship can leave Titan.[34]
On the way back to their headquarters, the Avengers pass by Atlanta to check on Fury and retrieve his dropped pager.[35]
June
7th/21st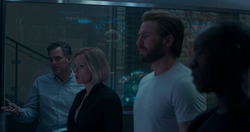 In the New Avengers Facility, Steve Rogers and Natasha Romanoff watch the global missing numbers increase, confirming their fears that Thanos achieved exactly what he intended. James Rhodes lets them know that Fury's pager has stopped beeping. Rogers and Romanoff say to reboot it, trusting that Fury knew what he was doing, but when Romanoff turns around she finds that its recipient, Carol Danvers, has already arrived and is standing behind them. She asks where Fury is.[37][35]
On his farm, Thanos decides to use the power of the Gauntlet to destroy the Stones, which also causes intense damage to himself.[34]
8th/22nd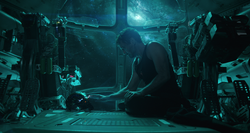 Rescue of Tony Stark: After 22 days of travel, during which Stark and Nebula bonded, the fuel of the Benatar ends and the oxygen tanks reach critical levels. Thinking he will die stranded in deep space, Stark uses a wrecked helmet to record a farewell message to Pepper Potts, and retreats to the co-pilot chair to get some sleep. He is awakened by the arrival of Carol Danvers outside the ship, sent by Rocket Raccoon and the Avengers to save anyone left stranded on the Benatar. She brings it back to Earth, where Stark is brought into medical care.[34]
9th/23rd
Using Nebula's information on her adoptive father and readouts of an energy wave similar to the moment Thanos snapped his fingers, the Avengers discover where Thanos is hidden.[34]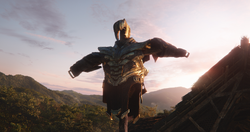 Ambush on Thanos: The Avengers fly the Benatar to Titan II. Danvers, Banner, and Rhodes beat Thanos in his hut and Thor slices the arm donning the Gauntlet, revealing the Stones are no longer there. Captain America and Black Widow enter the hut, inquiring about their location, and Thanos reveals the Stones were destroyed, ensuring that he could not be tempted to use them again and that the Snap could not be undone. The Avengers initially believed Thanos to be lying, but Nebula knew that her adoptive father was not a liar. Thanos thanked her and finally admitted that perhaps he had treated her too harshly. Before he could say anymore, an enraged Thor decapitated Thanos with Stormbreaker, killing the Mad Titan and avenging all of his victims.[34]
13th/27th
August
17th
Frank Castle massacres a group of gangsters.[17]
References
↑ 2.000 2.001 2.002 2.003 2.004 2.005 2.006 2.007 2.008 2.009 2.010 2.011 2.012 2.013 2.014 2.015 2.016 2.017 2.018 2.019 2.020 2.021 2.022 2.023 2.024 2.025 2.026 2.027 2.028 2.029 2.030 2.031 2.032 2.033 2.034 2.035 2.036 2.037 2.038 2.039 2.040 2.041 2.042 2.043 2.044 2.045 2.046 2.047 2.048 2.049 2.050 2.051 2.052 2.053 2.054 2.055 2.056 2.057 2.058 2.059 2.060 2.061 2.062 2.063 2.064 2.065 2.066 2.067 2.068 2.069 2.070 2.071 2.072 2.073 2.074 2.075 2.076 2.077 2.078 2.079 2.080 2.081 2.082 2.083 2.084 2.085 2.086 2.087 2.088 2.089 2.090 2.091 2.092 2.093 2.094 2.095 2.096 2.097 2.098 2.099 2.100 2.101 2.102 2.103 2.104 2.105 2.106 2.107 2.108 2.109 2.110 2.111 2.112 2.113 2.114 2.115 2.116 2.117 2.118 2.119 2.120 2.121 2.122 2.123 2.124 2.125 2.126 Ant-Man and the Wasp
↑ 3.000 3.001 3.002 3.003 3.004 3.005 3.006 3.007 3.008 3.009 3.010 3.011 3.012 3.013 3.014 3.015 3.016 3.017 3.018 3.019 3.020 3.021 3.022 3.023 3.024 3.025 3.026 3.027 3.028 3.029 3.030 3.031 3.032 3.033 3.034 3.035 3.036 3.037 3.038 3.039 3.040 3.041 3.042 3.043 3.044 3.045 3.046 3.047 3.048 3.049 3.050 3.051 3.052 3.053 3.054 3.055 3.056 3.057 3.058 3.059 3.060 3.061 3.062 3.063 3.064 3.065 3.066 3.067 3.068 3.069 3.070 3.071 3.072 3.073 3.074 3.075 3.076 3.077 3.078 3.079 3.080 3.081 3.082 3.083 3.084 3.085 3.086 3.087 3.088 3.089 3.090 3.091 3.092 3.093 3.094 3.095 3.096 3.097 3.098 3.099 3.100 3.101 3.102 3.103 3.104 3.105 3.106 3.107 3.108 3.109 3.110 3.111 3.112 3.113 3.114 3.115 3.116 3.117 3.118 3.119 3.120 3.121 3.122 3.123 3.124 3.125 3.126 3.127 3.128 3.129 3.130 3.131 3.132 3.133 3.134 3.135 3.136 3.137 3.138 3.139 3.140 3.141 3.142 3.143 3.144 3.145 3.146 3.147 3.148 3.149 3.150 3.151 3.152 3.153 3.154 3.155 3.156 3.157 3.158 3.159 3.160 3.161 3.162 3.163 3.164 3.165 3.166 3.167 3.168 3.169 3.170 3.171 3.172 3.173 3.174 3.175 3.176 3.177 3.178 3.179 3.180 3.181 3.182 3.183 3.184 3.185 3.186 3.187 3.188 3.189 3.190 3.191 3.192 3.193 3.194 3.195 3.196 3.197 3.198 3.199 3.200 3.201 3.202 3.203 3.204 3.205 3.206 3.207 3.208 3.209 3.210 3.211 3.212 3.213 3.214 3.215 3.216 3.217 3.218 3.219 3.220 3.221 3.222 3.223 3.224 3.225 3.226 3.227 3.228 3.229 3.230 3.231 3.232 3.233 3.234 3.235 3.236 3.237 3.238 3.239 3.240 3.241 3.242 3.243 3.244 3.245 3.246 3.247 3.248 3.249 3.250 3.251 3.252 3.253 3.254 3.255 3.256 3.257 3.258 3.259 3.260 3.261 3.262 3.263 3.264 3.265 3.266 3.267 3.268 3.269 3.270 3.271 3.272 3.273 3.274 3.275 3.276 3.277 3.278 3.279 3.280 3.281 3.282 3.283 3.284 3.285 3.286 3.287 3.288 3.289 3.290 3.291 3.292 3.293 3.294 3.295 3.296 3.297 3.298 3.299 3.300 3.301 3.302 3.303 3.304 3.305 3.306 3.307 3.308 3.309 3.310 3.311 3.312 3.313 3.314 3.315 3.316 3.317 3.318 3.319 3.320 3.321 3.322 3.323 3.324 3.325 3.326 3.327 3.328 3.329 3.330 3.331 3.332 3.333 3.334 3.335 3.336 3.337 3.338 3.339 3.340 3.341 3.342 3.343 3.344 3.345 3.346 3.347 3.348 3.349 3.350 3.351 3.352 3.353 3.354 3.355 3.356 3.357 3.358 3.359 3.360 3.361 3.362 3.363 3.364 3.365 3.366 3.367 3.368 3.369 3.370 3.371 3.372 3.373 3.374 3.375 3.376 3.377 3.378 3.379 3.380 3.381 3.382 3.383 3.384 3.385 3.386 3.387 3.388 3.389 3.390 3.391 3.392 3.393 3.394 3.395 3.396 3.397 3.398 3.399 3.400 3.401 3.402 3.403 3.404 3.405 3.406 3.407 3.408 3.409 3.410 3.411 3.412 3.413 3.414 3.415 3.416 3.417 3.418 3.419 3.420 3.421 3.422 3.423 3.424 3.425 3.426 3.427 3.428 3.429 3.430 3.431 3.432 3.433 3.434 3.435 3.436 3.437 3.438 3.439 3.440 3.441 3.442 3.443 3.444 3.445 3.446 3.447 3.448 3.449 3.450 3.451 3.452 3.453 3.454 3.455 3.456 3.457 3.458 3.459 3.460 3.461 3.462 3.463 3.464 3.465 3.466 3.467 3.468 3.469 3.470 3.471 3.472 3.473 3.474 3.475 3.476 3.477 3.478 3.479 3.480 3.481 3.482 3.483 3.484 3.485 3.486 3.487 3.488 3.489 3.490 3.491 3.492 3.493 3.494 3.495 3.496 3.497 3.498 3.499 3.500 3.501 3.502 3.503 3.504 3.505 3.506 3.507 3.508 3.509 3.510 3.511 3.512 3.513 3.514 3.515 3.516 3.517 3.518 3.519 3.520 3.521 3.522 3.523 3.524 3.525 3.526 3.527 3.528 3.529 3.530 3.531 3.532 3.533 3.534 3.535 3.536 3.537 3.538 3.539 3.540 3.541 3.542 3.543 3.544 3.545 3.546 3.547 3.548 3.549 3.550 3.551 3.552 3.553 3.554 3.555 3.556 3.557 3.558 3.559 3.560 3.561 3.562 3.563 3.564 3.565 3.566 3.567 3.568 3.569 3.570 3.571 3.572 3.573 3.574 3.575 3.576 3.577 3.578 3.579 3.580 3.581 3.582 3.583 3.584 3.585 3.586 3.587 3.588 3.589 3.590 3.591 3.592 3.593 3.594 3.595 3.596 3.597 3.598 3.599 3.600 3.601 3.602 3.603 3.604 3.605 3.606 3.607 3.608 3.609 3.610 3.611 3.612 3.613 The placements for Agents of S.H.I.E.L.D.: Season 5, Episodes 14-22 and Ant-Man and the Wasp both connect with the placement of Avengers: Infinity War. It should first be established that Avengers: Infinity War takes place over a little under 24 hours, from Wednesday (as shown on Tony Stark's flip phone) to Thursday.
As for Agents of S.H.I.E.L.D., Episode 19 - Option Two to Episode 22 - The End, they take place concurrently with Avengers: Infinity War over Wednesday-Thursday. Episode 18 - All Roads Lead... takes place shortly prior to Option Two. Deke Shaw is shot in the arm in Episode 17 - The Honeymoon, the day before the end of All Roads Lead.... Following this, he wears a sling until the beginning of Episode 21 - The Force of Gravity. This should mean that several weeks pass between him being shot and having the sling taken off. However, the only possible gap in time is between All Roads Lead... and Option Two. The show treats it very much like it has been merely hours when Option Two begins. However, this would in total mean that Deke had the sling for barely over 1 day, which is impossible. Stretching the gap between All Roads Lead... and Option Two, it really can be no more than about 5 days, considering the agents' actions, discussions, and behavior. However, even if we consider that the surgery on Shaw was very successful and he healed very fast and took off the sling very prematurely - as soon as he could, to help him be more able in the times of crisis that were occurring, it really cannot be shorter than about 2 weeks of recovery time, which would involve a 13-day gap between All Roads Lead... and Option Two. Overall, a 9-day jump is necessary, giving 10 days of recovery time before taking off the sling. It absolutely cannot be any longer, yet it absolutely cannot be shorter.
So, Episode 18 - All Roads Lead... must end the prior Monday, 9 days before Option Two. Working backwards, the episode begins the day before (Sunday), and Episode 16 - Inside Voices and 17 - The Honeymoon are earlier that Sunday. In Inside Voices, Ruby Hale says, "Why not talk to Coulson [...] I think after 2 days in isolation," which places the "24 hours ago" portion of Episode 15 - Rise and Shine as being 2 days prior, Friday, thus meaning that Rise and Shine spans Thursday-Saturday. Finally, Episode 14 - The Devil Complex, takes place earlier on Thursday.
Overall:

Thursday Week 1 - Episode 14 - The Devil Complex. Beginning of Episode 15 - Rise and Shine events.
Friday Week 1 - Episode 15 - Rise and Shine "24 hours ago" events.
Saturday Week 1 - End of Episode 15 - Rise and Shine events.
Sunday Week 1 - Episode 16 - Inside Voices events, Episode 17 - The Honeymoon events, beginning of Episode 18 - All Roads Lead... events.
Monday Week 2 - End of Episode 18 - All Roads Lead... events.
Wednesday Week 3 - Beginning of Avengers: Infinity War events/Episode 19 - Option Two events, Episode 20 - The One Who Will Save Us All events, beginning of Episode 21 - The Force of Gravity events.
Thursday Week 3 - End of Episode 21 - The Force of Gravity events, Episode 22 - The End events/End of Avengers: Infinity War events/Ant-Man and the Wasp credits scenes.

Now it needs to be established which weeks in the timeline this applies to.
First, there is a latest possible date for the events of Avengers: Infinity War. The Wednesday of Avengers: Infinity War is still during school time, as Peter Parker is on a school field trip. Spider-Man: Far From Home establishes that Parker restarted junior year (1) after returning in the Blip, making him a junior at the time of the Snap. With Parker beginning sophomore year in Spider-Man: Homecoming in September 2016, he would finish junior year in June 2018. This means that the Wednesday of Avengers: Infinity War should be before Tuesday, June 26, 2018, when New York high schools finished for summer (1, 2, 3). If necessary, it can be assumed that either Parker's school finished 1 day later than most, or the New York high schools in the MCU finished 1 day later than those in the real world, making Wednesday, June 27, 2018 the absolute latest that Avengers: Infinity War could begin.
The earliest possible date is January 2018, as all these events must take place in 2018. This is evidenced by many things:

Avengers: Infinity War takes place 2 years after the main events of Captain America: Civil War, which are firmly placed in June 2016 (see 2016 references).

In Avengers: Infinity War, Vision says, "Wanda, for 2 years, we've stolen these moments, trying to see if this could work."
Later, Rhodes says to Rogers, Romanoff, and Wilson, "You guys really look like crap. Must've been a rough couple years."
A set visit claimed that the film is set "years" after the mid-credits scene of Captain America: Civil War, placing it in at least 2018 (it has to be 2, so 2018).
Scarlett Johansson stated the film is "2 or 3 years" after Captain America: Civil War in June 2016, placing it in at least 2018 (it has to be 2, so 2018).
The Russo brothers stated the film is "roughly 2 years" after Captain America: Civil War, specifying that it is roughly the amount of time that has passed in the real world between the release dates of Captain America: Civil War and Avengers: Infinity War.

Avengers: Infinity War takes place 3 years after the events of Avengers: Age of Ultron, which are firmly placed in Spring 2015 (see 2015 references).
Avengers: Infinity War takes place 4 years after the main events of Guardians of the Galaxy Vol. 2, which are placed in October 2014 (see 2014 references).
Avengers: Infinity War takes place 6 years after the events of The Avengers, which are firmly placed in May 2012 (see 2012 references).

In Avengers: Infinity War, Tony says to Doctor Strange, "It's you who doesn't understand that Thanos has been inside my head for 6 years, since he sent an army to New York - and now he's back!"

Ant-Man and the Wasp takes place 2 years after the main events of Captain America: Civil War, which are firmly placed in June 2016.

In Ant-Man and the Wasp, Lang is finishing a house arrest sentence. Jimmy Woo says, "As a part of his joint plea deal with Homeland Security and the German government, he was allowed to return to the U.S., provided he served 2 years under house arrest."
Later, Lang says to van Dyne, "Give me a break, I haven't driven in 2 years."
At the end of his sentence, Scott asks Woo, "Are my 2 years up already?"

The Captain Marvel mid-credits scene, 3 weeks after Avengers: Infinity War, is 23 years after the main events of the film, which are firmly placed in June 1995.
Avengers: Infinity War takes place 5 years before Avengers: Endgame, which takes place 9 years after 2014 (so 2023).

In Avengers: Endgame, it is shown that the events are "five years later" after 3 weeks after Avengers: Infinity War. It is further confirmed that Guardians of the Galaxy takes place in "2014" on-screen. In these scenes, Ebony Maw says Nebula is from "9 years" in the future, making it 2023.

Agents of S.H.I.E.L.D.: Season 5, Episodes 14-22 take place in 2018.

In Episode 8 - The Last Day, a flashforward is shown with events that, as shown in Episode 22 - The End, would take place on the Thursday of Avengers: Infinity War, and the on-screen text specifically says "2018".
The agents return to the present day in Episode 11 - All the Comforts of Home. Later that day, Yo-Yo Rodriguez has her arms sliced off. The agents perform surgery on her amputated arms, and she begins to heal. 2 days later, in Episode 12 - The Real Deal, the monitor by her bed shows "12-06-2017", making it December 6, 2017 (see 2017 references for reasons this is a firm placement). By Episode 14 - The Devil Complex, the skin on Rodriguez's arm stumps has healed over, which takes 4 weeks to 2 months (1, 2). With Rodriguez having lost her arms and had surgery performed on them on December 4, 2017, earliest that The Devil Complex can take place is January 2018, thus meaning that from Episode 14 onward, it is 2018.
In Episode 15 - Rise and Shine, events set at the time of Season 3, Episode 17 - The Team and Episode 18 - The Singularity in April 2016 are shown on-screen to have been "2 years ago".
In Episode 16 - Inside Voices, events set immediately after Season 1, Episode 22 - Beginning of the End in January 2014 are shown on-screen to have been "four years ago".

So, all of these events take place in the first half of 2018. However, there is contradictory evidence for when exactly in the first 6 months of the year. Avengers: Infinity War and Ant-Man and the Wasp would suggest June 2018, while Thor: Ragnarok, Agents of S.H.I.E.L.D., and Spider-Man: Far From Home would suggest closer to January 2018.
Scott Lang's 2-year house arrest coming to an end would imply that it has been 24 months since the end of the main events of Captain America: Civil War. In that film, Lang is arrested on June 24, 2016 (a firmly established date - see 2016 references). Steve Rogers breaks him out of the Raft 2 days later, on June 26, 2016, and very soon after (as shown in Avengers: Infinity War Prelude), Lang returns home after making his deal. The exact date that the sentence would end depends on a few factors, such as when the sentence counts as beginning from, if it counts from his initial imprisonment then whether each day spent in prison counts as double towards his sentence, and if time could be/was removed. At the earliest, the house arrest would finish on June 20, 2018. At the latest, June 27, 2018. The arrest finishes on a Wednesday, and at the very shortest, the events of Avengers: Infinity War start 1 week later (as at least one more weekend is shown to occur before the end of the film) on the following Wednesday. The very last day that the events of Avengers: Infinity War can possibly begin is Wednesday, June 27, 2018, so the latest Lang's house arrest could end would also be the earliest: Wednesday, June 20, 2018. This would also line up well with the references to the time between previous films and Avengers: Infinity War, with them placing it ideally closer to mid-2018 than early.
However, there are several things in Thor: Ragnarok, Agents of S.H.I.E.L.D., and Spider-Man: Far From Home suggesting it is much earlier in the year.

Firstly, Thor: Ragnarok is firmly set in 2017 (see 2017 references). At the very latest, it takes place in November-December 2017, before All the Comforts of Home on December 4, 2017, which features a reference to the events of the film. There is a jump in time between the end of the main events of the film and the film's mid-credits scene, which is set mere minutes before the opening of Avengers: Infinity War. However, the gap should be minimal, for several reasons:

The film finishes with Thor deciding to head back to Earth. Only in the mid-credits scene do he and Loki seem to actually begin discussing the problems with bringing Loki back to the planet. This would imply that it is very soon after the decision was made.
Thor's hair is exactly the same in Avengers: Infinity War as it is in Thor: Ragnarok, including the streak on the side from the Watcher Informant's poor cutting. While it's possible that Asgardian hair grows slower than humans', it nonetheless implies very little time has passed.
The Statesman has a few hundred Asgardians on board that need food and water and other general living standards, and the ship itself is highly unlikely to have enough on board to sustain a few hundred people for very long. It is possible that they could have gone a little longer if one assumes they stopped at other places for resources on the way and/or that Asgardians need less sustenance than humans, but nonetheless, the longer the gap, the more and more assumptions have to me made.

Agents of S.H.I.E.L.D.: Episode 12 - The Real Deal is firmly set on December 6, 2017, as given by the "12-06-2017" date on Rodriguez's monitor, and which lines up with all the other evidence as mentioned above. Episode 13 - Principia takes place shortly after and, as is evidenced by the "12-17-2017" date and Coulson's mention of "tidings of comfort of joy", it is Christmas. When Episode 14 - The Devil Complex begins, it is heavily implied to be merely another several days later:

In Episode 12 - The Real Deal, the team discover that Coulson is dying. For them, it has been only a few days since Coulson made the deal with Ghost Rider, yet it has become quite bad. They do not know when he will die, but considering it took just a few days to get this bad, it would be strange for it to take several further months to kill him.
In Episode 13 - Principia, Fitz says in December 2017, "The, uh, the gravitonium device that we used to seal the rift is barely strong enough. It's duct tape on the Hoover Dam. It's not gonna hold." Coulson asks, "How much time before the dam starts leaking?", and he says, "Well, uh, it's hard to calculate that precisely, but, based on the increased frequency of transit, electromagnetic waves, I'd say that our days were numbered." While he clearly does not know exactly how long they have, the implication is absolutely no more than a couple of weeks.
In Episode 14 - The Devil Complex, Simmons says she would like to have a honeymoon with Fitz, implying they recently married. In Episode 17 - The Honeymoon, Simmons jokes about this being their honeymoon, implying they recently got married.
In Episode 14 - The Devil Complex, Mackenzie is testing Rodriguez's newly made robotic arms. They got the arms from Hale's mechs in Principia. Considering how fast they usually work, it really should not take them very long to make the arms.
In Episode 14 - The Devil Complex, Mackenzie says to Rodriguez, "Your arms aren't fully healed yet. What you need is time." Rodriguez replies, "My arms may not work, but my eyes do. At least let me sit in Control, keep an eye out for anomalies." Mackenzie says, "Maybe, but you have to allow yourself to heal. We'll handle the fighting for now." As well as this, Rodriguez is still in her hospital-esque bed for a lot of the episode. This implies that she is still healing and still needs to be taken care of, which should not be for more than a couple of months absolute maximum.
In Episode 14 - The Devil Complex, Deke Shaw is still a bit dazed about having worked out that Fitz and Simmons are his grandparents.
In Episode 14 - The Devil Complex, Fitz says, "Well, I've temporarily plugged the dam, but it could burst at any minute, releasing more of these anomalies into the base." The phrasing implies the temporary plugging was recent.

In Episode 14 - The Devil Complex, snow is shown on the ground, suggesting it is still winter.
In Episode 15 - Rise and Shine, Coulson says to Hale, "Listen, my team wasn't hiding all these months. We traveled to the future." From this, it can be taken that it has only been "months" since May 12, 2017, when the agents were sent to the future. While it has to now be 2018, it should not be later than early 2018. As well as this, this piece of dialogue suggests that the amount of time that his team have been back in the present is negligible, because he is generalizing the whole time since May 12, 2017 as the time that they were not around, but in the future.
In Missing Pieces, Enoch says he was going to protect Fitz for the next "73 years, 261 days". The team are in 2091, so if they left the future as early as possible, December 31, 2091, then since Fitz wakes 4 days prior, the latest he can possibly have woken is December 27, 2091. Even if Fitz were to wake as late as possible, the latest this scene could be is then April 10, 2018. Except the scene is implied to after The End, since it should be after the split in the timeline (seemingly not possible to have happened in the original timeline), suggesting The End should be no later than April 10, 2018.
In Fear and Loathing on the Planet of Kitson, Enoch says he is planning to orbit Jupiter with Fitz for the next "72 years, 312 days", which should end before he takes Fitz to the Lighthouse. Fitz wakes no later than December 27, 2091, so the latest Fear and Loathing on the Planet of Kitson could possibly be is February 18, 2019. However, it is 13 months on from The End (Coulson and May "got more [time] than [they] thought [they] would", so Coulson lived roughly the "weeks" Simmons mentions he might have if he is lucky in The End, and Missing Pieces ends on the 1-year anniversary of Coulson's death, the same day Fear and Loathing on the Planet of Kitson is set - plus it is mentioned that Fitz died "over a year ago"), so The End would have to finish in January 2018.
In Spider-Man: Far From Home, Betty Brant says, "Even though we had blipped away halfway through the school year and had already taken midterms." This would make it approximately January/February. There is wiggle room for it to loosely mean "halfway", just "in the bulk of", "not at the beginning or end of", but it should still be no later than May 2018, so it is not in the final several weeks of term. This essentially confirms that Lang did not serve a full 24 months, as Avengers: Infinity War cannot be as late as June 2018 following this comment.

Furthermore, The Punisher: Season 2, which firmly places itself in April-May 2018 (see other references). Jeph Loeb stated in July 2018, "The short answer is that the stories that you're seeing, unless otherwise noted, all happen before [...] what is affectionately referred to as "The Thanos Snap". And we'll continue to be in that place until we find out what happens in Avengers 4," referring to all Marvel Cinematic Universe television released before April 26, 2019. This would place The Punisher: Season 2 (released in January 2019) before Avengers: Infinity War (save for the "three months later" epilogue of The Whirlwind, which is August 2018, so has to be after Avengers: Infinity War no matter what), thereby making Avengers: Infinity War set in at least May 2018. However, this is also the only answer Loeb could feasibly give, and he does not explicitly cover every single season, nor specifically The Punisher: Season 2 (saying only that the shows will be set before "for the most part" on a prior occasion), so it is possible that the one season being set after Avengers: Infinity War is not a hard contradiction to Loeb's comments, but April 2018 would be no more than 3 months maximum after Thanos snaps his fingers, and to see no acknowledgement of this in the world so shortly after is highly unlikely. Placing the Snap in May 2018, all pushing and pulling factors considered, makes sense as a compromise anyway, so the Snap should indeed be placed after the main events of The Punisher: Season 2. Thursday, May 17, 2018 would make the most sense (mere hours after the end of the main events), as it is as early as possible, to be as far away as possible from the end of school term in conjunction with the "halfway" Spider-Man: Far From Home line.
A final complication comes from Jessica Jones: Season 3. Most evidence would place it in November-December 2018, but this would be just about 6 months post-Snap, with zero acknowledgement of such a monumental, worldwide long-lasting trauma effect. A little evidence would place it in April-May 2018 instead, in which case the Snap would have to be after this season as well. It would end on May 27th, making the earliest the Snap can be Thursday, May 31, 2018.
Ultimately, we do not have sufficient information to place Jessica Jones: Season 3 decisively yet, and therefore it cannot be established yet whether Agents of S.H.I.E.L.D.: Season 5, Episode 14 - The Devil Complex to Episode 22 - The End and Avengers: Infinity Warare May 3rd-17th or May 17th-31st.
A laptop early in Ant-Man and the Wasp has the date "4/30/2018". With the idea of Lang's house arrest being 24 months thrown out so Ant-Man and the Wasp's placement flexible, and the events of Avengers: Infinity War being mid-to-late May 2018, late April-early May 2018 for the main events of Ant-Man and the Wasp would make sense. The main events of Ant-Man and the Wasp begin on a Sunday, with Cassie saying, "I had a fun weekend." Scott has 3 days remaining of his house arrest sentence, and the sentence finishes right after the climax, making that Wednesday. Working back, Scott's dream in the bath is Monday night, meaning the house arrest montage spans Sunday and Monday. April 30, 2018 is a Monday, so this aligns for the main events to be Sunday, April 29, 2018 to Wednesday, May 2, 2018.
↑ 9.0 9.1 9.2 9.3 In Ant-Man and the Wasp, a montage after Scott Lang is released from house arrest on May 2, 2018 (see other references) includes four scenes before the mid-credits scene set on May 17 or May 31, 2018 (see other references). Firstly, Scott goes to Maggie Lang's house and hugs Cassie. While this can be interpreted as the first thing he does after release, he has changed clothes and asks Cassie "You ready?", implying he is picking her up. On Sunday, April 29, 2018, when Cassie says, "I had a fun weekend, Daddy," Scott replies, "Me too, Peanut. Just wait till next weekend." So, this should not be until the weekend after Scott's release, making it Saturday, May 5, 2018.
Following this is Luis securing the Karapetyan deal. With news from the San Francisco chase playing and the group being busy receiving calls, it appears to be shortly after May 2, 2018. While the trio missed their Karapetyan meeting on May 2nd, Karapetyan would presumably not wait too long to get in contact. Since Kurt is arranging a meeting for "Monday", this would suggest it is not currently Sunday or Monday. Tuesday, May 8, 2018 is too far from the main events of the film, so the other option, to be taken, is Saturday, May 5, 2018, hours after Scott picks up Cassie. He is in the same clothes. Presumably she is just not with him at that moment.
Hank Pym and Janet van Dyne then go to the beach, then Hope van Dyne sits with Scott and Cassie in a car to watch Them!. These can be distributed between May 5th and May 17th or 31st.
If May 17th, then the Them! scene would be approximately May 13th. This is a Sunday, which fits with Scott seemingly having Cassie at weekends. The beach scene would then be approximately May 9th.
If May 31st, then the Them! scene would be approximately May 22nd. However, this is not a weekend, and Scott seems to only have Cassie on weekends. The closest weekend day is May 20th. Then, placing the beach scene halfway between May 5th daytime and May 20th evening would put it around the morning of May 13th.
↑ 18.00 18.01 18.02 18.03 18.04 18.05 18.06 18.07 18.08 18.09 18.10 18.11 18.12 18.13 18.14 18.15 18.16 18.17 18.18 18.19 18.20 18.21 18.22 18.23 18.24 18.25 18.26 18.27 18.28 18.29 Agents of S.H.I.E.L.D.: 5.14: The Devil Complex
↑ 19.00 19.01 19.02 19.03 19.04 19.05 19.06 19.07 19.08 19.09 19.10 19.11 19.12 19.13 19.14 Agents of S.H.I.E.L.D.: 5.15: Rise and Shine
↑ 20.00 20.01 20.02 20.03 20.04 20.05 20.06 20.07 20.08 20.09 20.10 20.11 20.12 20.13 20.14 20.15 20.16 20.17 20.18 20.19 20.20 20.21 20.22 20.23 20.24 20.25 20.26 20.27 20.28 20.29 20.30 20.31 Agents of S.H.I.E.L.D.: 5.16: Inside Voices
↑ 21.00 21.01 21.02 21.03 21.04 21.05 21.06 21.07 21.08 21.09 21.10 21.11 21.12 21.13 21.14 21.15 21.16 21.17 21.18 21.19 21.20 21.21 21.22 21.23 21.24 21.25 21.26 21.27 21.28 21.29 21.30 21.31 Agents of S.H.I.E.L.D.: 5.17: The Honeymoon
↑ 22.00 22.01 22.02 22.03 22.04 22.05 22.06 22.07 22.08 22.09 22.10 22.11 22.12 22.13 22.14 22.15 22.16 22.17 22.18 22.19 22.20 22.21 22.22 22.23 22.24 22.25 22.26 22.27 22.28 22.29 22.30 22.31 22.32 Agents of S.H.I.E.L.D.: 5.18: All Roads Lead...
↑ 23.0 23.1 James Gunn confirmed that the Guardians of the Galaxy Vol. 2 Groot mid-credits scene is years after the film, shortly before Avengers: Infinity War. It has been placed 1 week before the start of Avengers: Infinity War.
↑ In Avengers: Infinity War, Thor says on Wednesday, May 16 or May 30, 2018 that Xandar was attacked "last week". The middle of the previous week would be Wednesday, May 9 or May 23, 2018.
↑ 26.000 26.001 26.002 26.003 26.004 26.005 26.006 26.007 26.008 26.009 26.010 26.011 26.012 26.013 26.014 26.015 26.016 26.017 26.018 26.019 26.020 26.021 26.022 26.023 26.024 26.025 26.026 26.027 26.028 26.029 26.030 26.031 26.032 26.033 26.034 26.035 26.036 26.037 26.038 26.039 26.040 26.041 26.042 26.043 26.044 26.045 26.046 26.047 26.048 26.049 26.050 26.051 26.052 26.053 26.054 26.055 26.056 26.057 26.058 26.059 26.060 26.061 26.062 26.063 26.064 26.065 26.066 26.067 26.068 26.069 26.070 26.071 26.072 26.073 26.074 26.075 26.076 26.077 26.078 26.079 26.080 26.081 26.082 26.083 26.084 26.085 26.086 26.087 26.088 26.089 26.090 26.091 26.092 26.093 26.094 26.095 26.096 26.097 26.098 26.099 26.100 26.101 26.102 26.103 26.104 26.105 26.106 26.107 26.108 26.109 26.110 26.111 26.112 26.113 26.114 26.115 26.116 26.117 26.118 26.119 26.120 26.121 26.122 26.123 26.124 26.125 26.126 26.127 26.128 26.129 26.130 26.131 26.132 26.133 26.134 26.135 26.136 26.137 Avengers: Infinity War
↑ 28.00 28.01 28.02 28.03 28.04 28.05 28.06 28.07 28.08 28.09 28.10 28.11 28.12 28.13 28.14 28.15 28.16 28.17 28.18 28.19 28.20 28.21 28.22 28.23 28.24 28.25 28.26 28.27 28.28 28.29 28.30 28.31 28.32 28.33 28.34 Agents of S.H.I.E.L.D.: 5.19: Option Two
↑ 29.00 29.01 29.02 29.03 29.04 29.05 29.06 29.07 29.08 29.09 29.10 29.11 29.12 29.13 29.14 29.15 29.16 29.17 29.18 29.19 29.20 29.21 29.22 29.23 29.24 29.25 29.26 29.27 29.28 29.29 29.30 Agents of S.H.I.E.L.D.: 5.20: The One Who Will Save Us All
↑ 30.00 30.01 30.02 30.03 30.04 30.05 30.06 30.07 30.08 30.09 30.10 30.11 30.12 30.13 30.14 30.15 30.16 30.17 30.18 30.19 30.20 30.21 30.22 30.23 30.24 30.25 30.26 30.27 30.28 30.29 30.30 30.31 30.32 30.33 30.34 30.35 Agents of S.H.I.E.L.D.: 5.21: The Force of Gravity
↑ 31.00 31.01 31.02 31.03 31.04 31.05 31.06 31.07 31.08 31.09 31.10 31.11 31.12 31.13 31.14 31.15 31.16 31.17 31.18 31.19 31.20 31.21 31.22 31.23 31.24 31.25 31.26 31.27 31.28 31.29 31.30 31.31 31.32 31.33 31.34 31.35 31.36 31.37 31.38 31.39 31.40 31.41 31.42 31.43 31.44 31.45 31.46 31.47 31.48 31.49 31.50 31.51 31.52 31.53 31.54 31.55 31.56 31.57 31.58 31.59 31.60 31.61 31.62 31.63 31.64 31.65 31.66 31.67 31.68 31.69 31.70 Agents of S.H.I.E.L.D.: 5.22: The End
↑ 32.00 32.01 32.02 32.03 32.04 32.05 32.06 32.07 32.08 32.09 32.10 32.11 32.12 32.13 32.14 32.15 32.16 32.17 32.18 32.19 32.20 32.21 32.22 32.23 32.24 32.25 32.26 32.27 32.28 32.29 32.30 32.31 In The End, the agents of S.H.I.E.L.D. manage to change the timeline so that instead of the world cracking apart as it did originally, in the new timeline, the world is saved. While there are no obvious changes in the timeline until Melinda May and Leo Fitz save Alphonso Mackenzie and Polly Hinton, the change Robin Hinton senses in the episode is shown to be the fact that the Centipede Serum was slipped into Quake's gauntlets by Phil Coulson. This means that the timelines in fact diverge just before Coulson hands Quake her suit, and also fits with Robin Hinton's comment in The Last Day that Coulson would "bring all the pieces together", being his action that changes the timeline. For a short while after, events play out almost identically, with the only difference being that, without anyone except Coulson knowing, the serum is in fact in Quake's gauntlets. Coulson still does not, at least initially, take the serum in the original timeline as Quake was filmed in that timeline shouting at him in an identical manner to how she shouts at him in the new timeline for not taking it. The first sign of the timeline change, however, is Mackenzie and Hinton being saved, and then events begin to significantly diverge, being completely different once Quake finds the serum.
While we are shown very little of 2018 of the original timeline outside of The Last Day, we can assume that events are almost identical until Mackenzie and Hinton are saved. This includes the scenes in Avengers: Infinity War where Thanos talks to Gamora on the Sanctuary II and takes her to see Nebula, which occur concurrently with the events of The End between the divergence point and the beginning of actual significant signs of divergence.
The gaps in the original timeline can then be put together - the serum was left on Zephyr One, Mackenzie and Hinton died in the ship, Quake was absorbed by Talbot, Talbot destroyed the world, and finally what Yo-Yo Rodriguez alludes to in Past Life - as the world burned, May and Fitz got back to Zephyr One with Robin Hinton, but without Polly Hinton or Alphonso Mackenzie. They reached to grab them from the first of the surface to pull them on-board, but Mackenzie was not there. This is then followed by the "2018" scene of The Last Day.
There is also one thing we know from the original timeline that can be assumed for the new timeline, since events are occurring almost identically at the given point - that someone is filming when Quake leaves the Quinjet and shouts at Coulson (explained in The Last Day).
It is unclear what happened to Coulson in the original timeline. The serum is left on Zephyr One, but he does not appear to survive past 2018 anyway. Still, wherever events are unclear, they are excluded from the events descriptions.
↑ In Avengers: Endgame, it is shown that Carol Danvers can fly Tony Stark back from space in less than a day (as they get him back before the end of his 1-day oxygen supply, and it has been 22 days after Thanos' Snap when he is rescued and it is still only 23 not long after he returns). Therefore, her arrival on Earth, shortly preceding her trip to space to rescue him, can be dated to the day before her rescue, 21 days after Thanos' Snap.
Community content is available under
CC-BY-SA
unless otherwise noted.