Wiki Targeted (Entertainment)
Play Sound
This is a timeline of events that occurred in 2017.
2017
January
1st
Dinah Madani, still in hospital, is questioned on record for an inquiry into recent events, but is not responsive when asked to start. Marion James stops the record to talk to her, and Madani explains that she does not want to let William Rawlins walk away a hero. James tells her that while it will sting, she needs to proceed as it is the least worst option. Madani decides to go ahead.[1][2]
The questioning is carried out, and Madani struggles but answers personal and embarrassing questions regarding Billy Russo, as well as taking responsibility for Sam Stein's death, having failed to heed his warnings. James tells her that she sympathizes with her situation, but she has to consider if she is good with living with the lies.[1][2]
Alphonso Mackenzie has a long-awaited dinner date with Elena Rodriguez. He calls her Elena for the last time for the next three months.[3] Mackenzie and Coulson return to the Zephyr, as is routine, to renew their pursuit of Quake, following a new lead from her incident in Atlanta. They continue tracking her whereabouts, and hoping to bring her in.[4][5]
3rd
5th
15th
18th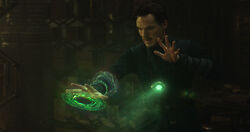 Strange finds instructions on how to use the Eye of Agamotto: a magical item kept only a few meters away, and experiments with its power. Strange begins to manipulate time for the apple he has been eating, turning it back in its time to regrow, and forward until it rots. Strange uses this power to recover the lost pages stolen by Kaecilius in the book, and comes to realize the Eye's powers of control over the time of objects. He is caught by Wong and Karl Mordo, who both angrily warn Strange not to disturb the natural law, noting that misuse of items of such incredible power could cause Strange to become trapped in a time loop forever.[10][11]
Wong and Mordo take Strange to the Sanctum Chamber and reveal the real purpose of the Masters of the Mystic Arts: for keeping Dormammu and other mystical evil entities away from Earth. They also tell him about the three Sanctums across the globe in New York City, London, and Hong Kong, as locations from which the sorcerers can protect the Earth.[10][11]
Destruction of the London Sanctum:
Stunned from the explosion, Strange starts looking for help, walking through the New York Sanctum. He soon discovers the Rotunda of Gateways, as well as the Cloak of Levitation.[11] He encounters Master Daniel Drumm, who hears commotion downstairs, heading down to face the Zealots attacking the Sanctum, instructing Strange to stay put. Strange, however, chooses to follow.[10][12]
Battle at the New York Sanctum:

Strange witnesses Kaecilius murdering Drumm. He reveals his presence, forcing the Zealots to attack him, and despite the fact that they had trained for years, Strange manages to fight them with little problem, conjuring eldritch whips and shield mandalas of light to protect himself.[10][11]

During the fight, Strange discovers that, due to Dormammu's influence, they are capable to alter the real world outside the Mirror Dimension. He decides to use the Rotunda of Gateways to his advantage, trapping one of Kaecilius' disciples in the desert and the other, Lucian Aster, in the jungle, leaving only himself and Kaecilius to continue fighting through the New York Sanctum.[10][11]
Strange attempts to intimidate Kaecilius with the Brazier of Bom'Galiath, but he does not use how to use it. Kaecilius throws him into the Cloak of Levitation's glass case, but the cloak wraps itself around Strange's shoulders and helps him in the fight. The cloak guides Strange to the Crimson Bands of Cyttorak, allowing him to trap Kaecilius and end the fight.[10][11]

Strange tries to interrogate Kaecilius, but he tells Strange only that time and death are insults, and that the Ancient One extracts powers from the Dark Dimension herself, to obtain extended life. Soon, Kaecilius notes that Strange's Sling Ring is missing, as Aster makes it back into the Sanctum and stabs Strange with a Space Shard, almost killing him. The Cloak of Levitation protects Strange by attacking Aster and removing the Sling Ring from his hand.[10][11]

Strange uses the Sling Ring to transport himself to Metro-General Hospital, where he calls out Christine Palmer so she can tend to his wounds secretly. Surprised to see Strange again, appearing out of nowhere wearing unusual clothes, and after all this time, Palmer soon begins to tend his wounds as they talk about what was he has been doing during all the time he has been gone. Strange apologizes to her for having treated her poorly the last time they saw each other.[10][11]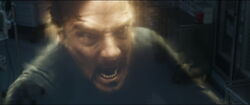 Duel on the Astral Plane: While Palmer operates on him, Strange projects his astral form and uses it to guide her surgery, leaving her bewildered. Lucian Aster uses his astral form to escape from the Cloak of Levitation, and uses the portal Strange left open so as to follow to Metro-General. Strange discovers Aster in the hospital and a battle ensues between the two of them, disturbing several objects in the physical world as Palmer continues performing the surgery. Palmer eventually shocks Strange twice with a defibrillator, which charges up his astral form enough to kill Aster.[10][11]
Strange returns to his body as Palmer finishes her work on his wound. Strange explains that he went to Kamar-Taj in order to heal his wounds, but instead ended up learning magic.[10][11]
19th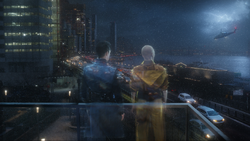 A few hours after the surgery began, at 2:42AM, the Ancient One leaves her physical form and goes out onto a balcony, prompting Doctor Strange to astrally project and follow her, realizing what she is doing. The two talk, and she tells him about the Dark Dimension and why she had drawn her power from there, claiming that it was necessary to help protect others. Strange warns that Mordo will not be so understanding of her. The Ancient One also reveals that she has seen the future, and she knows that this is her final moment. She warns Strange of Dormammu's powers, and holds Strange's hand as she watches snowfall over a nighttime New York City, before her form vanishes, signifying her death.[10][11]
In the very early hours of the morning, stunned by the death of his mentor, Stephen Strange washes his hands. He says goodbye to Christine Palmer, before leaving again to fight the Zealots.[10][11]
Kaecilius and his Zealots arrive at the Hong Kong Sanctum where Wong, along with other Masters of the Mystic Arts, is preparing to make a stand. A battle ensues, resulting in the defeat of the Masters and the death of Wong. Kaecilius destroys the Sanctum and prepares to summon Dormammu, who begins to fuse Earth with the Dark Dimension, starting above the remains of the Hong Kong Sanctum.[10][11]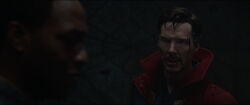 Meanwhile, Strange reunites with Mordo at the New York Sanctum, and they decide to stop Kaecilius and his Zealots together.[10][11]
Battle at the Hong Kong Sanctum:

The duo arrive only to find the Sanctum already destroyed, and the Masters who decided to protect it already dead.[10][11]
Knowing that they have no other option, Strange decides to use the Eye of Agamotto, breaking the Natural Laws of Time, to turn back time for the city and reverse what has happened. He frees both himself and Mordo from the time reversal, and the reversal returns Wong and many others from the dead, despite Mordo's protests.[10][11]

However, Kaecilius breaks free of the time reversal as well and a battle breaks out in the rebuilding city. Kaecilius stops Strange from completing the spell, freezing time for the city around them and ensuring that the Dark Dimension will still arrive despite Strange's best efforts. Kaecilius says that Dormammu's arrival could not be stopped anymore, saying that his dimension is "beyond time".[10][11]

Dormammu does this, turning the Zealots and Kaecilius into Mindless Ones and dragging them into the Dark Dimension forever, sealing the portal between the dimensions, as Strange returns to Wong and Karl Mordo on Earth. Mordo leaves the Masters of the Mystic Arts, disillusioned by their dishonest, questionable, and dangerous uses of magic, after having witnessed both Strange and the Ancient One's rash actions be pardoned.[10][11]
20th
22nd
26th
February
1st
2nd
3rd
4th
Mackenzie and Coulson take off for their longest flight yet, globetrotting on the Zephyr One for meetings, while keeping track of Johnson.[4][5]
6th
10th
Tandy Bowen enters a club and spots at a rich young man in the VIP area.[21][22]
Tyrone Johnson is scolded by his basketball coach at half time.[21][22]
The young man at the club invites Bowen over, and they drink together. She tells him that she loves private house parties, and he proposes going back to his uncle's house.[21][22]
In the second half of the basketball game, Tyrone Johnson continually receives fouls from the opposing team.[21][22]
Robbery of Rick Cotton's Apartment: The young man makes advances on Bowen, but she stops him. She reveals that she has drugged him so she can rob him, and the man falls to the floor. Bowen opens the door to her boyfriend, Liam Walsh, and the couple loot the house.[21][22]
Tired of receiving so many fouls, Tyrone Johnson loses control and hits the opposition's fouling player. After an exchange of blows, the other players separate the two and Johnson is sent to the bench.[21][22]
Walsh drops Bowen at the abandoned church she lives in. In her makeshift room, she puts on a hoodie - Billy Johnson's, which she kept from 2009 - and takes some drugs that she stole from the rich man. She puts in earphones and starts listening to music.[21][22]
13th
Anne Torrez goes missing in New Orleans, taken by Andre Deschaine and Lia Dewan.[13]
Tandy Bowen expresses her anger to Liam Walsh for the little they have raised from their theft, since they have only obtained five hundred dollars. He proposes to her that she go to a party occurring in a forest that evening.[21][22]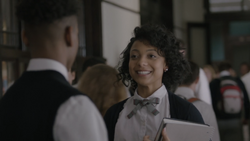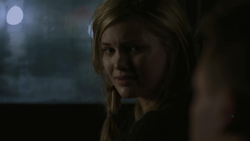 After having sex with her boyfriend, Tandy Bowen tells Walsh about the accident she had 8 years prior, and that a miraculous hand had saved her.[21][22]
14th
When Johnson wakes up, he finds he is not in his room, but in fact on the roof of a Roxxon Corporation building. When he descends the stairs to leave, he notices the policeman who killed his brother walking by, proving to himself that he was not deluded about the murder of his brother 8 years prior, and notes the officer announcing himself as "Connors" on the phone.[21][22]
As Tandy Bowen puts items into her bag, her mother enters the house. She jolts in a sudden hurry to hide the bag and accidentally cuts her hand. After bandaging it and putting the bag away, she welcomes her mother, Melissa, who tells her about her new boyfriend. Tandy touches her mother's hand, then suddenly sees a light, leading into a happy vision reminiscent of her childhood with her parents. Tandy retracts her hand, ending the vision, and asks her mother if she saw the same thing, but Melissa is confused, having not experienced anything.[21][22]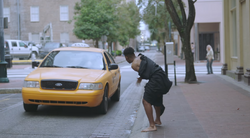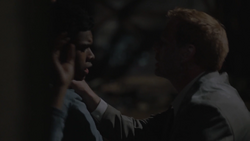 15th
Detective Brigid O'Reilly begins to investigate the scene where Tandy Bowen stabbed the rich young man.[21][23]
Meanwhile, Bowen and Johnson mull over their newfound powers. They try to use them again, to no avail.[21][23]
Tyrone Johnson has breakfast with his family. His father asks him about basketball, and encourages him to look to his mother as a role model rather than his coach.[21][23]
Tandy Bowen meets with Liam Walsh and tells him what happened to the rich young man, without mentioning his powers. Liam proposes to get new documentation, make a change of image and go to a safe place, if the assaulted is still alive.[21][23]
Johnson tells his school priest Father Francis Xavier Delgado that he is not taking the pills he prescribed, because he wants to have complete self-control - that this is the same reason he does not drink alcohol. Delgado says that he has a lot of bottled-up anger, to which Johnson replies that he feels he could direct it towards its cause: the policeman who killed his brother. Delgado disapproves.[21][23]
Johnson has a church service at school, during which he texts Evita Fusilier to apologize for leaving her alone at the party.[21][23]
O'Reilly picks up the rich young man's cell phone and investigates his contacts. She takes the man's friends to the police station for questioning.[21][23]
Adina Johnson checks a gun she keeps hidden in her house.[21][23]

Tandy Bowen arrives with Liam Walsh at the dry cleaners' who secretly work with criminals, to acquire new documentation. The clerk offers Bowen a full pack of false documents, but asks for $11,000. Unable to pay this, Walsh offers to pay a part, since the rich young man will be in the intensive care unit and could wake up soon, so they need the money urgently.[21][23]
When Johnson wakes up, he sees texts from his teammates, angry at him for not showing up to practice and ask him where he is. As soon as he arrives back at school for training, he sees that the coach has punished everyone, making them run suicide sprints because of his actions at the last match.[21][23]
Tandy Bowen enters her mother's house, and is horrified to discover that her mother found her hidden bag and shared its contents with her new boyfriend, Greg Pressfield. Tandy rebukes them for taking the money and the pills. As soon as her mother mentions that her father would be hurt to see that she had pills in her bag, Tandy leaves home.[21][23]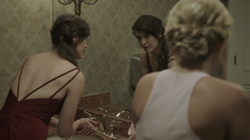 Liam Walsh discovers that the maid of honor is the one who has the money from the tips. While dancing with him, Bowen has another vision: seeing what her wedding would be like to him. Unable to deal with this prospect, she to go to the bathroom. There, she finds Delia, the maid of honor, who advises Bowen to have fun and leave the problems for another day. She hugs her and Bowen takes the opportunity to steal the money from the bag.[21][23]
Meanwhile, Tyrone Johnson finds James Connors, but is forced to flee after making noise and not wanting to be discovered.[21][23]
Delia realizes that the money has been stolen. Tandy Bowen takes the envelope cage and steals the bride and groom's car with Liam Walsh to get away.[21][23]
Upon arriving home, Tyrone recognizes that his mother needs help, and she advises him to turn his fears and faults into positive energy. When she kisses him on the forehead, Tyrone has a vision. In it he sees his mother, his brother, as a young boy, and himself, also young, in a supermarket. When Billy runs into the next room, a shot is heard, and when the little Tyrone follows, another. Tyrone sees his mother run only to find two graves and cry before them. After the vision ends, Adina feels tired and Tyrone tucks her in. He is determined to put an end to the policeman who killed his brother.[21][23]
When Tandy and Liam arrive back at the dry cleaners', she refuses to reveal what she was thinking earlier. He reveals that he knows that she lives in the abandoned church and offers his help in dealing with everything she faces. Scared of what problems his commitment to her might cause, she replies that they cannot deal with the problems together and leaves with the new documentation.[21][23]

Arrest of Liam Walsh: Tandy Bowen flees in the stolen car. Meanwhile, Walsh is arrested by Brigid O'Reilly. Shortly after, he uses his one call to phone Bowen and ask for help, but she hangs up and keeps driving.[21][23]
Attack on James Connors: Tyrone Johnson arrives at the house of the policeman who killed his brother, prepared to kill him. When he is about to shoot, a black curtain touches him and he unintentionally disappears from the place just as he pulls the trigger.[21][23]
Johnson's teleportation makes him appear on the road where Bowen is driving, with his bullet going through the windshield without hitting her. She swerves the car but ends up crashing into a tree, invoking her daggers of light in self-defense without knowing it.[21][23]
Bowen gets out of the car, bleeding from her forehead. Johnson approaches her and believes that she has been traumatized. She asks him about his gun, and he replies that he did not want to shoot her and that appeared before her without knowing how. Angry, Bowen gets back in the car and starts it, driving away, not wanting to see Tyrone again.
Tyrone Johnson hears sirens and decides to hide in nearby bushes.[21][24]
16th
Detective O'Reilly visits the rich young man in hospital. He tells her that he does not remember much of the attack, but she does not believe him. O'Reilly states that the night of the accident he had his pants pulled down and cuts on his face, deduced to be fingernail scratches from self-defense. At this, he urges her to leave, claiming to need rest.[21][24]
Tandy Bowen parks the car and cleans her tracks with a rag before entering her mother's house. Once inside, she washes the blood from her forehead. Melissa opens the bathroom door, intending to talk to her daughter, and expresses concern about her daughter's bleeding. At that moment, Detective O'Reilly knocks on the door. Melissa answers and starts talking to the detective. O'Reilly asks Melissa about her daughter's whereabouts, but Melissa says she has not seen her in awhile. She asks her to enter Melissa's home, but Greg Pressfield calls out to remind her that she cannot enter without a warrant. Detective O'Reilly explains that she believes that Tandy was the victim of an attack and gives her her details on a card to be delivered to Tandy if Melissa sees her. When the detective leaves, Melissa goes to look for her daughter, but Tandy has already left.[21][24]
Tyrone Johnson tries to talk to Father Francis Xavier Delgado, but he is not in his office. He decides to kneel and pray, but not to God - to his late brother, asking what is happening to him and why he cannot control himself, wondering if he is cursed. Evita Fusilier enters the room, having listened to him. She tells him that believes she can help him with his supposed curse and offers to take him on a voodoo tour that she leads herself after school.[21][24]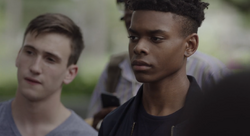 After school, Johnson attends the tour. Fusilier explains that voodoo can protect and break curses, among other things.[21][24]
Evita Fusilier's tour ends at her aunt Chantelle Fusilier's voodoo shop. She takes Johnson to Chantelle for help and introduces him. Chantelle concludes that Johnson needs a special bath to open his mind.[21][24]
Infiltration into the Shared Unconscious:

At night, Tandy Bowen gets on a bus. Once in her seat, she falls asleep. When she wakes up, she sees the bus completely empty, so she decides to leave it. However, once outside, she realizes she is having a vision, seeing a young Tyrone Johnson playing basketball while watching her intently.[21][24]
After getting the ingredients, Johnson and Fusilier head back to Johnson's house. He gets into the bath, takes a deep breath, and falls asleep. When he wakes up, he finds he is in a vision. He is in his house, but when he opens the door, he finds himself on the roof of the Roxxon Corporation. There he sees Tandy Bowen, as a child, dressed in her ballet outfit.[21][24]

In Bowen's vision, she sees Billy Johnson arrive and start to play with Tyrone. Billy's friends propose to him that they steal a car radio, but, this time, Billy decides to stay playing with his brother. Bowen's vision suddenly moves to a clearing. There he sees Tyrone, in a historical suit, grabbing a gun and shooting Detective James Connors. Tyrone is then chased by police into a noose, from which he is hanged. The vision repeats itself and Bowen begs him to try something different. She leaves him a dagger of light, which then turns into handcuffs, and Tyrone decides to cuff Detective Connors instead of killing him.[21][24]
In Johnson's vision, Tandy Bowen is dancing near a puddle of water, which is next to an exposed live wire and going to electrocute her. He tries to protect her, but the vision shifts to a swamp. There, he sees Bowen waiting outside her father's boardroom, watching as his coworkers drown him by forcing water into his lungs.[21][24]

She tries running away twice, but each time the vision just repeats. The third time, Johnson asks her to stop running and try to do something else. Bowen produces a dagger of light and touches the glass of the boardroom. Johnson's vision then shifts again to large door. He opens it without hesitation.[21][24]
Meanwhile, in Bowen's vision, she enters a room and sees Tyrone Johnson, as a child, surrounded by memo letters written by Billy and crying.[21][24]
Tyrone Johnson finds himself in a church, where the young Tandy Bowen is giving pills to several men, including the rich young man who attacked her, and her own boyfriend, Liam Walsh. After taking the pills, each of the men die.[21][24]
Simultaneously in their respective visions, Tandy Bowen and Tyrone Johnson look at a stained glass window. When they touch it, they both awaken from their visions.[21][24]

Detective O'Reilly enters her car, and Detective Connors knocks on her window. She lowers it and he hands her the identity card of Rick Cotton, the rich young man who was attacked, claiming he found it on a dead drug addict. Connors says that it was clearly a mugging gone wrong, and that the case is closed, despite O'Reilly insisting it does not fit the evidence.[21][24]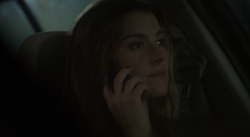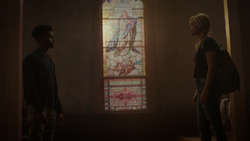 Tyrone Johnson confesses to Tandy Bowen that he discovered the church through a voodoo dream. She agrees to talk to discover together what is happening to them.[21][25]
Johnson talks to her about the voodoo bath. Bowen scoffs skeptically, but Johnson explains what he saw in his dream, and how Roxxon's men tortured and killed her father. He tells her that she was running away, except for the last time.[21][25]
Bowen reveals to Johnson that she had visions about him and the death of his brother. She explains that while he sees people's fears, when she touches someone, she can feel their hopes. Bowen suggests to Johnson that he should get more information from the cop who killed his brother, but he says he does not like that idea. She proposes, however, that he build a story and act as a victim, so as to convince the police that he is a ruffian.[21][25]
Johnson explains to Bowen how his powers work, and says he believes that they guide him to where he needs to be. Bowen explains that she produces a dagger of light when he feels upset. Suddenly, she realizes that his powers began to manifest when they touched in the cemetery, so she suggests touching again.[21][25]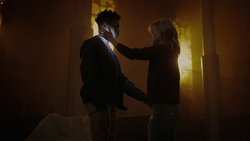 17th
20th
21st
In the morning, Adina Johnson, Tyrone's mother, is surprised to find her husband and son very happy, and Tyrone having cooked breakfast. Neither of them reveals about joining the Wild Red Hawks.[21][25]
Tandy Bowen goes to the dock and ties some chains to her feet, then throws herself into the sea to commit suicide. However, after a while, Bowen emerges from the water with a dagger of light in her hand, deciding to keep going.[21][25]
Tyrone Johnson enters the police station and asks to speak with Detective Brigid O'Reilly.[21][25]
Tandy Bowen enters Greg Pressfield's office, hoping something has survived the burning. She finds a safe and breaks it open with a dagger of light, discovering that Pressfield protected some folios from the Roxxon case. Without hesitation, she takes them away.[21][25]
In Walnut Park, Los Angeles, a burned body is found, being the signal of a "murder epidemic".[26][27]
Tandy Bowen watches an advert of a man called Louden Swift cleaning the beach and introducing himself as a member of the navy who lost his arm. He explains that Roxxon Gulf hired him to use his skills in the place he calls "home". While watching, Bowen analyzes the Roxxon documents that Greg Pressfield had kept protected.[21][28]
Detective O'Reilly is having sex in her car with fellow officer Kenneth Fuchs when she receives a phone call telling her to go to the police station. There, she talks to Tyrone Johnson about how complicated it would be to catch and prosecute James Connors for Billy's murder. Given this, Tyrone proposes to capture him for drug trafficking instead and tells her what he witnessed the other night. O'Reilly promises to investigate.[21][28]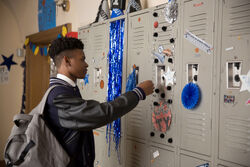 At school, Tyrone Johnson is opening his locker when Tandy Bowen appears. She apologizes for her behavior and reveals that she can now generate daggers at will. Bowen asks him to take her to a computer room to continue her research into Roxxon. There, she tells him that she is trying to unite several points of her investigation to discover the identity of an important man in the Roxxon case. Johnson asks how she controlled her powers, and she tells him about her suicide attempt. She encourages him to use their powers together to their advantage to see people's fears and hopes. Then, after printing some files, she leaves.[21][28]
Johnson prepares with his teammates for the basketball state finals. Meanwhile, Bowen steals a uniform from a locker.[21][28]
O'Reilly is investigating Billy Johnson's death when Fuchs appears. He explains that problems with drug dealers decreased in District 12 as soon as Connors entered, so the streets are now safer. However, O'Reilly thinks that Connors simply cleared space for a drug dealer, since there is still a lot of product on the streets.[21][28]
Tyrone Johnson arrives at his house and observes a picture of Billy with his friends, while listening to his mother on the phone, discussing her biggest client holding an event that night: Roxxon. When his mother finishes talking, Tyrone asks her about Billy's friends and she replies that one of them went on to do well for himself. After congratulating him on reaching the basketball final, Tyrone tries to hang the photo on the wall, but is teleported to a warehouse.[21][28]
In the warehouse, Tyrone Johnson finds Duane Porter, one of Billy's friends. Porter tells him that his business started fixing houses and now he is the store owner. He tells Tyrone that he is expecting a lot from him in the game, and discusses how moving on and making the most of your life is important.[21][28]
In the church, Bowen places the profiles of Roxxon employees she has printed on the floor. She begins to investigate the company's employees on social media. After discovering that the employees meet with escorts, she decides to put on the uniform she stole and visit an agency.[21][28]
Tandy Bowen manages to pass the interview successfully, thanks to a false profile, and is hired. She asks to start that same night.[21][28]
Before the match begins, Tyrone Johnson asks Evita Fusilier to go to a private room with him. There, they talk about their relationship and he gives her his jacket, as the team-members do for a cheerleader of their choice. They share a kiss.[21][28]
The basketball game starts and Johnson scores minutes later. However, the referee whistles and orders him to shoot again due to a foul. He thinks about telling the referee that they did not need him, but, in the end, he does not object, and scores the penalty.[21][28]
In the police interrogation room, Detective Brigid O'Reilly sits with Liam Walsh. He is upset because Tandy Bowen has not come to help him. O'Reilly asks him about the identity of the drug dealer who offered quality drugs in a club and lets him know that she will offer something for the information.[21][28]
The match continues. A teammate passes the ball to Johnson, but he finds himself surprisingly unable to catch it. The referee says that the St. Sebastian's Preparatory School team has the shot nonetheless.[21][28]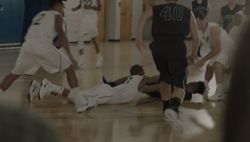 Johnson fights for the ball with another player. The referee touches him and he has a vision in which he sees men stabbing the referee in front of a marker. When Johnson opens his eyes, the ball has disappeared - it has in fact materialized near Bowen at the gala.[21][28]
Infiltration into the Roxxon Gala:

Bowen meets a young woman at the gala, who is nervous about having to deliver a speech.[21][28]
At half time, Johnson tries to process what is happening to him, while Bowen touches several of Roxxon's workers to see their hopes and find someone who is a common denominator. Johnson towels his face, and suddenly finds himself teleported to Bowen.[21][28]
Johnson asks her what she is doing at a Roxxon party and accuses her of teleporting him there, pointing out that her repeated use of her powers, connected to his, have caused him to lose control. Bowen pays no attention to him and says she is close to finding the mystery man who appears in the hopes of Roxxon employees.[21][28]

Noticing a photograph with the man in it, Bowen finds his name in the caption: Peter Scarborough. She realizes that he is the man was the one who entered her house 8 years prior and took things supposedly belonging to Roxxon.[21][28]
Johnson asks her to help him return him to the basketball changing rooms, and Bowen suggests he put himself in danger to activate his powers. He begins to doubt her, but she pushes him towards the railing so he falls off and his powers instantly teleport him back to the bench in his team's changing room.[21][28]

Detective O'Reilly continues her investigation. After questioning the drug supplier of a club, she discovers that she is not the main dealer. However, the supplier explains that she does not know who is pulling the strings.[21][28]
Tandy Bowen returns to the church and begins to investigate further into Peter Scarborough.[21][28]
In the second half, Tyrone Johnson dodges the players of the opposing team, but, they touch him and he sees their fears, realizing that they are from struggling backgrounds. In the last second, he has the chance to score and win the game, but, knowing that if he allows the other team to win he might give them the boost in life that Billy has always wanted, he intentionally misses the shot.[21][28]

Bowen rings the doorbell of Peter Scarborough's house. She asks him to use his phone to call roadside assistance, having punctured her own tire as a cover for speaking to him, but he offers to change them himself. As he does so, Bowen creates a dagger in a moment of anger, but vanishes it again, instead touching the back of his neck to see his hopes. Bowen sees Scarborough in a body of water collecting the money from his dead employees.[21][28]
Tyrone Johnson enters his room and finds Evita Fusilier waiting for him in his bed, having climbed through the window. She tells him that she knows what he did for the referee and the other team, having paid attention to his skills and motivation. She takes off the jacket he gave her and they begin to kiss.[21][28]
Detective O'Reilly snorts a few lines of cocaine in a back office at the police station. Suddenly, Detective James Connors appears and asks if he can share them. They talk about taking drugs while working as undercover cops and O'Reilly pretends to be a big drug user so as to get him to open up. She then leaves, pleased with herself for getting closer to catching him.[21][28]
22nd
The next morning, Fusilier says goodbye to Johnson and leaves through his window. Johnson takes a black shirt and, accidentally, teleports to Duane Porter's store. There, he sees Porter talking to James Connors, discovering that they are partners in drug trade and that Porter's business is a cover.[21][28]
23rd
Tandy attends the recording of a commercial by Mina Hess, Ivan's daughter, who turns out to be the woman she met at the gala. Hess affirms that Roxxon helped her after her father had an accident, and that she will help save the world.[21][28]
Evita Fusilier and her aunt prepare the house for a voodoo reading. Chantelle Fusilier explains that the reading is for New Orleans, and she will look at the past, present and future.[21][29]
Duane Porter arrives at the warehouse to work. Tyrone Johnson follows him.[21][29]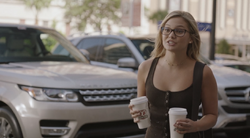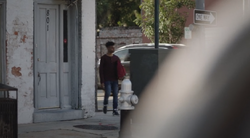 Chase of Kev:

While O'Reilly drives, she and Connors talk about the case and the drug dealers. Connors asks him to stop the car when he spots drug dealers, and starts to chase them while she looks for the backpack that one of them had been carrying and left lying around. When O'Reilly leaves, Tyrone Johnson walks away, having already stolen the backpack.[21][29]
James Connors catches Porter's drug dealer, whom he actually knows, and starts hitting him. He warns him that they are starting to attract attention and that Porter should be cautious. When O'Reilly arrives, Connors lets the man go.[21][29]

Hess says that she wants to show "Liz" the valve she has designed for the new oil platform. She reveals that Roxxon do not drill for oil, but instead search of a material that burns ten times better and that twice as hot. She adds that, because of that, the old rig could not stand it, but that now it can. On arriving at the valve, Hess' colleague, Stan Bartlett, warns her that her heat shield is failing, so she decides to check why it happens.[21][29]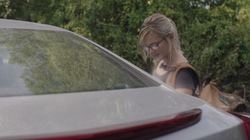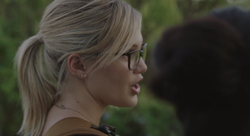 Tandy Bowen and Mina Hess return to the abandoned amusement park. Bowen continues asking about Hess' father and asks to see him, but she refuses. Hess notices sees one of the bees they were looking for on Bowen's neck and blows it away.[21][29]
Connors reminds Porter of his message about laying low over the phone and asks him to meet that night to sort things out. Connors then tells O'Reilly that he has a contact who can take them to whomever she wants. They plan to catch the drug dealer that night, but Connors plans instead on taking her out.[21][29]
Porter drives with Johnson and explains that they are survivors. He says that their acts have consequences, even if it is not fair.[21][29]
Back at Mina Hess' house, Tandy Bowen asks again about her father. Hess confesses that she has worked out "Liz" is in fact Nathan Bowen's daughter, Tandy.[21][29]
At the voodoo reading, Chantelle Fusilier affirms that one of the members of the Divine Pairing must die every time a disaster needs to be stopped.[21][29]
Back in the warehouse, Porter tells Tyrone Johnson that he recognizes he has value, from acts such as when he jumped into the water to save Billy. Tyrone is horrified to learn from this that Porter saw James Connors kill Billy and yet chooses to work with him, as well as reproaching him for not having helped him when he tried to explain to police that Billy was shot. He asks Porter to do something better to honor Billy's memory. Connors and Detective O'Reilly suddenly knock on the store door, and Porter asks Johnson to leave.[21][29]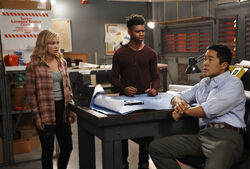 Bowen and Johnson hide in a room, and there they find Ivan Hess, who is glad to see people without hostile intentions. They call him "Ivan Hess", but he does not recognize this, not remembering his name. Bowen asks where they are, to which Hess replies that they are "here" and that the phone usually rings "halfway", before the "end" of "everything". Bowen realizes that they are on the oil rig that exploded and Johnson asks Hess how to stop the explosion set to go off in under 2 minutes. He explains that they have to get to the core room, press the emergency shutdown button and turn off the shut-off valves, but that it is impossible to do so in the remaining time.[21][30]
Despite having little time, Bowen and Johnson try to reach the core room, but are forced to fight with several crazed workers. Soon after, time runs out and the explosion occurs. They suddenly find themselves minutes before the explosion again, in Ivan Hess' office. Hess explains that he lives in a loop, and that he believes the energy of the initial explosion instills fear in the workers and makes them hostile, naming them "terrors".[21][30]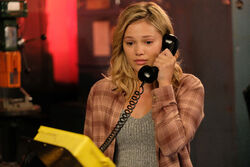 Bowen mentions the name of Hess' daughter, but he denies ever having a child. She mentions Nathan Bowen, however, and Hess recognizes this as the name of the person who calls him on the phone in every loop. Bowen realizes that it was Hess who had been talking on the phone to her father before the fateful accident. As soon as the phone rings, Bowen takes it and talks to her father, becoming emotional. The explosion then happens again and Bowen and Johnson are transferred back to Ivan Hess' office as the countdown is restarted.[21][30]
Tyrone Johnson asks Tandy Bowen to help close the valves, but she wants to talk more with her father. Johnson tries to go to the core room and close the valves by himself, but is attacked by the workers and is forced to teleport away. Bowen picks up the phone and talks to her father again, while Johnson avoids the workers, presses the button, and closes the valves. After this, however, the explosion still happens again and the countdown restarts. Johnson tells the others that it has not worked and Hess is impressed, but unsurprised at it not solving anything, and leaves the office. The duo agree that considering their plan has not worked, they need to release Ivan Hess' hand in reality.[21][30]
In the real world, Johnson wakes, but finds that Bowen lied, wanting to stay to talk to her father, and is continuing to use her powers with Ivan Hess. On finding this, Johnson gets frustrated and reenters Hess' mind to get Bowen out. When he finds Bowen, however, she does not remember anyone, having been in the loop many times.[21][30]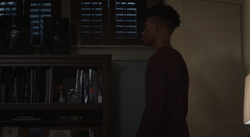 Back home, Johnson opens a shoe box and finds an old voice recorder he and Billy played around with.[21][30]
In the church, Bowen tries to sleep, but receives a call from Tyrone Johnson. Glad to have a friend in life who actually cares enough to call her, Bowen picks up and Tyrone explains that he wanted to talk because he has found a recording with Billy's voice, and needs some company while he listens. She recommends he play it, and they hear Billy attempting freestyle rap with a 6-year-old Tyrone beatboxing. Tyrone is emotional at hearing his voice again, but Tandy jokes with him to keep things happy, and asks him to play it again.[21][30]
25th
Brigid O'Reilly has pancakes with Kenneth Fuchs, who starts to call himself her boyfriend. She nervously explains that she passed the psychological evaluation after shooting Duane Porter. She is upset for having shot him and is determined to stop James Connors, because he believes that he was behind what happened. Fuchs decides to help her.[21][31]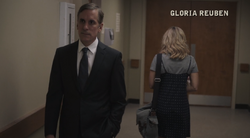 After breakfast, Otis Johnson tells his wife that he wants to invite the Wild Red Hawks to his house to finish their costumes later. Shortly after, Tandy Bowen knocks on the door and Tyrone reluctantly lets her in. Otis and Adina appear and Bowen tells them that she was worried about Tyrone, since she herself lost a relative, her father, on the night Billy was killed. When his parents confess that they will not be paying homage to Billy later, Bowen decides to invite Tyrone to her house that night to pay tribute with her and her mother. Before leaving, Bowen steals Adina's Roxxon identity card.[21][31]
At the police station, Detective James Connors asks O'Reilly for help in identifying the boy who fled when Duane Porter was killed. She tells him that she does not recognize him, but he is sure she knows who he is. A portrait is drawn based on his description, and he confirms it to be accurate.[21][31]
The Wild Red Hawks are presented with their costumes at the Johnson residence. While Otis Johnson picks up Billy's cloak, Roland Duplantier explains to Tyrone the difference between a cape and a cloak. Tyrone spots his father crying and tries to cheer him up.[21][31]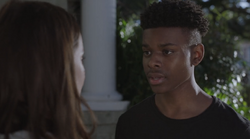 Tyrone Johnson receives a message from Detective Brigid O'Reilly, who says she is waiting outside. He steps out onto the sidewalk and tells O'Reilly he is worried because his parents would be frightened if they knew she was from the police. O'Reilly warns him that Connors is going after him and that he should try to go unnoticed, but Tyrone refuses to do so, since he wants to catch Connors at all costs. She realizes it is the anniversary of Billy's death, and says that she believes Connors is also aware.[21][31]
At O'Reilly's house, Tyrone Johnson reveals his plan to obtain a confession from Connors: he wants to disguise himself as Billy and make Connors believe he is Billy's ghost, haunting him on the anniversary, to extract a confession. Tyrone asks O'Reilly if Kenneth Fuchs is trustworthy and, after she affirms this, he confesses that he has powers and that he can control them with Billy's cloak.[21][31]

At night, Tyrone Johnson begins to follow James Connors using his powers and Billy's cloak. When the detective arrives at his car, he realizes that his gun has been stolen.[21][31]
Tyrone Johnson grabs Connors by the neck and uses his powers to remind him of Billy's death, then whispers in his ear, "You killed me." After this, Connors notices that his gun is back in its holster.[21][31]
Kidnapping of Peter Scarborough: In Roxxon, Tandy Bowen catches Peter Scarborough and puts a dagger of light to his neck.[21][31]
Arrest of James Connors: Connors meets O'Reilly and says that she has a clue about the boy in his drawing, showing him a drawing of Billy Johnson and claiming it is the same drawing as earlier. He begins to wonder if the boy he saw was in fact Billy. Then, in the middle of the street, Connors sees Tyrone with Billy's cloak. He doubts if it is real and O'Reilly says that she does not see anyone. Connors begins to chase him until he reaches the place in the shipyard where he killed Billy. There, Connors tries to shoot him, but Tyrone avoids the bullets with his powers. Pretending to be Billy's ghost, he gets Connors to confess his crime. Once they have the necessary statement, O'Reilly arrests Connors and Fuchs reveals that he has recorded everything.[21][31]

In Roxxon, Tandy Bowen finishes tying up Scarborough. She shows him that she knows everything about the explosion and why they killed Greg Pressfield. After claiming that her father not as good of a man as she believes, Bowen threatens him with a dagger of light. Scarborough offers her money in exchange for her silence. Angry, Bowen instead decides to leave.[21][31]
At the police station, O'Reilly tells Fuchs that she has met people with superpowers in New York City, and should tell him about her friend named Misty.[21][31]
By Lake Borgne, Tandy Bowen and Tyrone Johnson meet to pay tribute to their lost loved ones. Johnson tells her that he got a confession, while Tandy says she is content to have scared Scarborough. Melissa approaches them and Tandy introduces her friend.[21][31]
Before lighting a lantern, the trio hold hands. Suddenly, Tandy Bowen and Tyrone Johnson discover that they have entered into a vision. They enter through a door and appear in a movie theater. Tandy worries that they are in a fear, but Johnson believes that they are facing a mixture of memory and fear. Melissa sits in the theater, and her memories are projected. In them, they see that Melissa remembers having a perfect relationship, but, than in reality, Nathan would hit her, one time being when she accidentally spilt a drink on some of his documents.[21][31]
Upon returning to the real world, Tandy and Melissa Bowen and Tyrone Johnson light the lantern and let it fly.[21][31]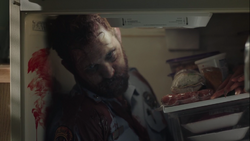 26th
27th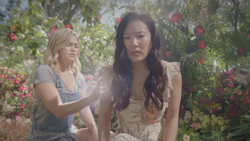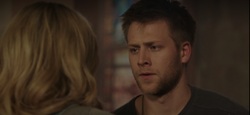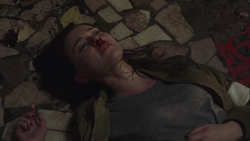 28th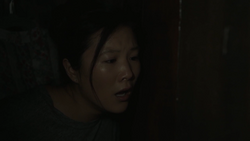 Rescue of Mina Hess: Tandy Bowen runs to Mina Hess' house, but is attacked by a terrorized worker. She ends up stabbing him with a light dagger in self-defense. Bowen then enters the house and rescues Hess from another attacking worker. She explains what these "terrors" are, and how people have turned into the terror state. Hess realizes that the other nine valves across the city could fail soon and each spread dark energy. Due to lack of time, she says they must go to Roxxon to shut them all off centrally.[21][33]
Tyrone Johnson tries to go unnoticed as he walks through a Mardi Gras parade in Billy's cloak, but a police officer discovers him. Johnson flees and is met by Brigid O'Reilly, who tries to help. When several policemen surround them, she encourages him to escape with his powers, but he decides not to as there are too many witness. O'Reilly and Johnson are arrested.[21][33]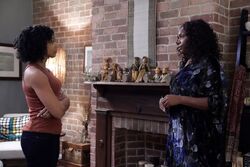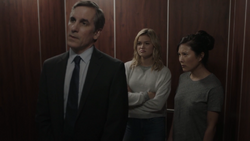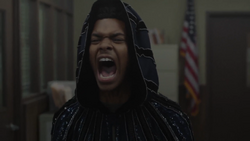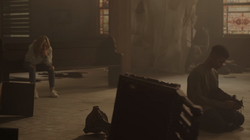 In the abandoned church, Tyrone Johnson laments that Billy's cloak has been torn. At that moment, Evita Fusilier enters and tells them about the Divine Pairing, in addition to the sacrifice that one of the two must make. Johnson asks her to get to a safe place and kisses her goodbye.[21][33]
Tandy Bowen prepares a plan with Tyrone Johnson, but he says he feels useless without his cloak. At this, Bowen hands him Billy's hoodie, stolen by her from the beach 8 years ago, but reminds him that he does not actually need it.[21][33]
March
1st
Evita Fusilier watches TV, where it is announced that the hysteria from Mardi Gras has disappeared, stopped after a flash of energy.[21][33]
Peter Scarborough's hitwoman finds him in an elevator, induced by Tandy Bowen into the same catatonic state his actions caused Ivan Hess to experience for 8 years.[21][33]
At the Johnson residence, the police question Adina and Otis Johnson as well as Father Francis Xavier Delgado. Adina hears a noise and goes up to her son's room, where she sees that Tyrone has left his basketball jacket to let them know he is okay.[21][33]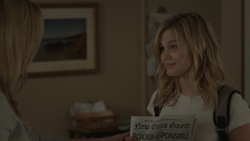 2nd
3rd
Mayhem visits O'Reilly in hospital, observing her and realizing they are the same person. She plans to smother O'Reilly with a pillow, but Officers Paulson and Wyatt arrive, forcing her to hide. Mayhem overhears that James Connors is still "in the wind". Once they have left, she gives O'Reilly the extra pillow and decides to go after Connors first.[13][37]
7th
Mayhem checks in at a Single Room Occupancy hotel and is hit on by the owner, which she rejects. She steals a deck of playing cards and writes "Connors" on a joker card to begin her search process.[13][38]
The councilman Roger Perez visits a construction site in Boyle Heights. However, Perez is suddenly ambushed by the Ghost Rider, who brutally murders him, after finding him guilty for his actions.[26][27]
8th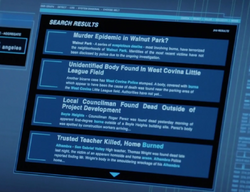 10th
14th
Thomas Wright, a teacher at San Gabriel Valley High School, is tracked down to his house in Alhambra by the demonic vigilante Ghost Rider, who discovered that he was a pedophile. Ghost Rider kills him and burns down the residence.[26][27]
16th
18th
While in prison, Eli Morrow hires the Chinatown Crew to steal a box, which contains Lucy Bauer, from Momentum Labs facility in Pasadena. However, the Chinatown Crew contact the Aryan Brotherhood, and order them to steal the box and deliver it to them.[3] The Watchdogs also hire the Aryan Brotherhood for an unknown mission.[26][40]
Quake discovers a possible deal between the Watchdogs and the Aryan Brotherhood.[26][40]
Ambush on the Aryan Brotherhood:

R. Moore, D. Anderson, M. Scott, and T. Mitchell of the Aryan Brotherhood steal the crate containing Lucy Bauer. They manage to deliver the box, before being attacked by the Ghost Rider, who brutally wounds Scott. They escape as Ghost Rider follows them.[26][40]
In their getaway, they are attacked by Quake, who has been tracking them too. When Johnson attempts to question Scott, she discovers that he was already attacked and is bleeding. Before passing out from blood loss, Scott warns Quake of the presence of Ghost Rider. Suddenly, Robbie Reyes drives up and transforms into Ghost Rider as Moore fires a rocket at him. He crashes into their truck, causing a fire, and blocking Johnson from them.[26][40]
He proceeds to brutally murder Moore and Anderson, then kidnaps Mitchell, before getting in the Hell Charger and driving away. Johnson, who could do nothing but watch in horror, is forced to leave when the police arrive.[26][40]
19th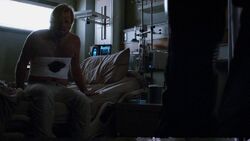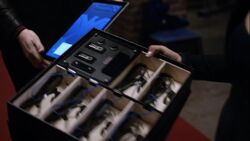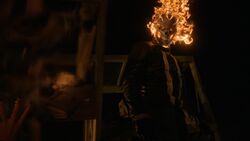 Duel at El Monte Junk and Salvage: Quake, having found Robbie Reyes' location, meets him at Canelo's Auto and Body to try to get information out of him. Reyes attempts to get her to leave unsuccessfully, and after being questioned, he transforms into Ghost Rider and attempts to kill her. Johnson manages to fight back, but Reyes pushes a shelving unit over to topple onto her as she lies on the ground. Johnson struggles to quake it to stop it falling and injuring her. The Rider stands over her and peers into her soul, but then walks away, deciding to let her live.[26][40]
20th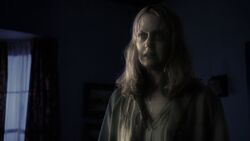 Lucy Bauer visits her old house in the middle of the night, which scares the family currently living there. On her way out, she infects the father.[40][41]
21st
Robbie Reyes travels to work and briefly interacts with his co-workers. As he is working, Quake visits him with a made up story of her car engine lighting on fire, forcing Reyes to play along. When they are finally alone, they discuss the Ghost Rider. Reyes claims he is not an Inhuman, but rather something very different, and that he "sold [his] soul to the devil". When Johnson mentions Gabe Reyes, Robbie decides to attack again. They briefly duel, but Reyes knocks her out.[40][41]
As Jemma Simmons and Leo Fitz are researching a bizarre invisible material, Alphonso Mackenzie brings them details on Lucy Bauer and the house incident. The three question the existence of ghosts, then Fitz and Mackenzie get a lead and go to find her, without Simmons.[40][41]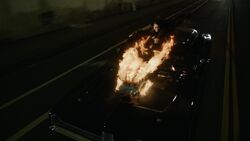 22nd
Robbie Reyes picks up Daisy Johnson from the street, and tells her that he thinks that he might be the connection between everything that has been happening.[40][41]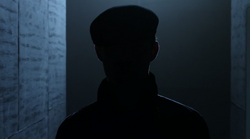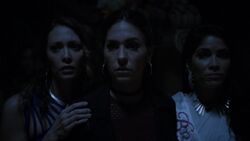 Robbie Reyes and Daisy Johnson, now at the Reyes brothers' home, discuss how Robbie can recover so fast. He explains that his strong healing factor means his injuries do not last long. Robbie then heads out to make sure people are safe, as the Ghost Rider. He uses work as an excuse, not wanting Gabe to know what he truly does.[40][42]
Gabe and Johnson have a conversation after Robbie leaves, but Gabe tells her he knows of her abilities and that she is Quake. He says that he believes she is a good person, but he wants her to stay away from Reyes, to keep him surrounded by trustworthy and safe people, threatening to expose her to the public if she does not.[40][42]
Phil Coulson, Alphonso Mackenzie, Leo Fitz, and Yo-Yo Rodriguez find the source of the outages, an EMP device, and reset it to bring the power back on, ending the Blackout Attack.[40][42]
23rd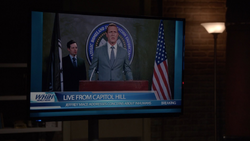 26th
29th
Wilson Fisk begins planning a ceremony for his wedding to Vanessa Marianna, as the conclusion to his scheme to leave prison, take back control of New York City's criminal empire, and be considered a public hero. He intends for the ceremony to endear him once again to the media and citizens.[44]
April
2nd
Daisy Johnson gets injured in a confrontation with the Watchdogs while she is trying to obtain information on how they are managing to find every Inhuman they have killed. She decides to reunite with Simmons in order to get some help.[45][46]
3rd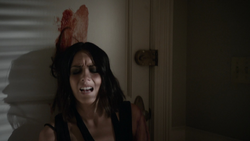 Jemma Simmons goes to look at a new apartment opportunity for her and Leo Fitz, only to discover it was a decoy set up by Daisy Johnson. Simmons treats Johnson's injuries as they briefly catch up, before Johnson asks for help hunting the Watchdogs. When Simmons refuses, Johnson pulls a gun on her to force her to help.[45][46]
Chase of Robbie Reyes: Phil Coulson visits Eli Morrow in his prison to question him about Momentum Labs. Coulson tells him about Lucy Bauer and that something happened to her and her friends, but Morrow does not say anything. Outside, Coulson and Alphonso Mackenzie notice Robbie Reyes driving by, and give chase. Eventually, they trick him into crashing into an invisible Quinjet, and then arrest him.[45][46]
Holden Radcliffe tells Melinda May about what happened to her when they cured her infection days prior. Leo Fitz arrives and panics when he discovers Aida is helping to treat her, but Radcliffe says that she is becoming so advanced it is easy to mistake her as human. Fitz reluctantly agrees, as May has fallen for it.[45][46]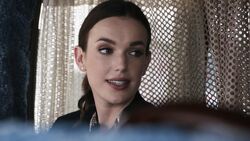 Jemma Simmons and Daisy Johnson plan to steal information from Elizabeth Albee that will help them track Watchdogs. However, because of her high clearance level, Simmons simply asks Albee for the information, to Johnson's surprise. After they get the info, they find JT James is trying to find information on Inhumans, and Simmons insists that they work together in confronting him.[45][46]
They meet James at a fireworks shop, where he works, to make a deal with him. James tells them to meet him on the 2nd floor of a storage base later that night.[45][46]
Phil Coulson and Alphonso Mackenzie question Robbie Reyes about the Ghost Rider, and then decide he can help with the Momentum Labs case, letting him out so as to make a deal. They form an alliance to find answers. Reyes visits Eli Morrow for to question him, with a device relaying the conversation to the agents, but Morrow figures out he is working with Coulson. Morrow tells him about Lucy Bauer and what happened to them, and of a book that he calls "evil".[45][46]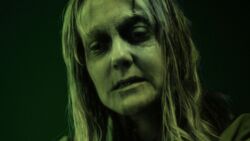 4th
5th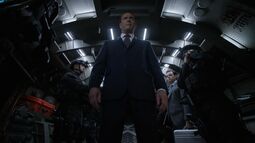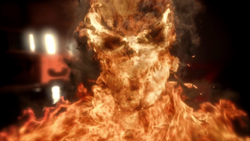 Jemma Simmons is sent to investigate the brother of Ellen Nadeer, who has been stuck in a Terrigenesis shell for 7 months, arousing concerns that he may be a very powerful Inhuman when he finally breaks out. Simmons manages to comfort him out of his shell, which causes the other scientists to remove her from the room.[45][49]
Attack on the Chinatown Crew:

Suddenly, the spirit which inhabits the Ghost Rider, the "Spirit of Vengeance", leaves Reyes in favor of Mackenzie. Mackenzie, influenced by this new possession and power, leaves to track Eli Morrow.[45][49]
Daisy Johnson and a still invisible Robbie Reyes chase Alphonso Mackenzie down in the Hell Charger, with Johnson not knowing that Mackenzie had been possessed by the Spirit of Vengeance.[45][49]
Johnson tracks Mackenzie to a warehouse, where he had slaughtered members of the the Chinatown Crew. Reyes attempts to convince the Spirit of Vengeance to keep their deal and return to him. When Johnson gets to Mackenzie, he transforms into the Ghost Rider in front of her, however, after more persuasion, the Spirit of Vengeance returns to Reyes.[45][49]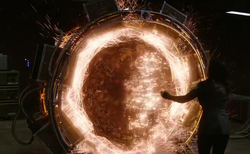 7th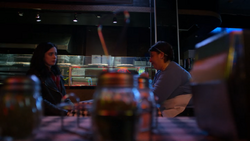 Jones later meets with her client, Mavis, at her pizza shop Slice City, and shows her the pictures of her boyfriend cheating. Just as Mavis is about to pay Jones, Rafi walks in, and Mavis angrily offers Jones more money in return for killing him. Disgusted, Jones informs Rafi of Mavis' request, and he runs out of the store. Mavis asks Jones why she told him and why she was unwilling, pointing out that Jones is a killer, having killed before - a fact she heard on Trish Talk - which infuriates Jones. Managing restraint, she tells Mavis that she is not a murderer and leaves, spitefully taking a box of pizza with her.[51][52]
Trish Walker sings the It's Patsy theme song at a child's birthday party in exchange for a favor from the child's father, much to the delight of the kids. When she is done, she approaches the father, Kyle, and asks for the file he has promised in return. Kyle gives her a hospital file, much to the dismay of his husband. Upon perusing the file's contents, Walker finds vital information and leaves to find Jones. Unbeknown to her, she is being followed by Will Simpson.[51][52]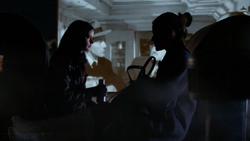 Walker meets with Jones on a roof where a man they know screens a film on the first Friday of every month, which Jones is currently watching. Jones tells her about the annoying clientele she has been getting lately after what happened with Kilgrave 2 years prior, as people now view her as some sort of murdering vigilante. She says that Walker is only escalating the situation by discussing it on Trish Talk, and is making it harder for her to move on, but Walker says that to move on, she needs to first face what happened, and pulls out the file from Kyle. She tells her that the file shows she was not assigned a hospital bed until 20 days after her family's car accident, and speculates that this was due to IGH experimenting on her in that time. Walker encourages her to investigate IGH more, believing that knowing what IGH did to her might help her to move on, but Jones refuses.[51][52]
11th
12th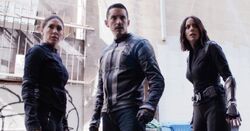 13th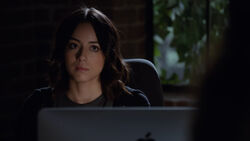 At home, Vijay is talking to his sister Ellen as they eat breakfast outside when a Watchdog crew suddenly arrives to take him. He realizes that his sister is behind it all as he is forced back into the house.[55][57]
Jeffrey Mace, Quake, and Jemma Simmons head to Washington, D.C. in a Quinjet.[55][57]
Upon arriving in D.C., Simmons enters Ellen Nadeer's office to find evidence, while Jeffrey Mace relays instructions to Quake. Nadeer's assistant, Zach Bynum, welcomes Jemma Simmons. Bynum calls Tucker Shockley, who needs to talk to Ellen Nadeer. He tells Shockley that the person who arrived is the same person who attended to Vijay Nadeer in his Terrigenesis. After hanging up, Bynum attacks Simmons, but she manages to defend herself.[55][57]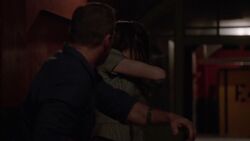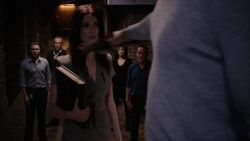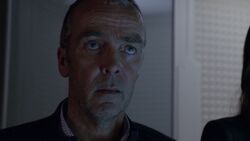 Meanwhile, at the Radcliffe Residence, Radcliffe talks to a second version of Aida. He tells her that he is upset at their recent failure to obtain the Darkhold, having programmed the first Aida to steal it for him in secret.[55][57]
14th
Malcolm Ducasse wakes Jones up in her apartment to prepare for the day's meetings with potential clients.[51][52]
The duo meet with the potential clients. One of them wants to find her son, whom she put up for adoption years ago. Another is concerned about conspiracy theories of lizard-people taking over. A man calling himself the "Whizzer" claims that someone is trying to kill him because he has super-speed powers, which Jones is skeptical of. Afterwards, Ducasse says he wants to take the adopted son case, but Jones is concerned it will just attract more sob-story clients. He writes down her advice, but Jones points out she is not giving him lessons.[51][52]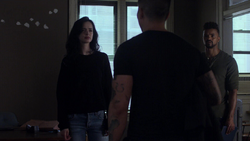 Another client arrives, Pryce Cheng, who tells them his desire to absorb Alias Investigations and hire Jones. Jones refuses, saying he just wants to eliminate the competition, which Cheng does not deny, but he replies that if she does not accept his offer, he will run her out of business.[51][52]
Cheng leaves and Jones attempts to follow him, but is cut off by a large fridge being moved in front of her into an apartment. The people carrying it are Oscar Arocho and his son, Vido, who are moving into Apartment 6F, previously belonging to Robyn. Seeing them struggling, Jones uses her super-strength to move the fridge with ease, much to Vido's awe.[51][52]
15th
16th
Attack on Jeffrey Mace:
In the Playground, Agent Crawford checks Aida's head as Melinda May's LMD talks to Glenn Talbot about the attack on Mace. Simmons joins the conversation, and Talbot sends May to interrogate Yuri Zaikin so they can get some answers.[63][64]
Meanwhile, at the Radcliffe Residence, Leo Fitz and Holden Radcliffe also discuss the attack. Fitz tells Radcliffe that he should not come to work at S.H.I.E.L.D. for some time after his blunder with Aida led to Nathanson's death, before leaving the home.[63][64]
After Fitz's departure, Radcliffe and Aida discuss their plan, and how the Life-Model Decoy they have planted replacing Melinda May is programmed to be unaware of her true nature and of her mission to retrieve the Darkhold. Radcliffe also worries about the fact that they cannot seem to stabilize the real May's condition so that she can remain calm and sedated, programming her a virtual simulation so she can believe she is relaxing on a beach.[4]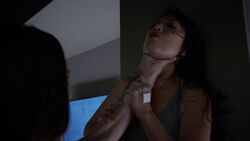 "May" and Quake interrogate Zaikin, who reveals that he was not the only terrorist sent to kill Mace.[63][64]
As the team fly in the director's Quinjet, the vehicle is attacked in the air and Burrows falls to his death before the plane crashes, killing agent McCafferty in the process. Coulson, Mackenzie, and Mace are unharmed and realize that the Quinjet's systems were hacked. Figuring out that they are in danger, they decide to leave, but Jeffrey Mace insists that they must first find Burrows' body.[63][64]
At the Playground, Talbot and the others cannot locate the missing S.H.I.E.L.D. agents. After Quake, Simmons, and May leave Mace's office, Talbot reports the investigation to the president, telling him that they do not know whether "the package" is safe.[63][64]
Fitz returns to the Playground, and reunites with Simmons, but they soon fall out about his involvement in Aida's design. They put the argument aside for the time-being so that Fitz can help her to locate their friends.[63][64]
Talbot carries on Yuri Zaikin's interrogation but cannot get any information from him. Shortly after, Simmons discovers that she has access to something called "Project Patriot", and she and Fitz ask Talbot about the significance of the suitcase Burrows used to carry around for the director.[63]

Glenn Talbot reveals that Mace is not really an Inhuman. Instead, he gained his super strength from injections of a serum inspired by Calvin Zabo's Formula, which Burrows carried in the suitcase to administer to Mace regularly.[63][64]
Meanwhile, Coulson, Mace, and Mackenzie discover that the terrorists are using HYDRA equipment. Mace reiterates his insistence on finding Burrows' corpse, but the terrorists already retrieved it, as well as the suitcase. Phil Coulson and Alphonso Mackenzie attack the terrorists, but are surprised to see that Mace simply seizes the suitcase and flees, without fighting alongside them. He is stopped by a terrorist who shoots him in the leg, before being killed by Coulson and Mackenzie, who both now realize the truth behind Mace's powers.[63][64]
After obtaining the location of the crash site from Zaikin by scaring him with Aida's decapitated head, May's LMD and Quake arrive at the site just in time to help Phil Coulson, Alphonso Mackenzie, and Jeffrey Mace to defeat the Watchdogs. The team manage to take down all the terrorists before returning to the Playground.[63][64]
May's LMD realizes that she is an android after a wound from the battle opened up her skin and revealed her substructure.[63][64]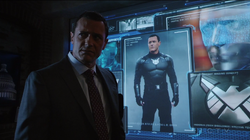 17th
Aida and Holden Radcliffe discuss May's fate, and Radcliffe tells Aida that he does not intend to kill May unless it is an absolute necessity.[4][64]
In the new simulation, Melinda May believes that she wakes up once again and manages to get free of her bonds. She is found by Aida who chases her through the Radcliffe Residence. Eventually, May discovers that she is still in a simulation where she has been given someone to fight, corresponding better to May's nature than the previous relaxing environment. Aida informs May that she has attempted to escape in this Framework simulation several times and got further and further each time, but that she keeps resetting May's memory every time she catches her.[4][64]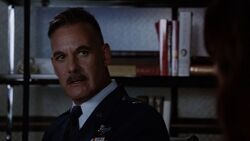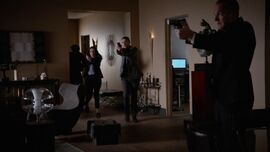 Arrest of Holden Radcliffe:

A team is sent to the Radcliffe Residence, where May's LMD had gone first to confront Radcliffe about her own true nature. The LMD realizes that she cannot go against Radcliffe's secret programming to retrieve the Darkhold, neither can she overcome her programming preventing her from attacking Radcliffe or even disclosing her true identity to the others.[4][64]
The S.H.I.E.L.D. team finally breaks in and arrests Radcliffe, who is locked in a Containment Module at the Playground.[4][64]

Once he returns, Alphonso Mackenzie tells Yo-Yo Rodriguez about his daughter, Hope Mackenzie, who died 11 years ago, only four days old. He explains that went to see his ex-girlfriend Nicole to support her, as the next day would have been Hope's birthday.[4][64]
Fitz later visits Radcliffe and confronts him about lying to everyone. However, Fitz figures out that the person he is speaking to is not human, but a Life-Model Decoy, and he shoots the android in the head, revealing its true nature. The real Radcliffe watches the whole scene through the LMD's eye camera while he makes an alliance with Ellen Nadeer and the Watchdogs.[4][64]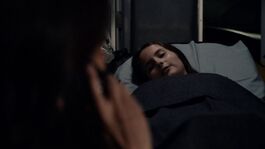 In order to prevent May from escaping the simulation, Radcliffe reprograms the Framework world to allow her to live a rewritten life: a life where she can look back happily on the Rescue on Bahrain, having managed to save Katya Belyakov instead of killing her, May's greatest regret.[4][64]
21st
A shell company belonging to Donovan and Partners, on Wilson Fisk's orders, buys the Presidential Hotel in New York City from Rostam Kazemi.[65]
Jeri Hogarth gives an acceptance speech for an award she has received, and talks about empowering women. She then sits down with her business partners, Steven Benowitz and Linda Chao. Benowitz says they are going to settle the lawsuit against their firm, which is being filed by Hogarth's former assistant Pam for having gone to prison for Hogarth and supposedly being harassed by her, exploiting her position as her boss. Hogarth disagrees and says Pam was very consenting and never harassed, but Chao highlights that Pam has a strong case. She talks about how Hogarth's actions stained her and Benowitz's good names and the trouble they are going through trying to restore their reputation.[51][52]
22nd
24th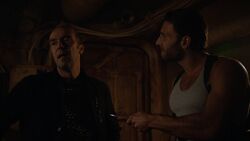 However, as Koenig insists in front of the Superior, the leader of the Watchdogs himself, that he is willing to die regardless of any torture he might receive, Radcliffe decides not to torture him, but to look into his mind using some Framework equipment.[61][68]
Daisy Johnson manages to identify Leo Babikov, one of the Watchdogs who attacked the Koenig brothers, proving that Radcliffe has allied with the organization, and thus with Senator Ellen Nadeer. Sam Koenig then reveals that he knows about the Darkhold because Billy gave it to him, and he then gave it to another Koenig agent, LT Koenig.[61][68]
S.H.I.E.L.D. takes LT Koenig aboard the Zephyr One where she talks to Coulson and the others, explaining "Operation Hot Potato": passing the Darkhold back and forth between the three Koenig agents before hiding it in the Labyrinth, a secured S.H.I.E.L.D. facility.[61][68]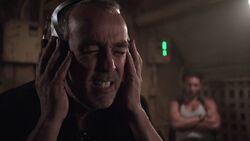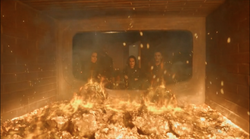 27th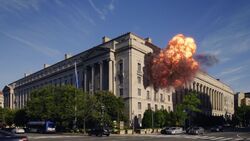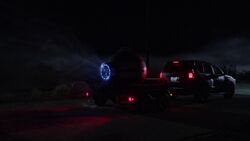 Kidnapping of Jeffrey Mace: A field mission is planned to capture Shockley, and the team carry it out, successfully trapping him in a containment sphere designed by Leo Fitz. Mace, however, is taken down and captured by the Watchdogs while ensuring the other agents' escape.[68][69]
Agnes Kitsworth's consciousness is uploaded into the Framework. She wakes up in a private place located away from civilization, where she can live completely in peace, even if her body perishes in the real world.[68][69]
Phil Coulson resolves to save both May and Mace.[68][69]
28th
29th
Jessica Jones researches the client she photographed visiting Pryce Cheng in his office, and finds the man is looking for his missing dog despite him winning custody over the pet when he divorced his wife. She takes out the boxes of her family's ashes and looks at them while drinking.[52][73]
Meanwhile, Phil Coulson and his team finds the same safe that he and May had cracked in the past, and they discover the skeletons of several SVR soldiers, with one skull containing a ringing cell phone. Coulson takes the call and finally speaks with the Superior, who blames Coulson for the deaths of the soldiers from his unit in 2003. Ivanov then tells Coulson that Mace and May will suffer the same fate of his former colleagues. After hanging up, he tells Mace about his belief that Coulson having engineered all alien-related events on Earth in the past few years.[68][74]
The S.H.I.E.L.D. team returns on the Zephyr One, where they try to locate Mace and May. Using the intel provided by Ivanov, they learn about the Krasnoyarsk Krai naval base. They immediately fly to the base and begin their infiltration, with Fitz and Simmons taking over the communications room while Coulson, Johnson, and Mackenzie search for their captured friends.[68][74]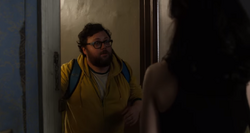 Jessica Jones wakes up at her desk, with Malcolm Ducasse in her kitchen, who gives her a package that has been sent by Cheng Consulting Management. Jones answers an urgent knock at the door, only to find the man who previously visited her for help, "Whizzer", who is spouting more stories of people trying to kill him, but she shuts the door in his face. Jones opens the package from Cheng, which contains all his information and message saying, "I am an open book," telling her to give up trying to find leverage on him as there is none. Jones also realizes a potential client has hired Cheng instead of her, and becomes angry. She remembers Cheng's client's missing dog, and realizes she can steal a client from Cheng in return.[52][73]
Coulson soon encounters Ivanov, who proceeds to tell him the story of his unit from 2003, and how they were executed for not being able to retrieve the 0-8-4. However, Coulson dismisses Ivanov's speech as irrelevant,since he only cares about finding Mace and May. He then lets Johnson fight Ivanov while he leaves to continue searching. Coulson and Mackenzie find Mace, who is being beaten up by several Watchdogs.[68][74]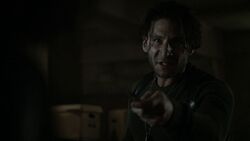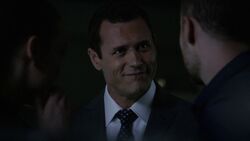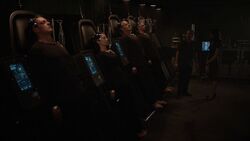 30th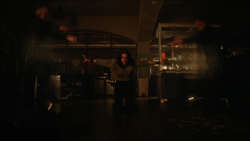 Main article: 2017/Framework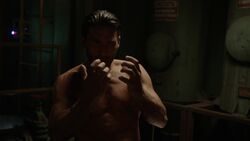 Eventually, Ivanov awakes, seemingly finding his body repaired and able to move again. Suspecting her tampering, he confronts Aida and tries to attack her, reminding her that he did not want his mind meddled with. Aida calmly informs him of what has transpired, explaining that his body is mechanical, while his mind is not. She shows him his own severed head and notes that his strength has now been enhanced. Aida explains that she learned how to do this by reading the Darkhold, and tells Ivanov that she needs him to protect the Framework, stating that despite being a machine, Ivanov can still feel emotion from his mind - an ability she intends to find for herself very soon.[68][75]
Angry at Pryce Cheng for his threats and arrogance, Jessica Jones goes to confront him. Cheng is meeting with the client looking for his dog, and she arrives during the meeting walking the dog, Felipe, in herself, explaining that she found it at his ex-wife's boyfriend's place. Cheng's client gets angry at him, saying Cheng had told him that he had already gone to look there and found nothing, but Cheng defends himself, saying the boyfriend would not let him in. Jones tells the client she can go to lengths Cheng will not and hands him her card as he goes to leave.[52][73]
Attack on Pryce Cheng: Cheng gets in her way when she attempts to leave, and provokes her with taunts about being a killer and her family's deaths. She knocks him to the floor and warns him to stay away from her and her clients, when he pulls out a taser. It has no effect on her due to her resilience, and she throws him through a glass door in anger. Jones goes to attack him further but then stops herself. She is restrained by security arriving on the scene as Cheng's co-workers call the police, and Cheng spitefully calls her the "weakest human being [he has] ever met".[52][73]
Jessica Jones is released from the courthouse after Trish Walker bails her out, with a court order to take anger management classes and a fine for property damage. Walker and Jones talk about how she is going to need to face her past and IGH, but Jones says she thinks facing it will make her worse, worrying about the fact that she has already killed someone. Walker's boyfriend, Griffin Sinclair, then arrives and they leave for a charity gala.[52][73]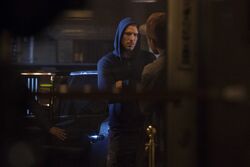 Walker and Sinclair attend the fundraiser together. Walker talks about her concerns about Jones, and how the story she is planning to run will affect her. She looks out of the revolving doors and is shocked when she sees Will Simpson, seemingly stalking her, but when she moves closer he is gone, and she wonders if she imagined him.[52][73]
May
1st
The People May 1, 2017 issue is published, with Julia Roberts on the cover.[14][76]
Jeri Hogarth meets with Pryce Cheng in her office. He blames her for him being assaulted by Jessica Jones, saying she did not warn him of Jones' temperament when she used him to try to hire Jones. Cheng says, however, that he wants to sue Jones, believing he thinks she got off too easily, and tells Hogarth he wants to hire her to help him. She agrees.[52][73]
Jessica Jones goes to enter her apartment but is suddenly attacked from behind by the Whizzer. She throws him to the floor, but he pulls a gun on her and insists that someone "like them" is trying to kill him and he needs her protection. He reveals that he is on medication, making Jones assume he is psychotic, but he explains that it is to repress his powers. Jones attacks him so he will drop the gun, and he exhibits super speed as he runs throughout the room, surprising her as he had been telling the truth. He throws a box at her, not realizing it contains her brother's ashes, and when she deflects it with her arm, they end up scattering across the room.[52][73]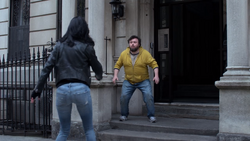 Chase of Whizzer: Jones chases Whizzer into the street, where he once again demonstrates super speed. However, as he runs, a pile of scaffolding falls on him and he is impaled by one of the metal poles, killing him. Across the street, Oscar and Vido Arocho are walking by, and Oscar is forced to shield his son's eyes from the horrific sight.[52][73]
Hogarth visits her doctor after receiving a painful cramp, wanting to be done with appointments. Instead, the doctor informs her in private of what tragic results their tests have yielded.[52][73]
Jessica Jones sits, devastated, in her office with her brother's ashes still scattered on the floor. Malcolm Ducasse enters and cleans the ashes up with a piece of paper to help her. They discuss Whizzer's death, and how Jones believes that the scaffolding falling was not a coincidence, but rather the work of another powered person. She looks through Whizzer's bag, which he left in the apartment, and finds a pill bottle. There is no prescribing doctor, but she finds the manufacturer, "Salento". She and Ducasse find Salento's local distributor, and Jones goes to visit the place where they delivered the pills.[52][73]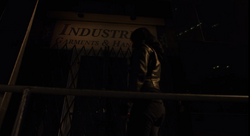 Jones finds the facility, labelled "Industrial Garments & Handling", which she notices in acronym form is "IGH", realizing it must be a front. Inside, she discovers an experimental clinic, which trigger flashes of memories of when she was experimented on there 17 years ago, including a memory of being attacked by another person. She finds the resolve to open the door into her past, and investigates further.[52][73]
2nd
Jessica Jones sits in a bar and asks for multiple shots of whiskey, hoping it will help her deal with the trauma of revisiting IGH. She tries to call Trish Walker about her discoveries, but Walker's boyfriend, Griffin Sinclair, answers instead, not wanting to wake Walker up. He asks Jones to put off the call until morning, and she hangs up. Jones goes to leave the bar, when a man calls after her, lewdly commenting on her backside. Wanting a quick hit of pleasure, she turns around and takes him to the bathroom to have meaningless sex. They do so, but when she accidentally uses her strength, crumpling the metal of the stall, the man calls her a freak and Jones makes him leave.[54][73]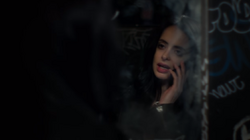 Malcolm Ducasse calls Jones and tells her that a man named Dr. Miklos Kozlov leased the IGH facility she discovered, and gives her Kozlov's address. After hanging up, he receives several texts from a woman he met on a dating app.[54][73]
Trish Walker has a brunch date with Sinclair and her mother. Sinclair leaves immediately however, to allow Trish to talk to Dorothy. Trish asks her mother for the address of Max Tatum, a film director from her past, but Dorothy calls her desperate, discuss her radio show's diminishing popularity. Unbeknownst to Trish, Will Simpson continues to stalk her from across the street. Dorothy reluctantly gives Trish Max's details.[54][73]
Jeri Hogarth sits in her car and becomes dazed, ruminating on her tragic diagnosis. She pulls the car to the side of the road, and a female prostitute approaches her, asking if she wants to "party". Hogarth agrees and the woman gets into her car with her.[54][73]
Infiltration into the Kozlov Residence:

Jones arrives at Kozlov's home in the morning, only to find that he has died in a "freak accident" car crash. She enters the home and finds his friends and family attending a mourning minyan.[54][73]
Jones roams Kozlov's home and investigates his office, noticing Will Simpson in a photograph with the doctor and several other soldiers. One of Kozlov's soldier patients, Isaiah, enters the room in his wheelchair and finds Jones studying the picture. He takes out a baton and demands to know who she is working for. Jones is initially hesitant to fight someone in a wheelchair, but Isaiah uses her hesitation to attack her, knocking Jones to the floor. She gets up and flips him out of his wheelchair, and Isaiah recognizes her strength as the likely outcome of her being one of Kozlov's patients. She says that his "freak accident" was probably caused by another patient, and Isaiah agrees, revealing that Simpson is still alive, and that he believes him to be the murderer. A man enters the room and, finding Isaiah on the floor, kicks Jones out of the house. She attempts to call Trish Walker, but her phone is off.[54][73]

Trish Walker goes to her car after brunch, and notices the missed call from Jones. Dorothy notices, and comments that she is not ignorant of the fact that Trish clearly does not want Jones to find out they are back in touch. Trish ignores the topic and says goodbye, getting into her car. She continues to be unknowingly followed by Simpson in a nearby vehicle.[54][73]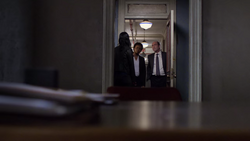 Jones is researching Kozlov and "the Whizzer" online, wanting to find a connection, when she is interrupted by detectives Ruth Sunday and Eddy Costa, who arrive at her office investigating Whizzer's death. They imply to her that she is a suspect, so she takes them to the new superintendent, Oscar Arocho, knowing he witnessed the incident with his son, and hoping he will vouch for her. However, to her dismay, Arocho lies and says he saw nothing. Jones storms off in frustration, telling the detectives she will only come for questioning if the incident becomes a real case.[54][73]
Ducasse wakes up in bed next to the woman who had been messaging him the night before. He gets a call from Walker, asking for his help and requesting that he not tell Jones, and he leaves to meet her.[54][73]
Jessica Jones investigates Whizzer's apartment, hoping to find clues about who was trying to kill him. She traps his hostile pet mongoose Emil in the bathroom and then finds his laptop, with a video on it. Jones watches the video, in which he describes his situation and how he got his powers. Whizzer explains how he believes his powers are killing him, and how powers can cause mental illness. The New York Police Department then arrives and attempt to get into the apartment. Jones escapes through the window with the computer, letting Emil loose as a distraction.[54][73]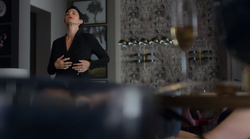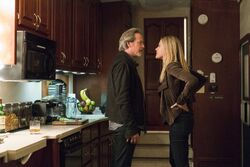 Walker speaks to Max Tatum in his trailer and asks for him to use his influence at Metro-General Hospital to do her a favor, not telling him the purpose: to research the hospital's involvement in Jones' experimentation. She threatens to go public about his attempts when she was 15 and starred in one of his movies to exploit his position of power by making sexual advances towards her. By Walker's request, Ducasse secretly films their conversation in the next room. Tatum defends himself, saying that she had wanted his advances, and accuses her of blackmailing, but she persists, giving him 48 hours to give her what she wants. He dismisses her threat and gets her to leave, before exiting the trailer himself.[54][73]
Jessica Jones goes to Walker's apartment to talk, but Griffin Sinclair answers the door instead, saying he does not know where Walker is. Jones notice her adoptive sister's files on the floor in her office. Looking through them, she finds crime scene photos from her family's car accident, and her father's death certificate. Sinclair says he wanted to know what she was working on, but found nothing he understood, and lets slip that Trish and her mother had brunch that morning. Jones calls Dorothy, asking where Trish is and what they talked about over brunch, but Dorothy ignores her questions and hangs up.[54][73]
Jones arrives at the Brooklyn movie set, which is now empty. She follows a trail of blood to an empty stage, where she finds that Walker has tied up a bleeding Will Simpson. Walker shows Jones some drugs she found on him, commenting on how they appear to be similar to the pills he took before, since they keep him from feeling pain. Jones accuses him of killing Whizzer and Dr. Kozlov, but he denies this, saying the new drugs he is taking prevent him from losing control like before, and that he only wants to protect Walker from IGH.[54][73]
Assassination of Will Simpson:

Simpson tells the two women that IGH sent someone to stop Walker's investigation. He says that he is the only one who knows about what Kozlov was involved in because he was recently trapped in an IGH clinic for a year by some other doctor and heard him arguing with Kozlov on the phone, including mention of wanting Walker dealt with. Walker asks why she is still alive if they supposedly want her dead, and Jones suggests it is genuinely because perhaps Simpson has been protecting her.[54][73]

The lights suddenly go out, and Will Simpson warns them that the killer is there. He tells Jones to take Walker and run. Jones unties his bonds and Walker gives Simpson her gun before they run. The two women hurry towards an exit and hear Simpson shouting far away. They run into a shadowy figure, but the person leaps into the air, jumping impossibly high over them, and exits through a stage door behind the women. Jones remarks that they were not after Walker after all, and they run back to find Simpson, but discover him dead on the floor with his neck snapped.[54][73]
3rd
Jessica Jones and Trish Walker take Will Simpson's body to a beach which had been a vacation spot where Jones used to go with her family. There, they dump the body out at sea. Walker is disappointed that he did not get a proper funeral, but Jones points out that they could not give him to the police, as they have already found her with too many bodies. They prepare to abandon Simpson's stolen car and remove the evidence, when Walker finds an arsenal of guns and the special inhaler he always took. Jones wants to dump them, too, but Walker insists on keeping the items.[73][77]