"It's our policy not to comment on ongoing operations."
The specific order and/or accurate dates presented in this article has never been confirmed by Marvel Studios and/or Marvel Television.

They have been inferred by fans and therefore they can be inaccurate, incomplete, or biased.
"An empire toppled by its enemies can rise again. But one which crumbles from within? That's dead... forever."
This is a timeline of events that occurred in 2016.
2016
January
9th
19th
20th
22nd
25th
29th
Assassination of Rosalind Price:
On returning to the Playground, Coulson immediately begins to make moves with new urgency in his vendetta against Ward.[8]
Coulson interrogates each of the members of his original team on their personal connections with Ward, so as to learn anything he can about Ward's personality, motives, and weaknesses.[8]

The team, however, begin to worry that Coulson's fury and drive for vengeance is blinding him and making him reckless.[8]
Ward returns to the HYDRA Castle to report back to Gideon Malick about successfully killing Rosalind Price.[8]
30th
31st
Melinda May and Alphonso Mackenzie decide together to help Coulson take on HYDRA with the help of Daisy Johnson's team of Inhumans with Joey Gutierrez and Lincoln Campbell.[8]

Gideon Malick convinces Ward to lead the soldiers on the planet, as Leo Fitz agrees to help HYDRA, to prevent them from killing Jemma Simmons. Malick then uses his collected fragments of the Monolith to reopen the portal. Ward, Fitz, and several HYDRA agents proceed to go through. As Coulson flies in above, he realizes that he has run out of time, so he dives from the Quinjet into the castle, falling through the portal from above just before it closes. He crashes onto the ground of Maveth and is knocked out on impact.[8]
A physical rehabilitation instructor from Metro-General Hospital, who had worked with Jonathan Pangborn a couple of years prior, encounters Pangborn walking on the streets. The instructor is shocked impressed to see him walk, due to his previous seemingly incurable paralysis.[10]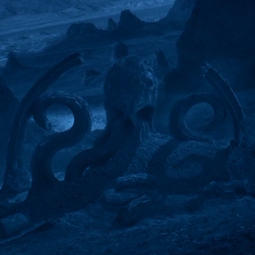 February
2nd
3rd
7th
Rand goes to rest under a tree. While he is listening to music, Big Al approaches him and starts a conversation. He tells Rand about the iPhone he stole a few days prior, and explains that with access to the Internet, you can find whatever you want. Rand tells him to search the name "Danny Rand", only to find out that everybody thinks he is dead. He then asks Big Al to search the name of "Harold Meachum", discovering that he died at the age of 41.[15][16]
8th
9th
10th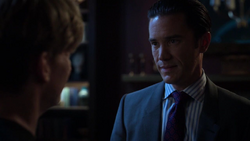 Ward Meachum visits Harold Meachum, who reveals, to Ward's surprise, that he has cameras hooked up in the mental hospital. Harold then orders him to talk to Wing and force her to corroborate Rand's alleged mental condition.[15][23][24]
11th
12th
Joy Meachum, who has started to truly believe Rand is who he claims to be, sends M&M's to him at Birch Psychiatric Hospital so as to see if he remembers the time when they were kids, and he used to separate the brown M&M's from the rest, as final proof of his identity.[15][23][24]

Rand receives the M&M's and recognizes the significance, starting to picking out the brown ones. He is soon visited by Colleen Wing. She reveals that Ward Meachum gave her a check of $50,000 if she signs a contract claiming he was threatening her, but reassures him that she will not sign. Rand then asks her to return the M&M's to Joy Meachum.[15][23][24]
Joy Meachum notices the missing brown M&M's and realizes it is, undeniably, her old friend Danny Rand. As Wing discovers from her that Rand was telling the truth, she asks Joy to tell Ward that she is refusing to sign his papers.[15][23][24]
When Joy Meachum confirms to her brother that it is Danny Rand, Ward still refuses to accept it.[15][23][24]

Paul Edmonds visits Danny Rand and after he answers a few more personal questions, Edmonds finally accepts the truth, and tells him he believes him. However, he does not believe his further stories of the city of K'un-Lun. He tells Rand that the city is only an idea that his mind created so that he would not feel so lonely through the 15 years he was missing. Rand tries to convince him the he can channel the Chi in his hand and summon the power of the "Iron Fist", but he cannot do it until his system is drug-free. Edmonds diagnoses him with an anxiety disorder caused by trauma.[15][30][23][24]
Harold Meachum calls Ward during a meeting and tells him he has decided to move Rand to a safe place that night, since he believes he can be useful. Instead, Ward orders his men, posed as patients, to kill Rand.[15][23][24]

Escape from Birch Psychiatric Hospital: Danny Rand is attacked in the night, but manages to overpower them by finally summoning the "Iron Fist", which he then uses to punch through a wall and break out of the hospital.[15][31][23][24]
Attack on the Chikara Dojo: Ward Meachum's men break into Colleen Wing's dojo to get Danny Rand, who had entered the building to hide from them, but Wing manages to keep him hidden and lies to the men searching. However, when they have gone, she tells Rand he will have to leave in the morning.[15][32][23][33]
Harold Meachum is visited by Ward. They both talk about Rand's escape, and a deal between Rand Enterprises and Raj Patel which Joy brokered, not realizing the pier was being bought for the Hand's purposes.[15][32][23][33]
13th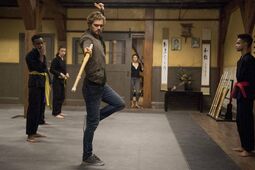 Danny Rand goes to Chikara Dojo and tries to give a lesson to Colleen Wing's students demanding respect from them. However, he attacks a student he deems impolite, provoking Wing to expel Rand from the building. Rand then goes on to an apartment owned by Jeri Hogarth.[15][33]
Meanwhile, Joy Meachum successfully closes the deal with Patel by telling him that she managed to deliver comatose hospital patient Kevin Kennedy's kidney to Patel's nephew, Terrence, so he can get better. In return, Patel agrees to sell the pier.[15][33]
14th
15th
Danny Rand and Jeri Hogarth meet with the Meachums and the Rand Enterprises board.[15][1]

The pair manage to prove their case by presenting the clay bowl that Rand once made, with a fingerprint on the bowl that has an exact same match. Now with undeniable proof of Rand's identity, there is nothing else to discuss. Ward Meachum then threatens to bury them with lots of demands in order to delay his activity in the business for ten years, but Hogarth simply replies that they will see the company in court if they do, and the meeting disbands.[15][37][33]
Curious, Danny Rand follows Ward Meachum to Harold Meachum's Penthouse, without knowing Harold is still alive and living there. Rand goes out of a window and starts climbing the wall to the next floor. As he is about to enter through another window, he is pushed out by Ward.[33] He falls down and loses conscious when he hit his head.[15][1]
16th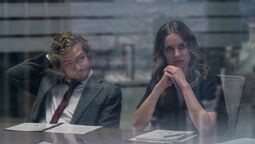 Danny Rand attends a meeting about leishmaniasis, where he discovers the company is selling the medicinal drugs at a very high price. He makes sure to get the company to distribute the drug at cost to reach more people in need of it, despite the disapproval of the board, including Joy and Ward Meachum.[15][39][1]
Colleen Wing trains in her dojo.[1] She films herself to use the footage for her promotional video for her classes.[15][20]
The New York Bulletin publishes an article on its website titled "Danny Rand Gives a Press Conference at Rand Enterprises This Morning".[15][1]
Ward Meachum orders Megan to contact the journalist Jennifer Many and tell her to come to see him that night because he has decided to any questions she wishes.[15][1]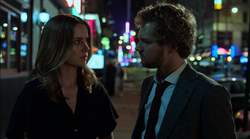 17th
18th
The New York Bulletin publishes the article "Rand Rises" about Danny Rand's publicly well-received decision to distribute a leishmaniasis cure at cost.[15][52]
Madame Gao prepares to assemble the Da Jue Zhan of Danny Rand, an event hosted by the Hand, setting their best warriors against a single opponent. The Hand then allows the opponent to pose demands if they win the tournament.[15][53]
In order to please his sister, Ward Meachum throws away all of his drugs. He informs Joy that Wayne Olsen is coming for a meeting later that day.[15][54][53]
Ward tells Danny Rand he has to attend the meeting with Olsen. However, he tells him that he needs to check up to six warehouses in order to track down Radovan Bernivig's daughter, Sabina.[15][53]
Claire Temple continues to tend to Radovan Bernivig, who does not want to be taken to hospital.[15][53]

At the fourth warehouse, Rand finds King's severed head, realizing it is an invitation to a da jue zhan, challenging Rand to combat. He tells Ward Meachum that he cannot attend the meeting, despite his demands.[15][53]
Rand tells Temple and Wing about the challenge, and how he has practiced for this sort of thing.[15][53]
The meeting with Wayne Olsen goes ahead without Rand.[15][53]
Da Jue Zhan:

Danny Rand arrives for the challenge.

Rand demands the Hand free Sabina Bernivig and leave his company if he wins, which Gao accepts in exchange for Rand leaving the Hand alone if he loses, which he accepts in return. The first round has Rand facing Andrei and Grigori Veznikov, which Rand wins.[15][53]
He enters the second round, having to face Bride of Nine Spiders, who attempts to seduce him, managing to inject him with Singing Spider venom. However, he manages to defeat her.[15][53]

Meanwhile, Ward Meachum shows withdrawal symptoms in the meeting with Olsen, forcing him to leave to search for more drugs.[15][53]
Kidnapping of Radovan Bernivig: At the same time, Radovan Bernivig's condition becomes critical, forcing Temple and Wing to take him to Metro-General Hospital, where the Hand abducts him.[15][55][53]

The da jue zhan continues. Rand faces Scythe in the third round. He wins all three rounds with the spiritual help of his mentor from K'un-Lun, Lei Kung, who then tells Rand to kill Scythe. However, when Gao threatens to kill Sabina Bernivig if Rand kills Scythe, he decides to spare him, going against Lei Kung's orders and his supposed purpose. Gao frees Sabina, revealing to Rand that she has been to K'un-Lun before, and knew his father.[15][53]
Joy Meachum stops Ward from causing trouble at an infirmary while he is trying to obtain more drugs.[15][53]
When Rand tries to fight Gao, she easily overpowers him, and he allows her and Scythe to leave. He leaves with Sabina Bernivig, having successfully rescued her.[15][53]
Attack on Harold Meachum:

Two members of the Hand, named Alexi and Vando, arrive at Harold Meachum's penthouse to interrogate him. However, when Rand arrives, they discover his alliance with the Iron Fist, their enemy, and start a fight. Rand helps Meachum to fight back.[15][56][57]

Joy Meachum worries about Ward after his last incident. He manages to leave to see Harold, who has called him.[15][58][57]

Colleen Wing tends to Danny Rand's injuries. They drink together, and he tells more of his story from K'un-Lun and his duty to defeat the Hand as the Iron Fist. They end up sleeping together.[15][57]
Ward Meachum visits his father in the middle of the night as he had ordered. Harold tells Ward that he wants him to dump the men's bodies in Pelham Bay Park.[15][57]
19th
Joy Meachum gives Rand an apologetic statement to use regarding the Staten Island plant in a meeting later that day.[15][57]
Madame Gao arrives, visiting Rand, and mentions that she has met other Iron Fists.[15][59][57]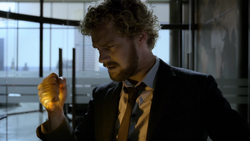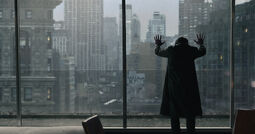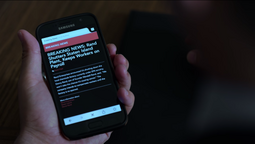 When Ward Meachum attempts to make a transaction, he is informed that his card has been declined. He becomes angry, realizing Harold has taken his money from his account.[15][57]
Dinah Madani prints a map for her investigation into the Assassination of Ahmad Zubair.[7]
Danny Rand goes back to the Golden Sands restaurant to visit the Yangsi Gonshi and warn them of Madame Gao's plans.[15][64][57]
Karen Page writes a full article for the New York Bulletin about Danny Rand's decision with the Staten Island plant, titled "Rand Chooses Right".[15][65]
Elsewhere, Davos sees this article and uses it to track down his missing friend to New York.[15][65]

Lawrence Wilkins visits Joy Meachum and informs her that the board held an emergency meeting and have decided that she, her brother Ward, and her friend Danny Rand should be ousted from Rand Enterprises.[15][57]
Attack on the Hand's Brooklyn Warehouse:

The Yangsi Gonshi help Rand attack the members of the Hand who are holding Radovan Bernivig captive. Despite being successful in the fight, their rescue attempt fails as Bernivig dies before they can free him.[15][57]

Assassination of Harold Meachum:

Ward Meachum confronts his father about his bank account. Harold tells him he knew about Ward making embezzlements, and continues to anger his son to the point where Ward ends up taking a knife to Harold. When Harold does not relent, Ward finally cracks under the pressures he has felt from his father and stabs him repeatedly, killing him again.[15][57]
Ward Meachum dumps Harold's body alongside the bodies of the Hand men in Pelham Bay Park.[15][57]

Claire Temple reads a letter, sent from Luke Cage in prison.[15][66]
Rand visits Harold Meachum's Penthouse, and finds signs left behind suggesting that he has likely been killed.[15][66]

Temple keeps reading Cage's letter, but she is interrupted by Rand who wants to warn her of the danger they are in, telling her to leave in order to keep her safe. Colleen Wing arrives and helps her get away.[15][66]
When Rand arrives, Ward Meachum pretends to only just be discovering his father's death. Meachum tells him that it is all Rand's fault for returning and ruining the Meachums' lives. Meachum then prepares cleaning products to clean up the evidence of his murder.[15][66]
Rand, Wing, and Temple reunite. Rand deduces that his father was going to Anzhou to shut down Gao's operations in 2001, but was targeted by her during the flight, causing the crash. The trio decide to go to Anzhou themselves.[15][66]
20th
21st
Wing briefly opens up to Rand about her mother dying, and tells him she is glad to have met him.[15][69][66]
The trio then intercept a nearby beggar and question him about the nearby facility which belongs to Gao.[15][69][66]

They acquire the necessary information about the patrols that evening and prepare to infiltrate the facility later.[15][69][66]
Joy and Ward Meachum meet to talk by the river. Joy reveals that she has a plan to take back Rand, and that months ago she hired a private investigator to investigate members of the board and find incriminating evidence, so as to prevent them from taking over.[15][71][69][66]
Infiltration into the Anzhou Laboratory:

Danny Rand and Colleen Wing break into the heroin lab as Gao arrives, with Claire Temple watching on.[15][69][66]

Rand engages Zhou Cheng, a drunken fighter, who is well-trained in martial arts disciplines. Iron Fist eventually overpowers him and loses control, continuing to beat Cheng until Temple and Wing arrive and stop him. Wing fights a member of the Hand, who uses a poisoned sword to cut her. However, Wing defeats her opponent, with Temple's help, unaware that she has just been poisoned.[15][69][66]

Meanwhile, in New York City, Ward Meachum intends to finally show Joy Meachum the truth about Harold, taking her to the Art Deco building where he was kept.[15][69][66]

On arrival, he hallucinates his father's blood dripping from the elevator and begins to get manic. Changing his mind, he lies to Joy again and leaves in a hurry.[15][69][66]
Madame Gao arrives and her men engage the trio, who manage to defeat them. After seeing the effects of their poisoned weapons, identical to the symptoms on the dead pilots from his family's journey to China 15 years ago, Rand realises that Gao must be directly responsible, having set up the poisoning. He prepares to attack Gao, but chooses to spare her life, taking her captive.[15][72][69][66]
The New York Bulletin publishes the article "Star Siblings Surrender Rand" about Joy and Ward Meachum being removed from Rand Enterprises.[52]
Late at night, the trio arrive back in New York City.[15][69][73]
22nd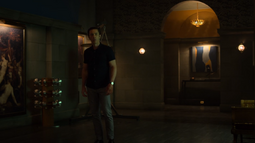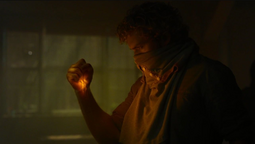 Meachum is taken to Birch Psychiatric Hospital, where he realizes his father has put him in a trap, as he cannot escape his predicament without being seen as crazy for insisting his father is alive.[15][73]
Joy Meachum goes to the Art Deco building to find out what is going on for herself, where Harold watches her from security footage and controls the doors to lead her to him. She enters the basement and is shocked, but delighted to discover her father, alive after so many years presumed dead.[15][73]

Bakuto arrives and takes down Gao's men to make his way into the dojo. He then enters the building and meets the Iron Fist, teaching Rand to open his powered fist and use his Chi to save Wing, burning the poison out of her system.[15][73]
Rand collapses, and Bakuto and Wing then lave take him by car to Bakuto's school to recover and learn further, leaving Claire Temple behind, and with Davos watching on, having found his friend.[15][73]
23rd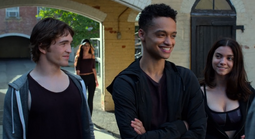 24th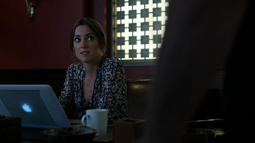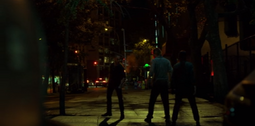 Danny Rand and Colleen Wing go to the Chikara Dojo, but are stopped by Davos, who claims that Wing cannot be trusted because she is a member of the Hand. Wing says she is not with the Hand anymore, but she will not help them to kill everyone in their compound, as she has students there who are innocent, simply not knowing any better, and the discussion ends as Wing punches Davos in the face. Rand calms them both down so they can work together.[15][79]
Very late into the night, at Harold Meachum's Penthouse, Joy and Harold Meachum analyze the Hand's file on drug transport as they proceed to close off the accounts fuelling the Hand.[15][79]

They talk about how Joy used to stay with him during his chemotherapy treatments, and plan to go on a trip together after everything is over. They are interrupted by Ward, who claims to want to talk with Joy alone. He tries to leave with her, but she refuses, saying that her father needs them. Ward warns Joy that since their father was resurrected, he seems like he lost part of his soul, and may even hurt her.[15][79]
25th
Ambush at Harold Meachum's Penthouse:

When Ward Meachum finally convinces Joy to talk outside, Harold stops them. He orders his men to take down Ward, but Ward manages to defend himself by taking a gun from one of them, proceeding to threaten to use the gun if Joy does not come with him.[15][79]
As they are about to leave the building, Bakuto and his men arrive. Ward Meachum tells them that he needs more time. When Joy asks what is happening, Harold says that Ward is working now with the Hand. Ward tries to explain himself to Joy, claiming that Harold is a monster. He tells Bakuto that he is ruining everything, but Bakuto defeats him quickly, and his members of the Hand kill Harold's bodyguards.[15][79]
Bakuto orders Ward Meachum to cancel the transference of his money, then reveals to Harold that Ward wants him dead.[15][79]

Ward cancels the transference and asks if he can leave with Joy, but Bakuto denies his request and orders him to sit alongside his family. He reveals that Harold can be killed permanently if he is beheaded, and asks Ward for his phone so he can call Danny Rand.[15][79]
At the Chikara Dojo, Danny Rand tends to Colleen Wing's wounds as Davos watches. Rand receives a video call from Bakuto, in which he tells Rand that he has thirty minutes to show up, or he will kill Harold Meachum. He shoots Joy as incentive to arrive fast, so as to get her aid in time to save her.[15][79]

Without Davos' approval, Rand leaves, arriving at the penthouse just in time to stop Bakuto from killing Harold. Rand is handcuffed by the Hand and taken away. In the elevator, Bakuto explains to Rand that he wanted the Iron Fist so he can help him to get rid of the one who wanted to ruin his plans, and tells Danny about someone who wants to collaborate with him.[15][79][80]

Duel at Bethesda Terrace:

On the reception floor, Rand manages to summon the Iron Fist again, using it to get rid of his cuffs just in time for Wing and Davos to arrive and help fight Bakuto and his men. After a short skirmish, Bakuto runs away, but is chased and stopped by Colleen Wing.[15][79]

In Bethesda Terrace, Wing and Bakuto duel each other with their swords. After a lengthy battle, Wing manages to defeat and stab Bakuto, but when she is about to kill him, she changes her mind and decides not to. Instead, Davos does it for her, claiming that it is the duty of the Iron Fist to destroy the Hand, and if Rand will not do it, he will.[15][79]

Rand confronts Davos and tells him that killing Bakuto was the wrong thing to do, but Davos tells him that he did it himself only because Rand could not. When Davos tells him that K'un-Lun would have been better if Chodak and Tashi had never found him, Rand attacks him. A fight ensues between the old friends, ending with Rand's victory. Davos decides to return to K'un-Lun, but not without first claiming that there will be consequences to Rand's actions.[15][79]

During the argument, while they are not watching, the Hand takes away Bakuto's body for resurrection. Wing and Rand are surprised when they turn and find him gone.[15][79]
As the sun rises, Harold and Ward Meachum take Joy to Metro-General Hospital. Harold reveals to Ward that he has no intentions to share the company with Danny Rand.[15][79]
Rand calls Harold Meachum and informs him that Bakuto is dead, and Meachum thanks him and tells him to rest. He then asks Rand where he will be staying, and Rand lets him know he will be in the Chikara Dojo.[15][79]
Rand confesses to Wing that she is the one person who has made him feel part of a family again recently. They kiss and enter the dojo together.[15][79]

Harold Meachum frames Rand for the Hand's illegal activities in drug transportation, and sends the information to the DEA so they can go to arrest him, therefore removing him from the picture.[15][79]
Chase of Danny Rand: After a short rest, Wing wakes and trains with Rand. Ward Meachum sends Rand a message warning him of a trap set by Harold, as DEA agents enter the building to capture Rand. He and Wing fight them and escape from the dojo, running to flee from the scene.[15][79]
The New York Bulletin publishes a last-minute article named "Wanted", describing the recent reports about Rand being involved on drug's transport.[15][81][52]
Thembi Wallace gives a report on WJBP-TV about Danny Rand allegedly using Rand Enterprises to transport drugs around South America.[15][81]
Harold Meachum prepares to reveal himself to be alive and take control of Rand Enterprises.[15][81]

Jeri Hogarth decides to stand for Danny Rand, and prepares to build a defense. She asks Ward Meachum if he thinks that Rand is guilty, and he answers no. Before Ward can confess who set the trap for Rand, they are interrupted by Harold, to Hogarth's shock, having believed him to be dead. She claims that faking his death for all those years is fraud on the highest level, but Harold ignores her and asks her to leave so he can talk to Ward alone. Hogarth leaves, and Ward confronts Harold, reminding him that he is in Rand's debt, because he freed Harold from the Hand. Ward realizes that Harold has been using Rand ever since he returned, but Harold grins, saying he has been messing with him for far longer than that.[15][81]
Rand and Colleen Wing, who have been on the run all day, discover the reason for the DEA's chase from a New York Bulletin newspaper, and decide to contact Jeri Hogarth.[15][81]

Temple is contacted by Rand and Wing, and is sent to look for Hogarth. She approaches Hogarth with a $5 bill, on which "J-Money", Rand's nickname for her, has been written, so that Hogarth realizes it is Rand who is trying to contact her. This convinces her to follow Temple to where Rand and Wing are hiding.[15][81]
Hogarth tells the fugitives that she needs proof of their innocence. She shows them the files that the DEA received, and Rand realizes that they are the Hand's drug transport records, tampered by Harold Meachum. He tells Hogarth that there is a tablet with all of the Hand's data, and she says that it would serve to prove his innocence.[15][81]

Rand remembers that he gave it to Harold Meachum, so he decides to visit Madame Gao and ask her if there are any backups of the files. On arriving at the Hand Compound, they ask Gao for the files, but she confirms that the data was deleted, and there is no copy of it. Gao tells Rand that she knows his true motive for returning to New York was to avenge his parents' deaths, but he denies this. Gao then reveals that Harold Meachum was the one who caused the airplane crash so as to take control of Rand Enterprises. Rand refuses to believe her, so she tells him the story of how Meachum was diagnosed with cancer and looked for her help, and that they made a deal to bring him back from the dead once he started to transport her drug in China.[15][81]

However, when Wendell Rand almost discovered, Meachum was afraid of him ruining everything, so he had Gao poison the pilots of the plane while they were travelling to Anzhou to investigate. Gao tells Rand that he will gain complete control of the Iron Fist only once he kills Meachum.[15][81]
Back in the city, Rand confesses to Temple and Wing that he wants to kill Harold Meachum, but they tell him that if he crosses through that door, he may never come back. Wing worries that if he kills Meachum, his Chi may also be corrupted and he will never become the person he is meant to be, and he eventually decides not to kill him, but take him to justice.[15][81]
Ward Meachum visits Joy at the hospital and tries to convince her that Harold is not the father they used to love, and that he has done terrible things, and forced Ward to do the same. She still refuses to believe him, so he gives her the newspaper about the drug transportation allegations against Rand, before leaving the room.[15][82][81]
Danny Rand calls Ward Meachum and agrees to meet with him. Meachum reveals that the tablet is locked in a safe, but he does not know the combination. Rand reveals to him that Harold was the one who killed his parents, to Ward's surprise.[15][82][81]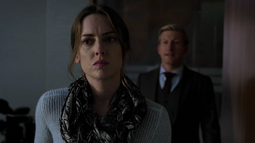 Joy Meachum arrives at the Rand Enterprises Building and confronts her father about putting Rand in a trap. Harold insists that he did not show her all the drug transport data previously, but that Rand was definitely involved with the Hand. Joy does not believe him and asks for proof, and Harold lies, telling her that he does not have the data anymore because he gave it to the DEA. Not buying this, Joy becomes upset, deciding to leave the building. Ward sees her leaving the building, crying.[15][81]
Battle at the Rand Enterprises Building:

Ward Meachum enters the building and calls Rand, Wing, and Temple to inform them that Harold has a lot of armed bodyguards at the entry and in his office, before he is knocked out from behind by his father.[15][81]

Worried about Ward, and with no intention to let Harold get away, Rand and Wing enter the building, as Temple starts a fire nearby as a distraction. A battle ensues as Harold's men fight Wing and Rand.[15][81]
When Harold Meachum attempts to kill Wing, Rand uses the Iron Fist, full of Chi, to hit the floor as hard as possible. This causes a massive shockwave that knocks out all of the men, but not Meachum himself, who makes his way to the rooftop. Rand follows him and a further battle ensues between both of them. Meachum shoots Rand in his hand, injuring him severely, believing it will prevent his Iron Fist ability. Rand keeps attacking him, but Meachum manages to knock him out momentarily.[15][81]

Rand then focuses his energy on one thing: to defeat Meachum. He attacks him again, causing Meachum to be impaled on a metal rod. As Harold Meachum tries to free himself from the metal rod, Rand remembers how he defeated Shou-Lao. He tells Meachum, like he once told the immortal dragon, that the battle is won. Meachum manages to free himself from the piece of metal and shoots at Rand, but Rand is alerted by Colleen Wing, who, along with Ward Meachum, has come to the rooftop to help defeat Harold. Directing his Chi into his hand, Rand uses it to heal his injury, then defend himself from Harold's final attack. Finally, Ward shoots Harold, making him fall from the rooftop to his final death.[15][81]
26th
27th
Rand goes to the Chikara Dojo, where Colleen Wing and Claire Temple have resumed training. Temple leaves, giving them advice on her way out, telling them they need time to sort themselves out. Rand tells Wing that he has finally decided to return to K'un-Lun, just before the entrance closes. He says that he wants to use the Iron Fist to do some good outside of K'un-Lun, but that to achieve that, he must first finish his training. He offers for her to come with him, and Wing happily accepts.[15][81]
Davos meets with Joy Meachum, and they discuss how Danny Rand's return has only caused their lives to fall apart.[15][81]

Davos tells Joy that the only way to stop Rand from ruining their lives further is killing him, and that he believes he can help Meachum with that. She is curious, and tells him she is listening to whatever he is planning. As they talk, Madame Gao listens in at the table next to them.[15][81]
29th
A group of Hand ninjas, led by Elektra[85], arrive at the entrance of K'un-Lun, unprotected with the Iron Fist missing. A battle ensues, ending with many of the K'un-Lun monks, as well as all of the Hand ninjas being killed. The entrance to K'un-Lun is closed prematurely to escape to safety, meaning that nobody can enter for the foreseeable future.[15][81]
March
1st
3rd
Strange does finger strength exercises with an expert instructor on physical rehabilitation from Metro-General Hospital. Strange gets angry at his lack of improvement. However, to his surprise, the instructor says that he knew a paraplegic man who miraculously regained the ability to walk.[14][10]
15th
16th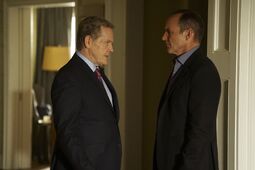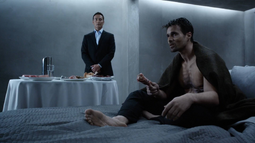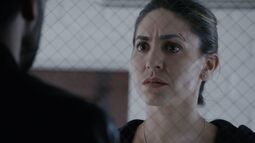 Rescue in the Colombian Police Station: Rodriguez helps the team successfully enter the Police Station and fight the corrupt Colombian police. The team defeat the police force and rescue their friends as Johnson and Gutierrez use their powers to capture Lucio. However, when they start to leave the station, a HYDRA QuadCopter arrives from overhead and uses an Extraction Claw to capture him and take him away.[86][88]
Meanwhile, Coulson uses his information from von Strucker and goes to Malick's warehouse. He uses the phone von Strucker used there to call Malick, but when he picks up, Coulson only delivers a warning to him that he is tracking all of his phones, and it will cost him millions to shut down all the offices it has tracked to.[86]
Stephen Strange tries to shave himself, but due to his trembling hand, he gives up trying.[14][10]
17th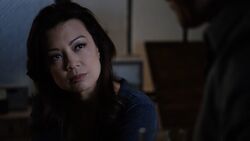 18th
Matthew Ellis calls Coulson and tells him that he has made Glenn Talbot the new leader of the ATCU.[86]
When he finds out Talbot is the new head of the organization, Malick sends agents to kidnap his son George Talbot and put him in Suspension Gel, so as to blackmail Talbot to give Malick influence over the ATCU and betray Coulson.[89][88]
Malick makes a deal with Felix Blake, the head of the alien hate group the Watchdogs. The organization has until now been only posting hate online, but HYDRA offers them the resources to become active in attacking the Inhumans and the agencies protecting them, claiming to have common interest. The Watchdogs become more militarized and radicalized, and begin planning attacks with Malick fueling their actions.[90][88]
19th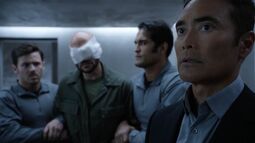 20th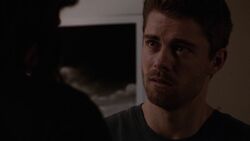 Daisy Johnson visits Lincoln Campbell in his room to apologize. The two make up and sleep together for the first time.[89]
Hunter lets Coulson know that he and Morse are hiding in the hold of Malick's private plane, as Malick is flying with Anton Petrov to Russia. Petrov expresses his gratefulness for Malick's offer to help Russia deal with Inhumans.[89]
Disagreeing with the plan for an Inhuman reservation, the Russian prime minister Dimitri Olshenko sends his attaché Yuri Krupin to shut down the operation. However, Krupin is killed by an Inhuman working for Petrov, Androvich, the Minister of Defense and a former KGB assassin.[91]
21st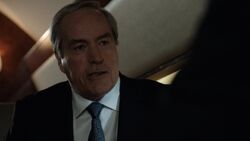 Malick's plane lands in Moscow and he starts moving trucks to a Russian facility in Siberia. Morse and Hunter exit the hold and hide, watching the trucks and reporting back to Coulson's Team, flying over on the Zephyr One. They follow the trucks and soon they get to the Russian Inhuman Sanctuary.[91]
Hunter and Morse spy on the Russian Inhuman Sanctuary from the nearby woods. They notice a tied up Inhuman being taken into the compound. They are caught by four soldiers, who they resort to taking out in combat.[91][92]
Hunter and Morse rendezvous with the rest of the team on the Zephyr, having now landed nearby, and discuss plans to infiltrate the Russian Inhuman Sanctuary.[91]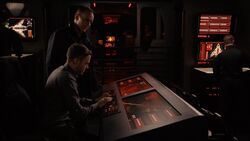 Melinda May and Lance Hunter hide from a patrol as they move in on the base. They discover the dead body of Russian Prime Minister Dimitri Olshenko's attaché Yuri Krupin.[91]
Bobbi Morse, Daisy Johnson, and Alphonso Mackenzie break into the security room of the facility. Morse takes the clothes of the guard she knocked out to use as an undercover disguise, and leaves to find Gideon Malick and Anton Petrov.[91]
Morse infiltrates a meeting, while Coulson's Team listen in from Morse's comms. They hear as Malick tells Petrov and FSO agents about Olshenko's disapproval of an Inhuman reservation, and Petrov informs them of Androvich having killed Olshenko's attaché. Malick tells the group that they need allegiance with the Inhumans, but that the prime minister cannot lead them.[91]

Malick suggests releasing Androvich to eliminate those against the idea; Coulson realizes he is staging a coup.[91]
Morse follows Malick's group, but loses them when she is forced to stop and take down an agent who notices she is missing her tie. Johnson attempts to hack the door to Androvich's cell so Morse can enter, as Androvich is already being cut loose.[91]
Simmons reports on the cause of Krupin's death, saying that it seems he was strangled, but there is no external evidence of physical harm, suggesting Androvich's power is psychic. Hunter is confused when he sees Malick leaving. Androvich escapes before Morse can stop him.[91]
Phil Coulson contacts President Ellis to get involved and save the lives of Morse and Hunter.[91]
22nd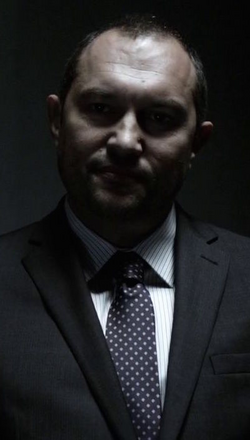 Maintaining the pretense of not knowing the duo, Coulson negotiates Morse and Hunter's release from Interpol. However, they know they will always now be tailed by agents, and so can never interact with S.H.I.E.L.D. or their friends ever again.[91][93]
Coulson returns to the Zephyr One and explains downheartedly to the team why their friends can never come back. This upsets them, especially Alphonso Mackenzie, who becomes very emotional.[91][93]
23rd
In a pub in the United States of America, Lance Hunter and Bobbi Morse discuss what they can do next. They notice a conspicuous man nearby, who they realize is spying on them. Unbeknownst to them, their friends are also in the pub, ordering shots for them in order to pay their last respects from afar: a "Spy's Goodbye". The team begin to slowly exit the pub, but Mackenzie stays a little longer, tearing up because of having to leave his close friends. Morse and Hunter become very emotional, and hold hands, knowing they at least have each other for support.[91]
24th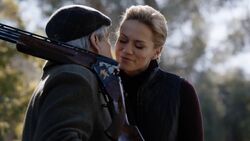 Gideon Malick returns home and reunites with his daughter Stephanie Malick. The two of them shoot birds together and discuss It, and how he seems to be biding his time before taking any action. Stephanie says she knows he will change the world.[91]
29th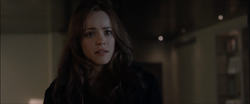 Christine Palmer visits Strange in his apartment and tries to convince him to stop wasting money trying to fix his hands. She tells him that there are other things that can give meaning to his life. Strange does not want to move on, but instead focus on finding other ways of healing his hands. Palmer turns to leave Strange, deciding she cannot watch him suffer anymore, when Strange starts shouting at her, saying that she is only pitying him because she loves a sob story. Hurt by his words, Palmer leaves for good, deciding to stay out of his life.[14][10]
Assassination of Cartel Sicario: In Juárez, the last leader of the Mexican Cartel arrives home to a hero's welcome. Across the border in El Paso, Texas, the Punisher trains his sniper rifle on the man, waiting for a moment when he knows he has a clear shot. As soon as he does, Castle shoots, killing him with a head-shot from far away.[6][7]
April
2nd
4th
After a few weeks of preparation, Lincoln Campbell has his S.H.I.E.L.D. assessment. While he believes it went alright, the results show that there are issues over his commitment to the cause, and with his reckless and unruly behavior.[90]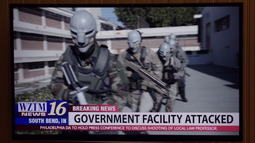 Alphonso Mackenzie begins a week off at home to take a break after losing Hunter and Morse, and spend some time with his brother Ruben. The two plan a relaxing time together.[90]
Attack on the ATCU Storage Facility: Malick's men raid the ATCU facility in Indiana and steal a nuclear warhead, as a squad of Watchdogs led by Watchdog Alpha then move in to attack the facility and cover up the raid. The group film themselves as they declare that the government is keeping secrets on the aliens, and demanding the information to be released. Alpha fires several rounds of Nitramene onto the building, and the facility is destroyed in a giant implosion.[90]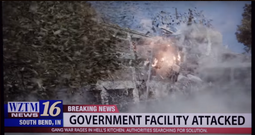 The ticker of the channel informs "L.A. Dodger Brady Kelly closing in on MLB record for most hits. Current record is held by Pete Rose", "Philadelphia DA to hold press conference to discuss shooting of local law professor", and "Gang war rages in Hell's Kitchen. Authorities searching for solution".[90]
Phil Coulson calls and assigns Mackenzie to investigate the destruction of the facility before the police pick it clean. Mackenzie reluctantly tells his brother that he has to go.[90]
At the Playground, Daisy Johnson tells Coulson that the Watchdogs' active behavior is unusual. Lincoln Campbell arrives back from his agent assessment reasonably positive, but Coulson hints that the results of the evaluation report were not completely satisfactory. He sends Johnson and Leo Fitz to the site of the destroyed facility to join Mackenzie.[90]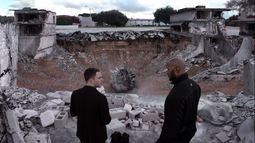 5th
Using liquid nitrogen from the outside of the module, the Nitramene is disarmed, saving Fitz's life.[90]
Oscar reveals to Johnson that Blake promised them they could actually kill an Inhuman, but they had assumed it was Mackenzie, not her, and laughs that several of their men are going after Mackenzie now.[90]
Attack on Alphonso Mackenzie:

While the brothers discuss, a group of Watchdogs arrive at the Mackenzie Residence, breaking into the home to kill the Mackenzies. A fight ensues between the Mackenzies and the Watchdogs.[90]

Using a homemade shotgun-axe, the brothers successfully defeat their assailants, but Alphonso receives a bullet to the shoulder; he passes out due to the loss of blood.[90]

S.H.I.E.L.D. arrive to take Mackenzie to a nearby facility for medical treatment. Daisy Johnson tells Ruben Mackenzie that Damage Control will clean up, and assures him that Alphonso will be fine. She tells him they might call one day if they need help with mechanics, and drives him to the facility where his brother is being treated.[90]
Analyzing footage from the Attack on the ATCU Storage Facility, Johnson realizes that the bombing was a cover-up and distraction from HYDRA as they stole something from the facility. They realize Malick is funding the Watchdogs and feeding them intel.[90]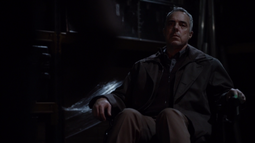 Giyera meets with Felix Blake, who tells him that he kept his part of the deal, and wants weapons in return to hunt down the Inhumans. Giyera assures him that if the plan continues to go well, their common enemies will die, and Blake will have armed soldiers.[90]
6th
7th
Stephen Strange visits Jonathan Pangborn while he plays basketball, enquiring how he managed to walk again. Pangborn initially refuses to help, but when Strange reveals his damaged hands, he agrees. Pangborn reveals to Strange that he discovered a place known as Kamar-Taj, and this is where Strange should go to seek different treatment and understanding. He warns Strange that once he is there, he will have to open his mind.[14][10]
21st
22nd
23rd
24th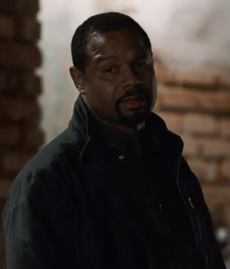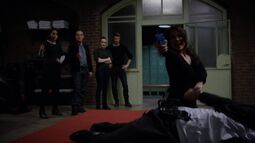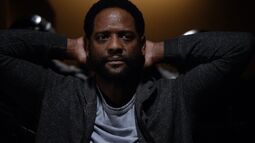 25th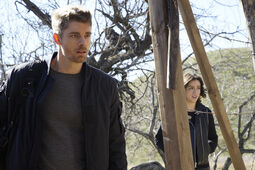 He and his team depart in the Zephyr One to investigate the compound, and send Lincoln Campbell and Daisy Johnson to the Badlands National Park in South Dakota to find a potential Inhuman Campbell knew from Afterlife, who was never transformed, and always used to rant about the "second coming" of an Inhuman who could "raise the dead".[105]
Malick talks to his daughter about his vision, and that he is fairly certain that his murderer was It, and that it will happen tonight. Stephanie, however, reassures him that they can trust It.[105]

WHiH posts on Twitter reporting "Annual science conference draws an international crowd in Bern, Switzerland."[98][99]
At National Zoo, a panda called Ling Ling is born.[100]
Campbell and Johnson walk up to JT James' hut, but he warns them not to come closer because they are standing on a landmine. Johnson uses her powers to detonate the remaining mines as Campbell knocks out James with his electrical powers.[105]
The HYDRA inner circle arrive at Malick Mansion. It reveals himself to them, and to silence his doubters, he unveils his true form.[105]
Raid of the GT Agrochemical Facility: Coulson's Team break into GT Agrochemical Facility, and after a lengthy fight with Giyera in the base, they manage to capture him.[105][95]
26th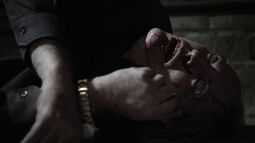 Under Hive's influence, Johnson steals a grenade from the weapons room and causes a power cut, using the distraction to walk into Malick's empty interrogation room and kill him before he can reveal any more information on Hive to S.H.I.E.L.D. She brutally murders him by quaking him from both sides, as his head is crushed and bleeds, like he saw in his vision, having assumed his killer to have been Hive. She leaves the grenade next to Malick's body to explode and thus cover up the murder.[106]
Mackenzie finds that there is a grenade missing as Fitz and Simmons, on their way to Coulson to discuss their findings, notice the light of the grenade from inside Malick's room. They look around and see his dead body, just before the blast goes off.[106]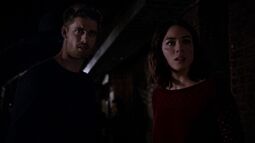 Knowing a swayed Secret Warrior must have been behind the murder, Coulson leads his agents to gather the Inhumans, to explain the situation and incapacitate them until they can determine who it is. However, the Inhumans escape together.[106]
After discussing who could be the traitor, Johnson promises the team that she will help them to escape, but secretly agrees with Coulson to lead all four of them out of the base to safety by a secret passage, sending a message to him to meet them at the Containment Module bay to hand over to S.H.I.E.L.D.[106]
WHiH World News posts on Twitter asking "WHiH Newsfront opinion poll: Who should pay for the damage when superheroes are involved?" The results eventually turned out as 76% "The government", 24% "The heroes".[98][99]
Johnson tricks the team as she leads them into the quarantine bay where they find Coulson, who confronts Campbell, ousting him as the infected one. Angered that they are falsely accusing him and will not listen, Campbell attacks Coulson, but Johnson knocks him out.[106]
Coulson tells Johnson that he has to disband the Secret Warriors, and they cannot be allowed to encounter Hive in the meantime. However, Rodriguez and Gutierrez leave the base in anger.[106]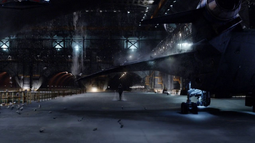 Escape from the Playground:

Johnson reveals to an angered Campbell that she is in fact the swayed Inhuman, and offers him to come with her, but he refuses.[106]
Johnson steals several Terrigen Crystals and the Kree Orb, proceeding to break into the Playground's hangar. She unleashes her abilities and shakes the whole base in an earthquake, wreaking havoc and destruction. Johnson then escapes through the broken roof of the hangar, while trapping the rest of the team in the base with the falling debris.[106]

Hale and Ruby talk over dinner. Hale receives a text and has to suddenly leave.[107]
Hale meets with General Fischer, who had texted her to come immediately. He informs her that S.H.I.E.L.D. has taken Gideon Malick and gives her important information in case they come after him as well, explaining that after the Battle of New York had found a Phase Harmonic Teleportation Device that allowed them to communicate with an alien group called the Confederacy.[107]
Glenn Talbot breaks through the door, on a mission to take down HYDRA once and for all. Fischer cracks a cyanide capsule in his tooth to kill himself before he can be questioned, and Hale pretends to have had no idea he had been working for the organization. Talbot assures her that HYDRA will soon be wiped out, so she need not worry.[107]
Ruby Hale's instructor tells her she must kill her dog to complete her education. Ruby refuses, and her mother enters, shooting the instructor and telling Ruby that they are the only two remaining members of HYDRA.[107]
27th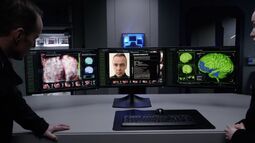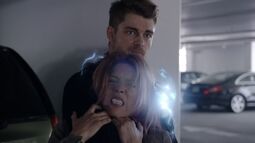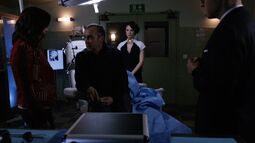 28th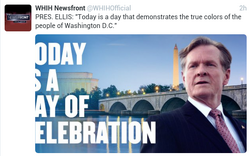 Transia Corporation announces a new interim-CEO after the death of their last one.[108][102]
Karen Page writes an article about a school board scandal.[111][112]
President Ellis releases a statement congratulating the citizens of Washington, D.C. on the clean-up effort.[98]
WHiH World News posts on Twitter quoting "Pres. Ellis: "Today is a day that demonstrates the true colors of the people of Washington, D.C.""[98][99]
Thaddeus Ross follows up Ellis' statement with his own, recognizing the people of D.C.'s endeavors.[98]
WHiH posts on Twitter reporting "Thaddeus Ross gives statement commending the people of Washington, D.C. on efforts to rebuild the nation's capital."[98][99]

WHIH Newsfront The Avengers and The White House

WHiH Newsfront posts another video. Christine Everhart and Will Adams mention that the financial cost of clean-up efforts from Avengers incidents have crossed $1 trillion, and Everhart says politicians are wondering if there is a more strategic plan for better managing potential future events. Adams states that the White House has no official viewpoint, but that Ellis has commended Avengers' heroic past deeds. The video shows that the Ellis Administration have also announced that HYDRA is eradicated, as Adams goes on to express his view that he believes the Avengers are heroes who should be commended.[108][98][102][99]
Everhart then states that there are reports of the president meeting with Thaddeus Ross about a potential appointment.[108]

Adams says the Avengers are effective, but Everhart replies that she thinks Ellis is feeling pressured, then insists agencies worldwide should step up and figure out a means to work with the heroes. WHiH post on Twitter announcing "Watch: Newsfront debates the role of the White House & the Avengers + rumors of Thaddeus Ross moving to politics."[108]
The ticker of the video informs "Myth or new discovery? Reports of "massive ant-like insect" sightings continue to pour in from San Francisco suburbs", "Transia Corporation announces interim-CEO", "Local New York business owner commissions famously incognito street artist to create Avengers mural on the wall of his booming shawarma restaurant".[108]

The ticker also informs "Schools in Minnesota introduce elective classes focusing on the recent history in the making: the age of superheroes", "Airline adds themed flights for cult classic TV shows and films", and "Reality show star releases new fashion line designed primarily from burlap".[108][102][99]
WHiH posts on Twitter reporting "Sources: Thaddeus Ross has privately met with President Ellis at the Oval Office. For more: https://youtu.be/0OguhAYbjrs"[98][99]
John Raymond goes missing.[113][112]
The national lottery is drawn, but there are no winners.[98]
29th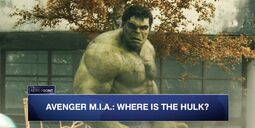 WHiH World News posts on Twitter saying "In the wake of the Battle of Sokovia, many international governments are asking "Where is the Hulk?""[98][99]
Pym Technologies reopens business after its headquarters imploded a year before, albeit with huge lay-offs.[98]
WHiH World News posts on Twitter reporting "No winners in last night's national lottery draw! The next drawing takes place Monday night for record amount."[98][99]
WHiH posts on Twitter asking "WHiH wants to know! What would you do if you won tonight's grand national lottery?".[98][99]

The results eventually turned out as 21% "Purchase an island", 58% "Build an Iron Man suit", 12% "Start your own charity", 9% "Buy a sports team".[98][99]
WHiH posts on Twitter questioning "The Vision. Human? Alien? Something else? Does it matter? WHiH investigates."[98][99]
WHiH posts on Twitter reporting "Pym Technologies announces massive lay-offs as business begins again."[98][99]
The Roxxon Corporation is revealed to be illegally drilling in the Arctic.[98]
30th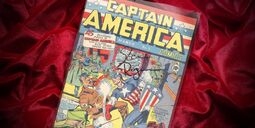 May
1st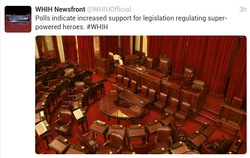 2nd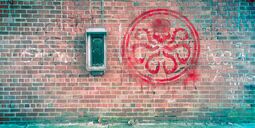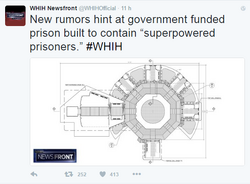 3rd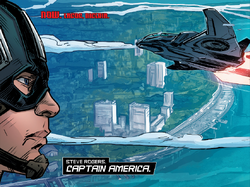 The ticker of the video informs "Multiple sources confirm that Steve Rogers, AKA Captain America, was spotted at the scene", "Sources state Avengers were tracking wanted fugitive Brock Rumlow to Lagos", "Reports of
Sam Wilson, Wanda Maximoff and former S.H.I.E.L.D. operative Natasha Romanoff in Lagos are confirmed", "Brock Rumlow rumored to be behind the Attack at the Military Compound", "BREAKING: Chaos strikes military compound in Lagos", "Eyewitness from Lekki Market in downtown Lagos, Nigeria spot Avengers at the scene", "Extent of damage unknown at this time", and "BREAKING: President Ellis to issue statement from the White House".[122][118][123][99]
After deliberating urgently following the incident in Lagos, the United Nations decide to release the Sokovia Accords for heroes and powered individuals to register themselves under government control.[118][98]
4th
Strange arrives in Kathmandu and starts to ask people if they know the location of Kamar-Taj.[14][10]
After hours of trying, Karl Mordo hears Strange's enquiries and follows him to an alley. Strange bandages the broken leg of a dog he finds.[14][124]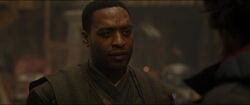 Mordo then walks into the alley and witnesses Strange being attacked by three muggers who wants to steal his watch. Mordo defeats the muggers and tells Strange to follow him.[14][10]
Mordo leads Strange to Kamar-Taj, but warns him not to be disrespectful and to forget everything that he thinks he knows. He introduces Strange to the Ancient One.[14][10]
At first, Strange believes they are researching cellular regeneration, but while he listens to the Ancient One's comments, he quickly becomes skeptical of her methods and mocks her, claiming that he sees through her facade.[14][10]

She suddenly pushes Strange's astral form out of his body, impressing and shocking him. Once she has restored his soul to his body, the Ancient One then sends Strange on a mental journey, flinging him through various realities and dimensions, before dragging him back to his body in the temple. Barely recovering from the revelations just shown to him, Strange begs her to teach him. She refuses, scared that what happened to Kaecilius might happen again. He is cast out for his previous disrespect.[14][10]
After pleading at the door of Kamar-Taj for the following five hours, Strange is allowed back in when Karl Mordo convinces the Ancient One to give him a chance. Mordo shows Strange to a bedroom where he can stay.[14][10]
Trish Walker gets a call from someone wanting to tell Jessica Jones' story.[125][112]
Meeting with the Ancient One in the morning, local time, Strange is told that he will need to study, and gives him his first four books.[14][10]
5th
Trish Walker attempts to reach her car only to discover it is being towed. However, Jones stops the tow, picking up the car with her super strength, and the two adoptive sisters go for a walk.[125][112]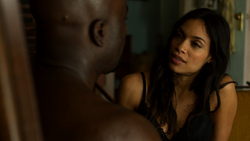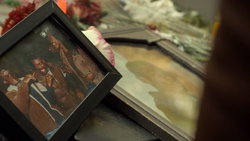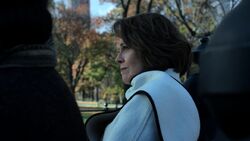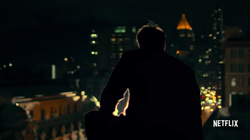 6th
Stephen Strange goes to the Kamar-Taj library to return the books. He meets Wong, who gives him a short tour of the library. Strange notices the Book of Cagliostro in the Ancient One's personal collection, and Wong gives him another book to read.[14][10]
Kaecilius enters a church and speaks to the priest. He insists that the idea of an afterlife is a contradiction, and that he can "prove it", proceeding to kill the man. Then, Kaecilius and his Zealots decipher the ritual to contact Dormammu from the Book of Cagliostro, and successfully connect with him, causing symbols of the Dark Dimension to appear on their foreheads. One Zealot is nervous and unable to contact the entity, so Kaecilius murders him.[14][124]
The following morning, Trish Walker walks to her car, leaving a message for Jessica Jones on her cell phone, asking how she is. Reaching a small crowd and a line of police, she requests to get through but discovers her car is stuck in a sinkhole from the earthquake.[125][126]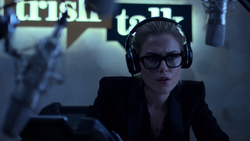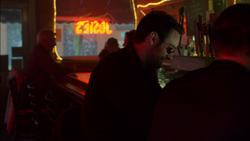 Matt Murdock meets with Foggy Nelson at Josie's Bar. They discuss their respective jobs, with Nelson congratulating Murdock on winning the Aaron James case and asking if he intends to remain pro bono, which Murdock says that he does. Nelson then talks briefly about his renewed relationship with Marci Stahl, but he notices the bruises on Murdock's hands and their conversation turns to Murdock's vigilantism. Murdock tries to change the subject, and Nelson offers him case files to keep him occupied and away from the temptations of Daredevil. He accepts the files and thanks his friend before leaving.[125][126]
Kaecilius and his Zealots set up in the church, performing another ritual for Dormammu, and the evil entity gives them more power, such as the ability to alter reality even outside of the Mirror Dimension.[14][10]
Jeri Hogarth approaches Jessica Jones and warns her not to interfere with the John Raymond case, seeing as it has turned into a matter of national security.[125][126]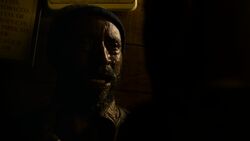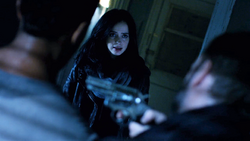 Attack on John Raymond: Jones tries to talk to Raymond, offering him help and trying to calm him down. However, Elektra suddenly arrives, entering the apartment and grabbing Raymond. Before she can take him, he decides to kill himself so that the Hand will have no incentive to go after his family, shooting himself through the head. Elektra flees and Jones pursues her, but she gets away. As Jones stumbles onto the street, she is arrested by Misty Knight.[125][126]
As Wing fights the rest of the Hand's team at the workshop, Danny Rand pursues one of them, who turns out to be Cole Miller. Seeing Miller, Luke Cage chooses to intervene, and Cage and Rand come to blows. The two men fight each other, surprised by the other's resilience and powers.[125][126]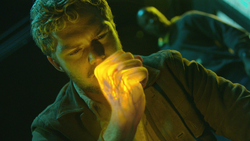 Using the Iron Fist, Rand manages to land an effective blow on Cage, just as the police arrive and arrest Miller. Rand and Wing flee as Cage reluctantly leaves in the other direction.[125][126]
In the Hand's headquarters, Alexandra Reid talks to Stick, keeping him shackled to a post. She claims that Stick is an old friend.[125][126]
Jessica Jones is questioned by Misty Knight. However, Matt Murdock, who was contacted by Nelson about representing Jones, arrives to be her attorney. He enters the room and introduces himself, to Jones' bemusement.[125][126]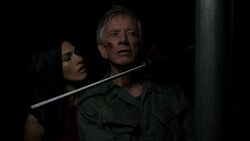 Despite his attempts to persuade Elektra to release him, both women pin their swords against his body. Left with little choice, Stick pushes them away and slashes his right hand off on one of the blades so as to slip through his cuffs. In the darkness, Stick makes his escape through the ventilation system.[125][126]
Jessica Jones and Matt Murdock talk in the interrogation room. Jones learns that Murdock was called to help her by Jeri Hogarth's office and so refuses to answer his questions, telling him that she wants another lawyer. Murdock tells her that she does not have to, since the New York City Police Department did not have any evidence on her and so she is free to leave. When he esquires about her case, Jones refuses to answer. She leaves the room and immediately calls Malcolm Ducasse.[125][127]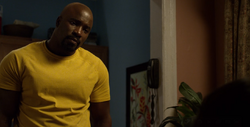 7th
8th
Assassination of Alexandra Reid: Alexandra Reid gloats to the other leaders of the Hand about the victory they have achieved, claiming to have proven herself to be the worthy leader of their organization. As she speaks, she is caught off-guard by Natchios, who surprises her by stabbing her with a sai from behind, deciding to take the opportunity to kill the woman who manipulated her. Reid falls down, dead, and as Bakuto, Madame Gao, and Murakami stand in shock, Natchios claims the leadership of the Hand for herself.[125][80]
9th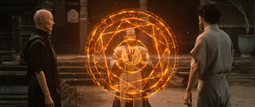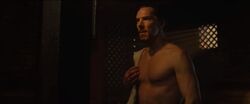 Strange shaves himself and cuts his hair. He then continues his training over the next few months with more vigor.[14][10]
Meanwhile, Natchios takes Rand down into the Midland Circle hole by elevator. During their descent, she explains to him that there is a blockage in the hole, and behind the blockage is the main ingredient for the Resurrection Elixir. Though Rand insists that he would not assist the Hand, while unstrapping him, Natchios tries to connect with him by highlighting their similarities in both choosing to run from their destiny.[125][85]
At the precinct, the trio agree that they needed to get out and get to Midland Circle to stop the Hand. Murdock is surprised when Foggy Nelson assists him by delivering him his suit.[125][85]
The group escapes the precinct by destroying one of the walls. They make their way to Midland Circle by getting on the subway.[125][85]
Danny Rand looks at the language on the wall, recognizing it to be from K'un-Lun. Natchios explains that since an Iron Fist sealed the wall with his Chi, only another Iron Fist can open it. Rand still refuses to help his sworn enemy.[125][85]
Officer Strieber sends Misty Knight to find the trio. Meanwhile, Colleen Wing goes to retrieve the C-4 recovered from John Raymond's hideout in hopes that it can be used to help her friends. She and Claire Temple head to Midland Circle. Knight is left wondering where Wing has gone.[125][85]
Elektra Natchios tries to convince Rand by setting him free. Rand, however, uses this opportunity to engage her in a fight.[125][85]
Meanwhile, the trio above ground fight Bakuto, Murakami, and Madame Gao. The battle causes the Hand leaders to briefly withdraw. Meanwhile, Claire Temple is relieved when Misty Knight offers to stall the police to give the team more time.[125][85]
As Iron Fist fights Natchios, she tricks him into summoning his Chi and punching in her direction with the fist lit up, as she stands in front of the wall. Natchios dodges it and the punch connects with the wall before Rand can stop himself, causing the blockage to open.[125][85]
Colleen Wing and Temple reveal the C-4 they brought, and Wing explains her plan to Murdock, Cage, and Jones: to destroy Midland Circle with the explosives, collapsing it into the hole below and killing the last three Fingers of the Hand.[125][85]
Danny Rand wakes in the cave he unintentionally opened and finds himself among the bones of a dead dragon. He is horrified, knowing the Hand are now close to fulfilling their goals.[125][85]
The team discuss the plan to stop the Hand with the C-4. Luke Cage is the last to agree, claiming that they would have to ensure that not a single innocent collateral damage death would be acceptable if they were to destroy Midland Circle.[125][132]
Misty Knight is altered about the stealing of the C-4, and worries about what it might be used for.[125][132]
Trish Walker and Karen Page talk about Jones and Murdock, and their experiences with the Hand. They are interrupted by Foggy Nelson and Malcolm Ducasse, who inform them that the police are calling every patrol to close in on Midland Circle. Walker points out that Midland Circle is not only the literal epicenter of the earthquake, but has been the epicenter of all the events of the last few days.[125][132]
In Midland Circle, Daredevil gets Cage to break through a door, allowing them to access the elevator into the chasm. He expresses his thanks for having found the others, and Jones expresses her own surprise at their newly formed friendship, saying that if she had been told a week ago that she would be here, she would never have believed it. The trio prepare for the upcoming battle.[125][132]
As they prepare to set up the explosives, Colleen Wing reassures Claire Temple that she is just as gifted as their friends, only in different ways, due to her kindness and selflessness in helping people without looking for any recognition.[125][132]
Misty Knight approaches the room where Wing and Temple are talking, just as Bakuto finds the duo. As her former sensei approaches, Wing goes to confront him. Temple hides, but Knight calls her cell phone and the ringing gives away her presence. Realizing she has to act, Wing engages Bakuto in a sword fight.[125][132]
Madame Gao explains how the process for obtaining dragon bones for Resurrection Elixir will cause part of New York City to collapse. Danny Rand expresses his anger to her for the desecration of the dragons and the Hand's selfish motivations.[125][132]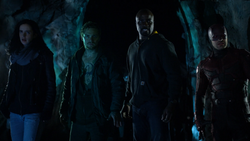 10th
11th
12th
13th
Karen Page and Foggy Nelson hold a memorial for Matt Murdock. Page holds out a little hope that Matt could still be alive, but Nelson sadly reminds her that this is highly unlikely, given that it has been a few days already. Page tells Nelson that she was sadly also cannot yet publicly reveal Murdock's demise, knowing that people would realize that Murdock and Daredevil disappearing on the the same day was not a coincidence.[125][134][132]
Danny Rand looks out at the city, ready to honor his fallen ally's wish to defend the city.[125][134][132]
24th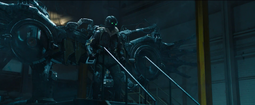 June
7th
16th
18th
19th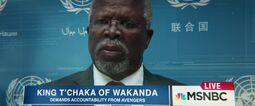 20th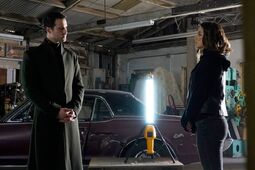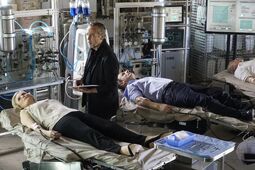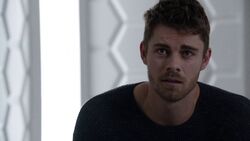 Campbell is informed that the experimental antidote is a failed experiment.[144]
21st
In the morning, Hive reprimands Johnson for allowing her former friends to stop his progress. However, Johnson reveals that she has Kree blood inside her, and she is willing to let him have it by draining her.[144]
22nd
Peggy Carter's funeral takes place in London. During the funeral, to Rogers' surprise, Sharon Carter delivers a eulogy, in which she reveals that Peggy Carter was her aunt.[118]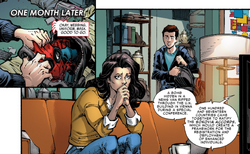 Meanwhile at the Parker Residence, Peter Parker prepares to leave as May Parker sees the news about the bombing of Vienna, very worried to see that it was the Winter Soldier, and that King T'Chaka of Wakanda has died. Peter sees his Aunt May worried, and tells her to relax.[117]
Rogers then calls Romanoff; she tells him not to get involved, or he will be arrested for ignoring the Accords.[118]
Secretly trying to help Rogers and Wilson, Carter hands them a file she has found from her work about the potential location of the Winter Soldier in Bucharest. Rogers and Wilson go after Barnes, hoping to bring him in before the government do.[118]
23rd
In Bucharest, Barnes discovers that the news are blaming him for the bombing of the United Nations in Vienna, but knows that someone has framed him.[118]
Capture of Winter Soldier:

Captain America locates Barnes in his hideout apartment in Bucharest. As they talk, Falcon informs Rogers that the police are entering the building. Barnes prepares to make his escape, but the police arrive, so he and Rogers are forced to fight their way down the stairwell of the building.[118]
Barnes escapes from the building, but is suddenly attacked by a mysterious man in a black panther-like suit. The two fight on the roof, before Barnes manages to make his way out to the streets.[118]

The chase continues, now with Rogers trying to catch up with Black Panther as he pursues Barnes. The pursuit is interrupted by War Machine, who has arrived to arrest the three of them. The Black Panther unmasks himself, revealing himself to be T'Challa, to Rogers and Rhodes' surprise. They are then flown to Berlin in custody.[118][117]

At the New Avengers Facility, Vision cooks paprikash to try to lift Wanda Maximoff's spirits. When Maximoff tries to leave for ingredients, Vision moves to block her, revealing that Tony Stark has told him to stop her from leaving the compound.[118]
Steve Rogers, Sam Wilson, Bucky Barnes, and T'Challa arrive at the Joint Counter Terrorist Centre.[118][117]

At the center, Barnes is taken to be seen by interrogator Theo Broussard, as Stark sits down to speak with Rogers. During the conversation, Stark explains about what went wrong with his relationship with Pepper Potts, and Rogers sympathizes. Stark explains that he wants Rogers to sign, and he reluctantly accepts, but when Stark reveals that he is keeping Maximoff at the New Avengers Facility, the conversation gets heated briefly, and Rogers leaves.[118]
Steve Rogers traps Bucky Barnes' metal arm in a vice in a local abandoned garage, so as to stop him from escaping if he is still conditioned when he wakes.[118]
Helmut Zemo escapes from Wilson and moves forward with his plan, boarding a flight to Moscow.[118]
When Barnes awakes, he proves to Rogers that he is free of the conditioning by recounting small details about their childhood to him. Rogers asks what Zemo wanted, so Barnes reveals the existence of another five Winter Soldiers that HYDRA created after he retrieved a super soldier serum in 1991. He says that they had got out of HYDRA's control, and had been put back into cryogenic freeze. Barnes tells them that he thinks Zemo will be looking to reactivate them. Rogers and Wilson discuss what they should do next. While Rogers thinks they are out of luck, Wilson tells him that he might know someone who can help.[118][148]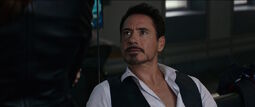 After convincing Ross to leave the job of capturing Rogers to him, Stark and Romanoff decide to recruit T'Challa and Rhodes, but Stark reveals to her that he also has someone else in mind.[117]
Stark flies to Queens, hoping to get the help of the relatively new spider-like vigilante who Stark is sure is secretly teenager Peter Parker.[118]
Rogers contacts Clint Barton and asks him to help rescue Maximoff and arrange to pick up Scott Lang. Barton accepts.[118]

Peter Parker arrives home, only to find Tony Stark in his apartment, already talking to his aunt. Stark tells him that he has won the grant he applied for, subtly letting him know that he should go along with what Stark says, despite not knowing what he is talking about. Stark then goes to Parker's room to discuss things further with him. He explains that he knows Parker is the new vigilante of New York, but when Parker denies this, Stark finds his hidden costume. Parker explains his powers, saying that he has the responsibility to protect people. Stark informs him that he needs his help, and they have to go to Germany. He eventually agrees, as Stark promises to make him a completely new costume.[118][117][149][150]

Accompanied by Happy Hogan, Parker films as he is driven past Flushing Meadows, and is flown to Germany in a self-piloting jet.[135]
Rescue of Wanda Maximoff:

Clint Barton causes an explosion outside the New Avengers Facility, forcing Vision to briefly leave the compound so he can get away with Scarlet Witch.[118]
However, Maximoff initially refuses to leave, giving Vision time to arrive and fight Barton.[118]
Because of his far superior abilities, Vision defeats Barton.[118]

Maximoff then decides to use her own powers to restrain the synthetic being and increase his weight, plummeting him through many floors, deep underground, allowing them plenty of time to escape. Barton then informs her that they have one more stop to make first.[118]

Hawkeye then picks up Scott Lang, and the trio fly to Germany to meet with Rogers, Wilson, and Barnes.[118]
24th
Peter Parker arrives in Germany early in the morning by local time, and gets to briefly sightsee before getting to his hotel, where he is staying in the room next to Happy Hogan. Hogan tells him to "suit up".[135]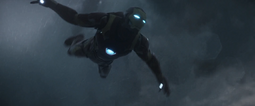 25th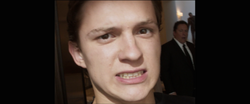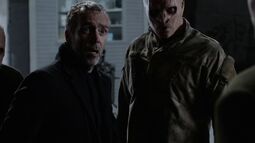 26th
27th
Clint Barton is returned to his secret homestead and reunites with his family, resuming his retirement.[152]
The team then travel to San Francisco, where they drop Scott Lang home to return to his daughter.[152]
Lang hands himself over to the FBI for his involvement in breaking the Sokovia Accords. Following negotiations between Homeland Security and the German government, it is decided that Lang can remain in the U.S., provided he served 2 years under house arrest, followed by 3 years of probation, while avoiding any unauthorized activities, technology, or contact with his colleagues.[159]
28th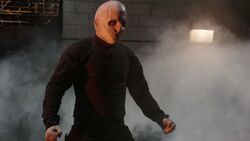 Mackenzie informs Johnson that they have captured Hive.[157]
While he is assuring the base is sealed off, Fitz realizes what "Absolution" is: the releasing of the Absolution Virus in the Playground. Hellfire activates the trap, turning several S.H.I.E.L.D. agents into Primitives.[157]
29th
Rescue of Nakia:

Returning home to Wakanda a week after his father's death, T'Challa and Okoye first fly to the Sambisa Forest in Nigeria, hoping to extract Wakandan spy Nakia from her undercover assignment with missing Chibok girls held captive by terrorists.[162][153]
Okoye reminds T'Challa not to freeze when he sees Nakia, teasing him about his love for her. He shrugs this off and drops from the jet, throwing EMP Beads, which attach themselves to the terrorists' cars and disable them. T'Challa then hides in a tree as the terrorists get out of their vehicles.[162][153]

Leaping from his hiding spot, T'Challa engages the terrorists, the Panther Habit absorbing all their fire. He takes them out with ease, and Nakia steps out to help in the fight. She prevents T'Challa from killing one of the men, who had been forced to join the terrorists against his will. T'Challa loses focus at seeing his ex-girlfriend again, and a terrorist takes advantage of the moment, threatening to shoot one of the girls if T'Challa moves. Okoye, however, takes out the final man, having expected T'Challa to freeze and dropped down herself to help.[162][153]
As the morning of June 30th dawns in Wakanda, Okoye pilots the trio home. The jet passes through Wakanda's protective dome, and T'Challa returns home to his kingdom. The Dora Milaje, an army of women bodyguards who are loyal to the king and led by Okoye, stand to attention at their new king's arrival. T'Challa then reunites with his mother, Ramonda, and teenage sister, Shuri, for the first time since T'Chaka's death. Shuri and Okoye exchange jokes about T'Challa freezing around Nakia, and Shuri then informs T'Challa of an update she has made for the EMP Beads. Ramonda discusses T'Challa's coronation, due to happen later that day, and tells her that T'Chaka is still with them.[162][153]
30th
Robbery of the Museum of Great Britain:

In London, Erik Stevens, also known as "Killmonger", surveys African artefacts at the Museum of Great Britain. The Museum Director Thomas speaks to him about each item, informing him of its history. However, when she says that the third item came from Benin, Killmonger corrects her. He tells her that it was stolen by the British in Benin, but originated from Wakanda, and is made of vibranium. She begins to choke, as he tells her that he has had poison put in her drink. Medics seem to arrive on the scene, but suddenly shoot the director and guards, revealing themselves to be in league with Killmonger - one being arms dealer Ulysses Klaue.[162][153]

Meanwhile, Killmonger's girlfriend Linda has hacked the security feed to loop footage as if nothing is happening in the African exhibit. Klaue teases a guard with the chance to escape, only to shoot him too, and uses his prosthetic arm to shatter the glass and vibrate the unimportant material off of the vibranium. With the metal acquired, Killonger, Linda, and Klaue escape into an ambulance they have hijacked and make their getaway.[162][153]

A few hours later, as evening arrives in Wakanda, T'Challa is taken to the City of the Dead to commune with his father on the Ancestral Plane. He ingests the Heart-Shaped Herb once more, and Zuri buries him in the soil.[162][153]
T'Challa's mind enters the Ancestral Plane and he walks in a savanna. He comes across a tree with several black panthers, and one of the animals leaps from the tree, changing form into T'Chaka. Pleased to see his father again, T'Challa embraces T'Chaka. T'Challa confesses to his father that he does not feel prepared to be king, and T'Chaka advises his son to surround himself with good people. He finishes by telling T'Challa that he is a good man with a good heart, but that because of this, he will face challenges as king.[162][153]
T'Challa wakes in the real world, and excitedly tells Zuri of how he had seen his father, having previously not believed the stories.[162][153]
After weeks of being unconscious, Matt Murdock slowly wakes. The nuns watching over him asks for his mother to come, calling, "Get Maggie. Tell her he's awake."[163][163][132][133]
Murdock calls for Elektra Natchios, but Sister Maggie Grace says she does not know who that is. Falling out of bed, Grace holds him as he states, disoriented, that he cannot see, just as he did when he first lost his vision.[163][133]
Father Paul Lantom visits Murdock in his bed. Murdock asks him about Natchios, confusing Lantom, who points out they buried her months ago. Murdock explains that while it might sound crazy, he was with her, but Lantom says that only he was found.[163][133]
July
1st