Jurassic World: Dominion Dominates Fandom Wikis - The Loop
Play Sound
This is a timeline of events that occurred in 2015.
2015
January
5th
6th
9th
10th
11th
12th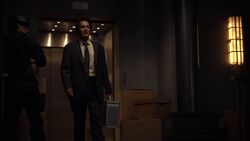 13th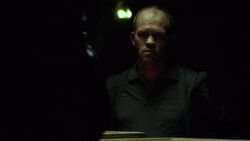 14th
15th
16th
John Healy's trial begins. When Healy enters the court, Murdock hears one juror's heartbeat increase. He follows her afterward and discovers that she is being blackmailed.[16]
Murdock dons his suit and interrogates the man blackmailing her, but he tells him that it is useless, as his employer will just blackmail another juror.[16]
17th
18th
23rd
25th
26th
27th
28th
Foggy Nelson and Matt Murdock accept Elena Cardenas as a new client.[24]

Trying to get more information on Cardenas' landlord, Murdock goes to the police department. He hears Detectives Christian Blake and Carl Hoffman interrogating Piotr in another room. Piotr tells them he works for Wilson Fisk.[24]
Since Blake and Hoffman are secretly also subordinates of Fisk, they kill Piotr since no one is supposed to reveal Fisk's name. Hearing the entire situation, Murdock realizes how corrupt the New York City Police Department is.[24]
In his black suit, Murdock attacks Blake and questions him.[24]
Turk Barrett tells Vladimir Ranskahov that a friend of his had cleaned a car of Wilson Fisk's that was covered in "blood and brains". He also tricks Ranskahov into thinking that the masked man and Fisk are working together. Ranskahov then demands his men get all of their weapons to prepare for a war against Fisk.[24]
Assassination of Vladimir Ranskahov:

Through Sullivan's two-way radio, Fisk contacts Murdock and says that he will blame the entire night's occurrences on him. Outside, a sniper shoots multiple officers, including Christian Blake. Murdock soon finds an opening into the sewers that connects to a series of access tunnels, which he uses for him and Ranskahov to escape.[25]
Just after they escape, four officers enter the building. Working for Fisk, they kill Sullivan to blame it on the Man in the Mask. Just before Murdock and Ranskahov go into the access tunnels, they are attacked by two of the officers.[25]

After they are defeated by Murdock, Ranskahov chooses to use their weapons to keep five other men from getting to Murdock, allowing Murdock to get away. Before he leaves, Ranskahov tells Murdock that Leland Owlsley controls the money of Fisk's cartel. When the men arrive, they kill Ranskahov. Murdock escapes [25]
29th
30th
31st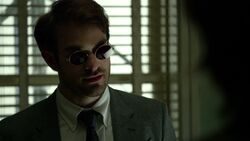 February
1st
2nd
3rd
4th
5th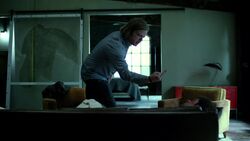 6th
7th
8th
Vanessa Marianna finally awakens after being poisoned. Wilson Fisk offers to move her out of the country to protect her, but she refuses, wanting to stay with him.[32]
James Wesley's corpse is found. Fisk is saddened by the loss of his assistant and friend. He thinks whoever killed him may also be responsible for poisoning Marianna.[32]
9th
12th
13th
14th
Rescue of Carl Hoffman:
Hoffman is questioned about his involvement with Wilson Fisk. He reveals all of the information he knows of Fisk's crimes.[37]
15th
16th
26th
Jessica Jones is hired by a former lover of Turk Barrett to locate him and force him to give money to help her care for the child he had with her.[42]
27th
Attack on Turk Barrett: In the very early hours of the morning, Barrett attempts to get money from an old client, but he is immediately ambushed by Daredevil. The brawl results in Barrett being taken to the hospital.[42]
Jones finds Turk Barrett. Once she has learned what happened with Daredevil, Jones takes Barrett's wallet to give to her client, and disconnects Barrett's IV before leaving.[42]
28th
March
3rd
6th
Jones is hired by a man who thinks that his wife is cheating on him. She follows the client's wife through New York City and finds her having sex with another man.[47]
Duel of K'un-Lun:

The two final unbeaten warriors of K'un-Lun, friends Danny Rand and Davos, prepare to fight for the right to face Shou-Lao. Lei Kung reminds them that the fight does not end until one either yields or dies, and the two fighters tie a ceremonial cloth between them. The duel begins.[48][49]
As the duel continues, Davos starts yanking on the connecting cloth to pull Rand off-balance and toward him. Rand manages to dodge and wrap the cloth around Davos' wrists and punch him, but Davos kicks him away and tears the fabric. Rand trips him up, but before he can land a kick, Davos spins away back to his feet. Rand lands a punch but Davos retaliates and knocks him down, stamping on his fingers to break them and telling him to yield. When Rand does not, Davos continues to punch him, and Rand pretends to be out of energy, only to surprise Davos by suddenly kneeing him aside. The two stumble back to their feet and Rand uses his side of the ripped cloth to bind his broken fingers.[48][49]

The sun shines into the dueling chamber as Davos continues to pummel Rand, repeatedly telling him that it is over, and he has to yield. Rand, however, notices the sun streaming through the window and lures Davos into its glare, momentarily distracting his opponent, enough to gain an advantage and knock him to the ground. Rand then pins him down and demands he yield. Davos does not, but Lei Kung, his father, declares Rand the winner and the one who will face the dragon.[48][49]
7th
8th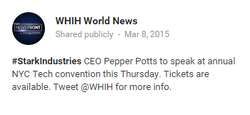 9th
10th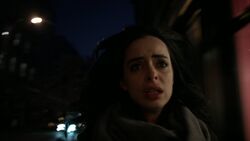 11th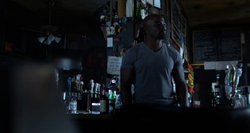 12th
13th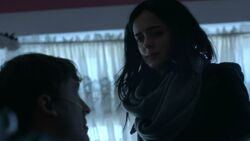 Visiting Denton's residence, Jones learns that he donated both kidneys to Kilgrave, and is now on dialysis with a machine given by an anonymous patron.[55][56]
Skirmish at Luke's: Gina visits Jones and tells her that her husband, Andre, has decided to get his rugby teammates to go and teach Cage a lesson for sleeping with his wife. Jones goes to Luke's to try to help Cage against Andre's friends, but Cage handles the brawl himself with surprising resilience. Jones realizes Cage has powers, and he realizes Jones' too.[55]
14th
15th
Peter Lyonne makes an investment with the

Zoey Lyonne Foundation

.[34]
Jones goes to see Jeri Hogarth, demanding her to defend Shlottman's reputation.[57]
Hogarth tells her that she will not sacrifice her own reputation by saying that mind control is real; she advises Jones to find other victims of Kilgrave to back Shlottman defense, including making a statement herself.[57]
After researching anesthesia and hospitals, Jones goes to the clinic where Wendy Ross-Hogarth works and asks her for some of the pain-killer, hoping to use the conflict between her and her wife, Jeri Hogarth, as leverage.[57]
Jones discovers that Trish Walker has been training herself in combat.[57]

Sebastian Derik murders Janice Robbins in her house.[59]
16th
17th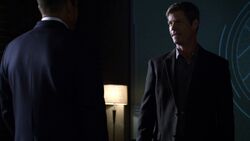 18th
Jones is hired by Audrey Eastman to investigate if her husband, Carlo, is having an affair, by following him when he goes to work on Friday night.[63]
Will Simpson goes to Trish Walker's apartment trying to find her corpse. Scared, Walker calls Jones for help. Jones realizes that Simpson is not under Kilgrave's control and opens the door. Simpson is surprised to find Walker alive. Jones explains to Simpson about the situation with Kilgrave, and he insists on helping find Kilgrave.[63]
Following Jones' advice, Walker goes on air at WNEX Station and makes a public apology to Kilgrave for insulting him, in hopes that he will stop sending people to kill her.[63]
19th
The Kilgrave Victim Support Group is founded by Jessica Jones and Jeri Hogarth to try to build Shlottman's defence, including all those who believe they have been under his influence.[63]
Jones asks Simpson for police surveillance footage of certain places to find Jones' stalker, but he tells her the process will be long.[63]
20th
Simpson visits Trish Walker and asks for forgiveness. The two start a conversation and a friendship develops.[63]
Ambush on Jessica Jones:

Following Audrey Eastman's case, Jones follows Carlo Eastman to a rendezvous with his alleged lover. The lover turns out to be Audrey herself; she wants to kill Jones for being a "gifted" person, which she was informed of by Spheeris. Eastman explains that "gifted people" caused the death of her mother in "the incident". She then shoots Jones in her arm as a threat.[63]
Jones complains that she too lost family members in an accident, but she doesn't blame anyone else for what happened. She tells the Eastmans that she has ninety-nine gifted friends who will hurt them if they do not leave New York City. The Eastmans flee.[63][58]
21st
In the morning, searching Simpson's footage for a match to Donald's testimony, Jones finds the identity of the photographer: Malcolm Ducasse.[63]
23rd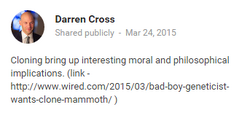 25th
26th
27th
28th
Gunner Henderson sends the disc containing footage of the assassination of Ahmad Zubair to NSA analyst Micro.[72][73]
Operation Cerberus are alerted to the existence of the video but cannot track the delivery. Believing the cameraman to have been Frank Castle after his explicit outburst of anger at the operation a few months prior, Cerberus' leaders, William Rawlins, Ray Schoonover, and Billy Russo decide that Castle must be killed so as to maintain the secrets of the operation. Having heard him talk numerous times during the operation about the fact that when he returns, the first thing his family will do the next day will be to visit the Central Park carousel around midday, the Cerberus leaders plan an attack for April 4th, the day after Castle returns from his current military service. Russo refuses to take part himself, having been close with the Castle family, but lets the operation go ahead nonetheless.[72][73][74]
Schoonover uses his drug lord alias of the "Blacksmith" to arrange a fake drug deal in Central Park on April 4th, planning to initiate a gunfight which will be targeted by the men of his who will be present to catch the Castle family in its crossfire. Having also heard of an undercover officer infiltrating one of the three gangs of the Kitchen Irish, the Mexican Cartel, or the Dogs of Hell, he decides to organize for those three to be the gangs involved in the deal, assuming that through the undercover officer, Samantha Reyes will learn of the deal and attempt a sting, and that he can therefore cover the massacre by making it appear to the police like a sting gone wrong.[72][75][76]

Skye's Father tells Daniel Whitehall that the Diviner has something inside that will be activated when it comes into contact with a temple in a hidden city. Eventually, Whitehall orders him and a group of HYDRA agents to discover where that city is.[77]
29th
Capture of Kilgrave:

Jones, Simpson and Walker find Kilgrave and initiate the plan to capture him. Kilgrave spots Will Simpson, but before he can run away he is distracted by Jessica Jones. Simpson shoots the anesthesia dart to leave him unconscious.[64]
However, no one knew that Kilgrave had bodyguards for protection. The bodyguards chase the trio to the van and free their boss, but Simpson catches one of Kilgrave's bodyguards and beats him until he reveals that Kilgrave made the bodyguards protect him after a previous attack; but he doesn't knows where Kilgrave is living.[64]

Jones goes to Malcolm Ducasse's Apartment, and Ducasse honestly admits that he had been betraying Jones to be supplied by Kilgrave with the drugs he was addicted to; not really because he was under his control. Jones gives him the drugs that Kilgrave would have provided him and asks him to make a choice: to get over his addiction and start helping her, or succumb and be of no help.[64]
Assassination of Christian Ward: Meanwhile, Grant Ward captures his brother and has him confess that he was the one who tortured their brother, Thomas, when they were children. After Christian's eventual confession, Grant takes Christian to their parents, and murders all three. Grant plants a recording of Christian's confession at the scene to have the media believe the event was a murder-suicide by Christian Ward.[77]
When Skye's father returns to Whitehall, he meets Ward there.[77]

In the Playground, May opens Vault B so that the others can research Daniel Whitehall's past. They discover his past identity as Werner Reinhardt, but not the secret to his youth. When this information is told to Sunil Bakshi during his interrogation by Bobbi Morse, he breaks a cyanide capsule in his tooth to commit suicide and avoid interrogation, but he is saved before death.[77][78]
Before Skye can be told that Coulson and Fitz met her father, the satellites find a match for the city.[77]
Hope Shlottman is attacked by a fellow inmate in the night.[64]
Late at night, on the flight back from Australia, Skye has a nightmare. After Phil Coulson wakes her, she has a bad feeling about the hidden city.[79]
30th
31st
April
2nd
WHiH World News posts on Google+ announcing "Streaming live now. Military professionals along with renowned scientists speak about future of modern military." They host a livestream on the topic.[21][5]
3rd
4th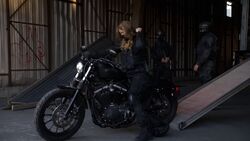 After the massacre, Samantha Reyes makes sure that the killing is covered up and not widely reported on.[89][85]
Visiting Shlottman, Jones learns that the young woman is pregnant by Kilgrave, and she hired another inmate to assault her in hopes that it would cause a miscarriage. Jones tells Shlottman to allow her to handle her unwanted pregnancy.[66]
In Puerto Rico, Raina finds Calvin Zabo and they discuss her and Skye's changes. When she says she is struggling to live with her Inhuman changes, Zabo bluntly tells he that she should stop living. She despairingly walks into oncoming traffic to commit suicide, but is stopped by S.H.I.E.L.D. agents. However, when she refuses to come with them, Gordon arrives and teleports her away to Afterlife.[83]
Leo Fitz discovers that Skye has gone through a massive change, and confronts her about it. It distresses her to the point where she causes her quarantine room to shake and her lamp to shatter.[83]

Coulson delivers Antoine Triplett's grandfather's Howling Commandos kit to Triplett's mother, and embraces her as she finds out that her son has died.[83]
Assassination of HYDRA Leaders: While HYDRA scramble to find their new leader, Hunter uses his deception to be led to HYDRA by Bakshi. Using his infiltration, and the known locations of various potential new leaders, S.H.I.E.L.D. orchestrate the assassination of these candidates with Splinter Bombs and Diviner technology, so as to weaken HYDRA.[83]
Fitz fakes Skye's blood samples and gets her released from quarantine, promising to look after her and keep her secret. Then, as Coulson's team discuss fond memories of Triplett over drinks, Alphonso Mackenzie uses his miniature Lola model to scan Phil Coulson's office for Vibranium, discovering that Fury's Toolbox is kept in there, and letting Bobbi Morse know.[83]
Cage visits Jones at the Alias Investigations Office after learning about her past struggles with Kilgrave from Malcolm Ducasse, and asks her if he can make amends for whatever caused their breakup. Jones insists that he did nothing wrong, and the two consummate their renewed relationship.[66]
5th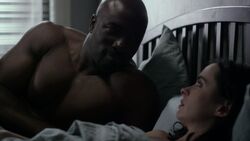 6th
7th
8th
9th
10th
11th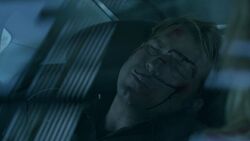 12th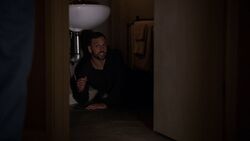 13th
14th
15th
Will Simpson apologizes to Walker for his inappropriate behavior, blaming Doctor Kozlov and the pills he took for his rapid recovery. He also asks the location of Jones, saying that he would like to apologize to her personally; Walker does not give it.[101]
The New York Knicks finish the 2014–15 season with a 17–65 record, worst of the NBA.[104][35]
Jones goes to another morgue and discovers Oscar Clemons' body. She also discovers that the Decommissioned CDC Facility was burnt down.[101]
Kozlov sends two men to catch Simpson, but he takes red pills and kills both, in front of Walker. Simpson drags the bodies into Walker's apartment and locks her in her safe room.[101]
Simpson calls Jones, telling her that he wants to help kill Kilgrave and will meet her at the Alias Investigations Office to reveal where he is.[101]
Attack on Jessica Jones:

When Simpson arrives at Jones' apartment, Jones invites him inside, but when she asks about Walker, Simpson lies. Jones tells Simpson about the death of Clemons; when Simpson is not surprised, she surmises the truth that Simpson killed him. Before Simpson can kill her, Jones begins to fight him. Simpson justifies his attempt to kill Jones by saying that she is protecting Kilgrave, not trying to eliminate him.[101]
Walker arrives and uses a fire extinguisher against her ex-boyfriend. She swallows the Combat Enhancers she stole from Simpson and begins a fight. Simpson warns Walker that without the blue pills he has to counter the reds, she will die, but Walker continues her assault. Jones helps and destroys her refrigerator to knock Simpson unconscious. The pills have an adverse effect on Walker and she cannot breathe, and Jones gives her CPR until an ambulance arrives. Walker is saved by an EMT who counters the stimulant in her. Kozlov arrives at Jones' destroyed apartment and retrieves Simpson.[101]

Kilgrave texts Jones and tells her that he has met Luke Cage and, if she hurries, she can save him. When Jones arrives at Luke's, a massive explosion occurs; Jones, though, rescues the man she loves.[101]
16th
17th
Jessica Jones rushes Cage to Metro-General Hospital, where doctors try to inject him with an IV, which fails each time due to his unbreakable skin. Claire Temple steps in but still fails, allowing the doctors to confirm that he has superpowers. Jones manages to convince Temple to help her take Cage back to the Alias Investigations Office where she can treat him in secret.[106]
Kilgrave goes to the hospital and orders everyone in the hospital to hunt down Jones and kill her.[106]
Temple takes Cage to Jones' apartment.[106]
Skye wakes up in Afterlife, having slept for two full days. She meets Lincoln Campbell, who is giving her acupuncture treatment to help ease her transition to Inhuman. He explains some of where she is and what the rules are, telling her that it is unlikely that she will be able to see her friends.[107][103]
In a new apartment, Kilgrave forces his father to use data from both him and Hope Shlottman's aborted to increase his powers. He begins considers killing Jones.[106]

Kilgrave is injected with all his new drugs, causing him incredible pain, and making him scream out as his skin and veins briefly turn purple. Kilgrave orders the other two people in the apartment to cut off his father's arms and destroy them in a blender, before killing themselves.[106][108]
Temple meets Malcolm Ducasse.[106]
Phil Coulson and Lance Hunter steal a car from Honest Eddie and travel to the Retreat to find Skye.[107]
Jones goes to Kilgrave's new apartment to find his father dying. He explains to Jones that Kilgrave has increased his powers. Jones finds a note with the address of the

Hudson Ferry Terminal

.[106]
Charles Bradley debuts the song Ain't It a Sin at Coachella.[35][45]
Skirmish at the Hudson Ferry Terminal:

Jones meets with Trish Walker and they go to the Hudson Ferry Terminal where Kilgrave tries to use his powers to control her. Seeing that he cannot, Kilgrave orders some police officers to shoot down Jones. As Kilgrave makes his way to the yacht, he uses a group of innocent people to block her path.[106]

Kilgrave orders the people to kill each other, forcing Jones and Walker to try to protect them. Kilgrave roars, ordering everyone to stop; they do, including Jones. He briefly believes that Jones is faking, but she claims that she wants him to stop the people from hurting each other. To mock her, Kilgrave orders the person she loves most, Walker, to come over to him, and claims that he chose the wrong sister, promising he would rape Walker continually for the rest of her life, and make her his slave while she died inside. Kilgrave promises that if either of them ever saw Jones again, he would make Walker cut her own throat. He then forces Walker to kiss him passionately. Seeing that Jones has still not moved from her spot, Kilgrave becomes convinced that his powers can control her again. Delighted, Kilgrave approaches her and promises Jones that after a while she would love him, and orders her to smile. She obeys instantly. Overcome with joy, Kilgrave orders her to tell him she loves him. Jones says the words, but in Walker's direction. She then grabs Kilgrave's face and snaps his neck, killing him instantly, letting his body drops to the ground.[106]

Jones is taken to prison.[106]
18th
Cage awakes from his short coma and leaves Temple in the apartment, deciding to travel away from Hell's Kitchen.[106][109]
Thanks to Jeri Hogarth, Jones is freed from prison. She reunites with Walker.[106]
Using the files that her mother gave her, Trish Walker starts to investigate IGH.[106]

In her apartment, Jessica Jones reunites with Malcolm Ducasse and decides to use her powers to help people, to start being a hero.[106]
19th
On arriving at the Retreat looking for Skye after a 2-day drive, Coulson and Hunter only find footage showing Gonzales' S.H.I.E.L.D. attacking her, and Skye being teleported away. The two settle down for the night, with Hunter encouraging Coulson to drink, but Coulson refusing and instead coming up with a plan.[107][110][111]
20th
Ambush at the Retreat:

Without telling Lance Hunter, Phil Coulson purposefully alerts Robert Gonzales to his location, all as part of his plan. Gonzales' agents break in with a battering ram, but Coulson and Hunter trick them using holograms of themselves, then surprising the agents from behind. Coulson and Hunter defeat Gonzales' agents and go looking to steal their Quinjet.[107]

However, they are ambushed when it is revealed that there is another, cloaked Quinjet waiting to take them out. When it looks like Coulson and Hunter are going to be captured and taken in, Coulson's "backup" arrives in the form of Deathlok, with upgraded gear now that he secretly works for S.H.I.E.L.D. Deathlok takes out Gonzales' agents and flies Coulson and Hunter away to a secret location.[107]

Learning that Raina is also in Afterlife, Skye confronts her, but is stopped by Jiaying, who she does not realize is her mother. Skye agrees to give Jiaying a chance to teach her and help her train the next day, when Jiaying promises Skye will feel a connection with her. Jiaying then goes to Calvin Zabo, telling her that he was right, and Skye really is their daughter Daisy - but that he cannot see her yet.[107][112]

Theft of the Toolbox: Leo Fitz and Jemma Simmons secretly work together to get the Toolbox away from the Playground and Gonzales' agents. They pretend to argue, and Fitz leaves the base, walking out of the Playground with the real Toolbox in his rucksack, along with a sandwich made for him by Simmons. Simmons continues to pretend to work on the fake duplicate Toolbox she has made.[107]
21st
22nd
23rd
24th
25th
26th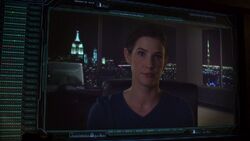 27th
28th
Attack on the HYDRA Research Base:

The Avengers raid HYDRA's main research base in Sokovia and defeat all of the organization's soldiers, including Dr. List, who is killed. During the raid, they encounter twins Pietro and Wanda Maximoff. Wanda manipulates Tony Stark' mind with visions of despair: his entire team lying dead on another planet, and Steve Rogers accusing him "You could have saved us".[121]
Although Hawkeye is injured, the team successfully commandeer the Scepter and Baron Strucker from the facility, bringing an end to the War on HYDRA.[121]
After the battle has ended, Natasha Romanoff uses the codeword created to calm down the Hulk, causing Bruce Banner to return. Banner breaks down, asking if the Hulk killed anyone, and Romanoff assures him that he did not.[123]
29th
May
1st
2nd
3rd
4th
Being both feared and hated by many people worldwide because of Stark and Hulk's fight, the team goes into hiding at Clint Barton's Homestead and get to meet his wife, Laura Barton, and their children, Cooper and Lila. Still scared by his vision, Thor leaves to find answers.[121]

Seeing how being on the team scars them, Bruce Banner and Natasha Romanoff plan to run away together after they help defeat Ultron with the others. Nick Fury, who is also staying at the homestead, inspires the team to ensure they do not lose hope. They then discover that Ultron is trying to become stronger and realize that Helen Cho may be the only person who can help him do that.[121]
Thor arrives in London to speak with Erik Selvig about his vision. They go to a small pond in a cave, said to make people experience their dreams. While in the water, Thor learns of the Infinity Stones and that the Mind Stone is inside the Scepter.[121]
5th
6th
Shortly after Sokovia's destruction, Vision encounters the last, heavily damaged, Ultron sentry, being controlled by Ultron himself. Ultron tells Vision that destroying him would change nothing, and humans would continue on the path to self-destruction. Vision replied that he knew, but that humanity's imperfections make them graceful, and then he destroys the sentry, simultaneously destroying Ultron.[121]
Pym Technologies posts on Google+ announcing "Pym Tech meets with Stark Industries regarding future technological endeavors."[3][5]
7th
8th
9th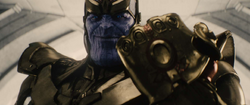 13th
14th
16th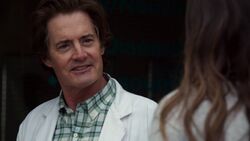 Skye and Phil Coulson visit Calvin Zabo at his new work as Calvin Winslow. Since Zabo's memories were erased, he asks for her name, and she replies "Daisy". Skye then agrees to Coulson's proposal to lead his new team of powered individuals.[133]
17th
18th
19th
20th
79 hours after her arrival, Jemma Simmons realizes she cannot last much longer without water, and so goes looking. 2 hours later, She starts talking to herself, pretending she's talking to Fitz about their planned dinner date, so as to keep her own spirits up and keep going. 6 hours into her search, she stumbles, but determinedly gets up and keeps moving.[136][137]
21st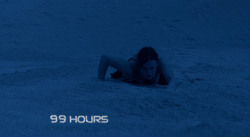 Now 99 hours into her time on the planet, Simmons is getting very desperate for water, when she is suddenly caught in a huge sandstorm and passes out.[136][137]
2 hours after the sandstorm hits, Simmons wakes, completely covered by sand, but she finally manages to find a small pool of some sort of water and gladly drinks from it, relieving her thirst.[136][137]
23rd
24th
26th
28th
Nick Fury talks to Natasha Romanoff about Bruce Banner's disappearance, while Maria Hill organizes the opening of the Avengers Compound and Erik Selvig performs research. Fury ensures Romanoff that trouble is the only thing that lasts forever and leaves.[121][128]

With the Avengers Compound now officially open, Clint Barton returns to his family, now including his newborn son. Tony Stark seemingly retires, Bruce Banner is still missing, and Thor uses the Bifrost Bridge to leave to further investigate what he saw in his vision. Captain America and Black Widow prepare to train the new roster of Avengers, consisting of Falcon, Scarlet Witch, War Machine, and Vision.[121][139]
Thor would spend the next 2 years avoiding returning home to Asgard, travelling across the universe alone on his search for Infinity Stones, to no avail.[139]
31st
June
1st
2nd
3rd
4th
Fisk's plan works and Finney and the Valdez brothers become loyal to him, as they begin working on a plan to assassinate Dutton, making Fisk the "Kingpin" of the prison. He begins taking thorough notes on the goings on in the facility.[93][39]
Darren Cross posts on Google+ saying "Having multiple scientific minds in governmental positions might do this country some good. (Link to article http://www.wired.com/2015/06/technocracy-inc/)"[18][5]
6th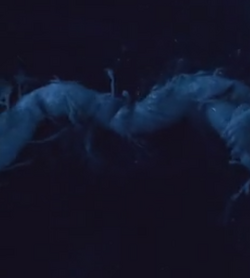 492 hours (about 3 weeks) into her time on the planet, Jemma Simmons manages to lure out and kill another of the creatures who live in the pool. She rubs a stick to start a fire and cook the meat, before eating it. She records another message for Leo Fitz, saying that she knows he will not give up, and therefore she will not give up either.[136][137]
Rosalind Price is reassigned to a top secret clearance-level initiative with a classified location.[148]
7th
8th
9th
11th
16th
17th
Simmons has now been on the far-off planet for 752 hours (about a month), and is giving fewer updates now to conserve her phone's battery power. She starts recording another message when she notices tall poles planted in the ground ahead, rattling in the wind. Simmons goes to investigate when she suddenly falls through a hole in the ground.[136][137]
18th
20th
824 hours later, Jemma Simmons is now using the bars of her cage to do chin-up exercises, when the mysterious man turns up at the entrance yet again.[136][137]
21st
23rd
25th
30th
July
2nd
4th
WHiH World News posts on Google+ and Twitter reporting "We've learned that there will be a dramatic fireworks display at the Avengers Tower tonight, on the fourth of July, in NYC. Have a great, happy, and safe fourth of July."[21][160][5]
6th
7th
At a game of baseball, the boyfriend of the woman tells Ignacio the story she told him the day before.[4]
There is an earthquake in Southern Africa.[164]
WHiH Newsfront release a report video featuring Christine Everhart. She states government control over heroes will be an ongoing important topic. She then revisits the story of Scott Lang, "self-proclaimed whistle-blower" who robbed millions from VistaCorp and returned the money to customers. She mentions the SEC investigation found no proof of his allegations, and states that they will have an interview with him live from San Quentin State Prison next week.[164][5]
The ticker of the video informs:

"Reports that HYDRA has resurfaced in Eastern Europe remain unconfirmed after many thought the organization to be dissolved", "California braces for record drought", "Renowned astrophysicist Jane Foster to lecture on her experiences with interspace and dimensional travel".[164][121]
"Rogue HYDRA agent Wolfgang von Strucker confirmed dead. His body was found in its cell after a supposed raid on an Eastern European detention facility", and "Earthquake rocks Southern Africa".[164][121]

WHiH World News posts an article on Mashable titled "Everyday Hero or Thief? Cyber Criminal to Address 2012 Arrest". They post a link on Google+ and Twitter saying "Cyber-criminal or hero? WHiH looks back at Scott Lang's legacy. Exclusive interview with Christine Everhart next week."[21][160][5]
Luis goes to a party with Ignacio and they discuss the woman, and her boyfriend's story from the baseball game that morning.[4]

Pym Technologies posts on Google+ and Twitter saying "Progress is very much on the horizon. Pym Technologies continues to make scientific breakthroughs despite recent setbacks internally."[3][165][5]
Darren Cross posts on Google+ saying "Exciting things happening in the labs. Look forward to unveiling it soon!"[18][4][5]
8th
9th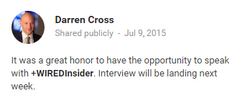 Darren Cross posts on Google+ saying "It was a great honor to have the opportunity to speak with WIRED Insider. The interview will be landing next week."[18][5]
10th
13th
Senate hearings begin on relief efforts for Sokovia.[167]
WHiH Newsfront posts WIRED Insider's video interview with Darren Cross, in which James Rondell interviews Darren Cross about joining PymTech. Cross says technology ahead of its time attracted him to Pym Tech. Cross says Pym Tech will unveil something this summer that the public will find astonishing. The conversation turns to Hank Pym being a "legend", and his rumored interactions with S.H.I.E.L.D. Cross says that Pym was his mentor and friend, but stunted his potential, and his loyalty is with Pym Tech. The interview is cut off abruptly.[168][5]
A winning $675 million lottery ticket is announced, but unclaimed.[167]
14th
15th
16th
17th
18th
19th
20th
The crew plan and prepare their break in.[4]
21st
22nd
A newspaper is published including an article about the devastation in Sokovia and who is to blame.[4]
Scott Lang tries on the suit he stole in the heist. He presses a button on it and shrinks down to the size of an insect. While in the suit, he can hear the voice of Hank Pym, the creator and original owner of the suit. Lang travels through many different parts of the hotel trying to avoid being crushed by assorted people and things. He eventually figures out how to grow back to his normal size.[4]

Escape from the San Francisco Police Station: Scared by his experience in the suit, Lang goes back to the Pym Residence to return it. The police arrive and arrest him, then take him to prison. While in prison, Lang meets Pym in person for the first time. He reveals to Lang that he caused all of the gossip that eventually got to Luis learning about the safe. Afterwards, Lang is given the suit by ants sent by Pym. He quickly puts on the suit and escapes the prison by riding on an ant. However, he soon becomes lightheaded and passes out.[4]
23rd
24th
Lang attempts to use the Ant-Man suit to shrink through a keyhole, but fails. He tries again, only to fail again.[4]
25th
Hank Pym has Scott Lang shrink down in his garden.[4]
26th
27th
28th
Hank Pym warns Scott Lang not to mess with the Ant-Man suit's regulator, in case he ends up shrinking for eternity.[4]
Shrunken down in Pym's garden, Lang meets the crazy ants. When he is swarmed by them, he panics and grows through the garden surface, then realizing how illogical his fear had been.[4]
In fight training, van Dyne twists Lang's arm. In another round, she leaps and tackles him to the floor.[4]
29th
Lang tends to a wound after fight training. Van Dyne tells him Pym wants him outside.[4]
Pym trains Lang with throwing shrinking and growing discs.[4]
30th
31st
August
1st
2nd
Infiltration into Pym Technologies Headquarters:

Lang infiltrates the facility, while Luis, Dave, and Kurt Goreshter work to get the others through without being detected.[4]

Lang reaches the container in which the Yellowjacket Suit is being held. Just before he can steal it, Cross traps him in the container and removes the Yellowjacket, planning on selling some of the technology to a HYDRA team led by Mitchell Carson.[4]
Cross then takes out a gun with the intention of killing Pym, but Lang breaks out, allowing Cross to only shoot Pym in the abdomen. He then tries to escape the facility in a helicopter, but Lang chases after him. He manages to make it inside the helicopter, but Ant-thony is killed in the process. Cross then dons the Yellowjacket suit and fights Lang. The two get trapped in a briefcase and fall out of the helicopter, landing in a family's backyard. Lang manages to swat Cross into a bug zapper, electrocuting him. However, Lang is then found by Jim Paxton and arrested.[4]

Duel at Maggie Lang's House: When Cross manages to get out of the zapper, he goes to the house of Scott's ex-wife, Maggie Lang, so he can kidnap their daughter, Cassie. Paxton arrives and Scott manages to put on the helmet of his suit and shrink out of handcuffs. Once in the house, Scott continues his fight with Cross. He is eventually forced to shrink into the Quantum Realm to permanently destroy the Yellowjacket and save his daughter. The suit's destruction kills Cross. While in the Quantum Realm, Scott realizes he can use a Pym Particles Disk to re-enlarge himself. He successfully does so, but forgets his experience in the realm shortly after due to his instantaneous enlargement.[4]
3rd
4th
7th
On the Moon, Gorgon visits his cousin Karnak, showing him that he has taken the American flag planted in 1969.[176][177]

Despite Gorgon's pride, Karnak scalds him for his naivety, telling him to replace the flag as fast as possible, as a satellite is about to pass over, and would notice the flag being missing, giving away the presence of sentient life nearby.[176][177]
9th
10th
11th
14th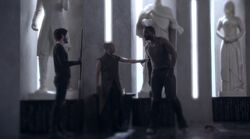 September
13th
Kaecilius is tough in his training of students at Kamar-Taj. Karl Mordo tells him that he has done enough training for one day.[183]
Kaecilius starts to feel that the Ancient One has failed in her promise to help him find meaning in his wife and son's tragic deaths, or found a way to bring them back to be together again. He becomes angry and frustrated.[183]

Kaecilius confronts the Ancient One, accusing her of failing him. She encourages him to remain steadfast, but he becomes disillusioned with her.[183]
14th
Tired of waiting, Kaecilius searches for his own answers in the Kamar-Taj library. All the books lead him back to the name "Cagliostro".[183]
15th
While training with Daniel Drumm, Kaecilius questions whether he is bothered by how closed off the Ancient One is in sharing her knowledge.[183]
As Kaecilius sleeps, he dreams of his wife and son. The dream turns into a horrible nightmare of their disfigured skeletons, driving him to further action against the Ancient One.[183]
On waking, Kaecilius visits the Kamar-Taj library and looks in the Book of Cagliostro from the Ancient One's private collection. He comes to realize that he needs others to help him perform the rituals found inside. Claiming that the Ancient One hides knowledge from them, Kaecilius gathers his students to form the Zealots and rebel against the other masters, aiming to find their own meaning.[183]
19th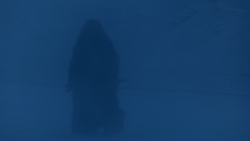 It's now been 3,010 hours (roughly 3 months) since Jemma Simmons arrived on the planet, and she is going crazy about wanting to get back home. She wants to go the "No Fly Zone" of the planet, but Daniels warns her that it is too dangerous, so instead Simmons goes out to find food for dinner. However, whilst she is out, she sees a sword in the ground in the distance and goes over to investigate. There Simmons finds the bones of everyone who has come to the planet in the past, and the belongings of one of these people from centuries ago, including a sextant for mapping the stars. She is suddenly caught in another sandstorm, and sees the dark, cloaked figure of "It" a little way away within the storm. Running for her life, she makes it back to her and Daniels' hideout just in time. Daniels tells her she had made a dangerous mistake and wandered into the No Fly Zone, but Simmons says that it does not matter now, as she has discovered a way for them to get home.[136][148][137]
20th
Simmons explains to Daniels that the portal is fixed in place, but the planet they are on spins on its axis, therefore meaning the portal appears in different parts of the planet each time. She then explains that they can use her phone battery to power Daniels' NASA equipment and use the sextant to map the stars. Then they can use that data to calculate the speed at which the planet spins so that they can therefore work out where the portal will appear next.[136][137]
Joy Meachum hires Jessica Jones to find incriminating "dirt" on employees at Rand Enterprises, for future use.[184][185]
24th
26th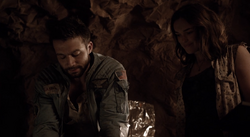 Jemma Simmons has been on the planet for 3,183 hours (over 3 months) when her and Will Daniels finally get the star mapping equipment working and start taking recordings. It soon dies, but not before Simmons has got enough information to work out that the portal will open again 18 days from now, a long way off. Daniels points out that the location is a 40-hour hike away at least, and that they would need to get across a canyon to get there, but she just tells him to start preparing.[136][137]
29th
A report about the harmful mortar in Endoxeprene is released. Despite knowing about this from months prior, only now does the company choose to act. It is already too late for Aaron James, a customer who has now been disabled by the drug.[146][147]
October
3rd
12th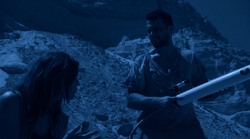 Having now been on the planet for 3,561 hours, and soon to set off to get to the next portal opening in time, Jemma Simmons explains to Will Daniels that the portal is activated by the alignment of the planet's moons, which is how she calculated when the portal would next open. Daniels reveals that he intends to use a grappling hook and rope to get across to the other side of the canyon, and Simmons says that even if they cannot get through, they could send a message in a bottle through the portal to give Leo Fitz instructions on how to help get them back.[136][137]
Wilson Fisk continues with his plan to kill Dutton, making notes, beginning his approximately fourteenth notepad. Fisk keeps investigating Dutton's activities in the prison.[93][39]
13th
14th
After an over 40-hour hike, Jemma Simmons and Will Daniels arrive at the canyon, only to find it about 100 meters wide, instead of 30 meters like it had been previously, and Daniels suspects that "It" is trying to prevent them from leaving. The portal opens but they are too far away to get across the canyon to it, so instead they decide to shoot their message in a bottle across and into the portal. The bottle flies towards the portal and is on target but the portal closes too early, causing the bottle to simply shatter on the rocks, and draining Simmons' hope.[136][137]
16th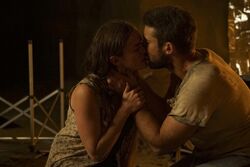 Back at their cave hideout, Simmons breaks down as she becomes desperate yet again, thinking she won't get home. However, Will Daniels assures her that she restored his faith when she turned up, and that she should keep that faith that they can survive and eventually get back. The two give in to their feelings for each other and kiss.[136][137]
21st
22nd
23rd
Hot weather begins with temperatures allegedly reaching upwards of 100°F in New York City, which is unusual for this time of the year.[189]
24th
27th
28th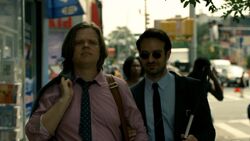 29th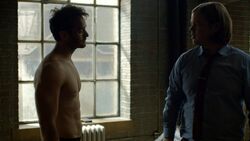 30th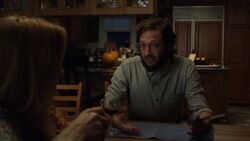 After 7 months owning the disc containing video of the assassination of Ahmad Zubair, David Lieberman finally broaches the subject with with his wife, Sarah. He asks if he should send the video to Homeland Security, as he believes it is the right thing to do but is scared it could get his family into trouble. She tells him he has to follow his instinct.[72][73]
Lieberman eventually decides he needs to send the video, and forwards it to Dinah Madani.[72][73]
Operation Cerberus are alerted about the video being sent and plan to kill their new loose end: David Lieberman.[72][73]
31st
Attack on David Lieberman:

As the Liebermans are driving, Carson Wolf leads a squad who apprehend David. David gets out of the car and tries to escape, but Wolf's squad corner him by the waterfront.[72][73]

Realizing he has to take the opportunity to pretend to have been killed so as to protect his family, Lieberman goes into hiding to bide his time until he can find a way to take down Operation Cerberus.[72][73]
November
1st
2nd
3rd
4th
5th
Following leads on the whereabouts of Rumlow, Steve Rogers hears about him recruiting soldiers under the alias of Crossbones.[129]
6th
12th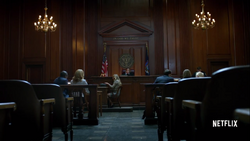 13th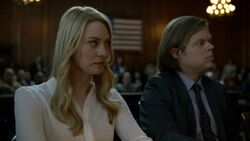 14th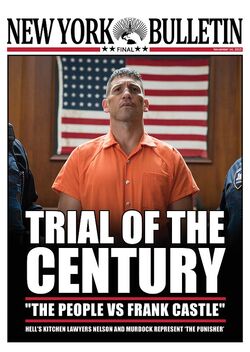 15th
16th
17th
18th
The news reports that Castle has escaped.[75]
Samantha Reyes discovers a copy of Castle's cranial radiography in her daughter's backpack and worries for her safety.[75]
Assassination of Samantha Reyes:

Fearing that something could happen to her daughter, Reyes reunites with the trio and reveals that the Massacre at Central Park was indeed a covert operation.[75]
During the meeting, Murdock hears a sniper rifle being cocked and instinctively pushes Nelson and Page away for safety, but Reyes is shot and killed.[75]

Nelson, having been injured by a bullet, is taken to the hospital. Knowing that he could be involved, Murdock decides to confront Wilson Fisk, but as lawyer Matt Murdock, not as Daredevil.[75]
In Ryker's Island, Murdock meets with Fisk and bluntly accuses him of being involved in Castle's escape. Fisk says that he recognizes him from the Scene Contempo Gallery several months back. But when Murdock mentions Vanessa Marianna and threatens Fisk saying that will prevent her from returning to the United States of America, Fisk attacks Murdock violently.[75]

The lack of guard reaction shows Murdock that Fisk has control of the prison, making him vulnerable. Fisk promises Murdock that when he gets out, he will destroy both his and Nelson's life before letting him go. Furious and a little worried, Murdock leaves the prison.[75][30]
Believing that Castle is behind the attack on Reyes, Page and Ellison decide to visit Dr. Tepper again.[75]
Ellison and Page arrive at Tepper's apartment. They find out that he has just been killed by "Castle". Page does not believe that Castle did it.[75]