Wiki Targeted (Entertainment)
Play Sound
For the original 2014 timeline, see 2014
This is a timeline of events that occurred in 2014 in a reality visited during the Time Heist.
2014
August
1st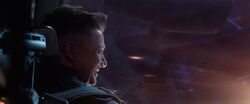 As they fly together, Barton jokes that they have come a long way since their time in Budapest, making them both smile.[1]
2023 Nebula warns Rhodes that they are not the only ones in 2014 looking for Infinity Stones, stating that Thanos, Gamora, and her own younger self are out for them.[1]
Massacre of the Korbinites: On Korbin, the native 2014 Nebula battles Korbinites, fighting under her father, Thanos' instruction. She is caught off guard by a grenade and a Korbinite goes to attack her, but her adoptive sister Gamora arrives and kills it from behind. Nebula angrily tells her sister she did not ask for her help, but Gamora notes that she always needs it nonetheless. She then tells Nebula Thanos wants them back on the ship, as he has found an Infinity Stone.[1]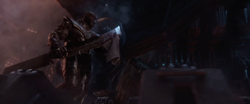 Back on their Q-Ship, Gamora and the native Nebula discuss the located Infinity Stone: the Power Stone, on Morag. Nebula notes that his plan is finally in motion, and the sisters start to consider the ramifications if he is successful. They are interrupted when Thanos beams in from Korbin.[1]
Thanos tells his daughters that Ronan has located the stone, and that he is sending them to Ronan's ship, since Ronan's obsession clouds his judgement. The native Nebula kneels and insists that she will make her father proud.[1]
2014 Nebula's cybernetic head suddenly glitches and she falls over. Her synaptic drive loads up the memory file of her 2023 self, projecting the memory to the other two of her talking with James Rhodes about there being others out there looking for Infinity Stones. Thanos says to bring Nebula to his ship.[1]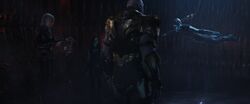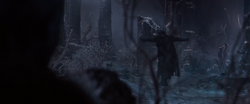 From nearby, James Rhodes and the 2023 Nebula watch as Quill sings along to the chorus out of tune.[1]
As Quill reaches the second verse, he again grabs an Orloni and pretends it is a microphone, singing to it.[2] Rhodes and 2023 Nebula continue to hear him.[1]
Rhodes notes that Quill is an idiot, and Nebula agrees.[1]
Quill struts along and spins around, before slowing down. As he continues walking, he comes across a Korbinite skeleton.[2]
Quill grabs another Orloni, singing the second chorus to it as he keeps going.[2]
Quill gets to another slippery patch. As he slides across it, War Machine ambushes him from the side and knocks him out with a heavy hit to the head. 2023 Nebula kneels to check his belongings.[1]
2023 Nebula rummages through Quill's bag and finds the tool he was planning to use to open the temple.[1]
2023 Nebula tells Rhodes what the tool is.[1]
Arriving at the temple door, 2023 Nebula inserts the tool.[1]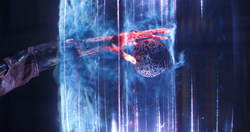 Theft of the Power Stone: The tool opens the door. Rhodes is cautious to enter, but 2023 Nebula ignores him, walking in without worrying. Rhodes follows her in.[1] As Korath the Pursuer arrives on Xandar with Sakaaran soldiers[2], meanwhile, inside the temple, 2023 Nebula reaches into the Orb's protective field. The flesh on her arm burns, but she manages to pull the Orb out with her mechanical hand.[1]
2023 Nebula hands War Machine the Orb. He is stunned by her willingness to harm herself, but the two admit to each other that they have both been hardened over time. The duo prepare to return to 2023 together, but as War Machine shrinks back into the Quantum Realm to return home with the Power Stone, Nebula's cybernetics glitch and she falls to the ground, affected by the connection with her 2014 self.[1]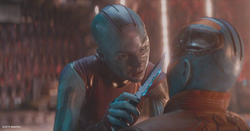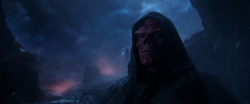 References