For the original 2012 timeline, see 2012
This is a timeline of events that occurred in 2012 in a reality visited during the Time Heist.
2012
May
4th
While Nick Fury surveys monitors on the Helicarrier[1], the 2023 Hulk leaving the alley in New York throws a motorcycle in an attempt to "smash".[2][3]
Maria Hill tells Fury that the World Security Council are calling.[2][1]
Hawkeye advises Stark to lead the Chitauri around tight corners to have them crash. He does so, taking out the aliens tailing him, then goes to help Thor.[2][1]
Battle of Hong Kong:
A Leviathan whale heads toward a building, but Hulk runs through the building and leaps at it, attacking it in the mouth and redirecting it.[2][1]
Black Widow uses a Chitauri weapon against one of the aliens. The native Captain America arrives and she says they need to do something about the portal. To get up to it, she decides to board an oncoming Chitauri vehicle, and Rogers boosts her on his shield to get her up.[2][1]
Black Widow rides the vehicle, and the native Iron Man flies past. He joins the native Captain America, firing a repulsor blast off his shield to help take out alien combatants, before continuing on. Hawkeye continues to fire at aliens, as the native Hulk continues to fight Chitauri on a Leviathan, joined by Thor, who helps him hammer a piece of the vehicle into the Leviathan's back, killing it. It falls into Grand Central Terminal, where Hulk also punches Thor as retaliation for earlier.[2][1]
Erik Selvig wakes, his mind control broken, and sees what is happening around him.[2][1]
Hawkeye directs the Captain America he is fighting with to a nearby bank, where he goes and stops a Chitauri attack from killing civilians, before being blasted out of the building.[2][1]
The World Security Council tell Fury that they have made the decision to make a nuclear strike on Manhattan so as to contain the threat only to the island, but Fury refuses.[2][1]
Black Widow finds herself fired at by Loki, on his own Chitauri vehicle. Hawkeye fires an arrow at him to help her. Loki catches it, but the arrow explodes in his face, blowing him onto Stark Tower, where his vehicle knocks the "S" and "T" off the logo.[2][1]
The native Hulk leaps onto Stark Tower and attacks Loki. Loki tries to intimidate him, but Hulk merely grabs hold of him and bashes him into the floor repeatedly, leaving him unable to move.[2][1]
Romanoff finds Selvig on the tower, who tells her that he believes Loki's Scepter, fallen on the floor below them, may be able to close the portal.[2][1]
The native Iron Man finds himself unable to break through the shell of a Leviathan whale, so instead tries flying directly into its mouth, managing to explode it from the inside. He falls to the ground and finds himself again battling Chitauri.[2][1]
Hawkeye runs out of arrows and has to kick an attacking alien off his perch. As his building is attacked, he leaps off, firing a grappling hook arrow to swing himself around, through a window below.[2][1]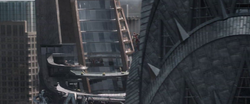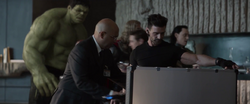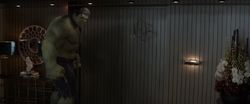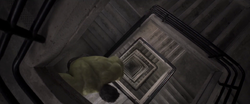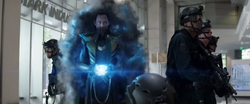 2023 Stark retrieves the case as planned and goes to leave with it, but as he heads for the door, 2012 Hulk comes bursting through, furious at having had to take the stairs. Stark is knocked flying, dropping the case, and the Tesseract falls out of it, tumbling to Loki's feet. Loki sees his opportunity and picks up the cube, using it to quietly open a portal and transport himself away without anyone noticing.[2][3]
As 2023 Rogers makes his way through Stark Tower with the Scepter, he comes across his alternate 2012 self on the 14th floor, on the lookout for Loki after being alerted to his disappearance. 2012 Rogers believes 2023 Rogers to be Loki in disguise and engages him in a fight, the two men clashing shields. Their shields are then thrown at each other's, causing them to both fall aside, and the Captain Americas fight hand-to-hand. The Scepter falls to a lower floor, and the men soon fall themselves in their duel, to just beside it.[2][3]
2012 Rogers spots 2023 Rogers' compass, fallen from his pocket in the fall, and asks how his opponent, still believing him to be an impostor, could have got it. 2023 Rogers, however, goes for the Scepter, but his 2012 self stops him and puts him in a stranglehold. Having been distracted by a mention of Bucky Barnes himself in 2016 against Crossbones, the 2023 Rogers uses the same tactic to distract 2012 Captain America, saying that Barnes is alive.[2][3]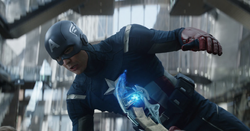 2012 Rogers momentarily loosens his grasp at the mention of his friend and 2023 Rogers punches him, then uses the Scepter to wipe his alternate self's mind and put him to sleep, before retrieving his compass and leaving.[2][3]
Theft of the Time Stone:

The Ancient One continues to refuse to help Banner, saying in handing over the stone, she would be dooming her reality for the sake of his. She draws a magical line representing the flow of time, explaining how the set of Infinity Stones create the flow of time, so to remove one would split reality, creating a dark branch reality lacking an Infinity Stone, and if the Time Stone were taken they would be lacking a necessary item for protecting the world in that reality. Banner, talking to her still in his astral form, argues that if they return the stones to the point of their removal, they never left, so these branches of reality can be erased.[2][3]

Despite Banner's assurance, the Ancient One says she cannot risk giving the stone just because Banner promises they will survive and manage to return them, as it is vital to protect the Time Stone. Banner, however, then asks why, if that is the case, Doctor Strange gave it over to Thanos willingly in 2018, and this causes her to reconsider. She returns Banner's astral form to Hulk's body and removes the stone from its Eye of Agamotto casing. The Ancient One explains that, from her foresight, she knows Strange is supposed to be the best of them, so he must have had a reason for giving it over, and cautiously hands it to him. Hulk accepts the stone from her, as she says she is counting on him.[2][3]
Hulk shrinks back into the Quantum Realm to return home with the Time Stone. An older Steve Rogers than the 2023 one with the Mind Stone at Stark Tower arrives, again from 2023, via the Quantum Realm, and returns the Time Stone to the moment it was removed, erasing the dark splinter reality that was being created.[3]

The younger, Time Heist 2023 Steve Rogers arrives at the rendezvous point, where Scott Lang and 2023 Tony Stark are waiting for him. Stark dejectedly tells Rogers about losing the Tesseract.[2][3]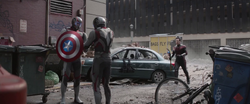 Lang angrily snaps at Stark for messing up their one chance, down only to a single particle each, necessary for their return to 2023. Stark has an idea, realizing if they travel further back in time to Camp Lehigh, the Tesseract will be there as well as a further supply of Pym Particles. Rogers is uncomfortable with Stark not being completely confident about the time period they are aiming for, but Stark says he has a reason for knowing they will both be there at the date he has in mind, and Rogers agrees they have to try. He hands Lang the Scepter to return to the New Avengers Facility in 2023, and Stark has him program in the destination of April 7, 1970. Lang worriedly reminds them that if they jump and fail, they are out of Pym Particles and stuck in the past, but Stark just asks Rogers if he trusts him. Past rifts put aside, Rogers says that he does, and they shrink into the Quantum Realm to travel to 1970.[2][3]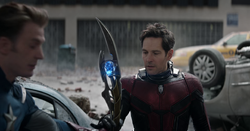 Scott Lang shrinks back into the Quantum Realm to return home with the Mind Stone. The older 2023 Steve Rogers arrives and returns the Mind Stone to the moment it was removed, erasing the dark splinter reality that was being created.[2][3]
References
↑ 1.00 1.01 1.02 1.03 1.04 1.05 1.06 1.07 1.08 1.09 1.10 1.11 1.12 1.13 1.14 1.15 1.16 1.17 1.18 1.19 1.20 1.21 1.22 1.23 1.24 1.25 1.26 1.27 1.28 1.29 1.30 1.31 1.32 1.33 1.34 1.35 1.36 1.37 1.38 1.39 1.40 1.41 1.42 1.43 1.44 1.45 1.46 1.47 1.48 1.49 In Avengers: Endgame, 2012 events are shown simultaneous to the events of The Avengers. With the Battle of New York playing out nonetheless the same in the new universe of Avengers: Endgame, and the 2023 Avengers making no impacts of significance until after Loki is apprehended by the Avengers, the events of the Battle of New York can be taken to play out essentially identically in that universe. Similarly, events such as Hulk smashing a Chitauri with a car or the Ancient One participating in the battle, shown only in Avengers: Endgame, are unaffected by the 2023 Avengers' actions, so can be taken to have also happened in the main universe.
↑ 2.00 2.01 2.02 2.03 2.04 2.05 2.06 2.07 2.08 2.09 2.10 2.11 2.12 2.13 2.14 2.15 2.16 2.17 2.18 2.19 2.20 2.21 2.22 2.23 2.24 2.25 2.26 2.27 2.28 2.29 2.30 2.31 2.32 2.33 2.34 2.35 2.36 2.37 2.38 2.39 2.40 2.41 2.42 2.43 2.44 2.45 2.46 2.47 2.48 2.49 2.50 2.51 2.52 2.53 2.54 2.55 2.56 2.57 2.58 2.59 2.60 2.61 2.62 2.63 2.64 2.65 2.66 2.67 2.68 2.69 2.70 2.71 2.72 2.73 2.74 2.75 2.76 2.77 In The Avengers, during the Stuttgart scene, the museum's exhibition is shown on banners to begin on "4 MAI". The gala behind held would be an opening ceremony, and thus this scene would be the night before, on May 3, 2012. This lines up with the release date of The Avengers (May 4, 2012) being the date of the Battle of New York, and the fact that it is months (roughly 6, works out as 7) before Iron Man 3, which picks up in December 2012.
Community content is available under
CC-BY-SA
unless otherwise noted.