This is a timeline of events that occurred in 2012.
2012
January
2nd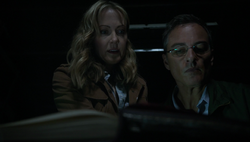 Lucy Bauer and her husband, Joseph Bauer find the Darkhold in the basement of the home's former owner and open it. When Lucy touches it, she discovers that she can read the text in English while Joseph can read it in German.[3]
9th
10th
12th
19th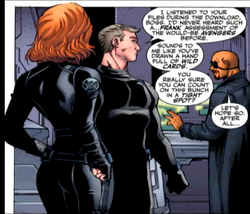 20th
February
8th
10th
11th
Later, in the very early hours of the morning, Black Widow talks to the woman named Sofia, and learns that she is a "fan" and wants to take over the name "Black Widow". Romanoff agrees to meet with Sofia and breaks all her contacts with S.H.I.E.L.D.[14][15]
15th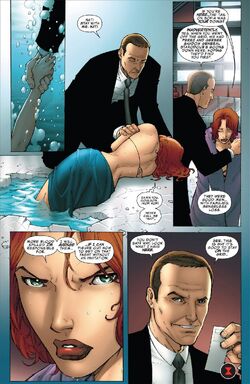 19th
29th
March
3rd
Shades is arrested and sent to Seagate Penitentiary, the beginning of a three-year sentence. While in prison, he develops a sexual relationship with Comanche, which would lead to the development of romantic feelings which Shades would later repress.[17][18]
13th
April
1st
The first "Mandarin bombing" occurs, masquerading as a terrorist attack, and beginning the conflict later known as Aldrich Killian's War.[16]
12th
15th
17th
21st
22nd
Robbie Reyes steals the car that belongs to his uncle Eli Morrow, when Gabe Reyes catches him. However, Gabe decides to join him.[21][24]
Attack on Robbie and Gabe Reyes:

However, as the Reyes brothers are cruising along the neighborhood, the Fifth Street Locos, who were hired to murder Eli Morrow, shoot up the car with Robbie Reyes and Gabe Reyes in it.[21]

The car flips and sends Reyes flying through the air, as he prays to anyone to keep his brother safe. Reyes is killed on impacting the ground and Gabe loses control of his legs. However, Johnny Blaze, Ghost Rider, contacts Robbie's soul and asks if he wants Gabe to live, in which Reyes responds yes. Soon after, Blaze pulls Gabe to safety and revives Reyes by transforming him into the next Ghost Rider.[21]
23rd
30th
May
1st
2nd
3rd
4th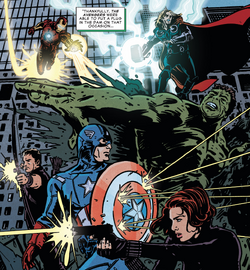 The Chitauri on the sides of New York buildings scream. The Avengers come together in a circle, prepared to fight, as more Leviathans rain down from the sky.[30][31][34][33]
Captain America starts to give instructions to the Avengers for directing their battle strategy against the alien threat. He tells Hawkeye to take a nearby roof and assigns Iron Man the perimeter, then Stark flies Barton to the roof. He sends Thor to try to strike lightning at the portal, tells Black Widow to stay with him on the ground, and finally instructs Hulk to "smash".[33][30][31][34]
Thor flies up to the Chrysler Building to use it as a conductor.[33][30][31][34]
Thor channels electricity through the Chrysler Building and fires it at the portal, taking out some Chitauri and an oncoming Leviathan.[33][30][31][34]
Meanwhile, Hulk passes an alley, on a smashing rage as he attacks Chitauri. He kills one using the wreckage of a car, before continuing on.[33][35]
Maria Hill tells Fury that the World Security Council are calling.[33][30][31][34]
Hawkeye advises Stark to lead the Chitauri around tight corners to have them crash. He does so, taking out the aliens tailing him, then goes to help Thor.[33][30][31][34]
Battle of Hong Kong:

A Leviathan whale heads toward a building, but Hulk runs through the building and leaps at it, attacking it in the mouth and redirecting it.[33][30][31][34]
Black Widow uses a Chitauri weapon against one of the aliens. Captain America arrives and she says they need to do something about the portal. To get up to it, she decides to board an oncoming Chitauri vehicle, and Rogers boosts her on his shield to get her up.[33][30][31][34]
Black Widow rides the vehicle, and Iron Man flies past. He joins Captain America, firing a repulsor blast off his shield to help take out alien combatants, before continuing on. Hawkeye continues to fire at aliens, as Hulk continues to fight Chitauri on a Leviathan, joined by Thor, who helps him hammer a piece of the vehicle into the Leviathan's back, killing it. It falls into Grand Central Terminal, where Hulk also punches Thor as retaliation for earlier.[33][30][31][34]
Erik Selvig wakes, his mind control broken, and sees what is happening around him.[33][30][31][34]
Hawkeye directs Captain America to a nearby bank, where he goes and stops a Chitauri attack from killing civilians, before being blasted out of the building.[33][30][31][34]
The World Security Council tell Fury that they have made the decision to make a nuclear strike on Manhattan so as to contain the threat only to the island, but Fury refuses.[33][30][31][34]
Black Widow finds herself fired at by Loki, on his own Chitauri vehicle. Hawkeye fires an arrow at him to help her. Loki catches it, but the arrow explodes in his face, blowing him onto Stark Tower, where his vehicle knocks the "S" and "T" off the logo.[33][30][31][34]
Hulk leaps onto Stark Tower and attacks Loki. Loki tries to intimidate him, but Hulk merely grabs hold of him and bashes him into the floor repeatedly, leaving him unable to move.[33][30][31][34]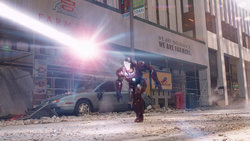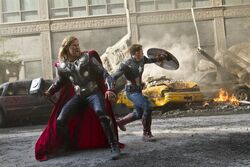 Iron Man finds himself in deep space, and his suit begins to fail. He lets go of the missile and it continues flying, hitting the Chitauri mother ship and causing an enormous explosion.[33][30][31][34]
On Earth, the remaining Chitauri and Leviathan fleet fail and fall down dead without the power of the mother ship.[33][30][31][34]
Iron Man falls back toward the portal, but the explosion threatens to get through to Earth as well, so Rogers orders Black Widow to close it. Stark falls back into the New York sky just before its closure, but continues to fall, unconscious. Hulk leaps and catches Stark to slow his fall.[33][30][31][34]
Captain America, Thor, and Hulk crowd around the unconscious Iron Man, and Hulk manages to wake him. Rogers notes that they just won, and Stark jokes about wanting to try shawarma, though Thor points out they are not quite finished.[33][30][31][34]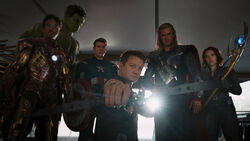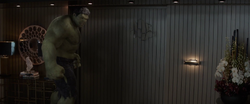 5th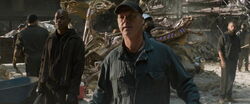 6th
7th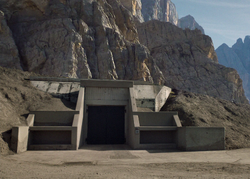 8th
9th
11th
13th
14th
15th
16th
Arrest of Benjamin Pollack and Claire Wise:

Jasper Sitwell is dispatched to stop Pollack and Wise's bank robberies and retrieve the Chitauri weapon. He locates and confronts them at a hotel in South Florida, but Wise attacks him with the weapon. She accidentally drops it, causing it to activate and destroy all of the stolen money.[44]
Sitwell interrogates them, and Wise admits Pollack successfully got the weapon to work. Despite being sent to kill them, Sitwell gives them the chance to join S.H.I.E.L.D. and help restore the other Chitauri technology collected from New York.[44]
17th
25th
June
Frank Castle, Sr. gets back from a deployment unexpectedly early. He pulls up in the driveway and hears yelling inside, and when he enters, he discovers that his 8-year-old son, Frank, Jr. has painted a marine on the wall. Frank, Sr. sternly asks him why, and Frank, Jr. tells him that marines scare off bad guys, feeling it was his duty to protect his sister and mother in his father's absence.[50][51]
1st
To cover up the explosive nature of the Extremis virus, Aldrich Killian hires actor Trevor Slattery to pose as a terrorist leader called the Mandarin, so whenever Extremis causes a patient to explode, the media and government will assume they are suicide bombings.[16]
3rd
Slattery gets plastic surgery so he is not recognized when he appears on television as the Mandarin.[16]
4th
Following his return to the modern world as a renowned hero, Steve Rogers is snatched up to be the face of many campaigns. One of these, not long after the Battle of New York, includes a set of videos for students in schools. He records many videos, including a fitness challenge, a video for students in detention, and one on the importance of patience.[42]
5th
The third Mandarin bombing occurs.[16]
7th
10th
July
8th
The fourth Mandarin bombing occurs.[16]
12th
Scott Lang is fired from Vistacorp due to inadvertently fixing what he believed was a code mistake that was illegally overcharging customers.[57]
14th
15th
17th
August
9th
The fifth Mandarin bombing occurs.[16]
12th
September
10th
October
13th
November
11th
WHiH World News holds a 10 kilometer race to support reconstructing buildings lost during the Battle of New York. The company raised millions of dollars.[61]
WHiH World News posts on Google+ saying "WHiH's 10K race was a massive success. Millions were raised for reconstruction on buildings lost in the NYC invasion."[61]
15th
December
7th
20th
21st
22nd
23rd
24th
25th
28th
Stark undergoes surgery to remove the shrapnel embedded near his heart. He throws his obsolete chest Arc Reactor into the sea, musing he will always be Iron Man.[16][62][63]
References
↑ 5.0 5.1 In The Avengers: The Avengers Initiative, Fury's language implies that Steve has already woken, the World Security Council is just unsure if he'll be accustomed enough to join the Avengers. It is therefore set anywhere between October 9, 2011 and April 30, 2012 inclusive. Halfway between these dates would be January 19, 2012. The Iron Man Dubai incident is said to be "recent", placing it around 10 days prior, roughly January 9, 2011.
↑ 7.0 7.1 7.2 7.3 7.4 7.5 7.6 Sometimes the Marvel Cinematic Universe alludes to events which happened in our world, and it is assumed they happened on the same dates in the universe, for timeline purposes.
↑ In Ant-Man and the Wasp, several moments are shown from Ava Starr's past at S.H.I.E.L.D.. Hannah John-Kamen was 28.05 at the middle of filming and should not be playing Starr at an age any younger than ⅔ of her actual age, so 18.70, meaning, based on Starr's approximated date of birth (see 1980s references), that the scenes should be after April 26, 2007. One moment appears to say "01-8 Thu", suggesting it is Thursday, January 8, 2009. Evenly distributing between these two dates, the first set of scenes should be approximately September 29, 2007, March 4, 2008, and August 7, 2008, before then January 8, 2009. Then after that, the remaining scenes are between then and the fall of S.H.I.E.L.D. on January 12, 2014 (see 2014 references). Evenly distributing again, the remaining scenes should be January 9, 2010, January 11, 2011, January 12, 2012, and January 12, 2013.
↑ In Iron Man 3 Prelude, it is shown as beginning a while after Iron Man 2, with the damage from the Expo having been cleared up and Stark Tower having been fully planned, laid its foundations, and several levels into its construction. It then jumps to 2 months later, Mumbai, then 3 months later, Afghanistan, then 2 months later, Sudan, then 3 months later, Hong Kong, and this is shown to be the date of the Battle of New York, May 4, 2012. 3 months back from there would put Sudan around February 2012, 2 months further back would put Afghanistan around December 2011, 3 months further back puts Mumbai around September 2011, and a final 2 months back places the beginning in July 2011. This allows plenty of time, just over a year, for the Expo to be cleared completely and for the planning, foundations, and beginning of construction of Stark Tower. Several months prior to the beginning of the comic, work would have begun on the tower, around December 2011.
↑ 14.0 14.1 14.2 14.3 14.4 14.5 14.6 In The Avengers Prelude: Black Widow Strikes it is said, "Note: This story takes place between the events of Iron Man 2 and Marvel's The Avengers". This lines up with what Natasha says in Issue 2, "They're connecting the capital to Sochi on the coast, where the Winter Olympics will be held in two years." This is referring to the 2014 Sochi Winter Olympics, which happened from February 7-23, 2014. 2 years prior would put this scene around February 15, 2012, and therefore the comic would revolve around this in February 2012, also lining up with it being set after Iron Man 2 in 2010, before The Avengers in May 2012.
↑ 16.00 16.01 16.02 16.03 16.04 16.05 16.06 16.07 16.08 16.09 16.10 16.11 16.12 16.13 16.14 16.15 16.16 16.17 16.18 16.19 16.20 16.21 16.22 16.23 16.24 16.25 16.26 Iron Man 3
↑ In Code of the Streets Shades says, "I just got home [...] Three years this time, Seagate." With Shades' release dated to March 3, 2015 (see 2015 references), Shades would have been sent to prison on March 3, 2012.
↑ 21.0 21.1 21.2 21.3 21.4 21.5 21.6 21.7 21.8 21.9 Agents of S.H.I.E.L.D.: 4.06: The Good Samaritan
↑ In Paradise Lost, Lincoln Campbell discusses the car accident that led to his arrival in Afterlife. In the story, he is able to drive, which means that this has to take place after he got his full license, which in Cincinnati happens on a person's 18th birthday, meaning April 17, 2003 is the minimum date. Furthermore, this event, JT James leaving Afterlife, and Lincoln's Terrigenesis have to occur before Daisy's arrival in Afterlife on April 17, 2015, so the maximum date for Lincoln's Terregenisis is April 16, 2015. Spacing the events evenly throughout this time, and making sure Lincoln spends at least one year in Afterlife before meeting Daisy, the resulting dates are as follows:

Car Crash: April 16, 2006
James Leaves: April 16, 2009
Lincoln's Terrigenesis: April 15, 2012
↑ In Deals With Our Devils, as the team discuss what could have happened to Fitz and Coulson, it is said, "Impossible things happen all the time. That machine ghosted that Lucy woman." Agent Mackenzie replies, "So what, Coulson and Fitz come back in 5 years, bloody and insane?" The implication from this is that Mackenzie has been told that Bauer spent 5 years in the box, before her release on the reasoned day of March 19, 2017.
↑ 28.00 28.01 28.02 28.03 28.04 28.05 28.06 28.07 28.08 28.09 28.10 28.11 28.12 28.13 28.14 28.15 28.16 28.17 28.18 28.19 28.20 28.21 28.22 28.23 28.24 The Art of the Avengers timeline
↑ 30.00 30.01 30.02 30.03 30.04 30.05 30.06 30.07 30.08 30.09 30.10 30.11 30.12 30.13 30.14 30.15 30.16 30.17 30.18 30.19 30.20 30.21 30.22 30.23 30.24 30.25 30.26 30.27 30.28 30.29 30.30 30.31 30.32 30.33 30.34 30.35 30.36 30.37 30.38 30.39 30.40 30.41 30.42 30.43 30.44 30.45 30.46 30.47 30.48 30.49 30.50 30.51 30.52 30.53 30.54 30.55 30.56 30.57 30.58 30.59 30.60 30.61 30.62 30.63 30.64 30.65 30.66 30.67 30.68 30.69 30.70 30.71 30.72 30.73 30.74 30.75 30.76 30.77 30.78 30.79 30.80 30.81 The Avengers
↑ 31.00 31.01 31.02 31.03 31.04 31.05 31.06 31.07 31.08 31.09 31.10 31.11 31.12 31.13 31.14 31.15 31.16 31.17 31.18 31.19 31.20 31.21 31.22 31.23 31.24 31.25 31.26 31.27 31.28 31.29 31.30 31.31 31.32 31.33 31.34 31.35 31.36 31.37 31.38 31.39 31.40 31.41 31.42 31.43 31.44 31.45 31.46 31.47 31.48 31.49 31.50 31.51 31.52 31.53 31.54 31.55 31.56 31.57 31.58 31.59 31.60 31.61 31.62 31.63 31.64 31.65 31.66 31.67 31.68 31.69 31.70 31.71 31.72 31.73 31.74 The Avengers Adaptation
↑ 33.00 33.01 33.02 33.03 33.04 33.05 33.06 33.07 33.08 33.09 33.10 33.11 33.12 33.13 33.14 33.15 33.16 33.17 33.18 33.19 33.20 33.21 33.22 33.23 33.24 33.25 33.26 33.27 33.28 33.29 33.30 33.31 33.32 33.33 33.34 33.35 33.36 33.37 33.38 33.39 33.40 33.41 33.42 33.43 33.44 33.45 33.46 33.47 33.48 33.49 33.50 33.51 33.52 33.53 33.54 33.55 33.56 33.57 33.58 33.59 33.60 33.61 33.62 33.63 33.64 33.65 33.66 33.67 33.68 33.69 33.70 33.71 33.72 33.73 33.74 33.75 33.76 33.77 33.78 33.79 33.80 33.81 33.82 33.83 33.84 33.85 33.86 33.87 33.88 In The Avengers, during the Stuttgart scene, the museum's exhibition is shown on banners to begin on "4 MAI". The gala behind held would be an opening ceremony, and thus this scene would be the night before, on May 3, 2012. This lines up with the release date of The Avengers (May 4, 2012) being the date of the Battle of New York, and the fact that it is months (roughly 6, works out as 7) before Iron Man 3, which picks up in December 2012. Avengers: Endgame also shows the month to be "05/2012".
↑ 34.00 34.01 34.02 34.03 34.04 34.05 34.06 34.07 34.08 34.09 34.10 34.11 34.12 34.13 34.14 34.15 34.16 34.17 34.18 34.19 34.20 34.21 34.22 34.23 34.24 34.25 34.26 34.27 34.28 34.29 34.30 34.31 34.32 34.33 34.34 34.35 34.36 34.37 34.38 34.39 34.40 34.41 34.42 34.43 34.44 34.45 34.46 34.47 34.48 34.49 34.50 34.51 34.52 Avengers: Infinity War Prelude
↑ 35.00 35.01 35.02 35.03 35.04 35.05 35.06 35.07 35.08 35.09 35.10 35.11 35.12 35.13 In Avengers: Endgame, 2012 events are shown simultaneous to the events of The Avengers. With the Battle of New York playing out nonetheless the same in the new universe of Avengers: Endgame, and the 2023 Avengers making no impacts of significance until after Loki is apprehended by the Avengers, the events of the Battle of New York can be taken to play out essentially identically in that universe. Similarly, events such as Hulk smashing a Chitauri with a car or the Ancient One participating in the battle, shown only in Avengers: Endgame, are unaffected by the 2023 Avengers' actions, so can be taken to have also happened in the main universe.
↑ In AKA Customer Service is Standing By, it is said on May 6, 2018 (see 2018 references) that Sal Blaskowski "was arrested for assault 6 years ago". This could refer to a near exact 6 years, around May 6, 2012, or a more general "2018 - 2012 = 6", so any time in 2012 (approximating with mid-2012). A weighted calculation, putting more weight on the more specific, would suggest the arrest was around May 25, 2012.
↑ In Gunner, Frank Castle, Sr. says his son was "barely 8 years old" when he returned from one his tours. Frank, Sr. is approximated to have done a military tour October 2006-January 2008 and another September 2013-April 2015. Frank Castle, Jr.'s approximate age would put him turning 8 somewhere between these tours, so we must approximate another another tour in between. The midpoint between is November 2010, and this tour is said to have been cut short, so likely 14 months or so instead of the usual 15 (as mentioned in Crosshairs), suggesting approximately April 2010-June 2011. With this, Frank, Sr. would have returned in June 2011, and if Frank, Jr. was "barely 8", he would have been born around June 2003. However, Lisa Castle, his older sister, was born in June 2003 (see other references), so the earliest Frank Jr. would have been born realistically is June 2004. This earliest realistic month of birth should be taken, to be as close as possible to the ideal.
This would then mean Frank, Sr.'s tour ended around June 2012, so started around April 2011.
↑ In The Bridge, it is said on the reasoned date of December 2, 2013 that Po "reappeared 18 months ago at a diner in Boston."
↑ 54.0 54.1 Through Runaways it is said that PRIDE sacrificed someone to Jonah once a year for 15 years (Fifteen: "One a year for 15 years", Hostile: "You ever notice that every year one of your young parishioners goes missing?", "Same time of year, every year", Last Rites: "One a year"), resulting in fifteen sacrifices (Fifteen: fifteen names are listed, Kingdom: "Fifteen kids have died in this room", Doomsday: "How could you murder fifteen kids?", Last Rites: "Like you killed fifteen runaways"). Fifteen annual sacrifices would amount in fact to 14 years start to finish, and with the last one in December 2017 (see 2017 references), that would make the first sacrifice around 2003.
However, there is evidence for 15 + years of sacrifices, not 14 years. In Fifteen, it is said they have taken runaways for "over 15 years". In Doomsday it is said that PRIDE has had a grip on the parents' "lives for the last 15 years". As well as this, Season 3 suggests there was in fact a further sacrifice (Smoke and Mirrors: "I only sacrificed seventeen innocent kids" (including Andre Compton, which the previous counts did not), Rite of Thunder: "She helped murder seventeen teenagers", Enter The Dreamland: "We are the seventeen"). Plus "one a year for 15 years" could be taken as "one a year, and we've been doing that for 15 years" rather than "one a year fifteen times, amounting to 15 years". So, it would seem overall that yes, the sacrifices started around 15 years before 2017, not 14. This, then, would make the first sacrifice 2002.
However, in Doomsday, a flashback to "fifteen years ago" before December 2017, set shortly after the first sacrifice. While this would align with 2002, Nico Minoru is shown to be a baby only about 3-4 months old. With Nico born around January 2001 (see other references), this would make it roughly April-May 2001. Amy Minoru is also shown to be about 2½. With Amy born around December 1998 (see 1990s references), this would make it roughly mid-2001. Given this, and the lack of flexibility to the children's ages, particularly baby Nico, then the latest this scene can be is June 2001. So, taking this latest possible time, the "fifteen years ago" must be taken to be a rounding from 16 years, and the first sacrifice, Brooks Watten, must also be moved from 2002 to June 2001. With the Metamorphosis flashback to "fifteen years ago" of the Wilders getting their house set not long before this and particularly given it is also stretched already to 16 years prior, but enough time to get Brooks Watten, it can be assumed that Watten did not undergo 6 months at the Church of Gibborim like the other Runaways, and was procured in May 2001, with the house scene set that same month.
With it said in Hostile that the sacrifices are the "same time of year, every year", it should be assumed that almost all the sacrifices were in early December, like the one on December 4, 2015 (see 2015 references) and the one on December 8, 2017 (see 2017 references), so likely the Friday closest to December 6th. With fourteen sacrifices prior to Destiny Gonzalez and not including Brooks Watten, the second sacrifice would therefore, however, be 14 years prior in December 2003, 2½ years after the first. Given Jonah deteriorates over a year, it should be taken that there were never two sacrifices more than 18 months apart. So, it may be taken that the second sacrifice was in fact December 2002, the third June 2004, and then the fourth December 2005, with the fourth to sixteenth (Gonzalez) all being annually in December from 2005 to 2017, and the first few negligible enough to be discounted in the statement of "same time of year, every year".
Fifteen names, up to and including Gonzalez, are shown in Fifteen, meaning there is a bonus sacrifice not listed on the computer somewhere between Brooks Watten and Destiny Gonzalez, making them between the second and fifteenth sacrifice, so it may be guessed that they were the eighth/ninth. To decide which, taking halfway between June 2001 and December 2017, it would have been roughly late 2009, making it closer to the eighth sacrifice than the ninth. So, it may have been taken to have been the eighth.
Therefore, overall, the sacrifices were: Brooks Watten June 2001, Adam Cooper December 6, 2002, Jamie Baxter June 8, 2004 (halfway between December 6, 2002 and December 9, 2005), Tim Bennett December 9, 2005, Xavier Marquez December 8, 2006, Karly Scolari December 7, 2007, James Braswyck December 5, 2008, unknown runaway December 4, 2009, Anthony Rocha December 3, 2010, Kim Hwang December 9, 2011, Bridget Bynum December 7, 2012, John Donahue December 6, 2013, Emily Wong December 5, 2014, Yvonne Taylor December 4, 2015, Brian Geparhart December 9, 2016, and finally Destiny Gonzalez (failed sacrifice) December 8, 2017 and Andre Compton December 11, 2017 (see 2017 references). Adam Cooper to Destiny Gonzalez would have been taken 6 months in advance.
↑ In Tsunami, Amy Minoru says that she has known Alex Wilder fancied her sister since he was "11". With Wilder's date of birth dated to January 2001 (see 2000s references), the time when he was 11 would have been January 2012-January 2013, so we can approximate her noticing as around the midpoint of this time, July 2012.
↑ In the 2015 WHiH Newsfront web series, Christine Everhart says that Scott Lang was imprisoned three years ago for a 5 years sentence.
↑ 62.00 62.01 62.02 62.03 62.04 62.05 62.06 62.07 62.08 62.09 62.10 62.11 62.12 62.13 62.14 62.15 62.16 62.17 62.18 62.19 62.20 62.21 62.22 62.23 62.24 62.25 Captain America: Civil War Prelude
Community content is available under
CC-BY-SA
unless otherwise noted.