The Sandman Will Keep You Awake - The Loop
Play Sound
"At ease, soldier! Look, I'm sorry about that little show back there, but we thought it best to break it to you slowly."
"Break what?"
"You've been asleep, Cap. For almost 70 years."
This is a timeline of events that occurred in 2011.
2011
Jim Pruitt retires from military service after 10 years. He would eventually join Anvil.[1]
January
9th
11th
February
15th
March
Demetri Patseras and his wife Fiona are clients of Peter Lyonne's, and close friends of Lyonne and his wife, Kith. However, Kith notices bruising on Fiona's shoulders, and Kith helps Fiona leave her husband. Demetri blames Kith for the breakup.[7] Peter and Kith's teenage son Laurent is aware something happened between his parents and the Patserases, but is not sure what.[8][9]
18th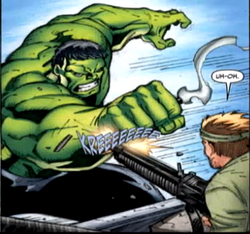 25th
April
9th
11th
17th
26th
June
11th
23rd
Thaddeus Ross suffers a heart attack and undergoes 13 hours of surgery and a triple bypass to save his life.[26][27]
28th
30th
WHiH World News posts late at night on Google+ saying "Catch our exclusive interview with Tony Stark and his thoughts after revealing his "true" identity to the public, tonight at 10."[29]
July
1st
14th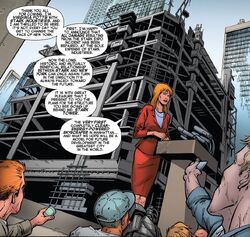 August
6th
15th
23rd
September
11th
12th
13th
21st
October
4th
5th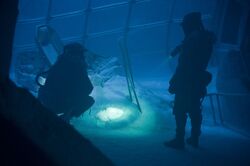 6th
7th
8th
Rogers wakes up, he listens to the radio in his room, hearing a baseball game from 1941. Rogers remembers this game, and realizes that something is wrong. Running through the wall, Rogers tries to run away from S.H.I.E.L.D. Headquarters building. Rogers finds himself in Times Square, taken aback by what he sees.[42][43][44]
9th
12th
November
1st
11th
15th
Billy Russo, egged on by his friend Frank Castle, participates in a game of "down the line" with army comrades, attempting to get to the end of a line of them while being punched and kicked. He is kicked down by the end. Castle then goes and takes a beating, eventually ending up in the mud with his friend. The two get up and Russo tells him he loves him, before jokingly punching him himself.[52][53]
18th
21st
Escape from Sokovian Prison:

After 22 months in Sokovian prison, Mary Walker has a third alter personality of hers, which she had not been aware of, triggered. The third alter is vicious, ruthless, and bloody, tearing through her captors and escaping, leaving a bloodbath in her wake.[56][57]

Mary Walker is found, with her Mary personality back at the fore, as United States Armed Forces close in on her location after hearing reports of the carnage. She is clueless as to how she escaped, not retaining the memories of her other alters, and assumes her Walker alter got her out. However, Walker would go on to assume that, since she, too, was not involved in their escape, Mary must have convinced someone to get them out.[56][58]
December
9th
11th
18th
19th
30th
References