Wiki Targeted (Entertainment)
Play Sound
This is a timeline of events that occurred during the 2000s.
2000
January
1st
Bern 2000: New Year's Day comes, and the distraught Aldrich Killian is still waiting for Tony Stark on the roof of a building in Bern, Switzerland, because Stark promised to meet him there. Meanwhile, Stark chose to party and sleep with Maya Hansen. Seeing the New Year's celebrations below Killian gets inspired to continue his work without Stark.[3]
That morning, Maya Hansen wakes up to find Stark has discreetly left her.[3]
3rd
February
23rd
Sams Teach Yourself Web Publishing with HTML 4 in 21 Days: Professional Reference Edition, Second Edition by Laura Lemay is published.[1][4]
25th
March
April
4th
13th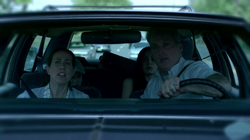 14-year-old Jessica Jones, her parents, Brian Jones and Alisa Jones, and her 10-year-old brother, Phillip Jones leave for an Easter vacation. Her father gets distracted, due to a fight between Jessica and Phillip over a video game, causing their car to crash with a truck that is carrying a container of chemicals. The Jones family die in the crash. Eventually, the corpse of Jessica is retrieved by IGH, they do experiments on her resurrecting her, but giving her powers as a side effect. The horrific experience would affect Jessica's deeply as she decided to investigate the situation 17 years later.[11][12][13]
Talent agent Dorothy Walker pays IGH for Jones' medical bills while she is comatose, hoping to adopt her as a publicity stunt to promote her daughter Patsy's television show.[11][12]
23rd
Alisa Jones wakes in the Industrial Garments & Handling Facility, bewildered. She is greeted by a nurse named Luanne McClure, who tries to calm her down. However, when Jones sees her reflection and sees her face mangled and burned, she panics and becomes angry, breaking out of the room and attacking nurses in the corridor to escape. She finds a girl walking down the corridor and grabs hold of her, but a doctor at the facility, Karl Malus, gets to her and sedates her, informing her that the girl is her daughter, Jessica, so she should not want to hurt her.[14][15]
May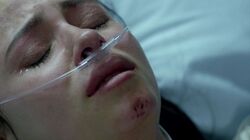 25th
31st
June
8th
Research Methods in Psychology Hardcover: Second Edition by Glynis Breakwell, Sean Martin Hammond, and Chris Fife-Schaw is published.[1][23]
August
4th
October
6th
November
7th
A new president is elected to replace Bill Clinton, whose presidency was influenced by elements of HYDRA.[26]
30th
December
2001
January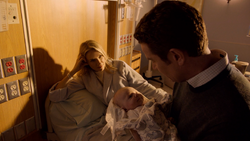 15th
February
7th
In junior year, David Lieberman spends an evening with his classmate Sarah after a party, and they end up kissing. They would become a couple, eventually ending in their marriage.[38][30]
March
8th
13th
18th
The Rands and Meachums film a commercial for Rand Enterprises. Joy Meachum complains about the dress she has to wear. The two families go to the circus in Madison Square Garden, since the young Danny Rand did not want to film the commercial and his parents had to bribe him. Rand sits between Meachum and his mother, eating popcorn. Rand, inspired, starts wanting to become an acrobat.[44][45]
30th
April
1st
Donny Sallinger is operating his family's tractor when it turns over and kills him. Sallinger's parents find his body and called the Wappingers Falls Police Department.[46][10]
Gregory Sallinger is on a school field trip when Deputy Ronnie Velasco picks him up in order to tell him about his brother, Donny's passing.[10] Although Gregory hopes this will make his father be less abusive toward him, the death only increases his father's resentment. His father tells him that he wishes he had been the brother to die instead.[46][47]
6th
7th
Donny Sallinger's death is reported on.[10]
May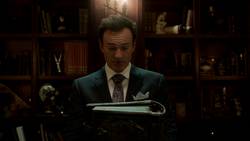 3rd
June
Rite of Blood: The nine PRIDE parents meet in the Wilder Mansion basement, wearing red gowns and performing the Rite of Blood for the first time. Leslie Dean leads 17-year-old[22] runaway Brooks Watten into a Dematerialization Box, and he is sacrificed, his energy transferred to Jonah to revitalize him. Most of the PRIDE members are shocked at the death, but Dean tells them they all signed up to do this when they agreed to accept Jonah's gifts over the years. Geoffrey Wilder notices a camera that has filmed the event, and Tina Minoru explains that the recording has uploaded to the Wizard server, saying she knew about and willingly went along with the event to protect their children. The group realize what they are now trapped into doing.[51][52]
Tina Minoru returns home to her baby daughter, Nico. She goes to her toddler daughter Amy, only to find Jonah sitting with Amy, having got rid of the babysitter. Jonah thanks her for keeping the recording of the Rite of Blood on her server and standing up to the rest of PRIDE, but Tina says she only did it because of Jonah's threats, not out of loyalty. Tina picks up Amy, scared of her being around Jonah, and Jonah goes to leave, commenting that daughters can become rebellious when they hit their teenage years.[51][56]
10th
28th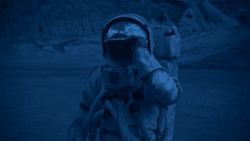 July
1st
10th
15th
August
10th
September
11th
13th
October
1st
23rd
29th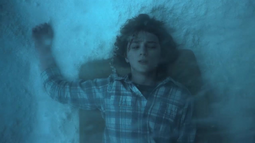 30th
31st
November
10th
December
31st
2002
January
18th
February
March
16th
19th
May
Erik Gelden, who has recently received his ability to sense through headaches if people are morally evil, comes home from college, and the first person he sees is his father, whom he had always idolized. He is shocked when he is hit by massive pain in his father's presence, realizing he has done terrible things. As he thinks about why his sister, Brianna Gelden, had stopped coming home, he realizes that in times where his father had locked himself in with Brianna for the night, he had been raping his daughter for years.[82][83]
Erik Gelden confronts his father about raping Brianna, forcing him to admit his actions. His father is arrested, but on that day, Erik and Brianna's mother commits suicide by overdose, and Brianna blames Erik, saying it was not his truth to expose. He is dissuaded from trying to do "good" from there on.[82][83]
June
9th
July
1st
11th
August
9th
19th
20th
September
October
8th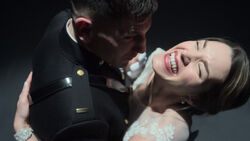 After 3 months as a couple, Frank Castle and his girlfriend Maria find out that Maria is pregnant. Maria tells Frank she would understand if he wants to leave, but instead, Frank proposes to her, and she accepts.[85][30]
21st
Blackwell Handbook of Childhood Cognitive Development edited by Usha Goswami is published.[1][23]
November
4th
28th
Dorothy Walker attempts to make plans to see the Thanksgiving Day Parade with Trish Walker and Jessica Jones. However, Dorothy confuses the train schedule and they miss the parade by an hour. Instead, they go to a run-down movie theater and eat stale hot dogs. Jones accidentally takes a picture of their feet.[94][95]
December
6th
28th
2003
January
10th
24th
26th
March
20th
22nd
April
Nathan Silva is killed by Gregory Sallinger. Sallinger puts Silva's remains in a wrestling bag and buries the body in Silva's backyard. That day, Sallinger and Silva's high school wrestling team come and build a gazebo in the backyard, and Sallinger helps, ensuring the gazebo is atop Silva's burial place. Silva's father assumes his son did not want to do the work when he does not show up to help. Later, Silva is declared missing by the Wappingers Falls Police Department.[104][10]
1st
4th
24th
May
14th
18th
28th
June
14th
25th
July
9th
18th
30th
The Meachums spend the summer in the Hamptons together, their last before Harold Meachum would pass away from cancer months later.[117][118]
August
1st
29th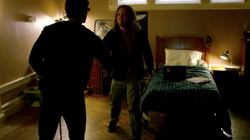 Having been accepted into Columbia University Law School, Matt Murdock enters his room and introduces himself to his new roommate Foggy Nelson, who is signing on to a Punjabi course at the last minute. Nelson admits that he heard about what had happened to Murdock as a child and is excited for their upcoming three years together.[120]
September
12th
October
Dr. Eileen Mercer, dying from a terminal illness, holds her final meeting with teenager Benjamin Poindexter. He desperately wants her not to leave, wishing to keep working with her, but she assures him they have prepared for this - that he will get a job and stay on his medication, and offers him a box of cassette recordings of their appointments to help him if he needs them. She suggests another therapist, but he angrily gets up and says he does not want another therapist, and that he wants to kill her for dying, which feels like abandonment. She calms him down, and says that he should find someone with a good heart to look up to, to guide his internal compass.[124][125]
22nd
24th
November
Hoping to get a chance to leave her home of Fagan Corners, Penelope Page purchases a losing Vermont Mega-Grab lottery ticket. However, she dies of cancer before scratching it. Her husband frames the ticket and places it on the wall of their Penny's Place restaurant in her memory.[105][128]
1st
8th
9th
26th
Harold Meachum is approached by The Hand organization, days before he is expected to die. They offer him the opportunity to be resurrected after his passing, and he accepts.[132][40]
27th
December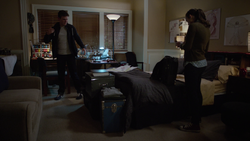 Leo Fitz invites Jemma Simmons to his dorm room, but Simmons shows up 24 minutes late after getting involved in a conversation with Professor Anne Weaver. Simmons mentions her own bedroom, and Fitz becomes excited at the idea of visiting. Fitz asks Simmons to be a sounding board and if he can bounce ideas off of her, but Simmons is offended. She realizes how cluttered Fitz's thoughts are, so he asks for help uncluttering them. The two work on the project together, and Fitz becomes less awkward around Simmons, though Simmons decides to put him in the "friend zone".[121][134]
11th
15th
25th
2004
January
4th
5th
7th
The Hand resurrects Harold Meachum as promised, 3 days after his death. He ceases to age biologically, his body remaining 41 years old.[40]
17th
March
12th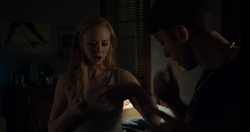 Karen Page, on a gap year, parties with college students. An emo student calls her over to a side room, where he buys drugs off of her.[138][105]
Another student enters the room and tries to get drugs off of Page without paying full price. When she refuses, he steals it from her and shoves her away. She punches him, and he goes to punch her back, but her boyfriend, Todd Neiman enters and pins him to the door, forcing him to give back the drugs and hurting him until he apologizes to Page. Page and Neiman leave.[138][105]
13th
Page is woken at 5:35AM by a call from home, asking where she is. She apologizes for oversleeping and leaves to drive to Penny's Place, the family diner.[138][105]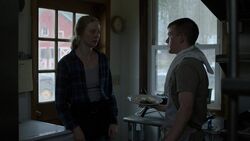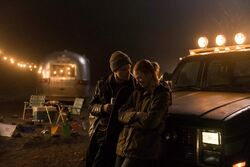 Todd Neiman and Karen Page discuss the college placement, and agree that she will not go. Neiman suggests letting the diner just go under, but she says that it is important to her father to keep it, as it is all they have left of their mother. Neiman tells Page she could come and work for him full-time if necessary, and that they could visit places together if they wanted. She sees this, however, as an unrealistic dream. Karen gets a call from her father, telling her to come back immediately.[138][105]
On returning to Penny's Place, Paxton Page reveals he wanted her to be present for dinner. Paxton says that she seems bored at work and that he knows she spends time with Neiman, expressing his disapproval. Karen becomes angry and says that she should not leave for college, that the diner will go under without her, and when Paxton disagrees, she angrily tells him that her mother did not even like the diner, or the area, and only stuck around for him. Page grabs the scratch card they have been keeping since she died from cancer, never scratched and kept as a sign of hope, and decides to scratch it off and end the false hope she feels Paxton clings to. Finding that the card was another losing one, she sadly says that they all lose.[138][105]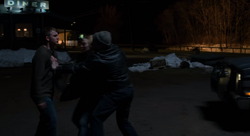 Todd Neiman arrives to pick up Karen Page in his car. Kevin comes out of the diner and says Karen cannot just leave with him. Neiman tells Kevin he should have asked before sending the college letter, but Kevin retaliates by threatening to tell Chief Bernie Cohen about his drug-dealing. Karen explains that if he did, she too would be imprisoned, and gets in the car, with Neiman driving them away.[138][105]
Todd Neiman and Karen Page snort cocaine and drink together in Neiman's car. Neiman becomes concerned at how much she is consuming at once.[138][105]
Attack on Kevin Page: Driving to their trailer, they find the place on fire, and Kevin Page standing beside it, having been the one to set it ablaze, hoping it will help keep Karen away from the drugs. Neiman grabs a crowbar and starts beating Kevin, hitting Karen when she tries to stop him. Karen grabs a gun from Neiman's car and threatens Neiman with it, telling him to get away from Kevin. When he goes to hit Kevin again, she shoots him in the arm to stop him and grabs Kevin, getting him into Neiman's car and driving off.[138][105]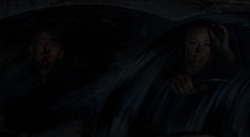 As Karen Page drives her injured and bloodied brother, she asks why he would do what he did, insisting she would have fixed their situation. He says that he already lost their mother, doing it because he could not lose her too. Not paying attention to the road due to being high, Page crashes into a roadside rail, overturning the car.[138][105]
20th
Paxton Page lets his daughter, Karen know that Chief Bernie Cohen is going to omit her involvement in Kevin's death to save her from prison. Karen tries to talk to him about the accident but sobs, and Paxton, heartbroken, says he is glad her mother was not around to see it happen. He tells her that she needs to leave the area, unable to have her around.[138][105]
With no clear official story, nor a comment from the Pages, the locals in Fagan Corners start to speculate that Karen Page killed her brother.[138][139]
April
8th
15th
While Frank Castle and Curtis Hoyle are serving in Afghanistan, an IED goes off in a market. Hoyle runs in and gives medical help to a seriously injured child, while Castle works on securing the perimeter. Castle sees a woman, about 7-8 months pregnant, walking towards them, and while his job is to keep her away, he is distracted as he thinks about how his wife is pregnant back home. She goes to set off a detonation, but he freezes before he can bring himself to put her down, and she blows herself up in a suicide bombing. The child Hoyle is helping is killed, and Hoyle loses a leg. Castle drags Hoyle out, and Hoyle thanks him, but Castle feels guilty.[141][142]
18th
23rd
27th
May
4th
10th
June
4th
In K'un-Lun, 13-year-old Danny Rand finishes showing Davos the game tic-tac-toe, from the outside world. Davos talks about how they have been told the Iron Fist must kill their enemies as part of their duty in guarding K'un-Lun. Rand asks what Davos would do if he were part of the Hand, and Davos says he would not kill him, being like a brother to him. Davos' mother, Priya, enters and says that he is wrong, an Iron Fist must kill any member of the Hand, and that he will not face Shou-Lao with such weakness. She strikes his hands with a cane, having him recite that he must practice to master his skills for knowledge and strength, and that he strives to become the Immortal Iron Fist.[149][150]
5th
8th
July
5th
10th
13th
August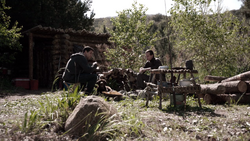 After 5 years of John Garrett returns to Grant Ward.[154]
Some time after their reunion, Garrett tells Ward he has been accepted into S.H.I.E.L.D. and will operate within as a sleeper agent for HYDRA.[154]
23rd
September
19th
October
11th
November
5th
16th
December
1st
13th
23rd
2005
March
14th
25th
April
5th
6th
12th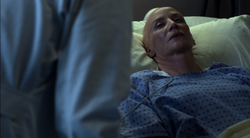 Alisa Jones wakes in a clinic ward and is greeted by Dr. Karl Malus and Dr. Leslie Hansen. She asks how long she has been at the facility, and Malus informs her calmly that it has been 5 years, which causes Jones to panic, wanting to know what happened to her children after the crash. Malus begins to explain what has happened, telling her that they have saved her through cutting edge genetic editing, including having to reconstruct her face in a different manner to how it looked before. He then reluctantly informs her of Brian and Phillip's deaths, which she begins to panic about. Malus assures her that Jessica survived, but she angrily demands to see her. He tells her she is doing fine, and Alisa's anger turns simply to mourning.[167][15]
Jessica Jones, now a college student, reluctantly attends a club for the premiere of the music video for her adoptive sister Trish Walker's song I Want Your Cray Cray. Walker parties with friends and asks Jones whether she likes the video, but Jones bluntly says that she finds the song annoying. Walker heads with friends to the bathroom and Jones attempts to stop her, telling her that she knows she is off to take drugs and that she needs to stop. Walker ignores her.[167][15]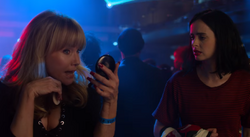 Jones goes to the bar and finds Dorothy Walker, Trish's mother. She asks what she is doing at the venue since Trish does not like her mother due to the uncaring way she brought her up, and tells Dorothy that Trish is taking drugs. Dorothy dismisses this, claiming that Trish is doing just fine, and explains that she is Trish's backing dancer's agent. The bartender, Stirling Adams, is friendly to Jones, but his boss reprimands him, saying he is overpouring drinks. Adams quits his job in frustration, saying that he will start a club of his own and act better than his boss does.[167][15]
Walker tries to convince Jones to party with her, but Jones insists that she needs to study. They begin to argue, with Walker saying Jones is ungrateful to her considering she is the source of her tuition funding, but Jones says she only uses Walker's money because she had insisted, and states that she would be fine on her own, opening a cash machine up with her strength to demonstrate her point. Walker tells her not to come to her for help when she gets herself arrested, and Jones retorts the same for when Walker inevitably overdoses. Walker is driven away, and Adams finds Jones again, cheering her up as he jokes that he will buy her a drink.[167][15]
16th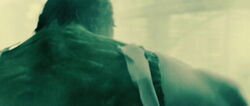 19th
25th
May
2nd
15th
19th
24th
June
3rd
11th
26th
27th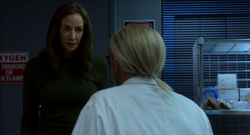 In the morning, Alisa Jones tries on a wig to cover her scarred scalp. She is taken to talk to Dr. Karl Malus. Malus wants to talk in hopes of getting to the root of her dissociative anger disorder, but she insists first on being told where Jessica is. He explains that Jessica has been adopted, which Alisa accepts, but when he lets her know that Jessica thinks she is dead she becomes angry. Malus tells her of how she nearly killed Jessica the first day she woke up, and Alisa angrily denies she could ever have done that. She breaks free of the cuffs restraining her in case of anger and moves to attack, losing control again, but Malus manages to sedate her.[177][15]
Jessica Jones and Stirling Adams kiss on the street, having become close and moved in together after Jones dropped out of college, and Adams tries to guess her middle name. She refuses to tell him, but he pickpockets her to check her ID, finding out her middle name is "Campbell", which Jones explains was her mother's maiden name. Adams says he would like to get her something special, eyeing up a leather jacket in a shop window. Jones smiles and breaks into the shop to take it. She would go on to wear it frequently for over a decade.[177][15]
28th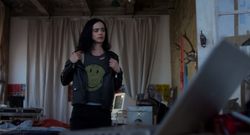 Jones wakes and hears Adams talking angrily to someone on the phone. When he hangs up, he explains that it was his mother on the phone, angry because she wanted him to become a plumber, not run a night club. They discuss each other's families, and Adams suggests that Jones get back in touch with Trish Walker, having not seen her for a month, and bring him with her - and that after that he will take her to see his family.[177][15]
Jones and Adams go to the club Adams used to work at to see Trish Walker, who has recently been rehearsing for her tour. She tells her she can tell she is succumbing to addiction, but Walker ignores her. Jones tells her about Adams and brings him over to meet her, and they begin to get along, though Adams begins to talk about business. Jones takes him aside and asks if that was the only reason he was interested in seeing Walker, but he says he was only taking an opportunity. She says that they do not need to, since they can get whatever they want, whenever.[177][15]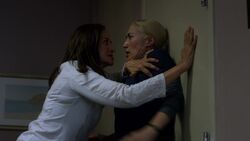 Escape from the Industrial Garments & Handling Facility: Inez Green and Luanne McClure tend to Alisa Jones, believing she is sedated. Green begins to unlocks Jones' cuffs. McClure realizes, however, that Jones has not taken the necessary dosage of pills, and tries to warn Green but is too late - Jones jumps from her bed and throws Green across the room. Green crashes into a glass cabinet and gets shards of glass embedded in her back. Jones threatens McClure, demanding to know where Jessica is, and she tells her she is with Patsy Walker's family. Jones lets her go, but when McClure then rushes to trigger an alarm, Jones grabs her again and snaps her neck, before leaving.[177][15]
29th
Attack on Wyatt's Crew: Soon after midnight, Jessica Jones and Stirling Adams return to their apartment. Their chatting is interrupted by a group of young men breaking into the apartment, led by a man named Wyatt. Wyatt demands money from Adams, having invested in his "Alias" club startup and got nothing in return yet. Adams and Jones attempt to tell Wyatt that the business is simply taking time, but Wyatt starts a fight. Jones defends Adams, attacking Wyatt and easily overpowering him with her super strength, forcing him and his group to leave.[177][15]
30th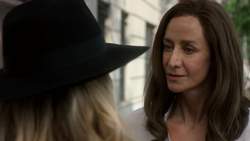 July
A boy is born to a New York City single mother, out of wedlock. A man becomes the mother's boyfriend, and as the couple go on to get closer, he ends up loving the child, and they choose to lie to the boy and claim the man is his father.[178][74]
1st
Jessica Jones visits the club Trish Walker frequents, desperately sad and wanting to find her adoptive sister. She finds her in the bathroom, preparing to perform a sexual favor on a man who provided her and her friends with drugs. The man is rude to Jones and she grabs hold of him, scaring him until he gives up and leaves.[177][15]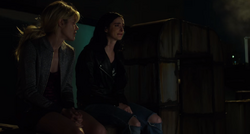 The adoptive sisters head outside to a nearby rooftop. Jones explains that Wyatt and his gang have been arrested and assumes that they were indeed the killers. She cries and tells Walker that she feels responsible, believing she aggravated the men when she attacked them. Walker reassures her that Adams' death only happened because the men were killers, not because of anything she did, but Jones tells her she is also upset that Walker did not return her calls despite trying for 24 hours. She gets Walker to admit that she did not reply because she was high, and that she has become addicted and needs help, and Walker swears she will get help soon. The sisters lean on each other for comfort as a movie plays on a wall the rooftop overlooks, run by a man who plays movies on the first Friday of every month.[177][15]
Horrified by her loss of control, Alisa Jones returns to the Industrial Garments & Handling Facility, handing herself over to Dr. Karl Malus. Malus promises that he will help her get better so that one day she can see Jessica again.[177][15]
31st
August
9th
23rd
October
8th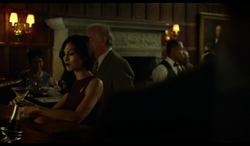 Murdock and Nelson gatecrash an expensive party together, and there Murdock meets fellow student Elektra Natchios. As the two of them talk, Natchios deduces things about him, however, Murdock uses his wit to keep the conversation going, and the two leave the party together, getting into another person's sports car and driving off. From then on, the two continue to commit reckless acts together and get closer.[185]
9th
18th
Attack on Espinoza's Cartel: In South America, Banner is attacked by the criminal leader Espinoza and his men and transforms into the Hulk, destroying the terrorist hideout.[143][144]
Emil Blonsky and his team later arrives at the village discovering a path of destruction left by Hulk. This is reported to Thaddeus Ross, his first lead on Banner in months, since the incident on the U.S./Canada border.[143][144]
29th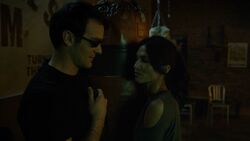 Late at night, Matt Murdock and Elektra Natchios break into Fogwell's Gym. The two of them discuss their pasts and learn more about each other, with both also mentioning that they have enjoyed the last few weeks together. They begin to playfully fight in the boxing ring, but the intimacy leads the two of them passionately making love in that gym for the first time.[185]
November
8th
December
9th
10th
Attack on Roscoe Sweeney:

In the night, Elektra Natchios takes Matt Murdock to an expensive penthouse. They break in and go to the kitchen, taking food from the fridge and discussing the passionate and luxurious future that the two of them want to have together.[185]

When they hear noises, Natchios goes ahead of Murdock, and when he walks into the room, she gleefully tells him that she has Roscoe Sweeney, the killer of Murdock's father, bound to a chair for him to enact revenge on. She reveals that this was his house all along, and she expects him to appreciate the gesture.[185]
Murdock is at first reluctant, but Natchios manipulates him to start punching Sweeney. Because of her, he begins to savor the feeling of revenge. However, when she then tries to get him to kill Sweeney, Murdock realizes what a dangerous relationship he has got himself into. He steps away, breaking off his relationship with Natchios, and calls the police; however, when he looks around, Natchios is gone.[185]
31st
2006
Harley Keener's father leaves Harley, his older sister and his mother to never return, after supposedly going to 7-Eleven to get scratchers.[3]
January
13th
February
7th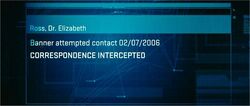 March
3rd
21st
28th
April
16th
Lincoln Campbell, an alcoholic trying to fill the emotional void created by being an Inhuman unaware of his genealogy, argues with his girlfriend, who has been trying to help him be a better person. Angry, he gets in the car in order to leave the situation, but his girlfriend follows him into the car. Campbell, drunk, drives while they argue, and crashes into a telephone pole.[194][195]
18th
22nd
25th
With their finals fast approaching after nearly 3 years of law school, having now developed a strong friendship, Nelson often jokes about Murdock's blindness, while Murdock would tease Nelson about many of his poor life choices, such as his decision to join a course studying Punjabi simply to get close to a girl. On a night out together when they really should be studying, Nelson asks Murdock what happened to "the Greek girl" who Murdock was dating, to which Murdock simply replies that things did not work out. The two joke about their future as partners at law, and they swear to work together for many years.[197][120]
28th
May
14th
27th
28th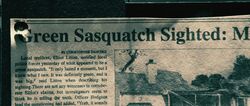 30th
A man named Robert, working for the Aryan Brotherhood, leaves to make a buy with $1 million. The alternator on his truck breaks, and Robert goes to a bar, where he finds a man who objects to his white supremacist tattoos and political ideology. Robert gets in a fight with the man and ends up killing him, then getting arrested.[198][199]
31st
In jail, Robert thinks his life is finished. However, Anderson Schultz comes to visit him and convinces Robert that his situation was all determined by God, managing to get him free. Robert changes his name to John Pilgrim and goes to work for the Schultzes, doing what he believes to be God's work through them.[198][199]
June
7th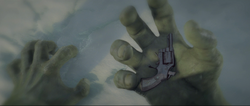 The military loses Bruce Banner, who eventually arrives in Eastern Nunavut near Greenland, in the Arctic Circle to commit suicide in a place where his body would not be found.[143][200] In the Arctic, Banner tries to shoot himself in the mouth. However, the attempt fails and he turns into Hulk, who spits out the bullet, and Banner wakes up afterwards.[201]
11th
13th
August
Tandy Bowen listens to music with her headphones and colors while her parents start to argue. She considers taking her headphones off to listen, but decides against it.[202][99]
2nd
6th
September
1st
4th
14th
30th
October
1st
3rd
21st
This is the last sighting of Bruce Banner for at least five months, as he is involved in an incident which destroys another truck.[143][64]
November
1st
14th
December
8th
2007
January
10th
22nd
February
John Pilgrim, now living a devout Christian life and having fallen in love with a woman named Rebecca, discloses to Rebecca that his real name is Robert and how used to be a sinful man, describing his past violence and killings. She forgives and accepts him.[210][211]
March
2nd
19th
20th
April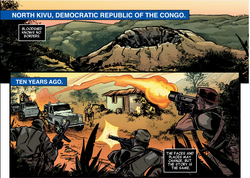 In North Kivu, Democratic Republic of Congo, fighting continues despite the formal end to the Second Congo War nearly 4 years prior as Congolese rebels continue to take weapons and resources from others and the United Nations struggles to pacify them.[116]
N'Taki of Wakanda watches on near the Wakandan border, and orders his warriors to hold back the soldiers. Despite this, war continues to encroach on the border of their country, and the fighting goes on for over 2 more years, to the point where some even begin to lose sight of their goals.[116][213]
May
7th
23rd
The Photographer's Eye: Composition and Design for Better Digital Photos by Michael Freeman is published.[1][4]
June
10th
29th
July
19th
20th
September
20th
29th
October
2nd
November
December
1st
5th
12-year-old Donny Chavez's parents drive home from a movie night while Chavez is asleep. They get hit by a young driver who had only recently gotten their license, killing them both.[229][230]
6th
7th
15th
17th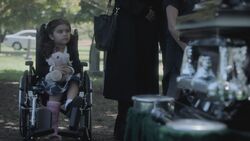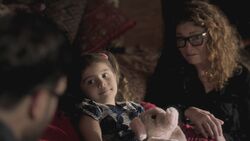 18th
2008
January
1st
February
14th
March
1st
Search for Bruce Banner: Nick Fury, in disguise, finds Bruce Banner in a bar and tries to find out what Thaddeus Ross' "Super-Soldier Program" did to him. He tells Agents Johnson and Peterson to gain Banner's trust and see how he reacts to certain things, so the agents pretend they were dating and Johnson cheated on Peterson with him. Banner gets confused when Johnson pulls him toward her, and Peterson threatens him. The stress of the situation causes Banner to turn into Hulk and go on a rampage.[143][238]
3rd

4th
May
6th
Eva Belyakov, a member of the Inhuman community in Afterlife, goes rogue after Jiaying refuses to allow Belyakov's unstable daughter, Katya, to go through Terrigenesis. She takes with her an assortment of stolen Terrigen Crystals, which she uses to transform Katya without the proper mental conditioning. Katya develops sensory manipulating powers and a hunger for pain. The mother-daughter duo travel to Bahrain, where they create chaos by using Katya's powers to sap the emotional energies from local civilians.[240]
15th
Rescue in Bahrain:

S.H.I.E.L.D. takes notice of Eva Belyakov's activities and tracks her down to Manama, Bahrain. A team led by Phil Coulson and Melinda May is dispatched to analyze Belyakov for the Index; they are unaware of Katya's involvement or powers.[240]

Eva and Katya assume control of a group of gangsters and hold the entire S.H.I.E.L.D., minus Coulson and May, hostage within a warehouse. May ventures into the warehouse alone and crosses off the controlled gangsters and Eva. Katya reveals herself to May and nearly uses her powers to kill the subjugated S.H.I.E.L.D. team, forcing May to shoot her dead. For her role in saving them, the S.H.I.E.L.D. team gives May the nickname "The Cavalry", a moniker she grows to despise.[240][241]
16th
May returns to the United States, traumatized by the ordeal in Manama. She shuts herself off from everyone, including her husband Andrew Garner. Over time, their marriage falls apart. With approval from Maria Hill, May switches from field duty to a simple desk job.[240]
26th
June
9th
22nd
27th
August
7th
8th
20th
Adrian Toomes' Crew is formed as they start salvaging items to sell from wreckages. As more and more superheroes would begin to arise in the following 8 years, none interfered with their business, even as they turned to the illegal black market in 2012, until Spider-Man finally intervened in 2016.[247][7]
22nd
October
30th
Andre Deschaine plans to record himself playing on vinyl, and one of his bandmates teases him for his choice. Deschaine tells him that he plans on joining the jazz legends after playing the "blue note" in their concert that night. His bandmate advises him not to, but Deschaine talks about doing it anyway.[250][251]
31st
November
4th
28th
December
5th
19th
Happy Hogan acquires an engagement ring for Tony Stark to propose with in the future, to whomever he should marry, and holds onto it for the next 8 years.[7]
2009
January
8th
30th
February
11th
Tony Stark wins the Apogee award, but is not present to accept it. Instead, he is gambling.[258][259][119]
Stark is approached by Vanity Fair reporter Christine Everhart, and gives witty responses to her questions. He convinces her to spend the night with him, and takes her back to his mansion.[258][259][119]
12th
13th
14th
18th
Melissa Bowen prepares to take her daughter, Tandy, to ballet practice, but realizes she forgot her keys and goes back for them. Tandy stares at the door as she hears the situation turn into an argument in which her father hits Melissa. Hearing this happen multiple times, Tandy decides to leave.[262][99]
24th
25th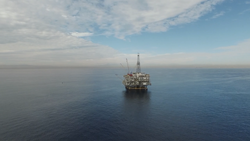 26th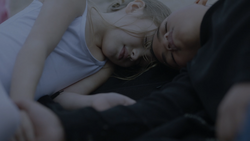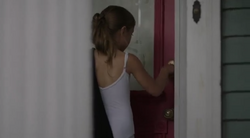 27th
Tandy Bowen watches as a group of Roxxon Corporation men trash their living room while they search for anything of Nathan's belonging to the company. Roxxon blames Tandy's father for the explosion of the oil rig, saying he also participated through his research project. Tandy's mother takes another of her pills, overwhelmed.[263][266]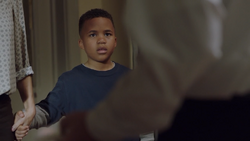 A policeman informs Adina and Otis Johnson that their late son's body was found with drugs in his body. Tyrone calls him a liar and claims that he saw Billy get shot, but the policeman denies that it happened, and says that the body is not in a state to look for bullet holes. Tyrone insists on the existence of the policeman who killed Billy, but the man assures him that there is no officer who fits his description.[263][266]
March
1st
2nd
6th
9th
29th
April
16th
JT James gets caught stealing various things from Jiaying, the leader of Afterlife, including a Kree Orb and information about an ancient Inhuman. Angry, Jiaying kicks James out of Afterlife. However, he leaves with the stolen Orb and its companion piece and develops a hatred toward Jiaying and the rest of the Inhumans of Afterlife. He sets up a residence in South Dakota, setting up land mines and burying the companion piece.[194][195]
May
1st
3rd
4th
Potts grimaces as she watches online videos mocking Stark's change in business plan, when she gets a call to go downstairs and help Stark. He asks her help in replacing his electromagnet with a newer arc reactor, and she squeamishly helps him with the operation, nearly causing him a cardiac arrest from a mistake she makes, but ultimately succeeding in the procedure. Stark then tells her to simply dispose of the old reactor, but she decides otherwise.[258][276][273][119]
21st
27th
June
3rd
4th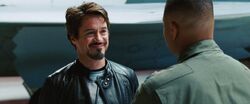 A fortnight after his return, and with his injuries healed, Tony Stark visits James Rhodes as he talks to air force recruits in a hangar. He explains to Rhodes that he is considering starting a whole new project for enforcing peace.[258][276][119]
8th
20th
25th
July
5th
August
5th
9th
September
4th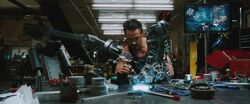 October
5th
Tony Stark begins his log of tests for the new suit of armor, beginning "Day 1", first testing the flight capabilities. However, he underestimates the power of the thrusters, and flies up and backwards into the wall behind him.[258][276][119]
8th
11th
13th
While he works on the arms of the new armor, Stark is interrupted when Pepper Potts visits with a gift for him. He does not notice that it is his old arc reactor, put in a case, and marked with the text, "Proof that Tony Stark has a heart."[258][276][119]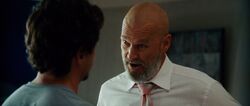 Stark goes upstairs to see Obadiah Stane, and they discuss the dramatic drop in Stark Industries stock following Stark's change of heart in the business' motivations.[258][276][119]
15th
November
5th
After eventually heading to South America, Bruce Banner starts to look for vascular plants that could inhibit radiation and therefore, find the key to cure his condition. He has another incident turning into the Hulk, his final incident for 6 months.[143][64]
6th
As the U.S. military follows the new lead on Banner, tracing from Africa to South America, Banner travels to Rio de Janeiro.[143][64]
8th
Banner contacts Samuel Sterns for help in developing a cure. They communicate using code-names of "Mr. Blue" and "Mr. Green". Acting on a suggestion from Mr. Blue, Banner researches Amazonia Tracheophytes for a lead on the cure.[143][64]
11th
15th
16th
17th
18th
24th
Duel of Los Angeles:

Stark and Stane eventually come to blows in their respective armors. Stark leads Stane into the upper atmosphere where the extreme cold freezes his suit and plummtes to Earth.
Stark lands atop the industrial Arc Reactor, but Stane resumes their battle. Guiding Pepper again, Stark has her overload the reactor, which expels a tremendous amount of energy upward. Stane is killed by the detonation of Howard Stark's industrial Arc Reactor, as Stark passes out from fatigue.

Shortly after the battle, Phil Coulson sends a fake ambulance to pick up Stark and James Rhodes, taking them to a S.H.I.E.L.D. complex in the local area. Coulson stresses to Stark how S.H.I.E.L.D. can teach him combat skills.[258][289][256]
25th
At a press conference the day following his fight with Stane, Stark rejects S.H.I.E.L.D.'s constructed alibi and admits to the world that he is Iron Man.[258][289][168][119][261][260] Fury sees this and is ecstatic that the psychoanalysis team was correct in the assertion that Stark would defy authority and milk the superhero fame.
Anton Vanko dies in poverty in Moscow, as his son Ivan vows revenge on Tony Stark and builds his own portable Arc Reactor to power a body harness armed with energized electric whips.[258][289][254]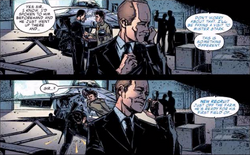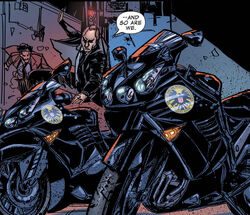 Coulson and Hendricks are ambushed by the Ten Rings' operatives. Coulson is shot and nearly killed, forcing Hendricks to stand and save him. After he manages to defeat the Ten Rings' operatives, Coulson approaches and reveals to him that the whole mission was a test for him to see how he would act under pressure. Coulson congratulates and welcomes him into S.H.I.E.L.D..[258][289][292]
As Fury leaves Tony Stark's Mansion, he calls Coulson and tells him that they will need Natasha Romanoff.[258][289][275]
December
4th
7th
11th
14th
Stark updates his log again, making the entry for "Day 30", recounting the Iron Man suit's performance in the Duel of Los Angeles. He decides he will have to work on the suit's delivery system.[258][288][274][119]
16th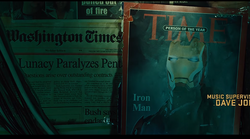 18th
27th
29th
Theft of Tony Stark's Online Identity:

Jesse discovers that the email was sent by hackers who mined her computer, scanned her passwords and got access to the main frame of Stark Industries. The hackers exploited Stark by pretending to be him by stealing his online identity, buying expensive art, philanthropic funding and spending money on extravagant parties. Stark is able to track down the coding from the mail downloaded by Jesse to Genoa in Italy.[293][299]
30th
Theft of Tony Stark's Online Identity:

Iron Man arrives at a local carnival in Genoa which is sponsored by Stark's own money via the hackers. While he circles the carnival he is spotted by Ten Rings insurgents lead by the hacker Cordo Gaines.[293][299]
Having the rest of the stolen weapon shipment, they start shooting at Iron Man and when they use a rocket launcher, Iron Man is taken down to the ground. But the weapons are supplied with Stark Industries chips and Iron Man is able to remotely turn the weapons down. Cordo Gaines and his men get arrested while Iron Man extends the carnival with another week and calls Pepper to come over.[293][299]
References