Spider-Man: No Way Home Trailer Dropped - The Loop
Play Sound
For the original 1970s timeline, see 1970s
"The Chronicoms told me if I didn't take their deal, they'd alter the timeline. Keeping Malick alive past 1970 must be the first thread."
"You're saying the timeline is already broken."
This is a timeline of events that occurred in the 1970s, in an alternate history in which the Chronicom Hunters attempted to destroy S.H.I.E.L.D..
1972
1973
May
23rd
As Johnson sits, she notices a young man across the room. A man approaches her, referring to the young man as his brother "Nathaniel", leading Johnson to realize he is Gideon Malick. Johnson coaxes the information out of Gideon that Wilfred spends time in his office. Gideon tries to flirt with Johnson, making her uncomfortable, and harasses her as she goes to leave. Sousa steps in, pretending to be Johnson's fiancé so as to get her out of the situation. Johnson tells Sousa about Nathaniel, saying he too was supposed to die in 1970 - another timeline change.[2][4]
On the phone to Simmons, "Coulson" informs her about the Malicks, Insight, and Enoch being missing. "Coulson" says they need to prioritize investigation into Insight over finding Enoch, and Simmons says she will listen into radio chatter. Shaw overhears and says he is frustrated he did not get to take out Malick in 1931, worried about what Malick has done with his 3 extra years of life.[2][4]
In the Lighthouse, Mackenzie realizes power is being rerouted to something big. He tells Rodriguez not to worry, since the people present in the base are still S.H.I.E.L.D., but she is nonetheless concerned. They hide and watch as an agent opens a door to the Lighthouse's project: the Project Insight launchpad.[2][4]
Johnson takes Sousa to the office that was once Ernest Koenig's, activating the secret door to get in, knowing how it operates from 1931. She goes to Malick's computer and hacks in with ease, finding a list of Insight targets, including Victoria Hand, Jim Morita, Robert Gonzales, and, she notes, Bruce Banner, explaining who that child goes on to be to Sousa. Sousa notes that HYDRA has got hold of names of future significance, so they must have worked with the Chronicoms.[2][4]
Aboard Zephyr One, the agents discuss the new Project Insight. Director Alphonso Mackenzie plans to disable Insight before it is launch-capable, but Sousa notices the jump timer on the fritz. It switches from 6 days remaining to 20 seconds, and Jemma Simmons realizes the Chronicoms have changed plans and are jumping early to an unknown time, with Mackenzie noting they are about to lose their opportunity. Yo-Yo Rodriguez rushes to leave the Zephyr and stay behind to help, but her speed fails her again, and she is aboard as Zephyr One jumps to 1976.[2][4]
1976
July
4th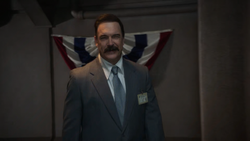 Luke visits Wilfred Malick in his estate, saying they need to discuss his transgression at The Krazy Kanoe in 1973. Luke says that Malick's decision to save his son rather than seize his victory opportunity taught them about a human fatal flaw, which they can now exploit. He says Sibyl, their Predictor, has told them S.H.I.E.L.D. will come to him, and that they have leverage. He shows Malick they have the likenesses of John and Lilla Mackenzie[5], the agents' director's parents, locked up, not putting them on the Insight list so that S.H.I.E.L.D. will instead give up their position.[4]
Johnson goes to hack into the system while Sousa stands guard. She explains her powers are not from a super serum, then finds there is an unexpected firewall, earlier than they should exist. Sousa says he thinks he will stay behind in 1976, as things are only getting worse the further they go, but Johnson says this is only a setback, and gets through into the system. Sousa notes how small her laptop is, and Johnson laughs, showing him her cell phone, which he is amazed by. Sousa starts to ponder the life he has missed, and the goodbyes he did not get to say. Johnson successfully gets in.[4]
Simmons lets Mackenzie know Johnson is in the system. As she unlocks the doors, Mackenzie lets "Coulson" and May know they can enter.[4]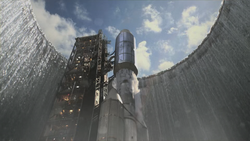 Project Insight prepares to launch out of Lake Ontario.[4]
Malick tells Shaw and Rodriguez they need to stop fighting the Chronicoms, and that they have something the agents will desperately want. He says the Chronicoms knew how things would unfold, and are always ahead.[4]
"Coulson" and May continue to place the charges to flood the Lighthouse.[4]
Kidnapping of Daisy Johnson and Daniel Sousa: Nathaniel Malick drives the unconscious Sousa and Johnson away, tied up in the back of a van.[4]
Director Mackenzie monitors the Lighthouse.[4]
Assassination of Wilfred Malick: Wilfred Malick states there is nothing the agents can do, as the Chronicoms see what they will do. Deke Shaw cuts him off, shooting him suddenly in the chest in anger, killing him, as Shaw notes that Malick is supposed to be dead, so he is restoring the status quo. Rodriguez checks Malick's envelope from Luke, and is worried when she realizes HYDRA's leverage.[4]
"Coulson" and May lay the final charge, and wait for Mackenzie's signal. On Zephyr One, however, Mackenzie has frozen. He checks one of the prisoner cells, and realizes the couple inside are, he believes, his parents. Worried for them, he feels he cannot let them drown. Simmons notes they cannot let Insight launch, but Mackenzie instructs to abort.[4]
"Coulson" and May get the instruction to abort, and hear as Project Insight launches. They are then stopped in the corridor by other agents, and forced to surrender.[4]
Destruction of Project Insight: Mackenzie orders Zephyr One to arm its missiles, and he and Enoch pilot the plane to take out the launching satellite. Mackenzie fires a missile and takes out the target, destroying Insight, but revealing their position.[4]
Nathaniel Malick makes a call to a HYDRA agent at the Rat regarding Daniel Whitehall. He asks for Whitehall's detailed instructions on his theory of transferring enhanced abilities surgically, saying he wants to find out if it works.[4]
Luke visits Sibyl, saying her path has led to disaster. Sibyl points out the agents of S.H.I.E.L.D. are divided, and will act recklessly to save Alphonso Mackenzie's parents. Luke says he will wake the Chronicom Hunters one by one, and Sibyl states they must continue to adapt. Luke removes himself from the Time Stream, inside the Chronicom time ship.[5]
The agents in the Lighthouse confirm Project Insight has been destroyed, and Rick Stoner has them search for the ship behind it. "Phil Coulson" and Melinda May are brought before him, and "Coulson" insists the rocket's destruction was necessary. May tells him her real name and job. She is comforted knowing they will not have the technology to track Zephyr One, but Stoner notes Wilfred Malick gifted them advanced tracking technology. "Coulson" worries their friends will be blown out of the sky.[5]
Sousa and Johnson wake, chained up in a room, realizing they were drugged. Johnson finds she cannot use her powers. Nathaniel Malick enters, saying they changed his life in 1973, and that he is not there on behalf of HYDRA, not being something of interest to him. Malick notes that Sousa has not aged in 2 decades, believing him to be an Inhuman. He tells Johnson that seeing her abilities was the first thing in his family's line of work that intrigued him. He says everything he wants is in their veins, and while Johnson notes it is genetics rather than serum, Malick says Werner Reinhardt had helpful tips. Johnson finds herself still unable to quake, and Malick takes her for experimentation.[5]
"Coulson" and May sit in interrogation with Stoner, saying someone has taken over the Lighthouse as they warned. "Coulson" explains the Chronicoms' ability to steal faces so as to blend in, but Stoner finds them hard to believe. Stoner's colleague "King" enters, and tells the agents they will be going to prison. Stoner lets them know Wilfred Malick is dead, before leaving. Once they are gone, May notes she felt nothing when "King" touched her, so she must be a Chronicom.[5]
Zephyr One flies, cloaked, as the agents aboard try to keep the fire from the missile under control. Enoch lets them know that the Time Drive's shielding around the plane is broken, meaning if Zephyr One jumps again, only parts will go, and the rest will be pulverized. Simmons sends Shaw to deal with the power regulator, and tells Enoch she cannot remember how to fix the control panel. Enoch notes it will be alright, but they must act quickly.[5]
Rescue of John and Lilla Mackenzie: Alphonso Mackenzie and Yo-Yo Rodriguez break into the "Mackenzies'" cell to help them escape. Alphonso immediately hugs his "mother", before realizing it is uncomfortable for them as they do not know him. "John" and "Lilla" introduce themselves to their rescuers. Alphonso and Rodriguez lead them out, and tells them they were taken as collateral, but cannot explain further. Alphonso says they can hopefully bypass the couple's kidnappers.[5]
Stoner walks with "King", who tells him they need his authority override to reboot the mainframe system.[5]
"Coulson" notes to May that "King" showed personality, which is something Chronicoms cannot do. She points out he can, but he says he is not like them. He expresses his annoyance at her not being understanding of his struggles with his new situation, and not telling him what she even thinks. "May" explains she is frustrated that he never properly dies, and she will not mourn him again, particularly for a Life-Model Decoy. "Coulson" realizes the Chronicoms are mimicking the way that he can replicate a personality, adapting, as Luke said they would on the train in 1955. He breaks out of his cuffs, explaining the Chronicoms must have a way of copying the agents' personalities as well as their faces, and replacing them, with Stoner next.[5]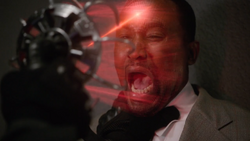 The Chronicoms use the Eraser device on Agent Ford to replace him with a Chronicom. The Chronicom greets Stoner, leading him under the ruse of giving override authority.[5]
Alphonso Mackenzie leads his "parents" to the Quinjet, with a wall between them and the jet. His parents say they do not trust him and are frustrated thinking of their sons back home. Alphonso looks at the wall and works out how best to break it open, getting "John's" help to break the locks by cutting the hydraulics line.[5]
Stoner is placed into the Cerebral Fusion Machine for personality transfer, but "Coulson" and May break into the room and attack the Chronicoms present. "Coulson" uses a Chronicom Rifle to take them out, and unplugs Stoner from the machine. "Coulson" explains what the device was for, and Stoner realizes what has happened to his friends, killed and faceless after replacement. May notes Mackenzie will be present in the Lighthouse rescuing his "parents", and "Coulson" tells her to find him, as he decides to investigate a hole in the ground, having noticed the Chronicoms were coming "up" despite this being the bottom of the base.[5]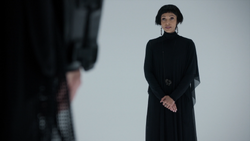 Sibyl tells "Coulson" their ship appears underground, which is why he has had difficulty finding it, and introduces herself, explaining her "Predictor" role is to look at the established timeline's past as well as the different ways it could have gone instead. "Coulson" notes that she is answering all his questions, which she says she sees no reason not to do.[5]
Shaw tells Simmons Enoch was implanting something in her head, but she tells him he is misguided, as Enoch was fixing her memory so she can fix the ship. Simmons explains she and Leo Fitz worked incredibly hard to track the Chronicoms through time, so when they found a place they could be observed, Fitz stayed there to guide them, completely exposed so no one can know his location. She says she designed a biological implant, D.I.A.N.A., to suppress her memories so as to not know where Fitz is, but is worried it is acting up, suppressing and leaking the wrong memories. They work together to try to fix the ship.[5]
When Malick's man returns to Sousa to take him for experimentation, Sousa stabs him with the glass shard and steals his key, freeing him and Johnson. He picks up Johnson, but feels a shake. Turning around, he finds Nathaniel Malick uncontrollably quaking the room, saying that his bones are cracking.[5]
Sibyl tells "Coulson" that Johnson has been abducted by Malick so he can take her power, but that he has a 22% likelihood of succeeding, while Johnson has an 86% chance of survival. "Coulson" asks about using Alphonso Mackenzie's parents to get to them so the agents so they can take Earth, wondering why they want the planet, and Sibyl says it is to ensure the survival of her species. "Coulson" asks why they should survive and not humans, and Sibyl says it is the impermanence of humans over time that leads them to act irrationally in fear of death, and means that the Chronicoms will use the planet long after humans are gone. "Coulson" says she is wrong about three things.[5]
"Coulson" tells her firstly, the difference is that humans' mortality means their sacrifices come at a real cost. Meanwhile, Alphonso Mackenzie gets the upper hand on Abel, taking him down. Rodriguez continues to work on the Lighthouse door. Simmons and Shaw cautiously attempt to fix the ship, and find the system integrity is restored.[5]
"Coulson" explains humans push through heart, pain, blood, sweat, and tears, which means they never give up. Meanwhile, Sousa carries Johnson out of Malick's prison, with the roof having fallen on Malick in the quake.[5]
"Coulson" finishes by explaining to Sibyl he has in fact not feared death in a long time, as dying is almost like his superpower. He leaves the virtual space.[5]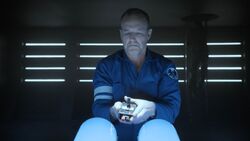 Destruction of the Chronicom Time Ship: Getting out of the Time Stream, "Coulson" witnesses the Chronicom Hunter pods opening up to besiege the Lighthouse. He radios May to say he found the ship and hopes she is right about him never dying, and as another Chronicom descends the ladder, "Coulson" detonates an explosion destroying the ship and every Chronicom inside, except for Sibyl's virtual mind in the Time Stream.[5]
Luke confronts Alphonso Mackenzie again. The electricity surges in the Lighthouse from the explosion, breaking the lockdown and allowing Rodriguez, "John", and "Lilla's door to open down the corridor. Luke goes to shoot Alphonso, only for Rick Stoner to kill Luke with a Chronicom Rifle, as he arrives with Melinda May. Alphonso and his "parents" head for the Quinjet with Rodriguez, and Stoner thanks May, asking to buy her a drink. She points out she is Level 7, so technically he would report to her, then says his job is just beginning, as he has to clear out the base and create a cover story, recommending a "Hydrogen Wave Crisis" to move the Lighthouse's timeline closer to the way it was originally: shut down due to the 1972 Hydrogen Wave Crisis. She shakes his hand, shuddering as she feels his attraction to her again, and leaves for the jet.[5]
May tells Mackenzie and Rodriguez that "Coulson" is gone. When Rodriguez realizes he was in the explosion, she asks whether he is dead, but May says he will comes back, as always.[5]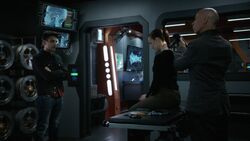 Enoch operates on D.I.A.N.A. again, and Simmons has Shaw apologize to him, which Enoch accepts. With D.I.A.N.A. repaired, Simmons says she still does not know where Fitz is, and nobody can. She asks Shaw to carry the secret of the implant, and Shaw agrees.[5]
"John Mackenzie" is impressed by the Quinjet. Alphonso goes to speak to his "mother", who is talking with Rodriguez about her sons, and Alphonso cheekily recommends she buy her sons ATVs. "John" taps May on the shoulder, thanking her for saving them. May is alarmed, however, when she feels nothing from him. She puts the jet on autopilot to circle and tells Alphonso she thinks "John" is a Chronicom. Alphonso is dismayed, but May asks him to check "John's" arm, since he hurt it, to see if he is flesh and blood. "John" tries to resist, but eventually gives in, and reveals mechanisms under the torn flesh, giving away he and "Lilla's" true identities as Chronicom impostors. The Chronicoms attack the trio of agents, and the John Chronicom tells Alphonso his parents have been gone for a while, having harvested their skins. Rodriguez breaks the John Chronicom. The Lilla Chronicom chokes May, so Alphonso pulls her off, and May gets back to the cockpit. Rodriguez opens the back of the jet and May pulls up, making the John Chronicom fall out. Alphonso grabs the Lilla Chronicom, and she makes an attempt to stop him by playing Lilla again, but Alphonso reluctantly pushes her out as well, heartbroken.[5]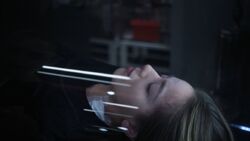 In River's End, aboard Zephyr One, Enoch and Shaw believe they have fixed the Time Drive, with a minute until the next jump. Rodriguez comforts Mackenzie on the docked Quinjet, but he gets up to walk. Sousa keeps an eye on Daisy Johnson, as she lies in the Healing Pod being tended to by Simmons. Shaw tells Sousa and Simmons they are about to jump, and Simmons offers Sousa the chance to stay behind, but he says he feels he is where he needs to be. Zephyr One jumps to 1982.[5]
References