Boba Fett Returns - The Loop
Play Sound
"The Nazi army marches across Europe, leaving death and destruction. The Allied armies band together to create a new kind of soldier. A Super Soldier. At humanity's darkest hour, a skinny kid from Brooklyn became Captain America."
This is a timeline of events that occurred during the 1940s.
1940
February
2nd
4th
May
15th
July
At her job in the Bletchley Park, England, Peggy Carter's colleagues reveal that they have been betting when Fred, Peggy's boyfriend, would finally ask Carter to marry him. Afterwards, Carter's boss, Edwards, gives her a letter from the S.O.E. about a new division of war requesting for her services. Carter rejects the offer.[5]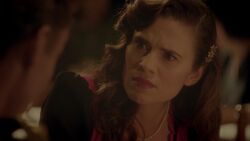 At the engagement party of Peggy Carter and Fred Wells, all of their friends and companions are invited. Carter, her brother Michael and her fiancé Wells make a toast. Michael challenges Peggy to throw back her entire drink but she does not want to. During a talk between Michael and Fred of the war, Carter talks about her recruitment offer from the S.O.E. and that they refused it. Fred then leaves Michael and Peggy so they can talk. They argue when Michael tells Peggy he was the one who recommended her for recruitment as an SOE field agent because she has always craved a life of adventure and she is pretending to be a demure retireing perfect lady instead of who she truly is, but Peggy tells Michael off, angry about his assumptions.[5]
August
Michael Carter fakes his death.[5]
Getting ready for her wedding, Peggy Carter and her mother see her wedding dress as some soldiers arrive at Carter's house telling her mother that her son Michael had died in the war. Peggy, seeing in her window the suffering of her mother, decides to join the S.O.E..[5]
Peggy Carter enlists herself in the British counter-intelligence and security agency MI5. She cancels her marriage.[5]
October
9th
November
11th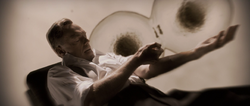 13th
27th
1941
March
11th
April
15th
A company called the Winter Consulting Group makes a shipment.[12]
28th
May
25th
June
13th
A record is made of a shipment made in New York by the Hand under the company name of Wütend Enterprises.[12]
August
3rd
4th
29th
September
10th
October
31th
December
7th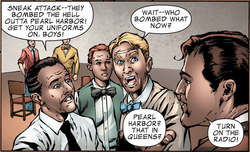 9th
11th
24th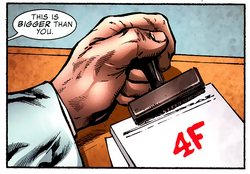 Steve Rogers and Bucky Barnes visit US Recruiting and Induction Center in New York City, but Rogers is classified as 4F and rejected from service. He goes on to be rejected a further four times in four different cities.[1]
25th
26th
1942
January
5th
17th
February
9th
The Nazi German dictator Adolf Hitler appoints Albert Speer the General Inspector for Water and Energy.[31]
March
9th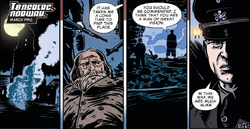 May
22nd
June
3rd
5th
6th
7th
10th
12th
16th
19th-24th
20th
July
1st-27th
9th
After the discovery of the Tesseract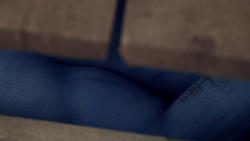 August
8th
20th
22nd
September
November
17th
December
7th
1943
The Gestapo come to the door of the Falb family, including toddler Esther Falb, demanding everything they have. Esther's father stands up to them, but they shoot him in front of the family, and he dies on the floor. They seize their property, including the painting Rabbit in a Snowstorm, and take the family away.[43]
January
19th
February
25th
March
15th
April
May
15th
June
4th
7th
11th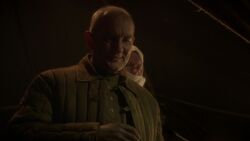 At an army camp for the Soviet Armed Forces, Johann Fennhoff is interrupted by a surgeon needing his assistance during an amputation of the leg of a soldier called Ovechkin. To help the soldier, Fennhoff uses his hypnosis-technique on him. As Ovechkin is completely focused on a memory of a chess game he had with his mother before enlisting in the army, the surgeons amputate his leg without him feeling any pain.[50]
14th
15th
22nd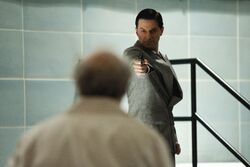 23rd
September
October
8th
November
3rd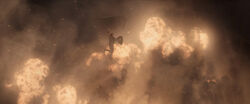 4th
Steve Rogers is presumed dead, but soon arrives with most of the soldiers he saved from the HYDRA facility. Rogers brings together some of the men he saved in the HYDRA base and creates a team that will eventually be known as the Howling Commandos.[9][10]
5th
19th
Nazi forces retake Zhitomir.[9]
December
1944
January
12th
February
March
29th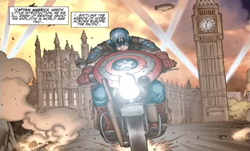 Chase of the HYDRA Spies: Captain America tries to get a file from HYDRA agents in London, who run away and attempt to hide in an air raid shelter. The Captain encourages the citizens inside the shelter to attack the agents by giving them a speech of heroism and strength in numbers.[54]
April
Battle of Finow: General John McGinnis' soldiers raid the laboratories of Howard Stark, stealing all documents about his research and the Midnight Oil, a defensive gas created by Stark. Wanting to help the Soviet Armed Forces in crushing the German defenses in the city of Finow in Germany, Air Force planes fly over the battlefield and release the Midnight Oil.[55][56] However, the gas has a different effect on the Soviets than they were expecting. Hundreds of soldiers went mad and began killing everyone around them. One of the only few soldiers to survive is Johann Fennhoff, who survived by putting a gas mask on his face. His brother, however, was not as lucky, having been killed along with 246 of his comrades.[55]
27th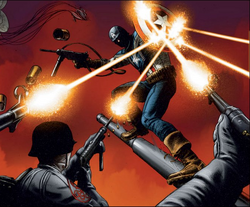 May
11th
June
A supposed massacre occurs that leaves no survivors. The only known person involved is a person with the name 'M. Carter'. (In 1947, a redacted file is recovered on this event by Jack Thompson which he uses against Peggy Carter, to discredit her, who he supposedly believes is behind this; a fact she says is not true which leaves more suspicion on what truly happened that day and who 'M. Carter' really is).[58]
6th-11th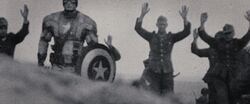 August
8th
September
Arsenic and Old Lace is released.[2][61]
Johann Fennhoff is captured by Leviathan, along with three other men. When one of them refuses to join because he wants to be with his family, he is stabbed in the jugular vein by Dottie Underwood, who is now a member of Leviathan. The remaining three are told that Pasha's family will be killed so that the whole family will be together again. Fennhoff chooses to remain alive by joining Leviathan.[56]
November
17th
1945
January
Werner Reinhardt captures a group of villagers from China who have found the mysterious Obelisk in Chaves, Portugal. Based on stories and fables from the villagers, Reinhardt comes to learn of the Kree's visit to Earth millennia ago, but misinterprets their visit as an attempt to conquer the planet.[66] When he shows the Obelisk to Schmidt, he says that the Obelisk may hold the answer to death itself.[35]
February
1st
3rd
4th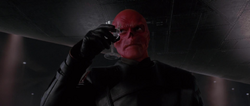 5th
6th
19th
March
2nd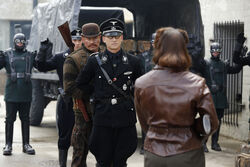 4th
5th
12th
20th
April
12th
28th
30th
In his bunker in Berlin, Adolf Hitler appoints Grand Admiral Karl Doenitz, the Commander-in-Chief of the German Navy, as his successor. Hitler commits suicide in order to evade capture after Nazi Germany's defeat. Nazi propaganda attempts to present his death as a heroic fall in the struggle against Bolshevism.[72]
May
6th
7th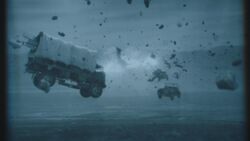 8th
9th
German Field Marshall Wilhelm Keitel signs the unconditional surrender of Nazi Germany at Soviet headquarters in Berlin.[59]
19th
The United States begin Operation Overcast, later renamed Operation Paperclip, an effort to recruit former Nazi scientists to work for the United States.
21st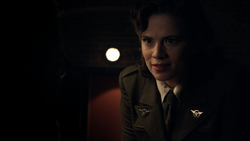 23rd
June
25th
July
5th
August
6th
9th
15th
September
2nd
17th
October
17th
November
2nd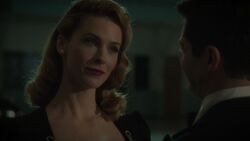 11th
December
21st
1946
January
16th
March
15th
16th
The next day, John Flynn reprimands Carter for not going through proper procedures in the Zodiac mission. However Howard Stark contacts Flynn, telling him that Carter is going to co-manage the newly created S.H.I.E.L.D. with him.[84]
18th
Theft of Howard Stark's Technology

: Howard Stark returns home from his pleasure trip in Monaco and discovers that someone had cut a hole into the vault of his mansion and stole his inventions stored there. He puts the plans for S.H.I.E.L.D. on hold with no warning to Peggy Carter, who is left clueless and has to return to her work at the SSR.[69]
April
1st
3rd
Howard Stark's inventions begin turning up on the black market.[69]
11th
12th
13th
14th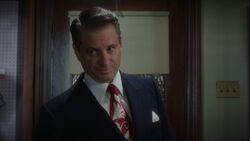 At the New York Bell Company Office, Roger Dooley puts Jack Thompson in charge of the search for Howard Stark. Thompson plans to ground his planes and freeze his bank accounts. At the end of the meeting, Ray Krzeminski makes a remark about Carter knowing many men during the war. Daniel Sousa does not accept this remarks and stands up for Carter. Carter tells Sousa that he should not have stood up for her, to which Sousa reacts that he is tired of seeing the men treat Carter as their secretary. Thomspon asks Carter to archive a number of surveillance reports, because she is "better at that kind of thing".[69]
That evening, Carter has dinner at the L&L Automat. While getting some food, Edwin Jarvis places a note saying "Meet in the alley in 5 minutes" on her table. Outside of the L&L Automat, Jarvis approaches Carter, telling her to come with him. Carter, not trusting him, knocks Jarvis out before running away from an approaching car. When she is unable to escape she shoots at the car's tire. Howard Stark then opens the door of the car.[69]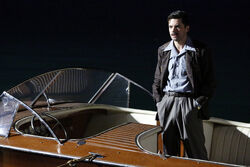 Howard Stark takes Carter to the harbor. On the ride there, Stark explains the situation to her and what happened last month when he disappeared. He asks her to clear his name, which would make her a double agent and a traitor. Before leaving overseas, Stark asks Carter to make sure that the formula for Nitramene, which is supposed to hit the market in the next day or two, does not get in the wrong hands. He also tells Carter that Jarvis will assist her when needed.[69][85]
15th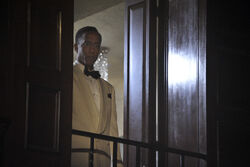 16th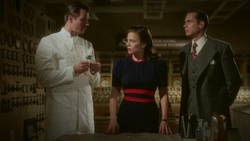 17th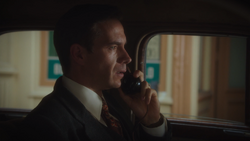 Outside, Jarvis makes a secret phone call to Howard Stark.[69]
That night, while at the L&L Automat, Peggy Carter reads the newspaper ads in search of a new apartment, being that she is currently homeless. Angie Martinelli tells her that an apartment in her boarding house just became free and asks her to move in. Carter refuses.[83]
Edwin Jarvis, in Howard Stark's name, offers Carter one of Howard Stark's Penthouse apartments to stay. Originally, Carter refuses, but since she has not slept in a while, she puts Jarvis out so she can rest.[83]
The Man in a Green Suit receives a message from Leviathan about getting Howard Stark's inventions, mentioning that they are growing impatient and that he needs to track down Leet Brannis.[83]
To learn more about Leet Brannis' location, the Man in a Green Suit threatens a local mob boss. The mob boss gives him the name of someone who might know more. Having gained the information he wanted the man in a green suit kills the mob boss.[83][85]
18th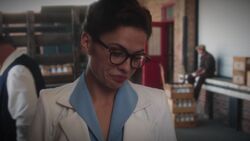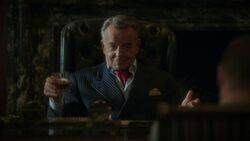 At the Roxxon Oil Corporation Headquarters, Roger Dooley and Jack Thompson question Hugh Jones about the explosion of the Roxxon Refinery. He tells them that one of his sources working in Stark Industries told him that Howard Stark was working on a formula for Nitramene, which has its roots in Vita Radiation.[83].
Peggy Carter tries to break into the drawer of Daniel Sousa's bureau but is interrupted by a phone call from Roger Dooley, asking her to come to the Roxxon Oil Corporation Headquarters with the Vita-Ray Detector. At the headquarters, she is tasked with scanning women working at the Roxxon Corporation for Vita Radiation on their clothing or body. Before doing so, she has to throw away the watch she received from her grandmother.[83]
During the process of scanning the staff, Jack Thompson scans Miles Van Ert, but does not detect any Vita Radiation. Peggy Carter, who recognizes Van Ert, asks Hugh Jones if they could check the clothing of the staff who worked that morning. This question makes Van Ert run away. Thompson and Dooley follow him down the corridor, where Van Ert is knocked down by Carter, who used a shortcut.[83][69][85]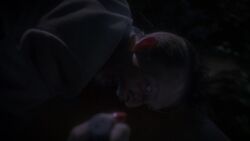 Chase of the Daisy Clover Truck: While traveling back to New York City, where Peggy Carter hopes to get answers on her questions, the Man in the Green Suit jumps off a bridge, landing on the roof of the truck. Carter climbs onto the roof of the truck and fights him.[69][85] During their fight, the Man in the Green Suit fires a shot through the roof of the truck, hitting Brannis. When Jarvis tries to control the truck, he notices one of the Nitramene bombs falling out of its shell. Meanwhile, Roger Dooley, Jack Thompson, and a group of other agents find McFee running away from his house and take him in.[83] At a corner in the road, Carter stabs a knife through the hand of the Man in the Green Suit, pinning him to the roof of the truck.[69][85] The three of them jump away from the truck, before it lands in a river down a ravine and causes a massive explosion followed by an implosion, killing the Man in the Green Suit. Just before Brannis dies from his wounds, Carter manages to learn more about the location of Howard Stark's stolen weapons, via a symbol drawn by Brannis.[83]
Dooley and the agents, who noticed the blast caused by the explosion, investigate the location. Here, Daniel Sousa finds the key of a room at the Hotel Cosmopolitan used by the Man in the Green Suit.[83]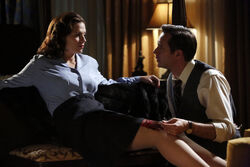 19th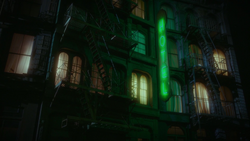 20th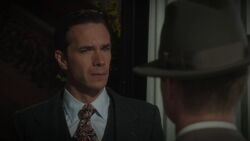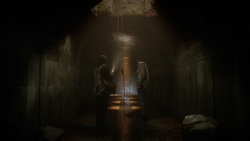 Upon arriving at Stark's mansion, Carter, who had listened to Jarvis's interrogation, asks if Jarvis wants to tell her anything. But he tells her nothing. They descend into a hole in the floor, leading towards the sewers.[26]
At the New York Bell Company Office, Daniel Sousa and Ray Krzeminski start their night shift. Jack Thompson, before leaving, gives them a file with the information he received about the man in the green suit.[26]
Infiltration into The Heartbreak:

Edwin Jarvis and Peggy Carter follow the sewers. While following the path, Jarvis tells Carter that he was dishonorably discharged from the army and charged with treason. He also tells her that it is because of Stark that he and his wife were not prosecuted. At the end of the sewers, Carter recognizes the symbol Brannis had drawn for her on a boat, The Heartbreak. In the boat, they find many of Stark's stolen items. At first, Carter plans to turn the items in herself, so she could get the credit and be respected; Jarvis advises her against it, citing she would only be seen as a possible collaborator of Stark. Carter then tells Jarvis to call the Strategic Scientific Reserve, to make sure that Sousa gets the credit and that they do not recognize his voice.[26]

Sousa and Krzeminski travel to the harbor to investigate the anonymous tip. While, on the boat, Carter fights Jerome Zandow, the protector of the stolen items. Carter uses a device called the Constrictor to take him down.[26]
Upon arriving, Sousa and Krzeminski find the items and the knocked down Zandow. They then call for reinforcement to bring the items back to the office. Krzeminski is ordered to bring Zandow to the office. While waiting at a stop sign, a car driven by an unknown woman rams their car. Krzeminski gets out of the car, just to be killed by the woman, who afterwards also kills Zandow.[85][26]
21st
Peggy Carter arrives at the SSR base to find both the women downstairs as well as the agents upstairs saddened by the death of Krzeminski. Sousa takes it as a reminder that death can happen any moment and thinks the anonymous tipper tricked them into coming. Roger Dooley tells the agents that he blames Howard Stark and wants action plans to make sure they will not lose any more agents. He goes off to call Krzeminski's wife, while Jack Thompson calls his girlfriend.[26][85]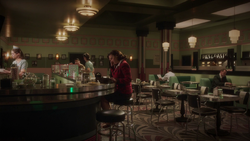 22nd
Rescue of Howard Stark: To smuggle Howard Stark back into the country he and Jarvis make a deal with Otto Mink. For 50,000 dollars Mink would deliver Stark at a New York train station.[86][85]
At the station Jarvis hands over the agreed upon amount of money to two of Mink's men. At the *same time, Peggy Carter takes out the three other men controlling the area. The two men blackmail Jarvis and demand another 100,000 dollar, if he wants them to keep their mouths shut. Jarvis, who at first refuses to give more money, hands them his suitcase, which has a gas inside of it, instead of the promised money. With the two men unconscious, Carter and Jarvis open the train wagon in which Stark was transported into the country. In this wagon, which is furnished expensively, Stark is playing pool.[86]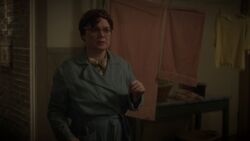 23rd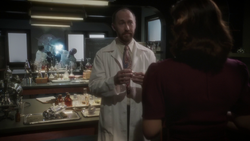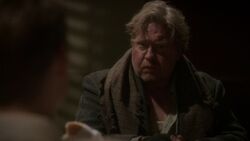 Sousa tells Frank about what happened when he just came back from the war, hoping this story would make Frank talk, but it does not work.[86]
Before dinner, Carter puts some of the food into her purse. Back in her room, Stark tells Carter that she has to steal one of the inventions called the Blitzkrieg Button, a device that causes an instant city to wipe out. He gives her a replacement, so they would not notice it being stolen.[86]
At the office, Jack Thompson interrupts the interrogation with a bottle of scotch and a hamburger. He tells Frank that if he tells what he has seen, all of it would be his. Frank immediately tells them about a well dressed man and a dark haired woman who went on and off the boat.[86]
In Germany, Roger Dooley and Ernst Mueller talk about what happened in Finow. Dooley promises Mueller that if he tells him what happened he would give him a painless death. He also tells Mueller about the hanging of another German prisoner in full detail and offers to give him cyanide if he speaks. Mueller explains that there was no battle, that when the Germans arrived all the Russians were already dead. As promised Dooley gives him a cyanide pill which is actually a mint. Outside of the cell, he also gives the guard a mint.[86]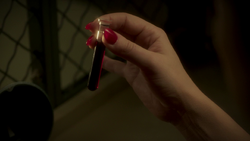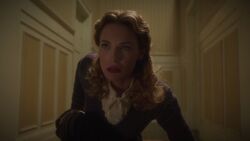 24th
25th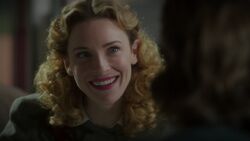 Dottie Underwood wakes up from a dream about her days back at the Red Room Academy and starts her morning workout, before having breakfast with Peggy Carter at the L&L Automat. [87][85]
During breakfast, Underwood plans a tour through New York, with Carter giving her advice. Before they both leave the L&L Automat, Underwood throws Carter's bag on the ground, making it look like an accident. While gathering Carter her stuff to put it back in her bag, Underwood steals Carter her room key.[87]
On her way to work, Carter buys today's newspaper at Pete's stand. At the stand she is met by Edwin Jarvis who wants to have a moment of her time. While she does have a talk with him, she does not want anything to do with him or Howard Stark anymore.[87]
"April 27th"
"That's less than two days from now."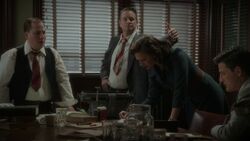 At the New York Bell Company Office, Daniel Sousa tells Carter that the Remote Typewriter turned it self on and received an encoded message. To help them crack the code, Arlington Hall sends them a cryptographer. Much to the displeasure of Roger Dooley and Jack Thompson the cryptographer is unable to break the code. Carter immediately recognizes the code and breaks it. The code gives them the coordinates, time and the amount to pay for an item exchange between Howard Stark and Leviathan in Belarus.[87][85]
When Carter tells Dooley and Thompson that she wants to join Thompson, Rick Ramirez and Mike Li on their mission to Russia, they are first against it. She tells them that she can deliver the 107th. Dooley tells her that she is allowed to join the mission if that happens. When she returns from a phone call and tells them the 107th will meet them at the Russian border, Dooley allows her to join the mission. Dooley tells them both to gear up and roll out in an hour. Thompson tricks Daniel Sousa, who just brought him the field report, into entering the woman's dressing room. Before leaving, Sousa spots the two scars on Carters' back.[87]
26th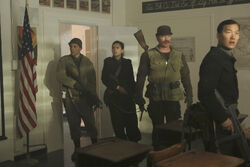 Infiltration into the Red Room Academy:

At the Red Room Academy, the team decide to split into two groups of four. Carter's group enters a schoolroom focused on the United States of America. Agent Mike Li accidentally starts an American cartoon with a hidden message behind it. Li then hears a little girl crying.[87]
They encounter the child sitting against one of the beds in a sleeping hall. While Dugan talks to her, she manages to get him distracted and stabs him with her knife. She then takes his gun and shoots Junior Juniper, killing him. Carter then stops Dugan, from throwing a hand grenade into the shaft the girl used to escape, before deciding they have to leave. While Dugan, Rick Ramirez and Pinky Pinkerton search for a way out, Carter and the others enter a corridor. This corridor is guarded by a few Russian soldiers. They kill the soldiers and find a cell containing doctor Ivchenko and Nikola. Ivchenko tells Carter that they were imprisoned to build a weapon from a blueprint stolen from Stark. They free the prisoners and in the ensuing firefight with Leviathan operatives, Mike Li is killed by the little girl.[87]
Nikola, hoping for his freedom, offers to trade the three Americans if he and Ivchenko are free to leave. Tearfully, Ivchenko kills Nikola. Meanwhile, Thompson freezes and is to scared to help in the shootout. A minute later, Dugan blows a hole in the wall, allowing everyone to escape. Carter pushes Thompson to man up and leave the building. They then escape with Ivchenko by using one of the trucks.[87][85]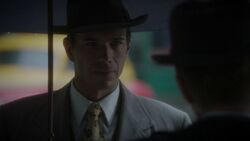 Thompson tells her that he has been trying to tell the truth since he came home from the war and that it becomes harder and harder to live with everyone thinking he is a guy he is not. She decides that his secret is safe.[87]
Dooley, who just got debriefed about the mission, meets Ivchenko. Thompson invites Carter, who was talking with Daniel Sousa to join them at the bar, telling her he owns her a bourbon. Sousa, now distrustful of Carter, looks at the photo from La Martinique while Carter walks away.[87][85]
May
7th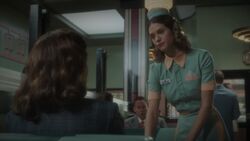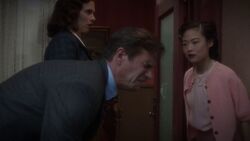 Carter and Jarvis start visiting the women left on the list, trying to see if they got scars on the wrist from being cuffed to the bed. The first three women on the list do not have the scars. Next on the list is Ida Emke.[56]
As Ivchenko and Dooley take a break from work to have a drink, Underwood prepares a sniper gun to watch the office up close. While seemingly looking outside to see more of the City, Ivchenko communicates to Underwood in code, by tapping with his fingers.[56]
Ivchenko tells Underwood that he needs more time and orders her to kill Carter.[56]
When there is no one at home in the apartment of Emke, Carter enters the room to find information. Here she notices scratches on the bedpost from handcuffs. Carter tells Jarvis to track down the owners of the building while she talks to neighbors to gain more information about Emke. Afterwords, they would meet at the Automat.[56]
Still on their break, Dooley and Ivchenko talk about Dooleys family problems. Ivchenko uses this time to try and hypnotize Dooley. They are disturbed when Sousa enters the office to give Dooley the information he required about Carter being a traitor. Dooley sends agents from Washington, D.C. to the Automat to arrest Carter.[56]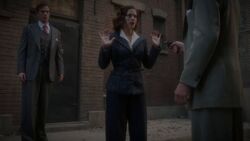 Ambush at the L&L Automat:

At the Automat, Carter and Jarvis share the information they gained. Carter then notices that everyone besides a few agents from D.C. leave the Automat, which is part of procedure 791: Isolate the suspects, remove the civilians before arrest.[56]
Carter then tells Jarvis to block the front door while she takes care of the rest. Carter takes out the three agents inside the Automat, then leaves with Jarvis via the backdoor. There they are stopped by Thompson, who keeps Carter at gunpoint. Carter then knocks him down. Jarvis and Carter split up and agree to meet at the Dublin house. Before leaving the street to visit the Griffith Hotel she is again stopped at gunpoint. This time by Daniel Sousa. She apologizes to him before running away.[56]

Back at the office, Dooley is displeased to hear that Carter managed to escape the men. Dooley threatens that they will become grade school hall monitors if they fail to apprehend Carter. Dooley then orders Yauch to babysit Ivchenko, while he deals with the Carter debacle. Ivchenko hypnotizes Yauch, while talking to him and has him tell everything he knows about the Howard Stark investigation, his inventions and how to escape the building. Ivchenko, then instructs Yauch to commit suicide.[56]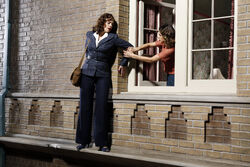 Chase of Peggy Carter: Thompson, Sousa and a group of agents travel to the Griffith Hotel. They enter the building shortly after Carter. They receive the room number from Miriam Fry and the agents move upstairs to Carter's room, where at the same moment Carter is retrieving the Blitzkrieg Button out of its hiding place. The agents enter Carter's room and start searching for her, but Carter had left the room just in time via the window and hides on the ledge. The agents then visit Angie Martinelli's room, who had just noticed Carter standing on the ledge. The agents start questioning Martinelli on her friendship with Carter. Martinelli uses her acting skills and lies to help Carter. Not being able to handle a crying woman, the agents quickly leave her room to talk to other neighbors. Martinelli then allows Carter into her room. To help Carter escape, Martinelli calls her brother, who promises to pick her up. They then say goodbye to each other and Carter leaves the room. On her way out Carter runs into Underwood, who kisses Carter unexpectedly. Because Underwood wears Carter's Sweet Dreams Lipstick she is knocked out unconscious. While falling down, Carter notices the handcuff scars on Underwood's wrists. Before being able to kill Carter with a knife, Thompson and Sousa approach Underwood. Underwood tells them that she found Carter laying on the floor this way. The agents handcuff Carter and take her with them to their car. While walking trough the Griffith Hotel the other residents follow them outside, watching them while Carter is placed in the back of the police car.[56]
From the back of the car, Carter looks at Underwood, standing between the residents.[56]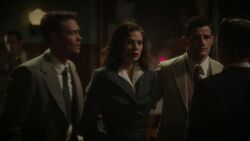 At the New York Bell Company Office, Carter tells Dooley that she can explain it all.[56]
When Fry wants all the residents downstairs, Martinelli knocks on Underwoods door to get her. When she enters the room she notices it being empty. [56]
In the interrogation room, where she is handcuffed to the table, Dooley tells his men not to go easy on her just because she is a girl.[56] Carter is interrogated by three different men in three different styles: Daniel Sousa, who uses friendship; Chief Dooley, who uses fatherly disappointment; and Jack Thompson, who cites betrayal from Howard Stark.[50]
Ivchenko watches with amazement as Carter calculates each man's speech with an appropriate response. When Thompson questions why he is watching the interviews, Ivchenko chooses to leave to avoid further confrontation.[50]
Edwin Jarvis tries to help Carter with a false confession he forged with Howard Stark's name. But Dooley wants Stark in exchange for Carter and keeps them both in the office.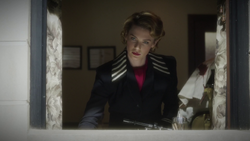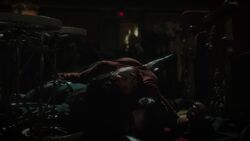 8th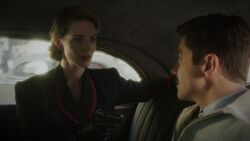 9th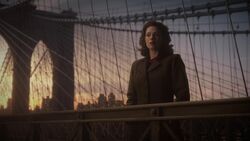 June
14th
July
1st
August
19th
September
27th
1947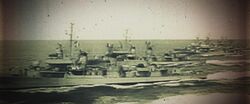 January
15th
July
9th
10th
11th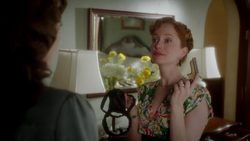 Carter arrives in LA, where she meets with Edwin Jarvis. He explains that Howard Stark moved to the West Coast after he acquired a defense contract, and since he liked Los Angeles, he opened up a new estate on the West Coast. Jarvis also tells her how Stark is currently in the process of creating his own motion picture studios. At Stark's new house, Carter finally meets Ana Jarvis.[75][95]
The case that Carter investigates involves Jane Scott, a scientist employed by Isodyne Energy, found frozen solid in Echo Park. The SSR was asked to learn why both the woman and lake are frozen, in the midst of a heat wave. Carter reports to Sousa and they both receive the help of the Detective Henry, who is suffering from a summer cold.[75]
The three go to Isodyne Energy Headquarters, where Carter sneaks past the Receptionist and meets Jason Wilkes, a scientist who works there. Wilkes agrees to help in the investigation, since he has an interest in Carter. Wilkes informs Carter that he heard that his boss Calvin Chadwick was involved in a relationship with Scott.[75]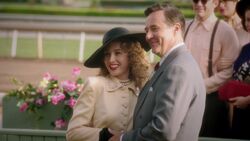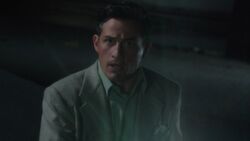 Kidnapping of Jason Wilkes: Andrew Henry grows sicker and accidentally freezes water from a fountain. When Wilkes notices Henry, Henry abducts him in order to force him to make him a cure. Sousa and Carter chase the rogue cop, who was hired to dispose of Scott's body, and used the cold case of the Lady of the Lake killer to cover his crime. Henry is killed by another officer despite Sousa and Carter specifically stating that no guns are to be used, as the SSR wanted him alive for questioning.[75]
Sousa orders the body to be transferred in the morning to the Auerbach Theatrical Agency for further investigation as to what was ailing Henry. Wilkes asks Carter out on a date, but she declines.[75]
As Sousa meets with his girlfriend, Jarvis takes Carter back to their home.[75]
12th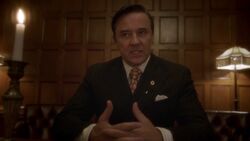 Carter meets with Wilkes, who turns the meeting into a date, because he wants to be sure he can trust her before putting his life in her hands with the information he plans to reveal. The two dance and talk about Carter's past and Wilkes' upbringing, before he shows her a film he stole, documenting the origin of the Zero Matter that Isodyne Energy has. They decide to steal it to take it to the Strategic Scientific Reserve for study.[96]
Frost, with a few men, decides to take the Zero Matter from the Isodyne Energy Laboratories.[96]
Attack on Jason Wilkes and Infiltration into Isodyne Energy Headquarters:

Hunt and his team attack Carter and Wilkes, but they manage to escape. Carter sends a distress beacon to Jarvis. Jarvis alerts Sousa, forcing him to cancel his date to investigate.[96]
The couple successfully infiltrate Isodyne Energy Headquarters. As Carter fights Hunt and his men, Wilkes puts the Zero Matter in a containment vessel, but he is interrupted by Frost, who at a gunpoint orders Wilkes to relinquish the substance. The two fight and the container falls and shatters. This triggers an implosion, which swallows both Wilkes and Frost. Due to the nature of the implosion, Wilkes is presumed dead.[96]
13th
A few hours later, in the morning, Daniel Sousa apologizes to Violet for missing their date and promises that he will make it up to her.[96][95]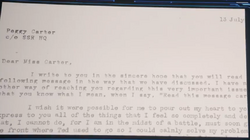 14th
Chadwick and Frost go to Wilkes' home and place evidence with the purpose to frame Wilkes of espionage, to prevent anything from disrupting Chadwick's Senate bid.[97][95]
Peggy Carter goes to the home of Jason Wilkes to meet with Daniel Sousa and Agent Vega. They want to discover what possible connection Wilkes had to the men who tried to kill him and Carter the night before. The three find the evidence that Wilkes is a Communist spy, including the gun used to kill agents White and Beringer, but Carter does not believe the evidence, because it was too easy to find.[97]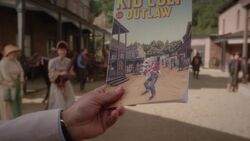 15th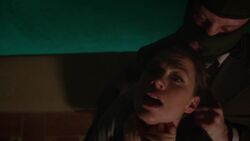 Attack on Peggy Carter: While Carter is exercising to relieve stress, Hunt attacks her; however, Carter and Jarvis force him to flee after Carter shoots his hand.[97][95]
16th
The next day, Stark decides to go to Peru to see Abner Brody, an old professor of his who could help Wilkes. Carter convinces Wilkes to stay at Howard Stark's Estate, despite Wilkes' protest that his presence is endangering the estate's inhabitants.[97][95]
Daniel Sousa tells Peggy Carter the information that he had about Agnes Cully. When Carter asks how Cully factors into their case, Sousa reveals that Cully is none other than actress Whitney Frost, with Frost being only her stage name.[97]
Jack Thompson goes to the Arena Club to see his friend Vernon Masters before he returns to New York City. Masters introduces Thompson to Calvin Chadwick, while reading in the newspaper that Representative Anderson has decided to resign from the election bid. Thompson sees the newspaper and realizes that Carter was not lying to him.[97]
18th
Sousa and Carter prepare a group of agents to raid the Arena Club, but Vernon Masters enters the SSR base with a team of FBI agents, telling them that their case files will be audited and they have an executive order to halt all actions.[5]
Masters and Carter withdraw to talk; Masters wants to know who the informant was on their search warrant. Carter refuses to answer, so Masters threatens Carter, explaining that although she might survive the changes are, her allies might not.[5]
Due to Masters' involvement, Carter and Sousa put a listening device on Hunt and allow him to escape their custody. Hunt runs to the Chadwick Residence to tell Chadwick and Frost about his kidnapping and interrogation. Hunt wants Chadwick to protect him from the wrath of the Council, or he will tell the Council that the two are performing outside its guidance. Chadwick acquiesces, but Frost uses her newly mastered powers to kill Hunt. The group hear how Hunt was killed and wonder what Whitney Frost is becoming. When Chadwick asks Frost what she is, she tells him that she is whatever she wants to be.[5]
19th
In order to help Wilkes by using Scott's corpse, Carter and Edwin Jarvis go to where the body of Jane Scott is held to take it to Wilkes. However, they discover that Whitney Frost and Calvin Chadwick are already there with the same intentions. As Frost absorbs the Zero Matter from the corpse, she tells her husband that she needs an Atomic Bomb to recreate the rift that created the initial anomaly.[98][95]
Due to Sousa and Violet's engagement, a small party is held in the Auerbach Theatrical Agency for the chief.[98]
Carter and Jarvis inform Wilkes of what happened, and he tells them that Frost must be stopped. Jarvis reveals that Howard Stark conducted intelligence on his rival, Hugh Jones of the Roxxon Corporation. From these intelligence reports he knows that one warehouse had excessively security and suspects that's where the atomic bombs are located.[98]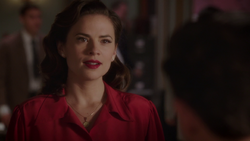 20th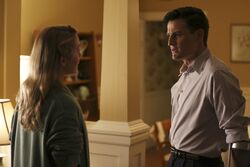 21st
Masters informs Thompson of what happened, insisting that it was all Carter's fault, and ordering him to stop her.[99]
With the help of Ana Jarvis, Wilkes ends the construction of the containment chamber that can keep himself solid.[99][95]
22nd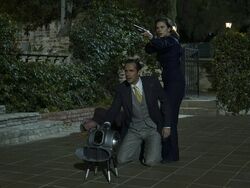 23rd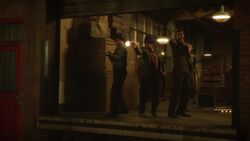 24th
Attack at the Mojave Desert

:

Now working with Thompson, the group of Carter, Jarvis, Sousa and Samberly follow Manfredi and Frost's men into the desert where Frost manages to create an atomic explosion to recreate the incident that created the Zero Matter in the first place.[101][95]
The experiment opens a rift in the sky; Frost stands near the rift, but it absorbs only Wilkes. Carter's team fires the Gamma Cannon at the rift, but Jarvis goes solo to confront Frost and shoots her in revenge, hoping to kill her.[101]
Wilkes lays silent on the desert ground as the rift collapses.[101]
However, Frost heals quickly and tells Manfredi not to kill her enemies, since Wilkes might be more cooperative if they are alive.[101]
Carter and Jarvis are forced to enter one of Manfredi's trucks.[102]
Jack Thompson, Aloysius Samberly and Sousa see an SSR car approaching, but Sousa warns them that agents Vega and Blackwell work for Vernon Masters and were probably sent to kill them.[102]
Thompson devises a plan that saves their lives by playing on his authority and the fact that Masters does not know that Thompson knows the truth. The five men all pack into the car.[102]
Using the

Hot Wire

device, Carter and Jarvis manage to escape from their captors, to Frost's anger. Carter and Jarvis capture a truck from Manfredi's men and use it to return to Los Angeles.[102]

Thompson pretends to betray Sousa and Samberly, as to gain Masters' trust again. He talks Masters into using the Gamma Cannon against Frost; Masters agrees.[102]
Wilkes agonizes as he tries to hold the Zero Matter within himself, but Frost straps him down to extract the substance.[102]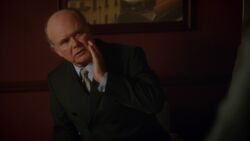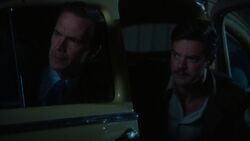 The group finds Wilkes alive, but discovers Whitney Frost absorbing the black substance into herself. Everyone flees as her power increases. As Frost pursues, she gets hit by a car driven by Edwin Jarvis and Howard Stark. Everyone gets inside Stark and Samberly's cars as Frost stands and frowns.[95][58]
25th
Sousa and Thompson arrest agents Harper and Vega and all other Strategic Scientific Reserve agents loyal to Masters.[58]
Frost begins to formulate ways to make a permanent opening for the Zero Matter to infect the Earth. Frost's distant attitude angers Joseph Manfredi, who feels that she is not the woman with whom he fell in love; so he decides to ask for Carter's help.[58]
Manfredi visits Carter and the others at Stark's Estate and revealing himself to be a friend of Stark. Manfredi reveals Frost's plan and agrees to help them infiltrate Frost's room so they can take pictures of her formulas. Using Frost's formulas, the team create a new Gamma Cannon that will be capable of closing Zero Matter's rift once Frost has been separated from it.[102]
Thompson looks through Masters' belongings and discovers that the pin from the Arena Club is actually a key.[58][95]
26th
Destruction of the Zero Matter Rift: The team opens a rift at Stark Pictures, which is felt by Frost, who quickly arrives at the studio. Stark fires the Gamma Cannon at Frost and she loses all of her Zero Matter back to the other dimension; she is then arrested. The rift starts to absorb Sousa as well, but Jarvis saves him by throwing the Gamma Cannon into the rift and detonating it inside, closing the rift permanently.[58][95]
27th
Ana Jarvis goes home from the hospital with her husband Edwin. They say goodbye to Carter, who is about to return to New York City.[58][95]
Frost is visited by Manfredi in prison.[58]
Carter begins a relationship with Sousa.[58]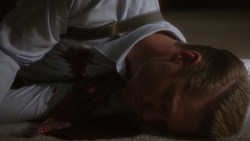 Attack on Jack Thompson: Meanwhile, Thompson is packing his bags to return to New York City when he learns that Carter plans to stay in Los Angeles for a while longer. When he answers a knock on his hotel door, he is shot. The shooter steals the redacted file on Carter and leaves.[58][95]
30th
October
26th
1948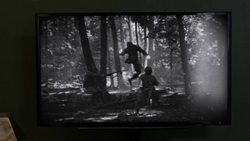 January
30th
February
4th
April
28th
July
12th
21st
Steven Demetre Georgiou, later called Yusuf Islam, and later known by his stage name Cat Stevens is born.[45][7]
August
10th
October
3rd
December
31st
1949
January
10th
June
8th
22nd
27th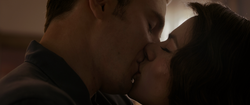 After returning Mjølnir and all the Infinity Stones to their rightful time, Steve Rogers arrives through the Quantum Realm, having decided to make one final journey, to get a chance to be with the woman he loved and lost, Peggy Carter. He arrives at Carter's doorstep, and she immediately lets the man she thought lost forever into her home, the two overwhelmed to see each other again, leaving the door ajar. Rogers and Carter play It's Been a Long, Long Time by Jule Styne and Sammy Cahn, a song about returning to a loved one after a long time spent tirelessly at war and a favorite of Rogers'[59], as Rogers finally allows himself to do just that. The pair hold each other close and finally have the dance they thought they would never get after the events of 1945. They share a kiss, deeply in love and finally united.[116][65]
August
13th
October
12th
November
December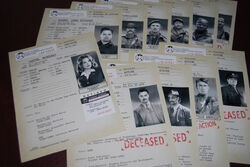 1st
References
↑ 2.00 2.01 2.02 2.03 2.04 2.05 2.06 2.07 2.08 2.09 2.10 2.11 2.12 2.13 2.14 2.15 2.16 2.17 2.18 2.19 2.20 2.21 2.22 2.23 2.24 2.25 2.26 2.27 2.28 2.29 2.30 2.31 2.32 2.33 2.34 2.35 2.36 Sometimes the Marvel Cinematic Universe alludes to events which happened in our world, and it is assumed they happened on the same dates in the universe, for timeline purposes.
↑ 7.00 7.01 7.02 7.03 7.04 7.05 7.06 7.07 7.08 7.09 7.10 7.11 7.12 7.13 7.14 7.15 7.16 7.17 7.18 7.19 7.20 7.21 7.22 7.23 7.24 7.25 7.26 7.27 7.28 7.29 7.30 7.31 7.32 7.33 7.34 7.35 7.36 Sometimes the Marvel Cinematic Universe alludes to people who existed in our world, and it is assumed they were born on the same day in the universe, for timeline purposes.
↑ 9.00 9.01 9.02 9.03 9.04 9.05 9.06 9.07 9.08 9.09 9.10 9.11 9.12 9.13 9.14 9.15 9.16 9.17 9.18 9.19 9.20 9.21 9.22 9.23 9.24 9.25 9.26 9.27 9.28 9.29 9.30 9.31 9.32 9.33 9.34 9.35 9.36 9.37 9.38 9.39 9.40 9.41 9.42 9.43 9.44 9.45 9.46 Captain America: The First Avenger
↑ 10.00 10.01 10.02 10.03 10.04 10.05 10.06 10.07 10.08 10.09 10.10 10.11 10.12 10.13 10.14 10.15 10.16 10.17 10.18 10.19 Captain America: The First Avenger Adaptation
↑ In One Bad Day, Lillian says that her father "fought a world war". Based on her age, her father would have been born around the 1920s, meaning it would be World War II he fought in.
↑ 26.00 26.01 26.02 26.03 26.04 26.05 26.06 26.07 26.08 26.09 26.10 26.11 26.12 26.13 26.14 26.15 26.16 Agent Carter: 1.03: Time and Tide
↑ Im Namen des Deutschen Volkes ernenne ich den Generalbauinspektor für die Reichshauptstadt Diplom-Ingenieur Professor Albert Speer zum Generalinspektor für Wasser und Energie. Führer-Hauptquartier, den 9. Februar 1942. Der Fuhrer. - In the name of the German people I promote the General Construction Inspector for the capital of the Reich, Master of Engineering Albert Speer, to General Inspector for Water and Energy. Führer's Headquarters, February 9th 1942. The Führer
↑ The insignia of the German Afrika Korps on the boxes carried by HYDRA soldiers in Shadows implies the corpse was found somewhere in North Africa before the surrender of the Army Group Africa on May 13, 1943.
↑ In AKA A Lotta Worms, it is said that the tunnel was used "in the '40s". The middle of the 1940s is December 31, 1944, so the rough time when this was occurring may be approximated to 1944.
↑ 55.00 55.01 55.02 55.03 55.04 55.05 55.06 55.07 55.08 55.09 55.10 55.11 Agent Carter: 1.08: Valediction
↑ 56.00 56.01 56.02 56.03 56.04 56.05 56.06 56.07 56.08 56.09 56.10 56.11 56.12 56.13 56.14 56.15 56.16 56.17 56.18 56.19 56.20 56.21 56.22 Agent Carter: 1.06: A Sin to Err
↑ 58.00 58.01 58.02 58.03 58.04 58.05 58.06 58.07 58.08 58.09 58.10 Agent Carter: 2.10: Hollywood Ending
↑ 69.00 69.01 69.02 69.03 69.04 69.05 69.06 69.07 69.08 69.09 69.10 69.11 69.12 69.13 69.14 69.15 69.16 69.17 69.18 69.19 69.20 69.21 69.22 69.23 69.24 69.25 69.26 69.27 69.28 69.29 Agent Carter: 1.01: Now is Not the End
↑ 75.00 75.01 75.02 75.03 75.04 75.05 75.06 75.07 75.08 75.09 75.10 75.11 75.12 75.13 75.14 Agent Carter: 2.01: The Lady in the Lake
↑ In an extended scene from The Incredible Hulk, General Ross says he was 27 when he came home from Vietnam.
Working back from the dates that The Incredible Hulk and Captain America: Civil War are set and William Hurt's age when he filmed both, then taking a weighted average, Ross would have been born around 1952.
However, this would put his return around 1979. The last American troops withdrew from Vietnam in March 1973, so it can be assumed that Ross withdrew with the last of them and no earlier.
If he was 27 in March 1973, that means he was born around September 1945.
↑ 83.00 83.01 83.02 83.03 83.04 83.05 83.06 83.07 83.08 83.09 83.10 83.11 83.12 83.13 83.14 83.15 83.16 83.17 83.18 83.19 83.20 83.21 83.22 83.23 Agent Carter: 1.02: Bridge and Tunnel
↑ 85.00 85.01 85.02 85.03 85.04 85.05 85.06 85.07 85.08 85.09 85.10 85.11 85.12 85.13 85.14 85.15 85.16 85.17 85.18 85.19 85.20 85.21 85.22 85.23 85.24 85.25 85.26 85.27 85.28 85.29 85.30 85.31 85.32 In The Iron Ceiling, Carter translates a coded message saying a deal will occur on "April 27th," to which Thompson replies , "That's less than two days from now." The season is in 1946, a year after Rogers' disappearance in March 1945, and approaching the first anniversary of V-E Day on May 8, 1945 (seen in Valediction). This places that on April 25, 1946, and the events of Now is Not the End to The Iron Ceiling revolve around that date.
↑ 86.00 86.01 86.02 86.03 86.04 86.05 86.06 86.07 86.08 86.09 86.10 86.11 86.12 86.13 86.14 86.15 86.16 86.17 86.18 86.19 86.20 86.21 86.22 86.23 Agent Carter: 1.04: The Blitzkrieg Button
↑ 87.00 87.01 87.02 87.03 87.04 87.05 87.06 87.07 87.08 87.09 87.10 87.11 87.12 87.13 87.14 87.15 87.16 87.17 87.18 87.19 Agent Carter: 1.05: The Iron Ceiling
↑ 90.0 90.1 90.2 90.3 90.4 90.5 In Valediction, it is shown to be the first anniversary of V-E Day, placing it on May 8, 1946. The events of A Sin to Err to Valediction revolve around this date. With The Iron Ceiling firmly on April 25-26, 1946, this places a necessary 10-day gap between The Iron Ceiling and A Sin to Err.
↑ 94.00 94.01 94.02 94.03 94.04 94.05 94.06 94.07 94.08 94.09 94.10 94.11 Agent Carter: 2.07: Monsters
↑ 95.00 95.01 95.02 95.03 95.04 95.05 95.06 95.07 95.08 95.09 95.10 95.11 95.12 95.13 95.14 95.15 95.16 95.17 95.18 95.19 95.20 95.21 95.22 95.23 95.24 95.25 95.26 95.27 95.28 95.29 95.30 95.31 95.32 95.33 95.34 95.35 95.36 95.37 In Better Angels, it is shown that a "July 16, 1947" Los Angeles Tribune newspaper has already been printed reporting on an event from the day before, on July 15th. However, Carter is shocked, as that paper has been written a day early, with July 15th being tomorrow. This places that on July 14, 1947. This also fits with the date shown in The Good Samaritan of a letter sent on the discovery of Zero Matter as July 13, 1947, and the fact that Jarvis' will, written before Monsters, was written on "July 9, 1947." The events of Agent Carter: Season 2 revolve around the July 14, 1947 date.
↑ 96.00 96.01 96.02 96.03 96.04 96.05 96.06 96.07 96.08 96.09 96.10 96.11 96.12 Agent Carter: 2.02: A View in the Dark
↑ 97.00 97.01 97.02 97.03 97.04 97.05 97.06 97.07 97.08 97.09 97.10 97.11 97.12 97.13 97.14 97.15 97.16 97.17 97.18 Agent Carter: 2.03: Better Angels
↑ 98.00 98.01 98.02 98.03 98.04 98.05 98.06 98.07 98.08 98.09 98.10 98.11 98.12 Agent Carter: 2.05: The Atomic Job
↑ 99.00 99.01 99.02 99.03 99.04 99.05 99.06 99.07 99.08 99.09 99.10 99.11 99.12 Agent Carter: 2.06: Life of the Party
↑ 101.00 101.01 101.02 101.03 101.04 101.05 101.06 101.07 101.08 101.09 101.10 101.11 101.12 101.13 101.14 101.15 101.16 Agent Carter: 2.08: The Edge of Mystery
↑ 102.00 102.01 102.02 102.03 102.04 102.05 102.06 102.07 102.08 102.09 102.10 102.11 102.12 Agent Carter: 2.09: A Little Song and Dance
↑ In Hollywood Ending, Daniel Sousa and Peggy Carter are last shown on July 27, 1947 (see other references) beginning a relationship. In Avengers: Endgame, on June 27, 1949 (see other references), Peggy Carter is shown to be single. In Alien Commies from the Future!, Sousa and Carter's breakup is alluded to when, in 1955, Daisy Johnson sees his file and knows from the history of the main timeline that by that point he is "Peggy Carter's old partner", and then in that episode and Out of the Past Sousa referencing Carter being in his past and his breakup in a timeline that at that point is supposed to be near-identical to the main timeline. So, Sousa and Carter break up between July 27, 1947 and June 27, 1949. Using the midpoint of this period as an approximation, it can be taken to have been July 12, 1948.
↑ Christopher Markus says Steve Rogers went back in time to "roughly '48". Stephen McFeely says "1948", sometime after the second season of Agent Carter (which finishes in July 1947 (see other references)). However, the film's shooting script, written by them, explicitly says "1949", and that Rogers is "112" (biologically). Rogers is biologically 38.7 at the time of his time travel, so lived a further 73.3-74.3 years back to October 30, 2023 (see 2023 references), meaning he arrived back in time between approximately June 27, 1949 and June 26, 1950. Assuming the earliest possible, to be as close as possible to the "1948" comments, Rogers can be taken to have traveled to June 27, 1949.
↑ Through a series of calculations, taking into account actor ages, working back from present events and flashback settings, and evidence from Luke Cage, it can be found that Pop was born around December 1949. The full calculations can be found here.